Are you sadden by the monopoly of Malaysia domestic network carrier? Or are you frustrated by the internet connection that does not meet the bandwidth that you subscribed? However if you are one of the lucky that lives under the coverage by TIME Fiber network, you can now enjoy internet connectivity up to 500Mbps only for RM299 per month!
Nevertheless, let's have a quick comparison with the local telcos
Maxis:
The highest internet connectivity that Maxis offer is at 100Mbps and comes with a hefty monthly subscription at RM398. Now let's look at the internet subscription services provided by Telekom Malaysia.
TM:

The highest internet connectivity bandwidth offered by TM is the Unifi package where the 50Mbps download package comes with a monthly fee at RM229! This is one of the most expensive plan in transfer speed (bits)/RM from all telco networks in Malaysia
TIME Fiber network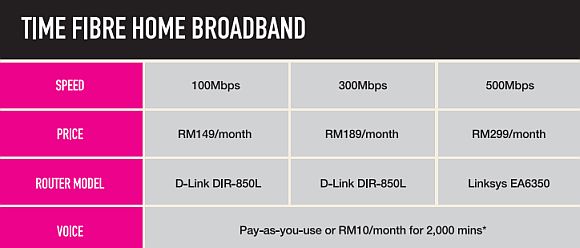 The TIME Fibre network is an independent ISP that provides ultra fast connectivity at a reasonable price. Their infrastructure is highly sophisticated that offer up to 500Mbps download and upload speed with monthly subscription fee at RM299. The cheapest package comes at RM149 per month and 100Mbps download and upload speed. Meanwhile, TM also offers RM149 package per month which only comes with a capped download speed at 8Mbps only!
However, the TIME Fiber Home Broadband also suffers in coverage issue where their network is usually available to residence of highly populated area such as Kuala Lumpur. It may take years to decades for TIME network to spread to your new residences somewhere else.
Visit time.com.my for more information