Starting from today till 10th September 2017, you can register your interest to pre-order the newly launched Samsung Note series smartphone and be the first to grab among your friend. Apart from pre-ordering through official Samsung method, there are multiple place where you can pre-order the authentic Note 8 at a cheaper price. We've you covered on the all the possible method and place to pre-order the Samsung Galaxy Note 8.
Samsung Malaysia
If you've been doubting other pre-order channels, you can pre-order your Galaxy Note 8 through Samsung Malaysia which comes with RM321 cash rebate and other perks such as Samsung Protection Plus, 51000mAh battery pack and clear case cover. You have to deposit an amount of RM300 and the rest (RM3378) will be required to pay when you grab your device at your specialized Samsung retail store.
You can pre-order your Note 8 here.
Courts
Courts has provided 2 payment methods for pre-ordering the Galaxy Note 8. You can clear the entire amount (RM3678) at one go and goods will be distributed by 18th September or you can deposit RM300 and pay the rest at your nearest Courts center by 15th September.
Pre-order through Courts here.
Harvey Norman
Harvey Norman also offers a pre-order with discounted price at RM3678 and user can self collect at Harvey Norman store. Delivery charges will be imposed if delivery is required.
Pre-order here.
senQ/Senheng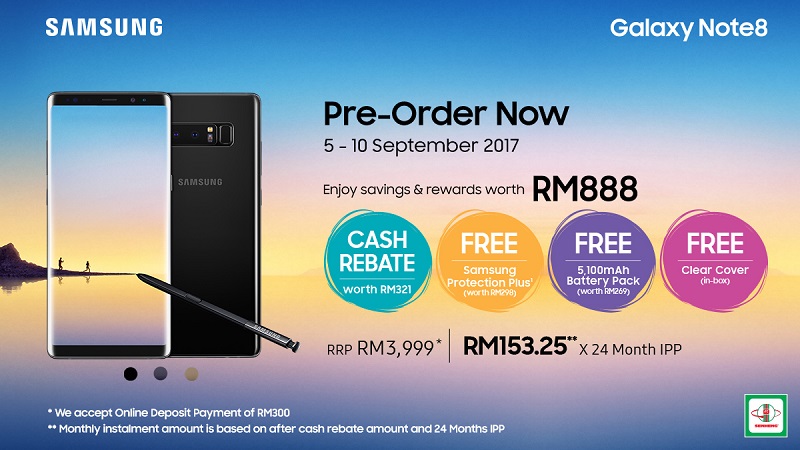 Last but not least, Senheng/SenQ also offers pre-order will all the perks from the official pre-order. You can opt for a 24 months installment or clear all through one go. You can also trade in your old device for your new Galaxy Note 8!
More details here: senQ Senheng
11Street
All deliveries will begin from 18th September and 11street will be offering 36 months 0% interest for your 11street pre-order.
Lazada
If you happen to stay in Klang Valley, you can opt for LAZADA Express Delivery where you can grab the phone on the same day. As for payment option, you can opt for 12 months installment for RM306.50 per month.
Maxis
(Standard package)
(Maxis Zerolution)
Celcom
Digi
Digi has offered the Note 8 bundled with Digi Postpaid 78, 108 and 138 with monthly commitment from RM78 to RM138. Check out more details here!
U Mobile
YES
Yes also offers Galaxy Note 8 pre-order which is bundled with Yes 4G LTE postpaid 88 and Postpaid 128 with 12GB and 24GB data respectively. Check out more details here!