Soon after the leaked design of the Samsung next flagship – the Galaxy S7 on the internet that features almost identical design from the Galaxy S6, a new rumor suggests that the new Galaxy S7 will be available in 4 variants as similar to the previous S6.

The well known smartphone news leaker – @evleaks has once again released some of the top allegation from Samsung. This time, it is appeared that the new Galaxy S7 will be available in total of 4 variants which are the Galaxy S7 (standard), Galaxy S7 Edge, Galaxy S7 Edge Plus and the Galaxy S7 Plus. We could speculate that the Galaxy S7 and S7 Edge will features a 5.1 to 5.2 inches display while the "Plus" variant will features a larger display up to 5.7 inches.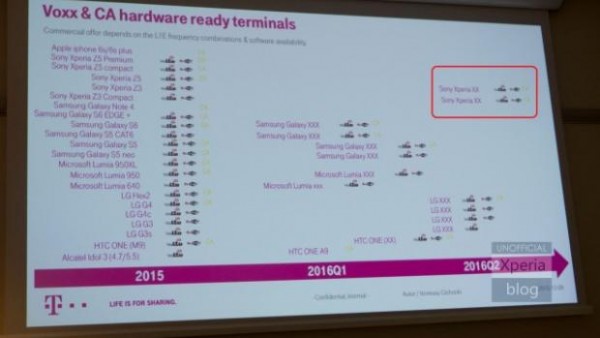 Meanwhile the well known US telco provider – T Mobile has released the upcoming product roadmap for the year 2016. Based on the roadmap chart above, it has shown that T Mobile will be release 4 different Samsung Galaxy XXX, in which it coincides with the 4 Samsung Galaxy S7 variants to be launched in the year 2016.