As one of the official partner for the EXO Planet concert happening on March 12th, Samsung is now giving out chances to see EXO live in Malaysia! If you happened to be a fan of EXO, check out on how to win this contest to join EXO Planet on upcoming March.
How to win EXO Planet tickets:
1. Log into your Facebook/ Instagram account
2. Like "Samsung Mobile Malaysia" and follow Samsung official Instagram account "samsungmobilemy"
3. Upload your selfie on Facebook and Instagram and hastag #mygalaxyA2016 and tag Samsung Mobile Malaysia either on Facebook or Instagram.
4. Share you photo on Facebook/ Instagram with caption "Thank you Samsung Galaxy A series 2016, I want my EXO tickets !!"
5. Selfie that contain K-pop element has a higher chance to win EXO tickets!
6. Set your Facebook and Instagram profile as visible to public.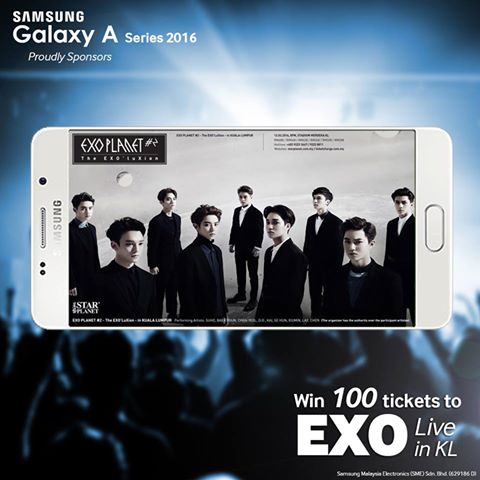 This contest starts from February 15th to March 5th and open for Malaysian only.
Prizes to be won
1. 100 tickets to be won, 50 winners (one winner will get a pair of ticket)
2. 50 pieces of EXO limited edition poster
Winner will be announced on:
i. First Week: Feb 15th, 12am to Feb 21st 11.59 pm (15 winners announced)
ii. Second Week: Feb 22th 12am to Feb 28th 11.59pm (15 winners announced)
iii. Third Week: Feb 29th 12am to March 6th 11.59pm (20 winners announced).
Visit here and submit your entry: Samsung Facebook
Source : samsung