Before Blackberry ends its business in smartphone manufacturing, there are rumors of their last smartphone running Android will be launching in this year. Today, the Blackberry DTEK60, likely the last Blackberry smartphone with Android OS has now opened up for pre-order on a Canadian website NCIX with a whooping price tag at $699.99 CAD (~RM2203).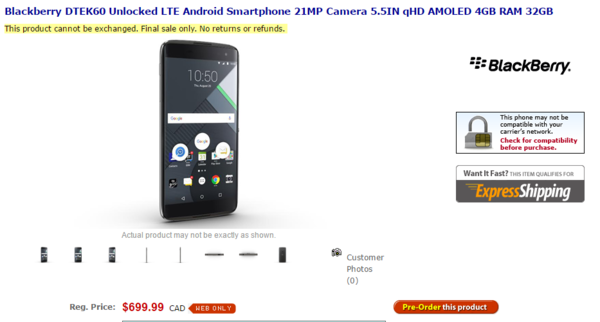 According to NCIX, the DTEK60 might be launched on 11th October this year and its pricing on the NCIX is somehow identical with the one shown on Blackberry official site. The specifications of the DTEK60 shown in NCIX comes with 5.5 inches 2K dislay, 21MP camera with PDAF and an 8MP front camera.
The design of the DTEK60 is also fairly similar with DTEK50 where Blackberry has ditched their conventional button for navigation keys. It will be powered by Qualcomm Snapdragon 820, 3000mAh battery, 4GB RAM, 32GB ROM and support microSD expansion up to 256GB.
As Blackberry has scheduled to launch 4 new BB smartphone powered by Android with codename as "Neon", "Argon", "Mercury" and "Hamberg", the DTEK60 should fall somewhere in between.
Source: CrackBerry