It is a known fact that the Micrsoft Surface tablet isn't a budget friendly Windows tablet as their majority of consumer are business professionals that demands productivity outside working space. However, a new Microsoft tablet has passed FCC certification recently and it's US$400 price tag is certainly an outlier.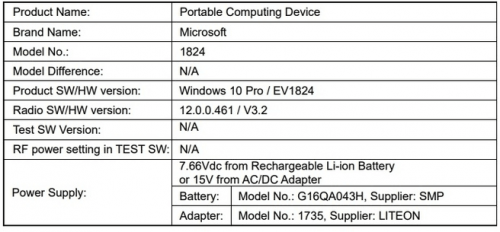 The new Surface comes with the model number 1824 and powered by a low voltage adapter with a 10″ display. It also brings the essentials from Intel processor and WiFi module with some even supports LTE bands.
Rumor has it that the new Surface tablet will no have sharp edges for the "cool", but in return it has a rounded edge (let's think about the iPhone 5c) and has a USB Type C port, charging port and available in Intel processor that targets for education purpose.
If the new Surface falls around US$400, this could bring some competitiveness between new 2018 iPad with price at $329.