Keen of the new 16MP front and rear camera and the newly water resistant certified Samsung Galaxy A5/ A7 2017? This smartphone is now available to pre-order through Digi when you sign up for the Digi Postpaid. You can even get the Samsung Galaxy A5 (2017) for free when you sign along with Digi Postpaid 148; or you can add another RM99 for the Galaxy A7!
Here are the detailed smartphone bundled Digi Postpaid plan:
Digi Postpaid 98
RM98mo
Samsung Galaxy A5(2017) – RM399
Samsung Galaxy A7(2017) – RM499
7GB+5GB  data
Unlimited calls
Unlimited SMS to 3 Digi lines
10 cent/SMS
Digi Postpaid 148
RM148/mo
Samsung Galaxy A5(2017)– RM0 (FREE!)
Samsung Galaxy A7(2017)– RM99
10GB+5GB data
Unlimited calls/ SMS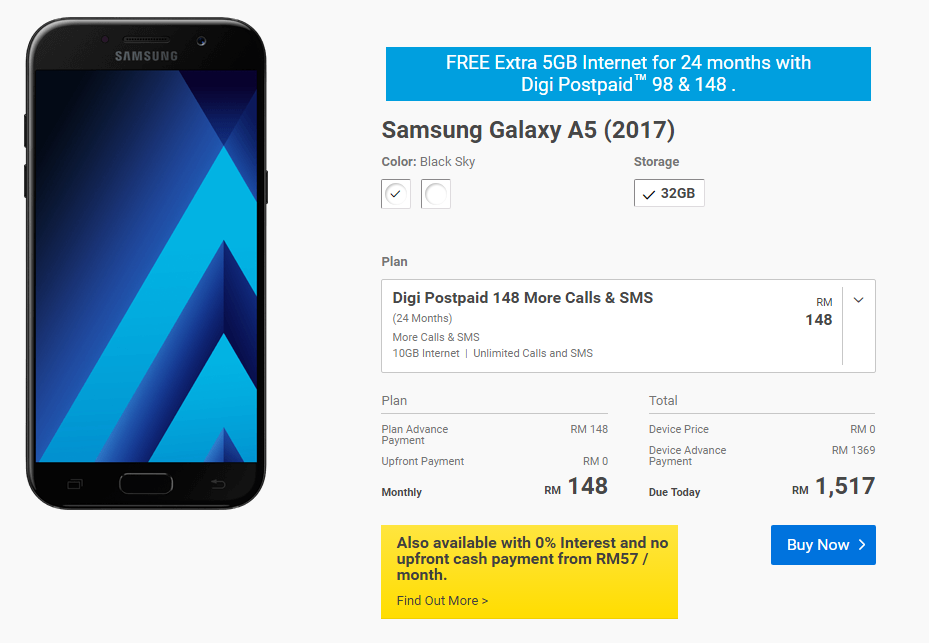 This pre-order commencing form 6th to 15th January this year and all smartphone will be ready for delivery from 25th January onward. Within this 2 year, Digi will be offering 5GB free data to those subscriber and the Galaxy A5/A7 smartphone bundled postpaid plan comes with a contract for 2 years.
Visit Digi for more information about this deal!
Source : lowyat.net