As HTC is known to launch 2 mid-range/ entry level smartphone in this year, one of the entry level smartphone is known to be named as Desire 10 Lifestyle and its hardware specifications has been leaked to Antutu Benchmark database. Let's have a quick glance of this upcoming HTC smartphone.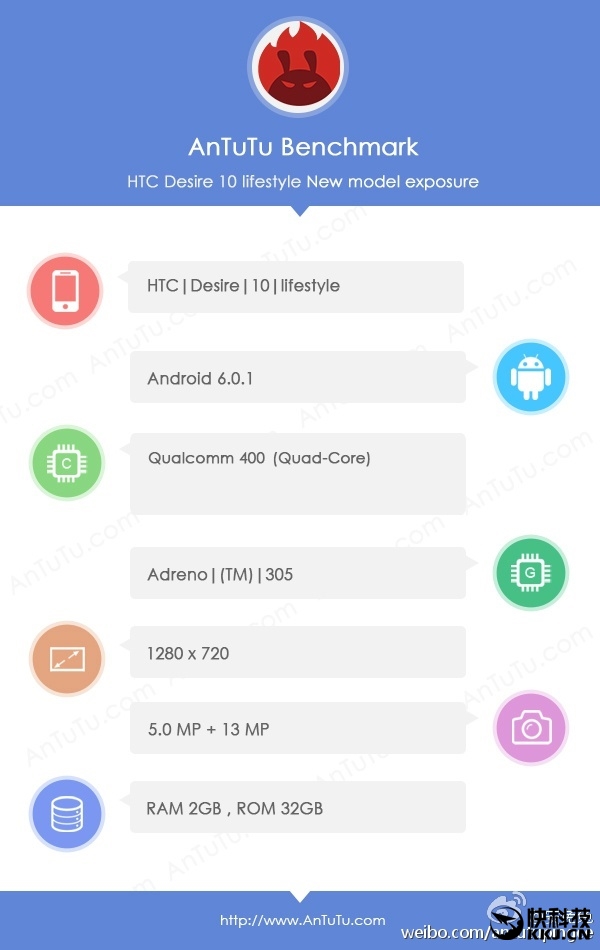 According to the benchmark database, this smartphones comes with a 5.5 inches HD display, 1.2Ghz Snapdragon 400 SoC, 2GB RAM, 32GB ROM, 5MP front camera, 13MP rear camera and runs on Android 6. The performance of the Snapdragon 400 is deemed average as the benchmark score of 25000 is mediocre.
Besides, it could come with polycarbonate build for its exterior but the main frame, antenna and camera module does come with some metallic structure. As an entry level smartphone, the Desire 10 Lifestyle still offers BoomSound HiFi Edition surround speakers and support dual SIM standby. In contrast with Desire 10 Pro with Snapdragon 652, this model offers much more performance and features so goes its price.
Let's wait for HTC Malaysia to bring out the good news!
Source : 驱动之家