On the Google product launch event on this September, Google unveiled that Nexus 6P which will be manufactured by a Chinese company – Huawei. The new flagship from Google and Huawei has been launched in Singapore today with pricing starts at RM2660!
Huawei announces the Nexus 6P Pre-order and retail price in Singapore on Facebook today.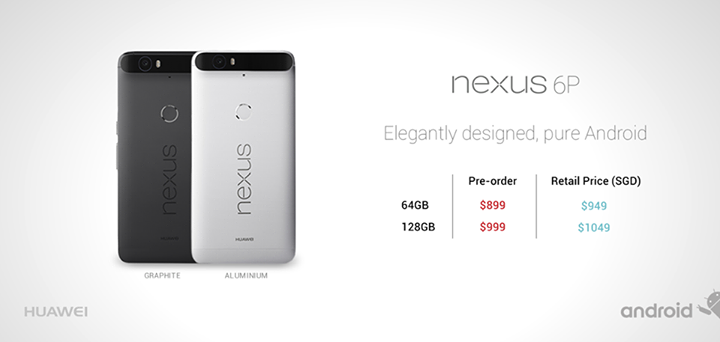 The Nexus 6P comes with both 64GB and 128GB variant. It's pricing varies between the storage space  as there is no expandable storage option available for this device.
Here for the tech sheet for the geek:-
5.7′ 2K Super AMOLED 2K display
Aluminium alloy body
Android 6.0 Marshmallow
Qualcomm Snapdragon 810 v2.1 processor
3450mAh battery capacity
178g
Dual front speakers
Quick charge and USB Type C supported
Nexus Imprint rear finger recognition sensor
12.3MP camera with laser assisted autofocus
8MP front selfie camera.
The retail price for the Nexus 6P is relatively higher in contrast with the pricing in USD when released in USA. How does Nexus fan think about this?