After surviving through the  Galaxy Note 7 battery fiasco and billions of financial loses, Samsung is able to make its name shine again with the Galaxy S8 launched early this year. However, there are still consumers who prefer a new smartphone that offers stylus functionality and they could only be stuck on the previous 2015 Note 5 phablet. With the recent success of the Galaxy S8 – thanks to its design and performance, the new Galaxy Note 8 inherits the iconic design of the S8 along with a larger display with tiny bezels and everyone's favourite stylus.
Samsung Galaxy Note 8 specifications:
6.3 inches QHD+ Super AMOLED Infinity Display with aspect ratio at 18.5:9
Samsung Exynos 8895 clocked at 2.3GHz/Snapdragon 835 SoC
6GB RAM(LPDDR4) + 64GB/128GB /256GB ROM(support up to 256GB MicroSD)
12MP dual rear camera,f/1.7 wide angle lens+f/2.4 telescopic lens,Dual Pixel,Dual OIS
8MP front facing camera with AF,f 1.7
Supports S Pen input with 4096 pressure level (even in water)
Retina scanner, rear fingerprint sensor and facial recognition
Bixby voice assistant
IP 68 water and dust resistant certified
3300mAh battery with QC2.0 support & wireless charging
Dual SIM standby with 4G LTE Cat.16
Android 7.1.1
DeX station
162.5 x 74.8 x 8.6mm, 195g
Available in Midnight Black,Orchid Grey,Maple Gold and Deepsea Blue
RRP RM 3999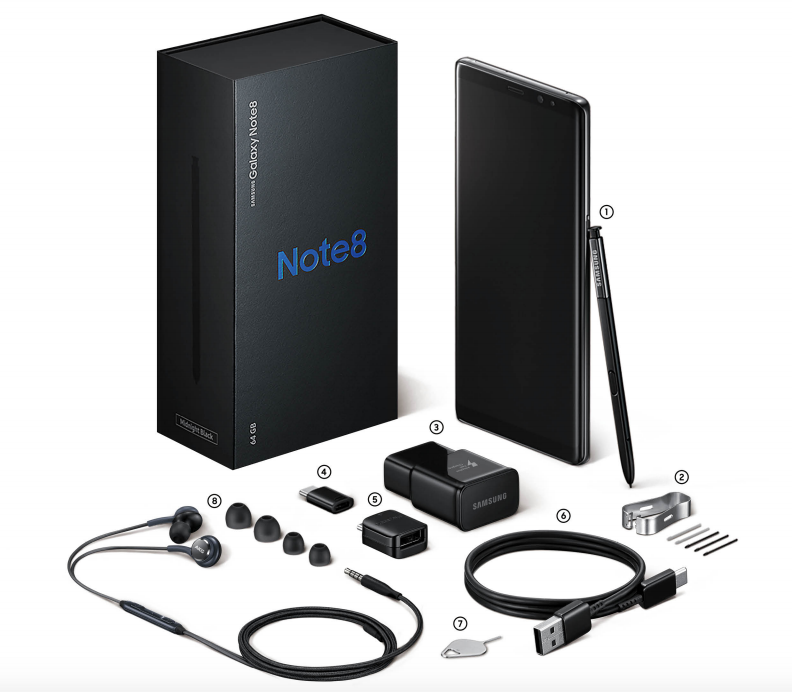 Within Note 8 retail box comes with multiple accessories including the AKG-tuned earphones, USB Type C data cable, SIM ejector pin, charging adapter, microUSB to type C converter and other accessories which is previously available on the Galaxy S8. The Note 8 is filled with every accessories that you need so you don't have to buy from other retailers again.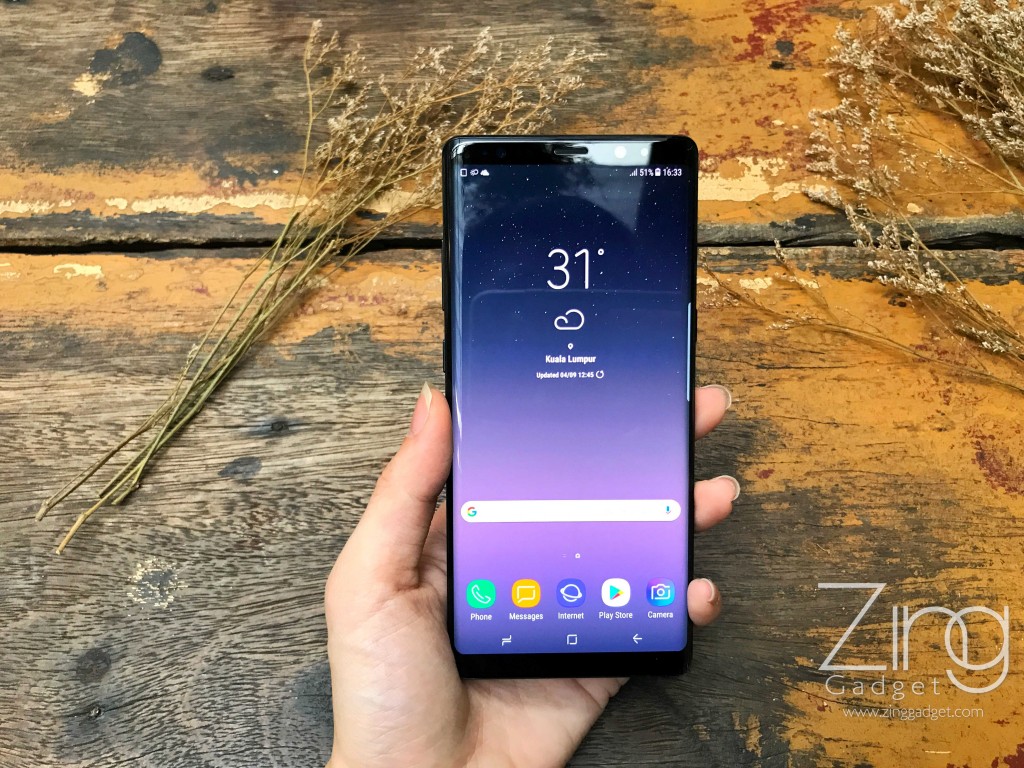 When it comes to Samsung, the Super AMOLED display is known for producing crisp and vivid colours. With the addition of Infinity Display (aka small bezels), it makes the large display appears even more mesmerizing.
Before we went in depth onto the smartphone, let's have a sneak peak on the new Galaxy Note 8 features that has yet to be available on the S8 – App Pair. The App Pair provides convenience for user who wish to quick launching 2 different apps in split screen mode through the Apps Edge, thus making it more easier without relocating the window to launch the second app.
Dual Camera,Dual OIS,Dual Capture,Dual Pixel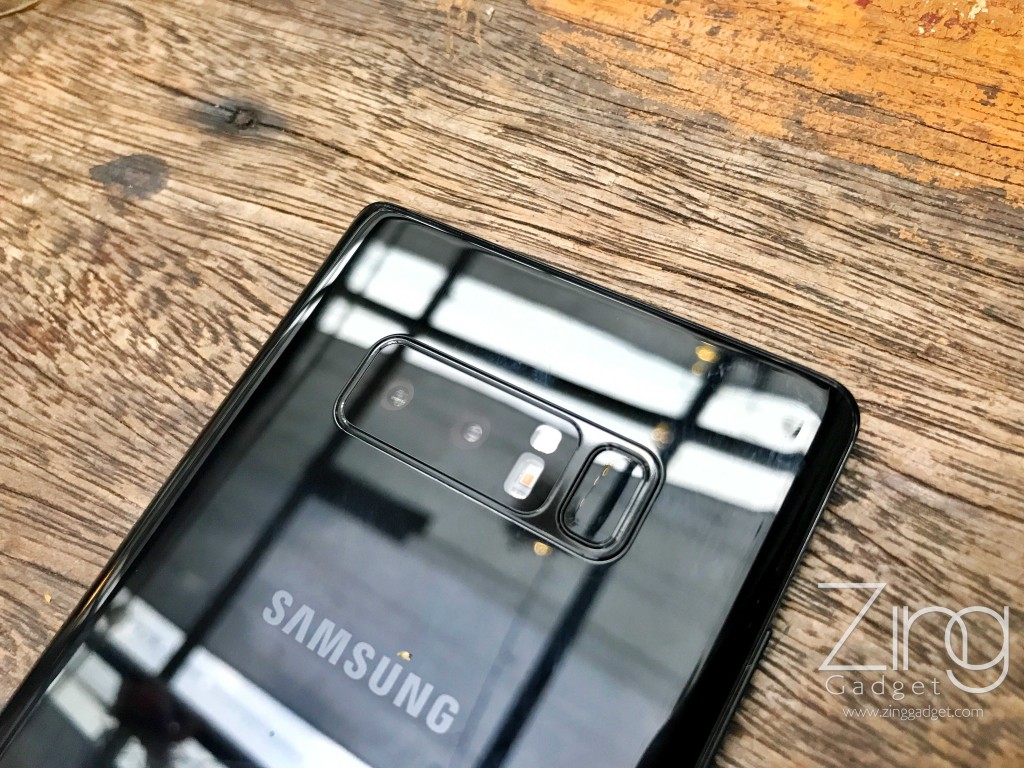 Samsung has finally been brave enough to join everyone's favourite trend, the dual camera hype. It has a 12MP dual rear camera with one wide angle lens and a telescopic lens. It also has Dual Pixel autofocus and Dual OIS to enhance the stability of image. With apertures ranged from f/1.7 to f/2.4, the Note 8 is able to create stunning beautiful pictures that matches the industrial standard a true flagship.
The Samsung Galaxy Note 8 supports 2 times optical zoom and 10 times digital zoom, thus retain all important details of an object when zooming in an out.
The newly added LiveFocus creates a depth of field (aka Bokeh effect) similarly to those DSLR camera and there's even an option to adjust background blurring. The additional Dual Capture mode retains both picture (background blurring and non-blurring) thus gives the user an option to select their ideal favourite image.
When it goes to artificial intelligence, Galaxy Note 8 has the Bixby Vision offered on the Note 8 camera app as well as the Galaxy S8's. The Bixby Vision is able to grab the context or object and thus looking up for related content online or search for similar object in online stores.
The S-Pen has been the selling point for the Galaxy Note series smartphone for these past few years and it has been constantly improving since the first generation. However, the S-Pen from the Note 8 is no differ from the one on the Note 5, since the features packed S-Pen has provided more than enough functionality until there's a need for another one. Combined with Bixby Vision, the Galaxy Note 8 offers features such as instant translation thus ease up the effort when looking up to translate the part of the content.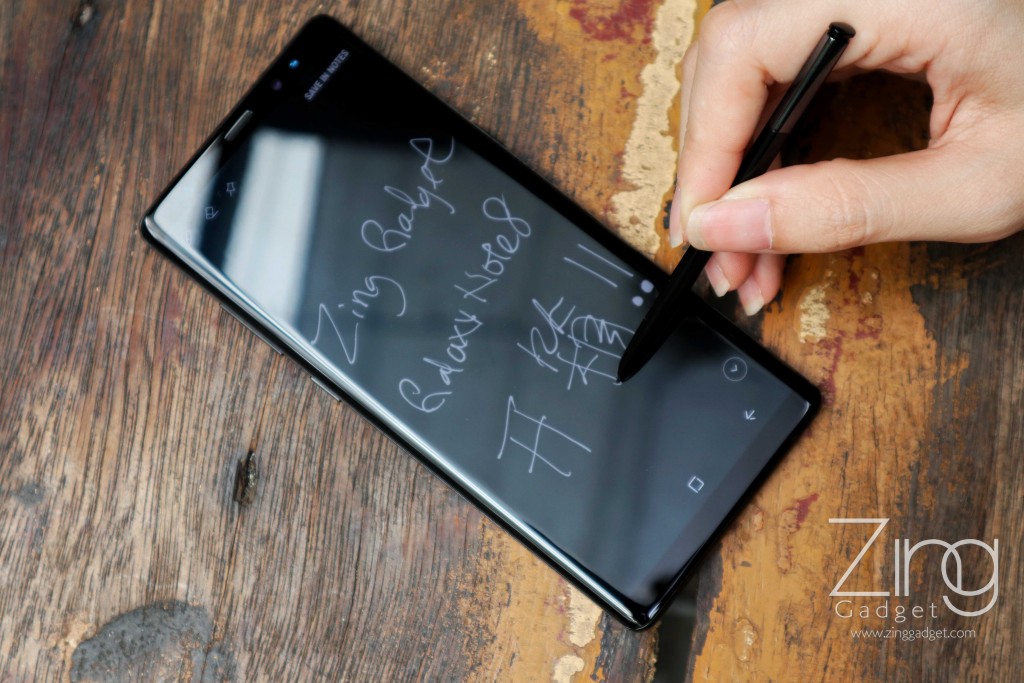 When sliding out the S-Pen in screen-off mode, the Infinity Display is instantly converted to your idea playground. You can jot off any notes and draw your inspiration when you idea submerge out of your subconscious mind thus making it convenient for note takers and content creators.
The Note 8 Live Messages can turn into a GIF in an instant and send it to your recipients, even your loved ones.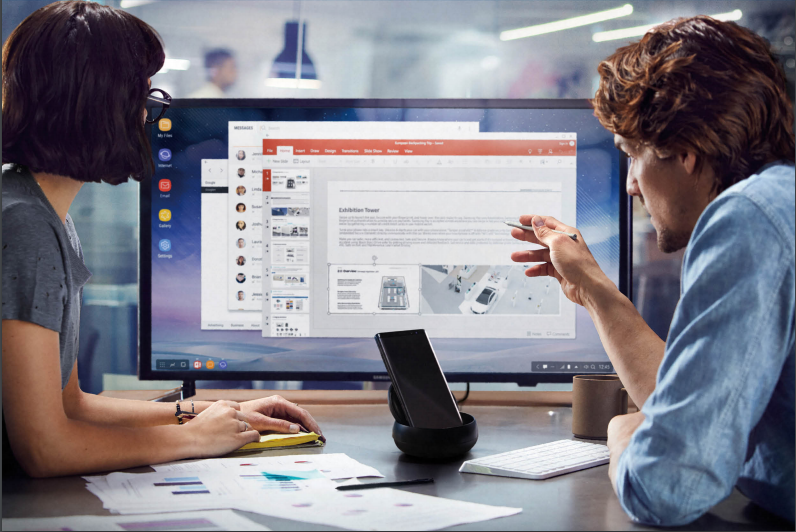 Powered by 10nm Exynos 8895 SoC (for region outside US), the Galaxy Note 8 is deemed to offer state of the art performance where the functionality can be further unleashed with Samsung DeX station. First introduced on the Galaxy S8, the DeX station instantly turns your smartphone into a mobile workstation with display portrayed onto your monitor/TV and brings your content to more audience.
As a 2017 flagship, it is important that one must not miss the IP68 water and dust resistant feature as who doesn't enjoy playing music in the bath or even surviving accidental water damage?
However there is one greatest downside of the Galaxy Note 8 – the battery. Since the Galaxy Note 7 battery fiasco, they have been playing it safe with a small battery sized at 3300mAh with Qualcomm 2nd generation quickcharge support, painfully slow compared to recent ones. It's one measure for Samsung to play it safe so that history doesn't happens again.
Conclusion
Ideally speaking, the Galaxy Note 8 is targeted for those who seek for performance and design over price. It is suitable for business professional who wish to improve their productivity with a large display, a stylus and a DeX station and it is also great for those who enjoy creating content whenever they go. The S-Pen offers a precise tipping point and multiple pressure level creates an opportunity for content creator and artist to unleash their creativity in every single scenario.
If you are one of the power user or tech enthusiast who enjoy improves their lifestyle with new technology, the Galaxy Note 8 is right for you too. Pre-orders on the Note 8 has begun from the 5th of Sept and commences until 10th September this year. Grab it now and enjoy cash rebates up to RM321 and other perks such as extra protection plan, accessories and more!
Not sure where to save the most when grabbing the Note 8? Here's our ultimate guide for your Galaxy Note 8 pre-order.