With the on-going clearance sales from Machine happening yesterday, the premium Apple reseller in Malaysia – Mac City now open up for discount on several Apple gadgets including the iPad Pro, MacBook, iMac and Apple Watch. This discount is available through Mac City outlet nationwide or through Mac City online store. As there is no information on the last day of promotion, these discounted items will be available while stock last.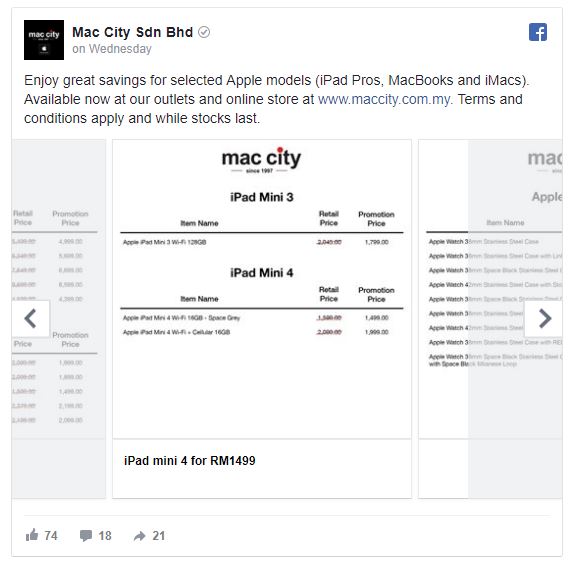 Here are the list Apple products with discounts!
9.7 inch iPad Pro (32GB WiFi Edition) – RM2398 (original price RM2699)
9.7 inch iPad Pro (32GB WiFi + Cellular Edition) – RM2999 (original price RM3299)
12-inch MacBook (1.2GHz Dual-Core Intel Core M, 512GB) – RM5599 (original price RM6041)
13.3-inch MacBook Pro – RM6999 (original price RM7599)
15.4-inch MacBook Pro – RM9499 (original price RM10199)
21.5 inch iMac – RM4999 (original price RM5499)
27 inch iMac – RM6699 onward (original price RM7649)
IPad Air 2 – RM1499 (original price RM1599)
128GB WiFi iPad Mini 3 – RM1799 (original price RM2045)
IPad Mini 4 – RM1499 (original price RM1599)
Apple Watch Series 1 – RM1399.30 (original price RM1999)
Visit MacCity official site  or check out their Facebook page for more info!
Source : maccity