As the advertisement of the new Apple iPhone 6s and 6s Plus has start went to viral in smartphone community and forums, many local telco has begin to promote their bundled plan with the both latest iPhone from Apple Inc. This time, Digi also join in the competition round by opening pre-order for those seeking to get one soon! There is even a rebate and discount when you pre-order any of the iPhone 6s variant!
Here comes the package detail:-
Have your queries solved? Let's see which Digi authorized stores will be selling the iPhone 6s and 6s Plus
SS2,Petaling Jaya 
Kuantan, Pahang
Pulau Tikus,Pulau Pinang
Danga Bay,Johor
Api Api,Sabah
Kuching,Sarawak
Those who have pre-ordered the iPhone 6s and 6s Plus will receive an additional RM200 rebate in the first month billing cycle. Those non Digi users who sign up Digi SmartPlan 90 might get even more rebate at RM300!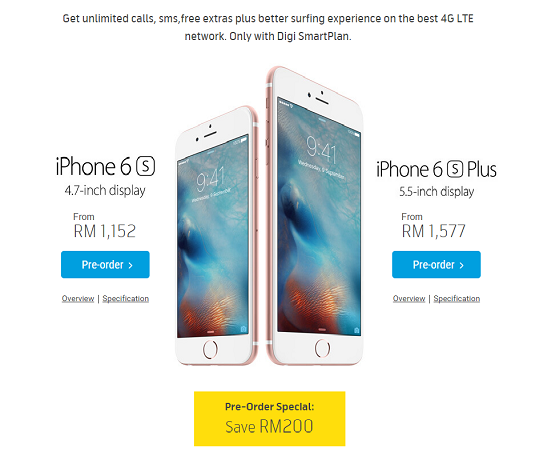 If you want to sign the bundled plan that comes with a RM200 rebate on the iPhone 6s and 6s Plus, time to do so before 16th of October!