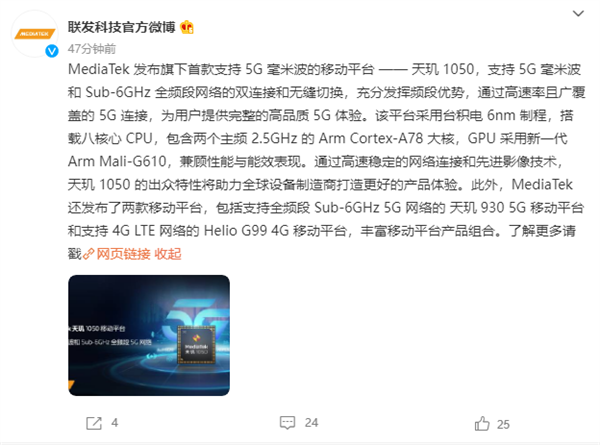 Today, MediaTek officially announced the launch of its first mobile platform that supports 5G millimeter wave: Dimensity 1050.
Dimensity 1050 adopts TSMC's 6nm process, uses an eight-core CPU architecture including two 2.5GHz Arm Cortex-A78 cores, and the GPU is a new generation of Arm Mali-G610.
Although the performance is similar to the Dimensity 1100, the 1050 integrates a 5G modem and can support dual connections and seamless switching of 5G mmWave and Sub-6GHz full-band networks.
The reason why users are so looking forward to MediaTek's launch of a millimeter-wave processor is related to the advantages and characteristics of this technology.
Compared with Sub-6GHz technology, the characteristics of short wavelength and narrow beam of millimeter wave make it have advantages in signal resolution, transmission security and transmission speed, and it is suitable for use in densely populated scenarios.
However, although Sub-6GHz is a bit laborious in dealing with dense places, it has obvious advantages in signal coverage and penetration, and can easily solve the problem of large-scale signal coverage.
Therefore, as the coverage of 5G networks expands, processors that can seamlessly switch between Sub-6GHz and millimeter wave technologies have gradually become the focus of users.