If you have been downloading and installing third-party applications from unknown sources or some infected applications on Google Play, chances are you are one of the million users around the world that has been infected. The new malware – named Gooligan has been discovered by CheckPoint and it is spreading to 13,000 new users every day.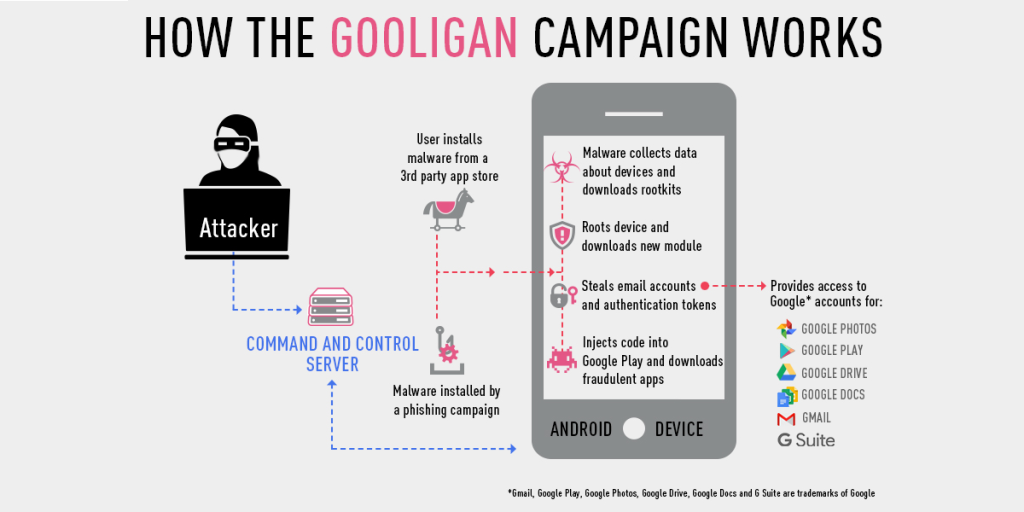 The malware targets Android smartphone running Android 4.1 to Android 6 and once it is infected, the whole smartphone is compromised. The hacker will gain unauthorized access to Google accounts, emails, private documents and more.
The hacker then facilitates the compromised google account to download more infected application listed on Google Play and reviewed it with 5 stars, thus more and more users will fall trap into this malicious act.
This malware is now spreading in an exponential rate around globe with large population coming from Asia countries. There are over 30 thousands applications downloaded every single day. Here are several applications that has been detected to be come with Gooligan malware.
Perfect Cleaner
Demo
WiFi Enhancer
Snake
gla.pev.zvh
Html5 Games
Demm
memory booster
แข่งรถสุดโหด
StopWatch
Clear
ballSmove_004
Flashlight Free
memory booste
Touch Beauty
Demoad
Small Blue Point
Battery Monitor
清理大师
UC Mini
Shadow Crush
Sex Photo
小白点
tub.ajy.ics
Hip Good
Memory Booster
phone booster
SettingService
Wifi Master
Fruit Slots
System Booster
Dircet Browser
FUNNY DROPS
Puzzle Bubble-Pet Paradise
GPS
Light Browser
Clean Master
YouTube Downloader
KXService
Best Wallpapers
Smart Touch
Light Advanced
SmartFolder
youtubeplayer
Beautiful Alarm
PronClub
Detecting instrument
Calculator
GPS Speed
Fast Cleaner
Blue Point
CakeSweety
Pedometer
Compass Lite
Fingerprint unlock
PornClub
com.browser.provider
Assistive Touch
Sex Cademy
OneKeyLock
Wifi Speed Pro
Minibooster
com.so.itouch
com.fabullacop.loudcallernameringtone
Kiss Browser
Weather
Chrono Marker
Slots Mania
Multifunction Flashlight
So Hot
HotH5Games
Swamm Browser
Billiards
TcashDemo
Google(installing from unknown source)
Sexy hot wallpaper
Wifi Accelerate
Simple Calculator
Daily Racing
Talking Tom 3
com.example.ddeo
Test
Hot Photo
QPlay
Virtual
Music Cloud
You can visit CheckPoint to determine if your Google account has been compromised
Source : appappapps