In the 56th Battery Symposium happening in Japan, Huawei battery research center has proudly demonstrating their own quick charge technology. Huawei state that the new quickcharge technology is able to provides 10 hours talk time with just a 5 minute charge.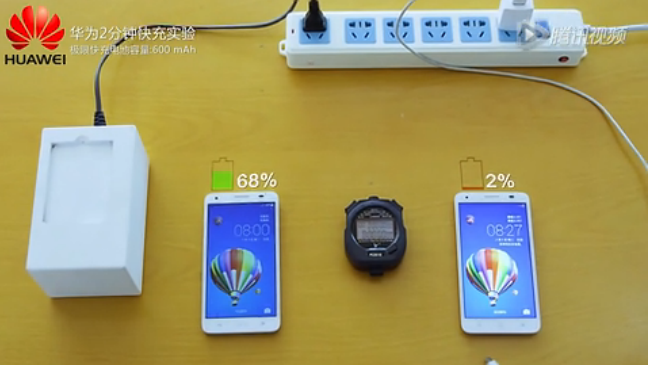 Huawei quickcharge in 2 minutes demo: https://v.qq.com/page/q/3/4/q01729hkz34.html
In the first video, Huawei has successfully recharged 68% capacity of the 600mAh battery is 2 minutes. Meanwhile, a normal battery and charger only reach 2% of the capacity.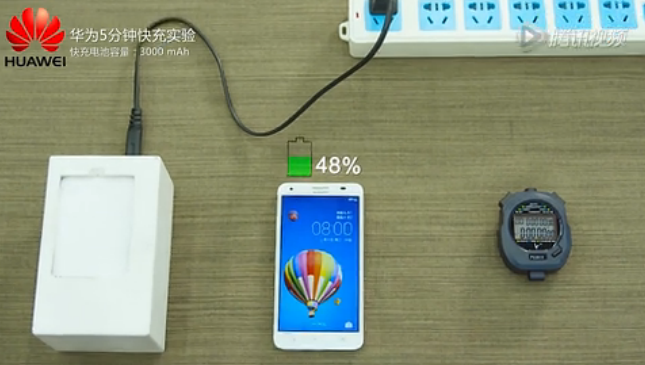 5 minutes charging  demonstration: https://v.qq.com/page/e/n/d/e0172nbsznd.html
In the second video, Huawei tested their quick charge technology into a 3000mAh battery. Smartphone today that comes with a big display usually sports a large battery around 3000mAh in order to last for a day or two. This simulation test mimics real life scenario applications. In 5 minutes charge, Huawei managed to refill up to 48% of the total battery capacity and provides talk time for 10 hours!
Huawei stated that this new technology will be added in the future of Huawei smartphone product line where consumer can enjoy a faster charging rate on its battery. They also stated that this new technology is stable and mature as the battery lifecycle has passed several vigorous test.
Source: MyDrivers