The upgraded version of OnePlus 3 has officially arrived in Malaysia smartphone market today. The OnePlus 3T has the exact design from the OnePlus 3 but it is now packed with Qualcomm Snapdragon 821, upgraded front camera to 16MP and new gunpowder bronze colour! 
【DirectD】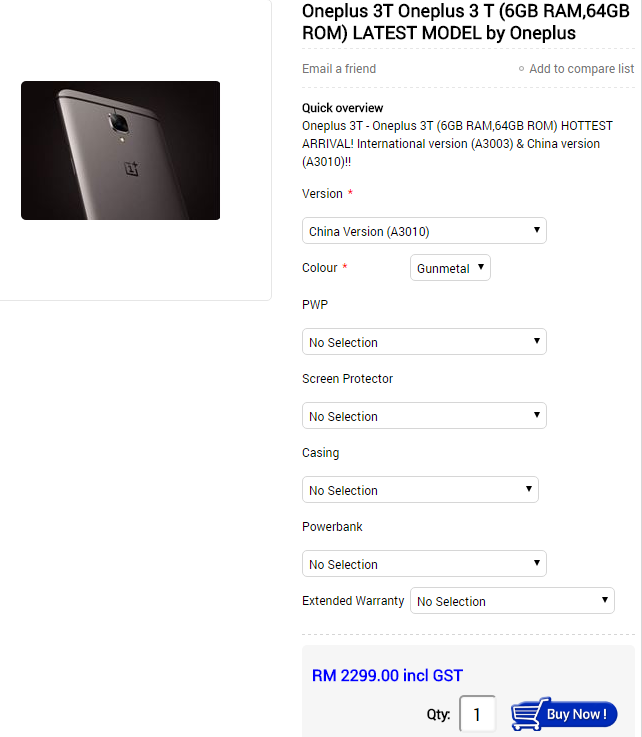 The OnePlus 3T comes with China variant (A3010) and international variant (A3003) and priced differently at RM2299 and RM2499 respectively. Only gunpowder bronze colour is available on the website by now.
The china variant (A3010) runs on Hydrogen OS 2.5 while the international variant runs on OxygenOS 3.5. Apart from firmware inconsistencies, other hardware and design remains the same.
【SatuGadget】
OnePlus 3T from SatuGadget is only available at one single variant and it is priced at RM2399. Only gunpowder bronze is available right now.
Unfortunately, SatuGadget and DirectD only imports 64GB variant to the market while there is no luck for the 128GB variant yet. On a side note, the OnePlus imported by both company doesn't has official manufacturer warranty cover on the smartphone. All repair and fixes is provided solely from the respectively seller.
Visit (DirectD)or (SatuGadget)to learn more on this smartphone.
Source : soyacincau