From the OPPO's Super VOOC, MediaTek Pump Express to Qualcomm Quickcharge, the smartphone ability to recharge is an essential feature required for today norm as people are always hurried with their pace and low battery could means catastrophe. Qualcomm QuickCharge 3.0 was known to recharge 0% to 80% in charge 35 minutes and the new generation of QuickCharge from Qualcomm will be launched in just a few moments later.
The QuickCharge 4.0 will be launched by this week with a power output up to 28W! It comes with 5V/4.7~5.6A and 9V/3A with voltage of 10mv. In contrast to Quickcharge 3.0 with 18W output, 5V/2.5A & 9V/2A, the new Quickcharge could offer much shorter recharge time.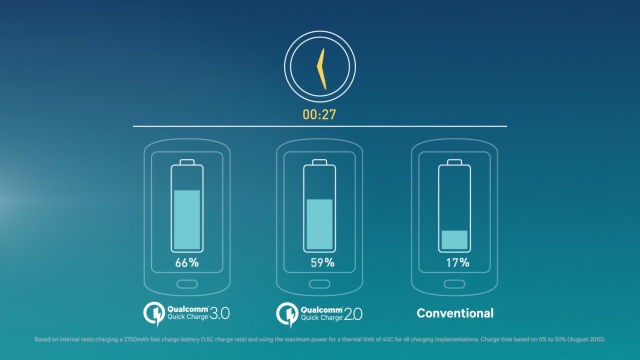 If such claim is true, Qualcomm has finally break the boundaries between the trade off between current and voltage flow and possibly even reduce the heat output generated when charging.
Source : qooah