The first generation of Razer Phone has bring a great initiative and the awareness of the rise on mobile gaming platform. With games from strategic MOBA to first person shooters, smartphones games has been widely expanding over the years and has a high economic return. After the Xiaomi Blackshark and the first Razer Phone followed by ROG Phone, Razer has launched the 2nd generation Razer Phone again with boxy design but now equipped with a much better hardware.
Razer Phone 2 specifications: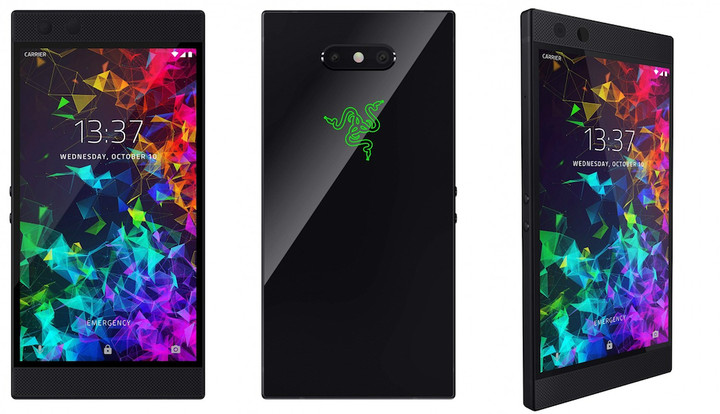 Android 8.1

5.7-inch IGZO LCD 2K screen (2560 x 1440 resolution, 120Hz refresh rate, 16:9 ratio)

Qualcomm Snapdragon 845 eight-core processor

8GB RAM + 64GB ROM storage combination (expandable to 2TB)

8 MP front lens, f/2.0

12 MP + 12MP rear camera , f/1.75+f/2.67, dual PDAF, dual LED flash

4000mAh battery capacity

Support QC 4+ fast charge

USB Type-C interface

Wireless charging

Side fingerprint recognition

Front dual stereo speakers, Dolby 5.1 surround sound IP67 waterproof and dustproof

NFC

Bluetooth 4.2

 

158x 79 x 8 mm

222g
Price: RM3299
The new Razer Phone still shares the same boxy shape with the first gen model but the camera module has relocated to the middle of the rear panel. It also has matte surface and a glass panel as option.
The 2K IGZO LCD display has an aspect ratio at 16:9 which has 120Hz refresh rate and 120Hz touch sampling for even greater precision.
Known for its RGB chrome lightning, the Razer Phone 2 logo to supports different RGB lightning effects when app notification arrives.
Although it is a smartphone dedicated to gaming, Razer Phone still spec 12MP + 12MP dual rear camera with OIS stabilization and 8MP camera for selfie.
As a product of Razer, it also supports Razer Cortex that brings a library full of games that support 120Ghz refresh rate.
The Razer Phone will be retailing in the US for $799 and expected availability by 11th October onward.