Sony has been making some unprecedented changes on their Xperia series with the launch of the X series this year. On the IFA 2016 happening on September this year, Sony has introduced a mid-range Xperia X Compact and a flagship Xperia XZ smartphone that has some powerful hardware and an outstanding camera.
The Xperia XZ has a 5 axis gyroscopic camera with Tru2Life and RGBC-IR colour reproduction technology that makes the image even more impressive. We will be a breakdown on the camera on later part and see what the camera truly offers.
Sony Xperia XZ Specifications:
Android 6.0 OS
5.2 inch full HD IPS screen (1920 x 1080 resolution)
Triluminos display technology, X-Reality Engine
2.2GHz Qualcomm Snapdragon 820 quad-core processor
Adreno 530 graphics processor
3GB RAM + 64GB ROM
Supports up to 256GB memory card expansion
2MP rear camera, f/2.0 aperture, 5-axis gyro stabilization, PDAF autofocus
13MP front camera with f/2.0 aperture
Bluetooth 4.2
USB Type-C charging interface
Support Dual SIM Dual Standby (Hybrid SIM)
Support IP68 waterproof and dustproof design
Support fingerprint unlock function
146 x 72 x 8.1mm
161 g
2900mAh battery capacity, support QC3.0 fast charging
Official Price: RM2699
Design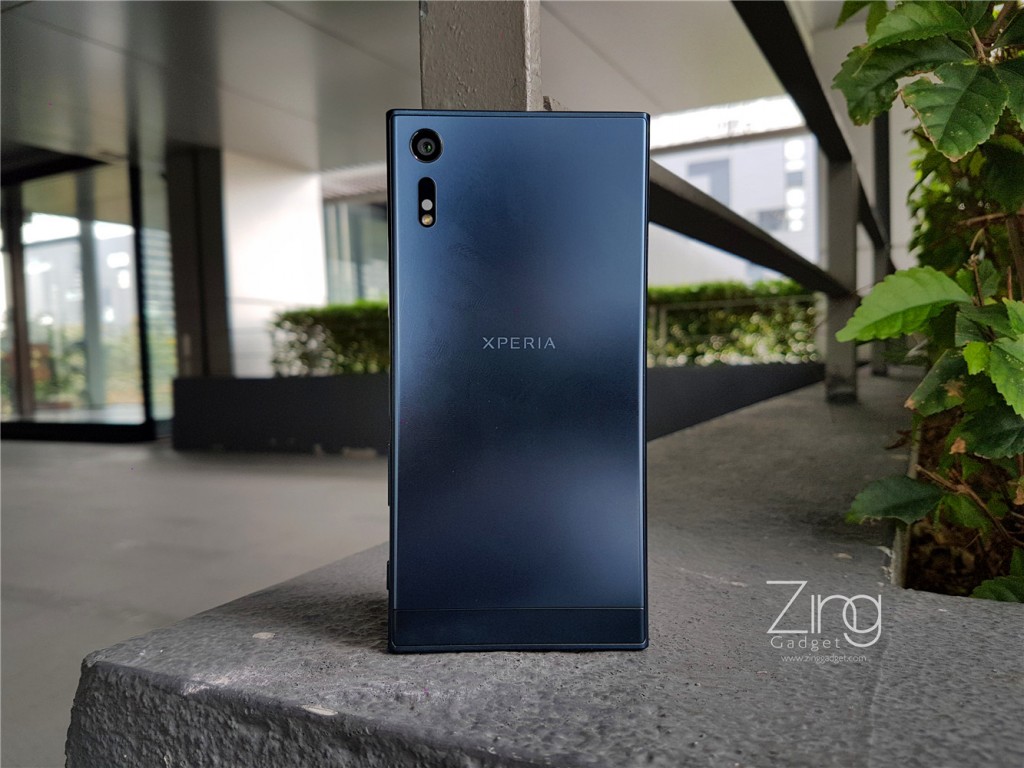 The launch of Xperia X series marks the Sony decision to replace existing Xperia Z series in this year. While the Xperia Z series has did a solid job in building up Sony Mobile reputation, Sony continues to venture Xperia X series with the Sony Xperia X Performance and Xperia XZ. While Xperia X Performance has overlooked the design legacy of Xperia classic, the Xperia XZ is able to resembles the exquisite design that has been adopted for the past few generation.
The metallic surface coated ALKALEIDO™ metal chassis in dark blue brings a new level of visual experience for the XZ and it certainly looks amazing. Sony seems to be taking pride in their surface area this time round with a treated metal that looks pretty awesome when it hits the light.
Emphasis on its outlook, Sony Xperia XZ has added 2.5D glass  and an endless loop design  that enhance grip experience.
The XZ comes with dual front speakers that are located near the edge.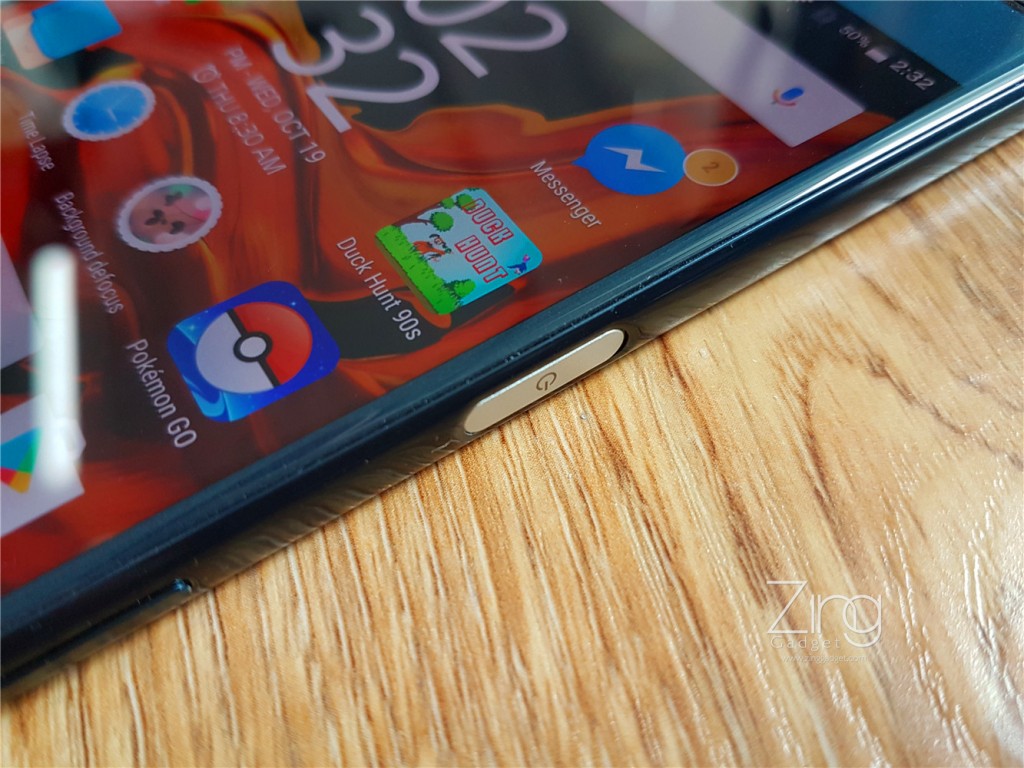 Noticeably, a large silver button is the power button also marks the location of the fingerprint sensor.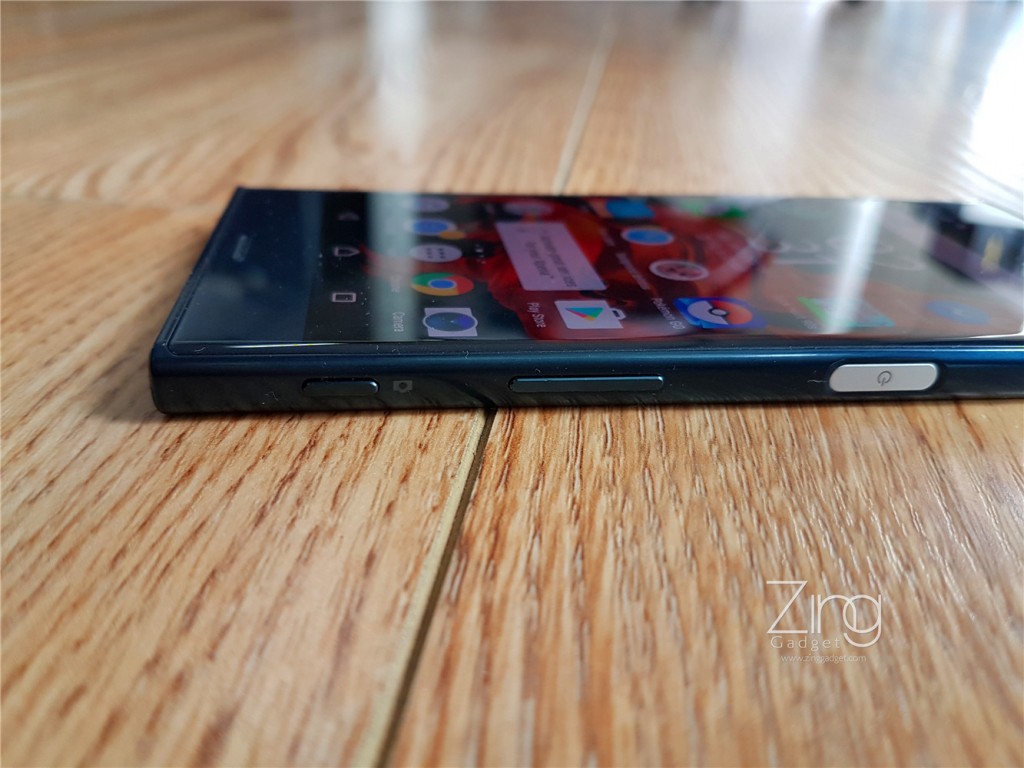 Instead of located at the opposite side, the volume rocker is located at near bottom of the smartphone. Slightly on its right comes the camera shutter key that makes manual shooting an awesome experience.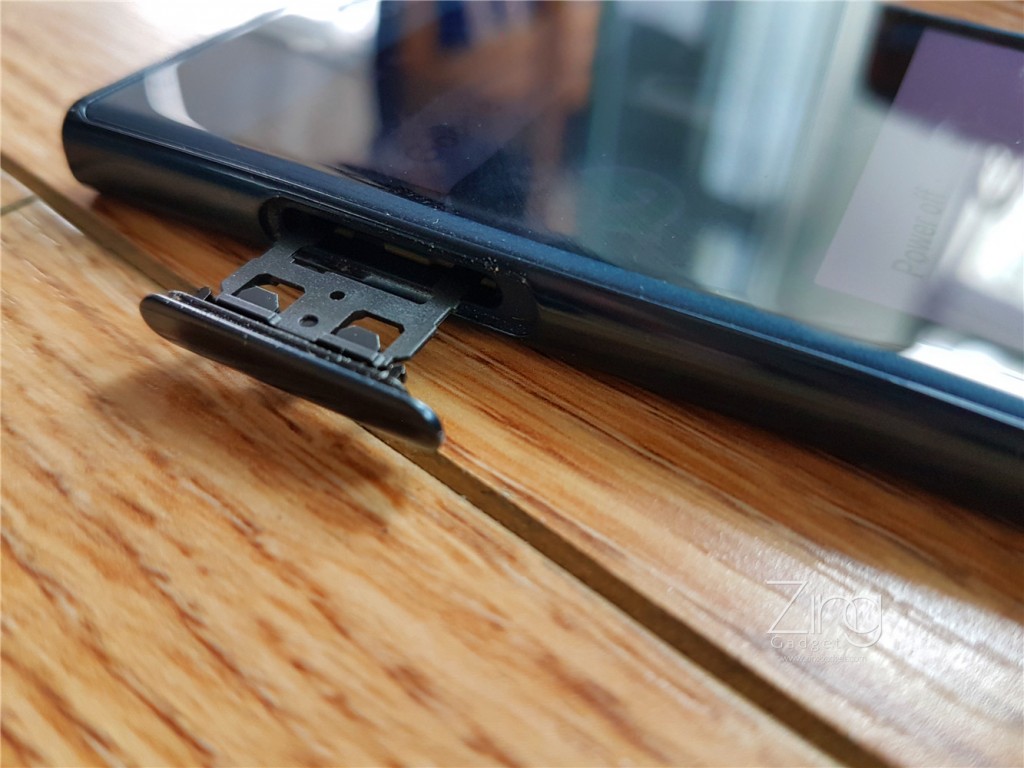 The Hybrid Slot can be easily removed without any pins. Simply swap out your SIM for an SD card!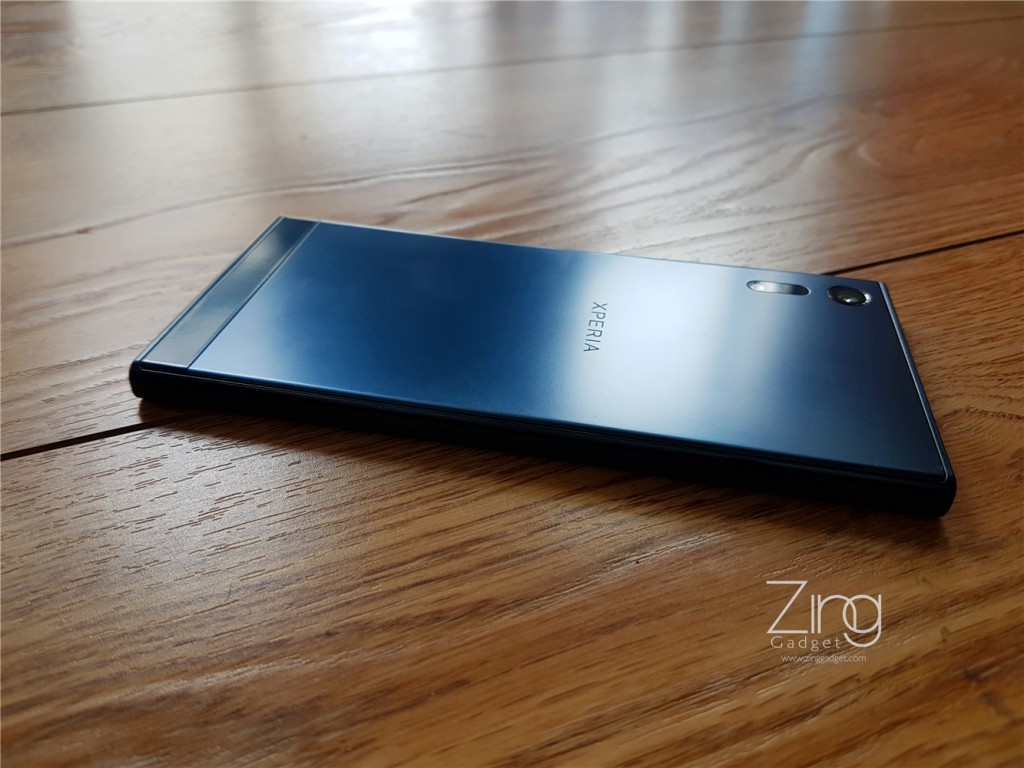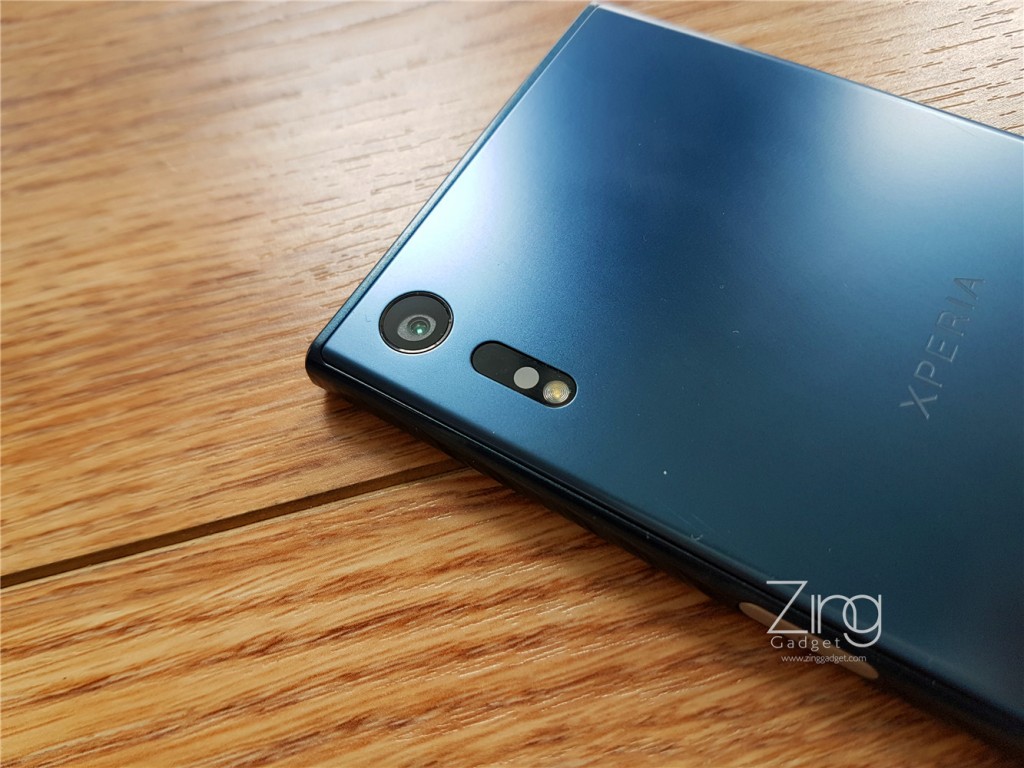 The camera is where the Xperia XZ manifest its own style. The camera is said to come with RGBC-IR module that largely enhances the way it retains the colours of different object.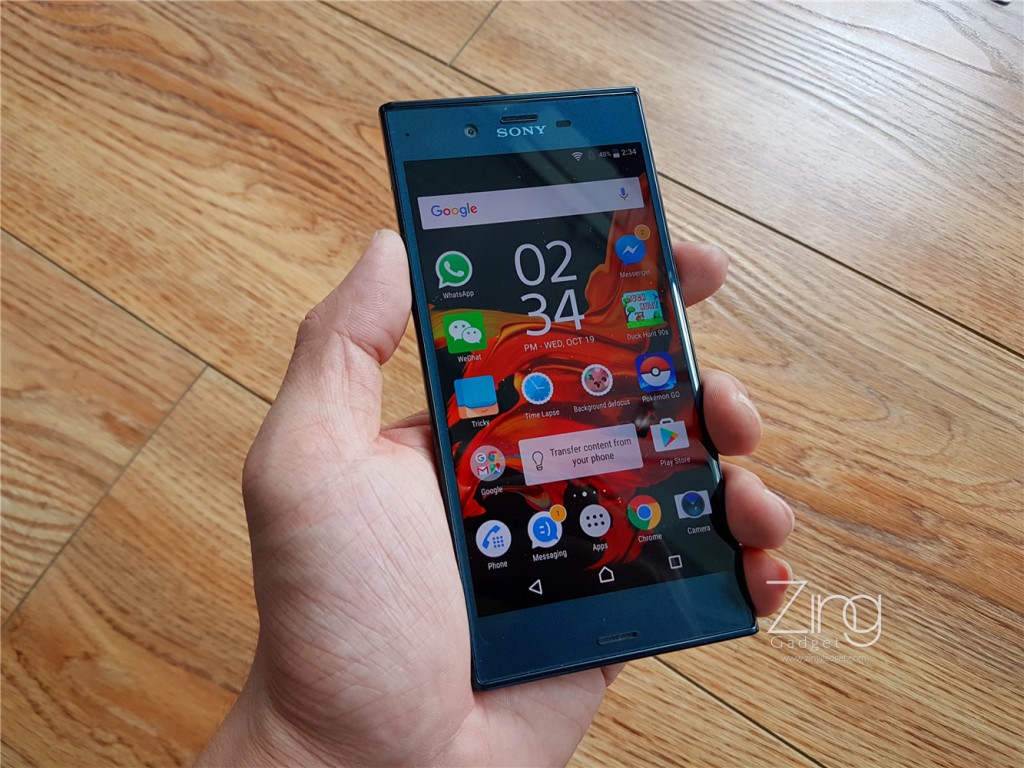 Xperia XZ has retained the iconic bar shaped Xperia design over decades but the looped edge makes it a good object to grip with.
 Display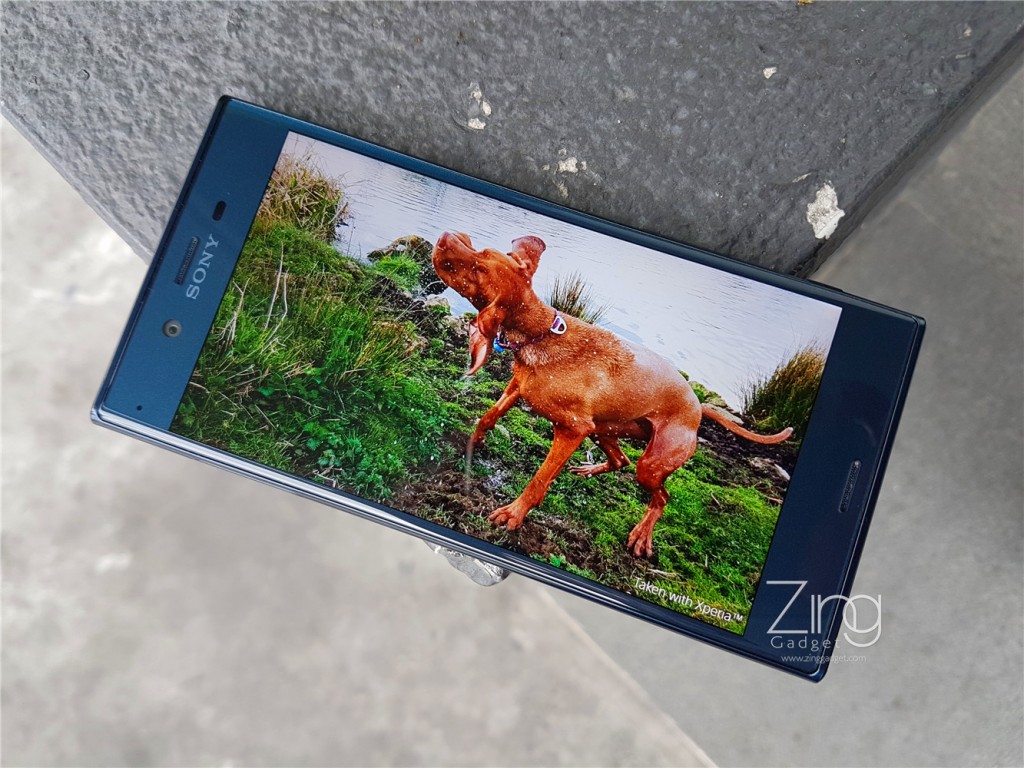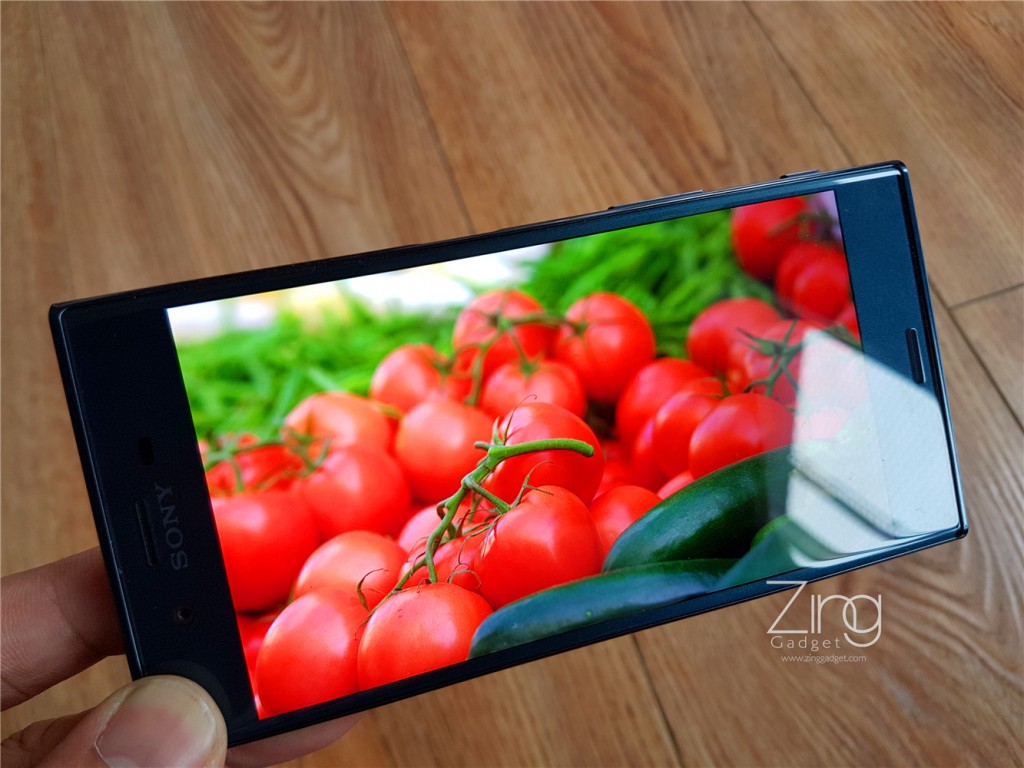 Along with X-Reality and Sony Bravia engine, the 5.2 inches Full HD IPS display is vivid and crisp at the same time. The Xperia XZ also comes with Dynamic Contrast Enhancer that enhances the colour accuracy and adjust the brightness in different environment.
Camera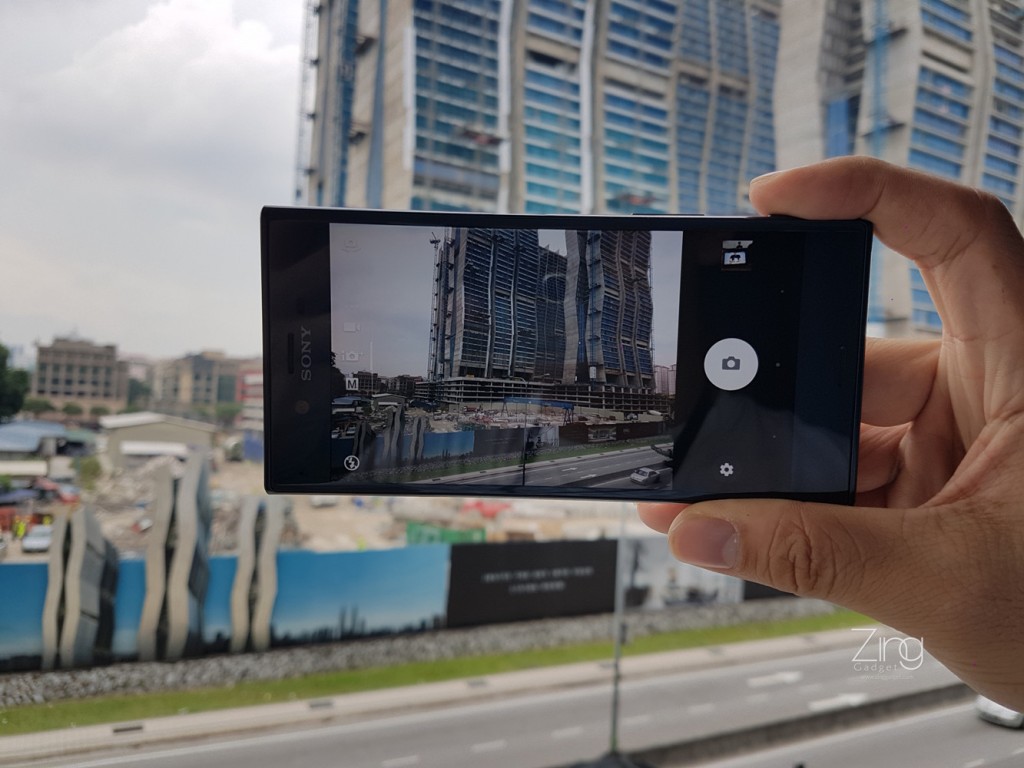 Apart from the Phase Detection Autofocus support, the 13MP rear camera also comes with RGBC-IR sensor and infrared module that shorten autofocus time. The 5 axis gyro OIS is one of the greatest highlight of the camera which is known to achieve object focus in the shortest amount of time possible with reduced shakiness.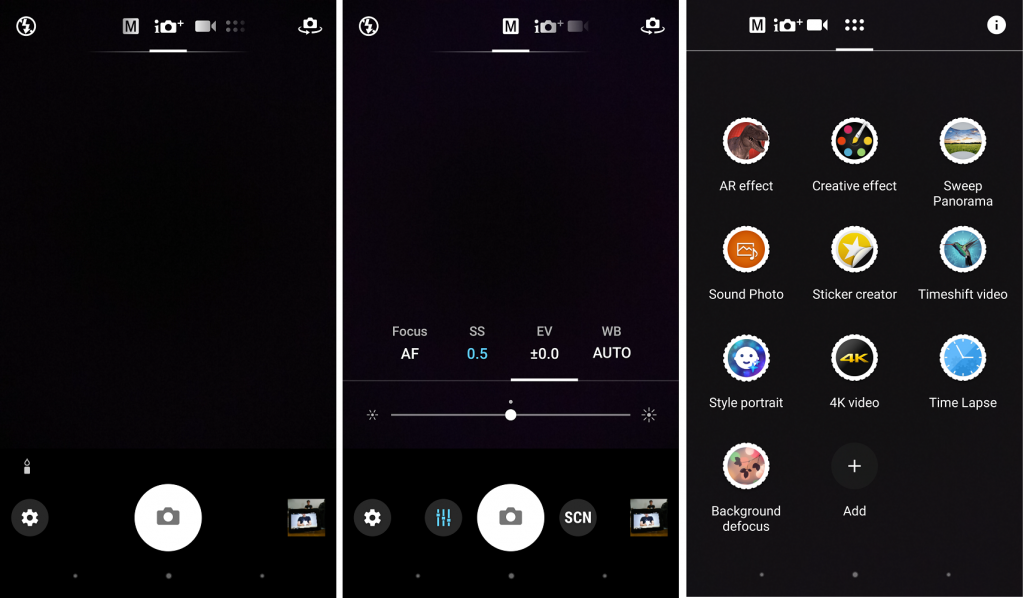 When it comes to the camera software, the UI layout is fairly simple and minimal. However, loading up previously shot photos takes around 3 seconds which is unacceptable for a flagship smartphone. This lag may cause some frustration in users and it might be improvement in future updates.
The Xperia XZ did a pretty good job on the image colour saturation and white balance. However, the post-processing algorithm does takes up some microscopic details especially at night. While the Sony Xperia XZ isn't the greatest camera that we experienced, we can expect camera application optimization and improvement in sooner or later.
Software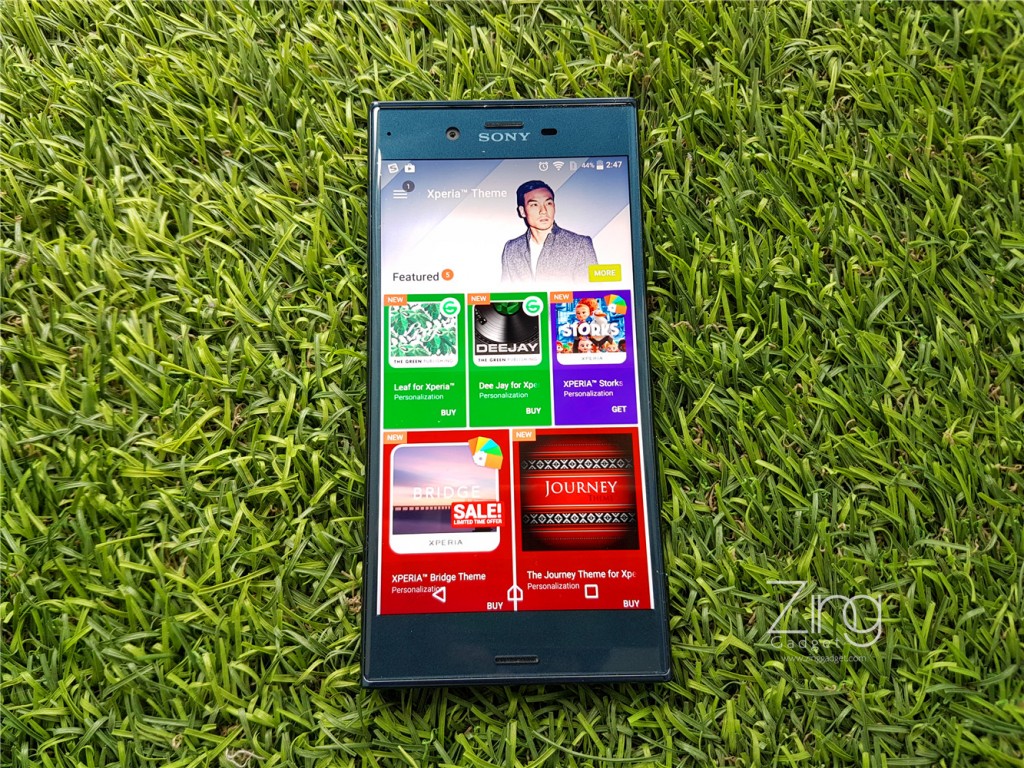 Sony did a great job in modifying and optimizing the firmware which is based on Android 6.0. However, this customized firmware comes with some preloaded applications, or some call it bloatware such as PlayStation, Xperia Lounge and Amazon Shopping. Meanwhile, those extra camera features such as Background Defocus and Timelapse aren't installed as default and hence user has to install it manually.
Battery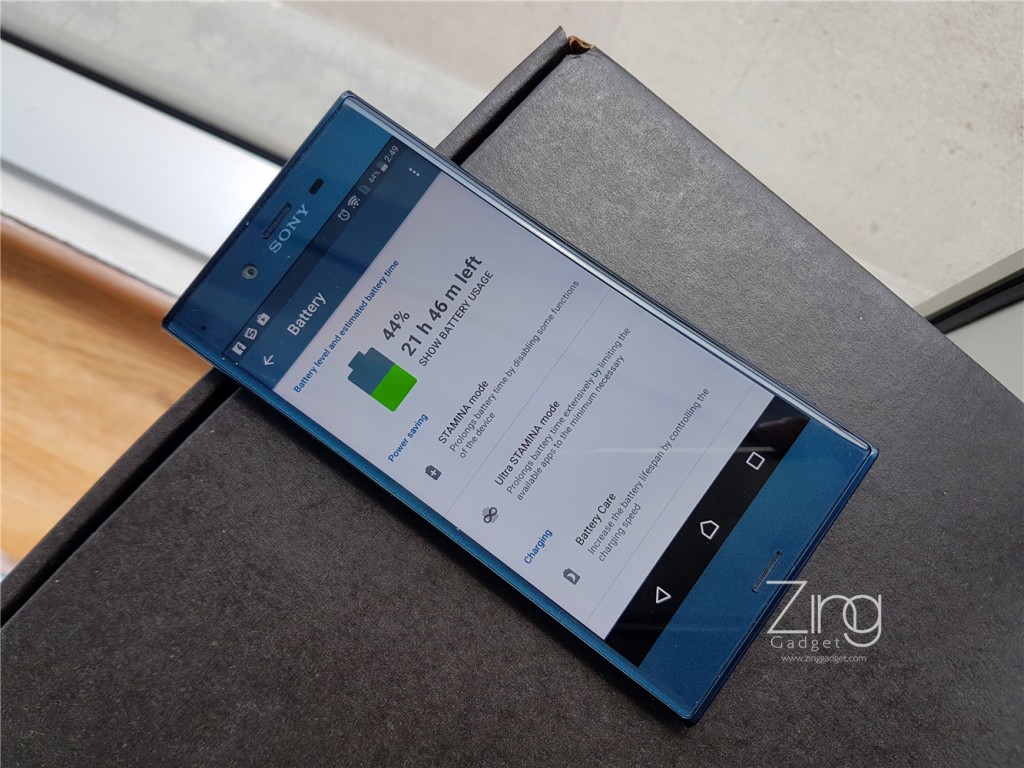 With a power hungry processor, the Sony Xperia XZ only comes with a 2900mAh battery which is sub par for a flagship. However, it is possible for it to last for a day and require a full recharge and this can be done quickly with the quickcharge 3.0 technology support in Qualcomm SoC.
If you wake up and realize that you haven't charge your smartphone for the day, it's no big deal as all these hours only drained around 1 to 2& of the total battery level and you can get your around 15% battery charged in just 10 minutes.
Performance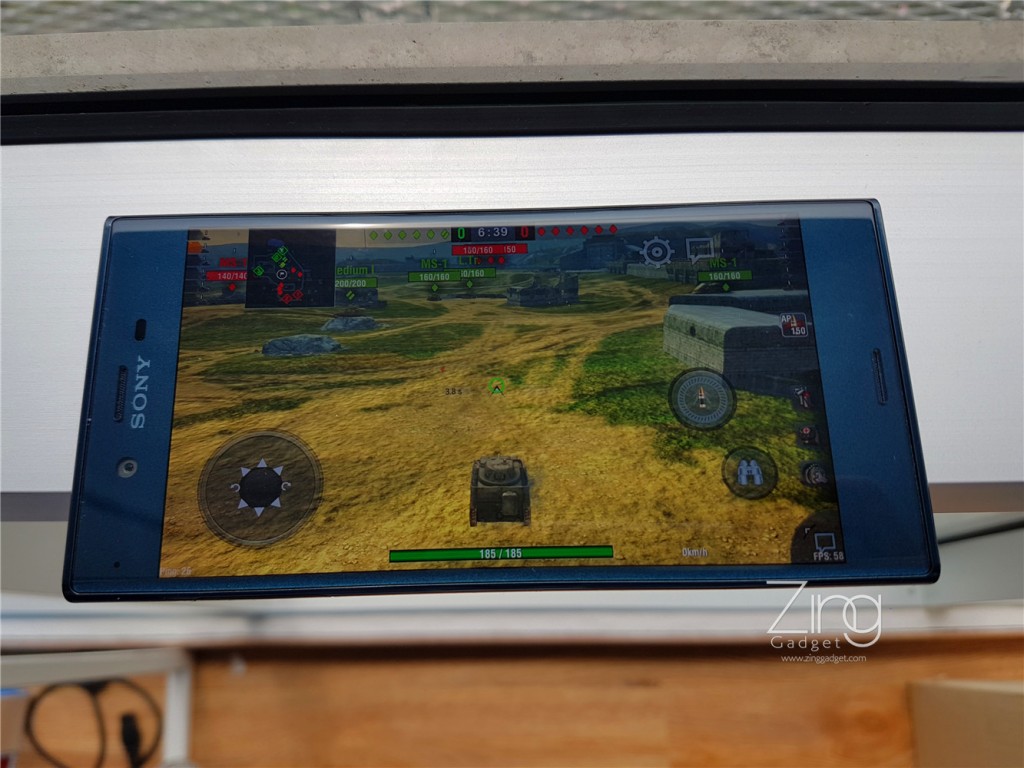 As a classical flagship smartphone, it's no big deal that Sony added the Qualcomm Snapdragon 820 SoC as their powerhouse. Unfortunately, other hardware also comes into consideration and the Xperia XZ only comes with 3GB RAM while most flagship in 2016 comes with 4GB or 6GB.
When it comes to heavy computing such as gaming, the Xperia XZ doesn't appear to be overheated like the last generation. Despite having a metallic alloy rear cover, there is no need to worry about the heat generated from the processor could affect your user experience.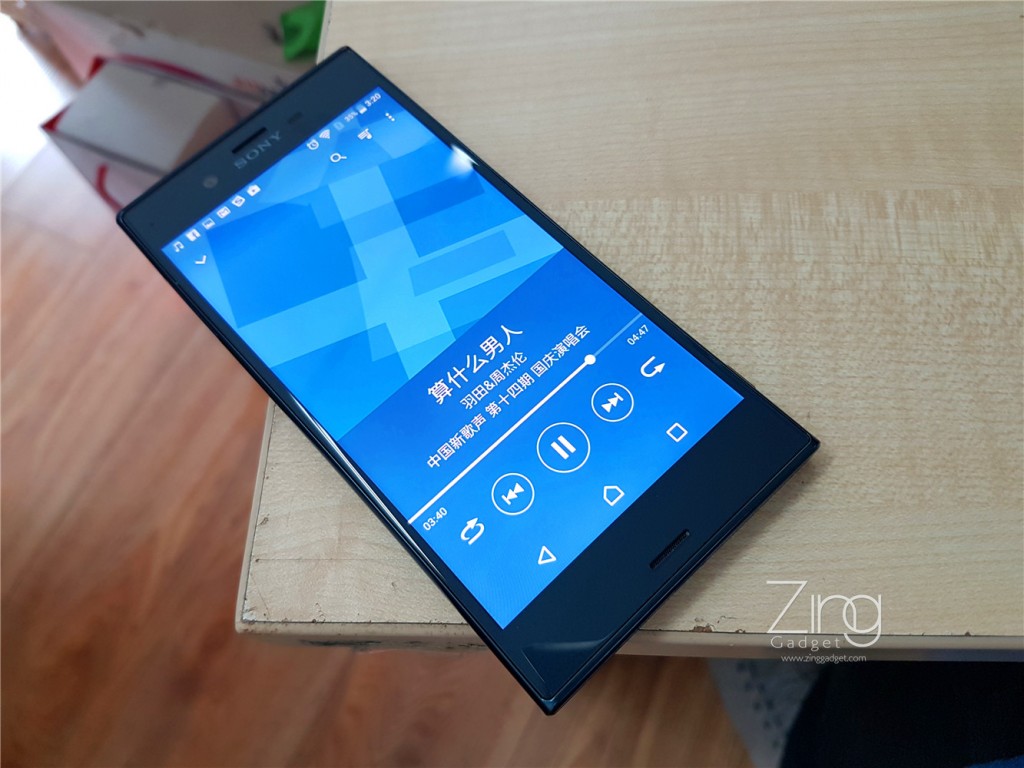 The Xperia XZ has added SEEHX, Hi-Res Audio technology that significantly improve audio output. User can adjust audio output with built in equalizer or by simple tune up the setting by enabling ClearAudio+.
Headphones are recommended for audiophile.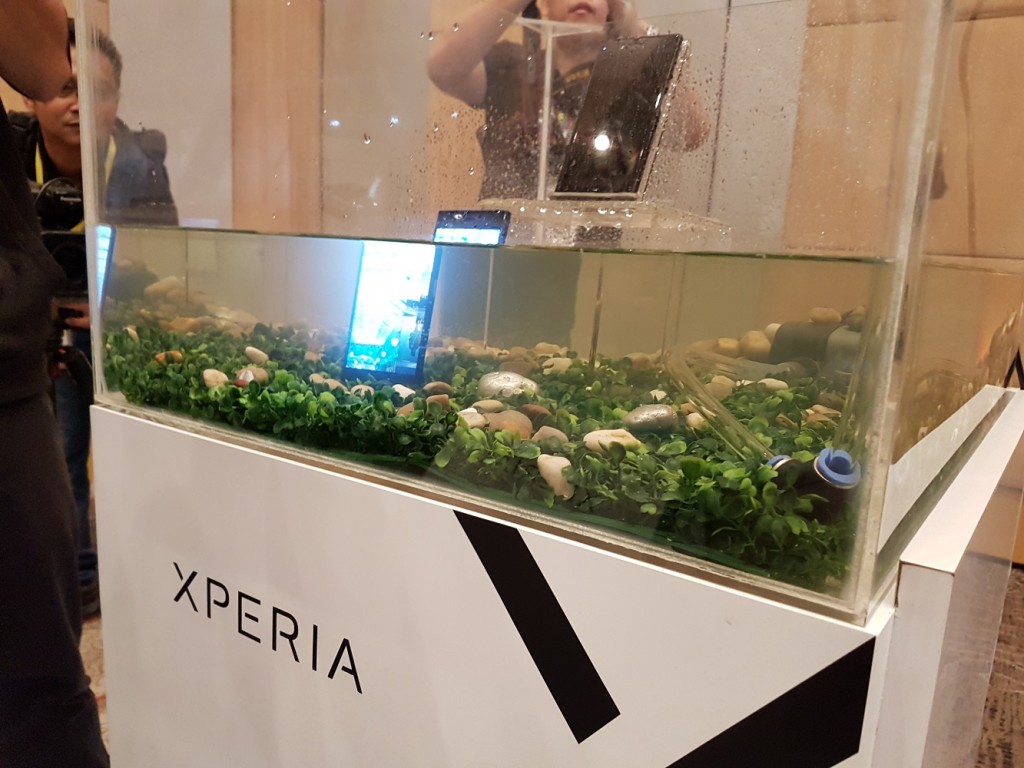 What's more? This smartphone is IP67 water and dust resistant like the good ol Xperia Z series flagship so that you can take photos in the water.
Conclusion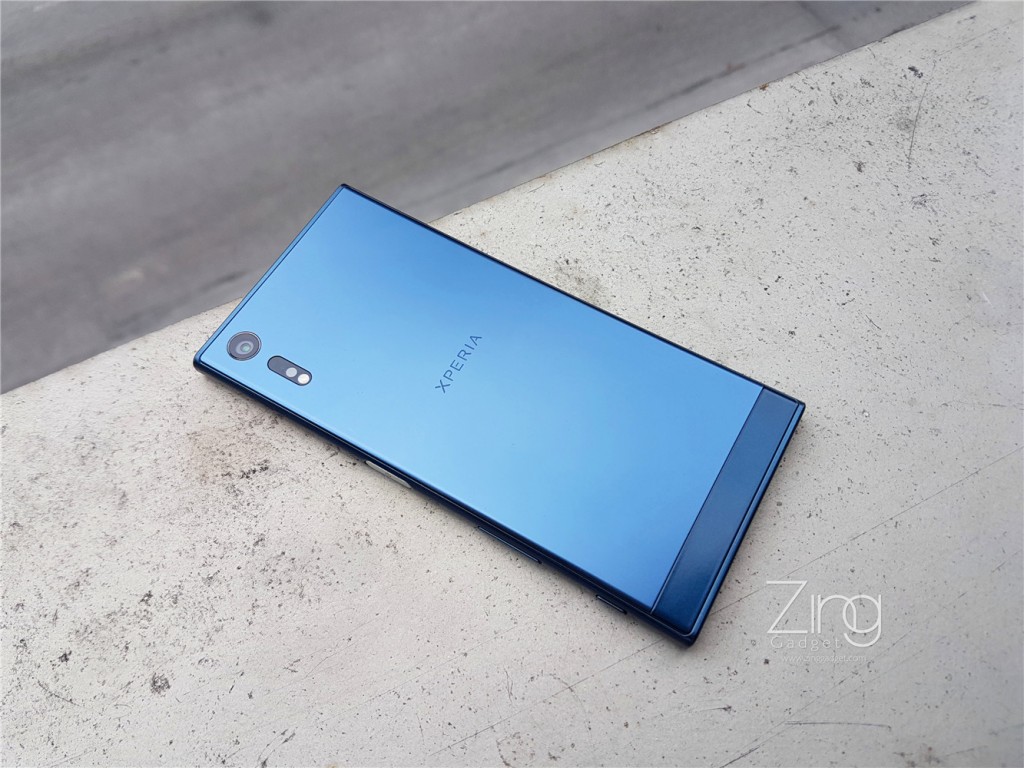 The Sony Xperia XZ is a decent smartphone in most aspect, be it battery life, camera features, design and its built. For those who want to try out Sony latest innovation of the camera or would like to enjoy high resolution music playback, the Xperia XZ is right for you.