With health and fitness are one of the top concerns of mobile consumer nowadays, manufacturers are making money over fitness tracker that are compatible with most smartphone across platform. Fitness tracker might be just as boring as a silicone strap that shows nothing, but the Gear Fit 2 from Samsung redefines the design and function of a fitness tracker.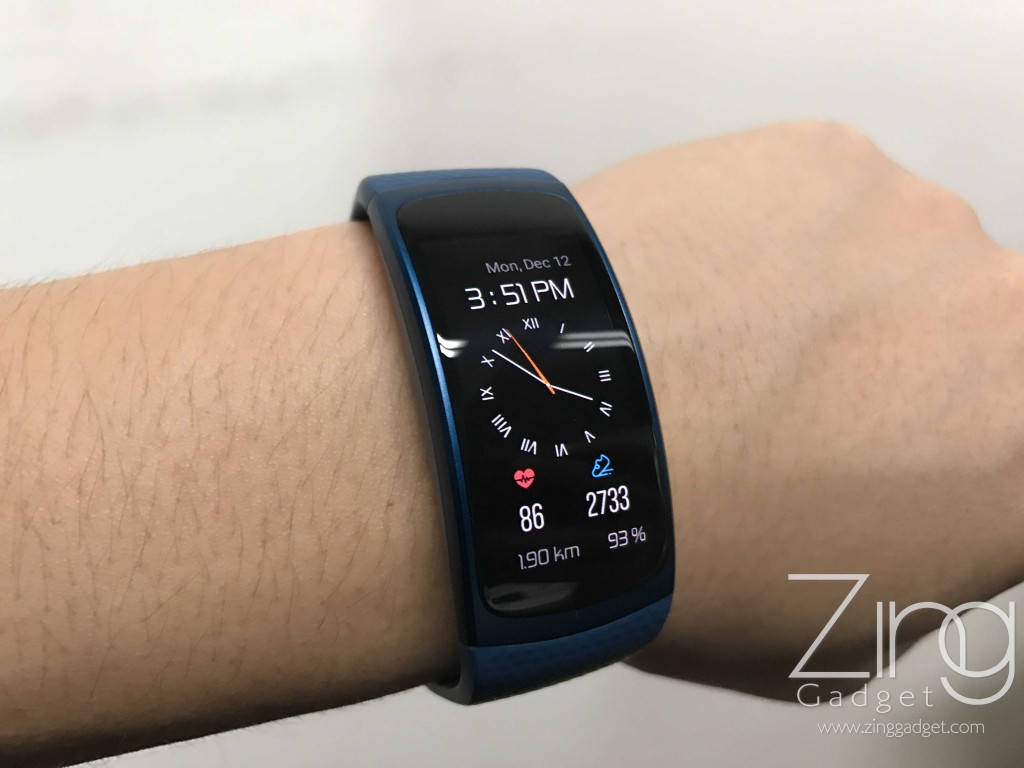 The Gear Fit 2 runs on Samsung Tizen OS which is compatible with smartphones running Android 4.4 and 1.5GB RAM and above.
◎  51.2 x 24.5 x 11.7 mm,weighted at 30g
◎ 1.5 inches 432 x 216 pixels resolution Super AMOLED touch display with multiple interface
◎ Changable belt lace
◎ Powered by SAMSUNG Exynos 3250 clocked at 1Ghz
◎ In-built 0.5GB RAM / 4GB ROM (store more than 500 music files)
◎ Support Wi-Fi 802.11 b/g/n wireless network and Bluetooth 4.2
◎ Built in GPS and GLONASS
◎ IP68 water resistant certified
◎ Heartbeat sensor, barometer and gyroscope
◎ Support walking, running, walking, sleep detection and other mode
◎ Independent music player
◎ 200mAh battery(5 days standby time)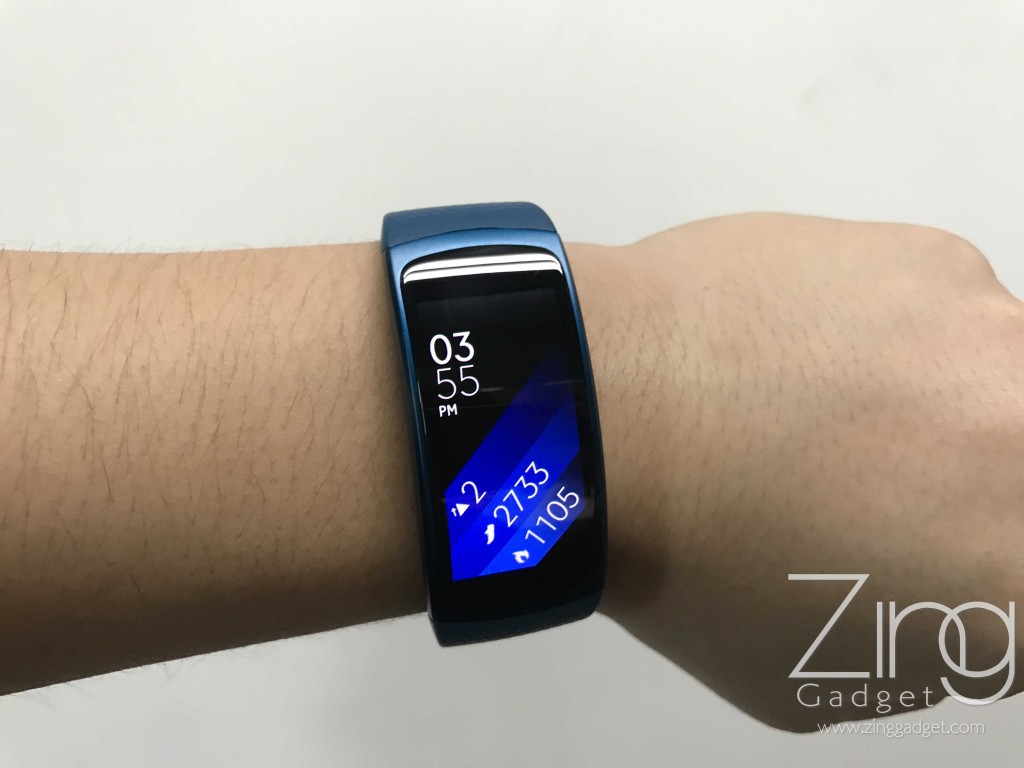 While Samsung smartwatch are known for its mega sized display, the Gear Fit 2 offers a 1.5 inches Super AMOLED display with 432 x 216 resolution. There multiple display interface to select from as to fit user preference.
It is attached with a silicone band which comes in variety of colours. The interior of the band comes has a dotted design that fits the band concept. There are also several styles available up for selection.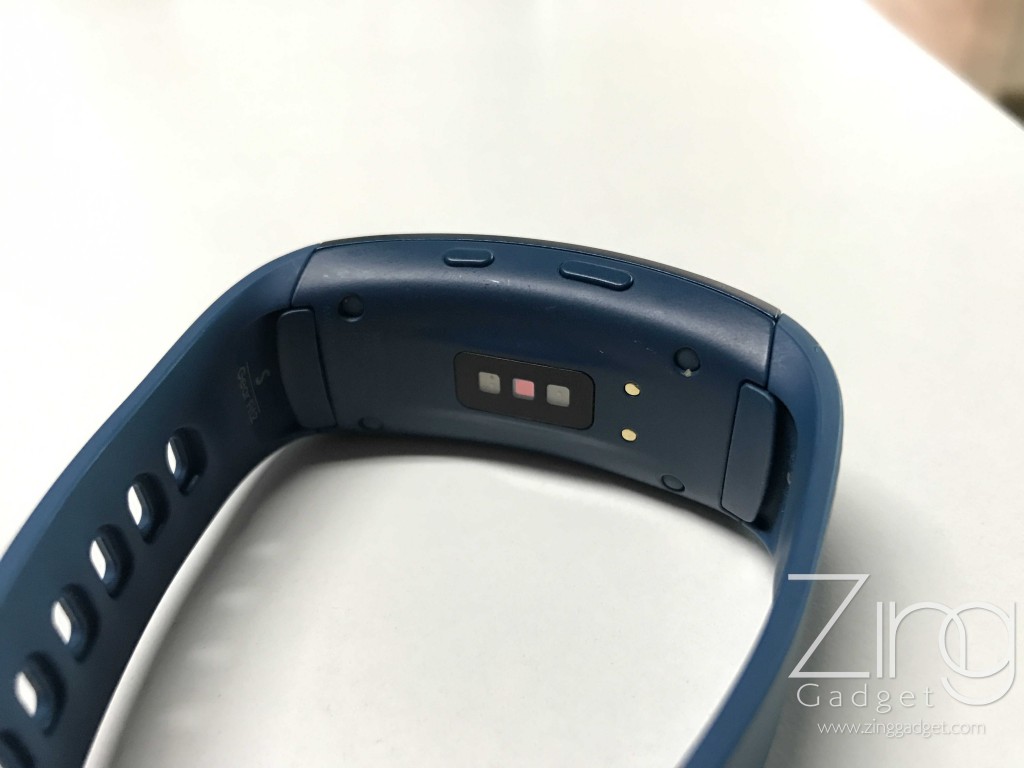 There are home and back button located on its right while the charging port and heartbeat monitor and located at the bottom. The 200mAh battery is estimated to power this fitness tracker for 5 standby days.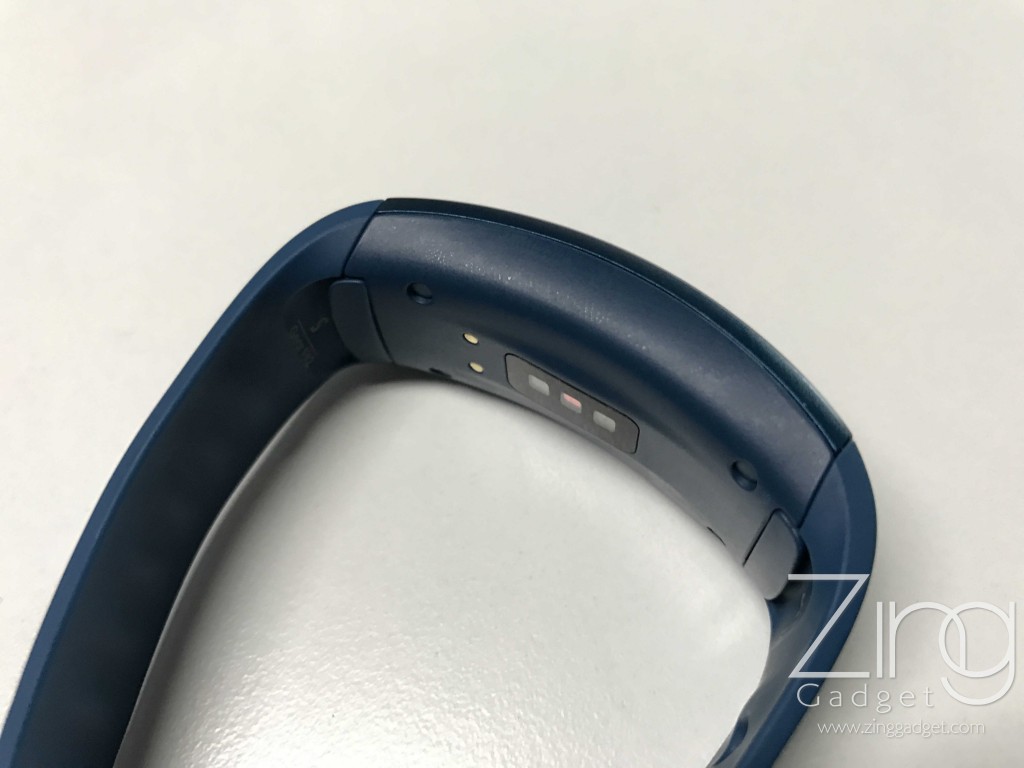 The left side was left intentionally blank.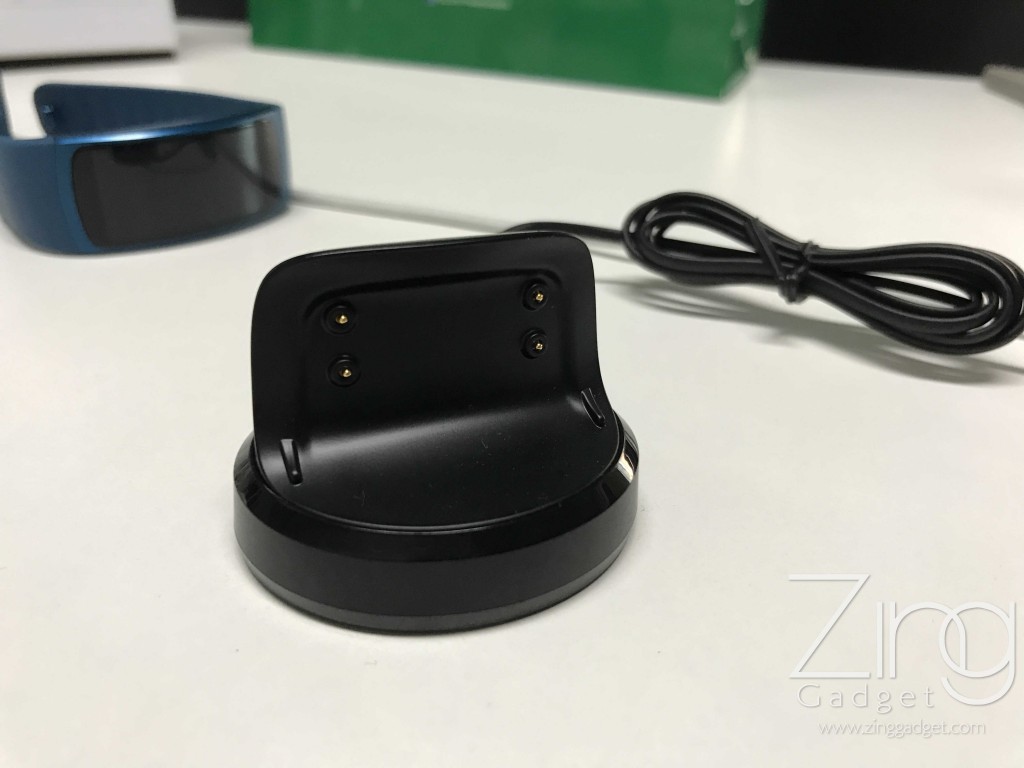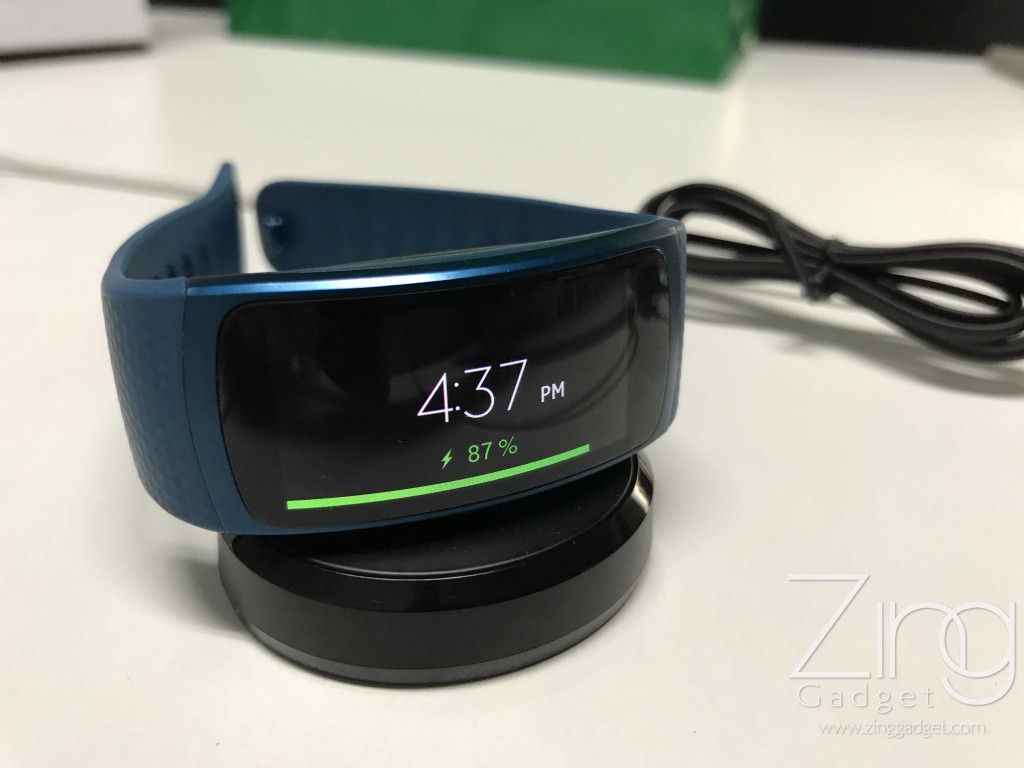 As for the charging port, the Gear Fit will automatically attached to the charger when aligned correctly. Despite we mentioned that the estimated battery life is 5 days, we found that that our review unit actually last for 2-3 days before requiring another recharge.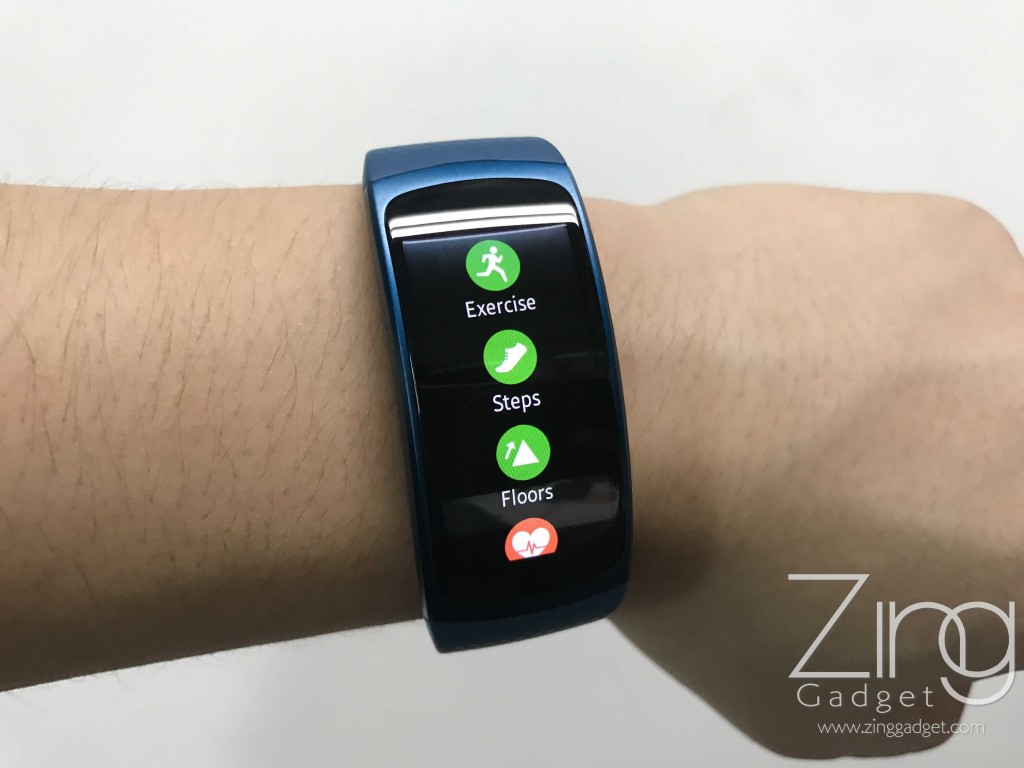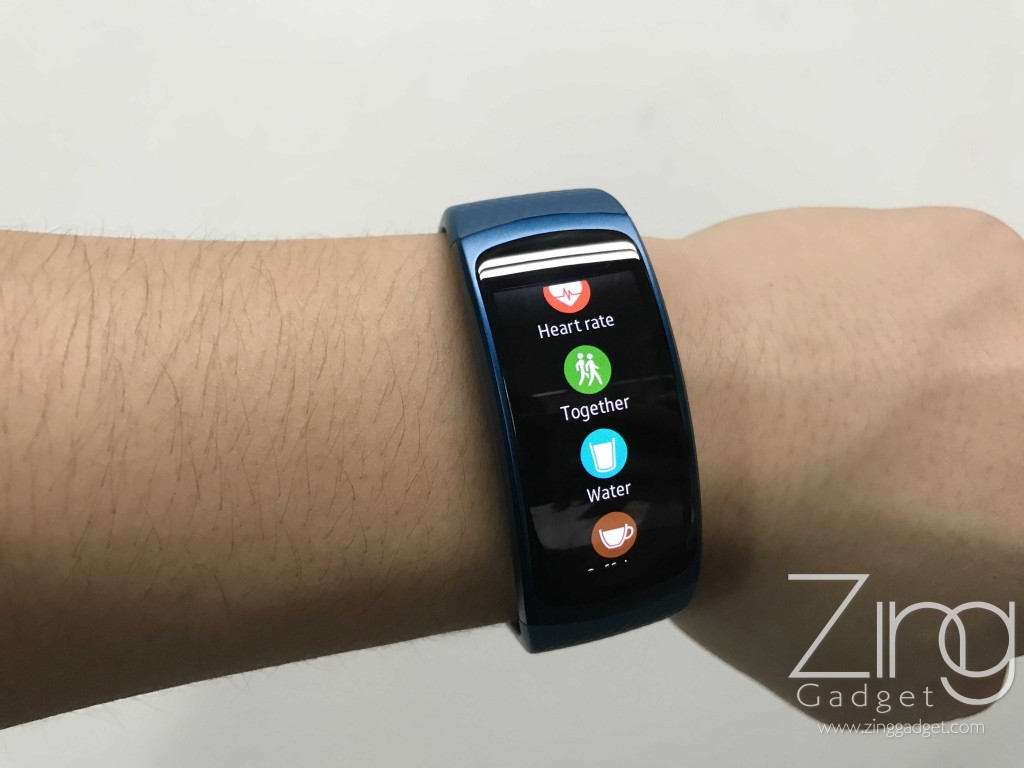 The fitness statistic can be easily tracked on the display and you can even compete with your friends!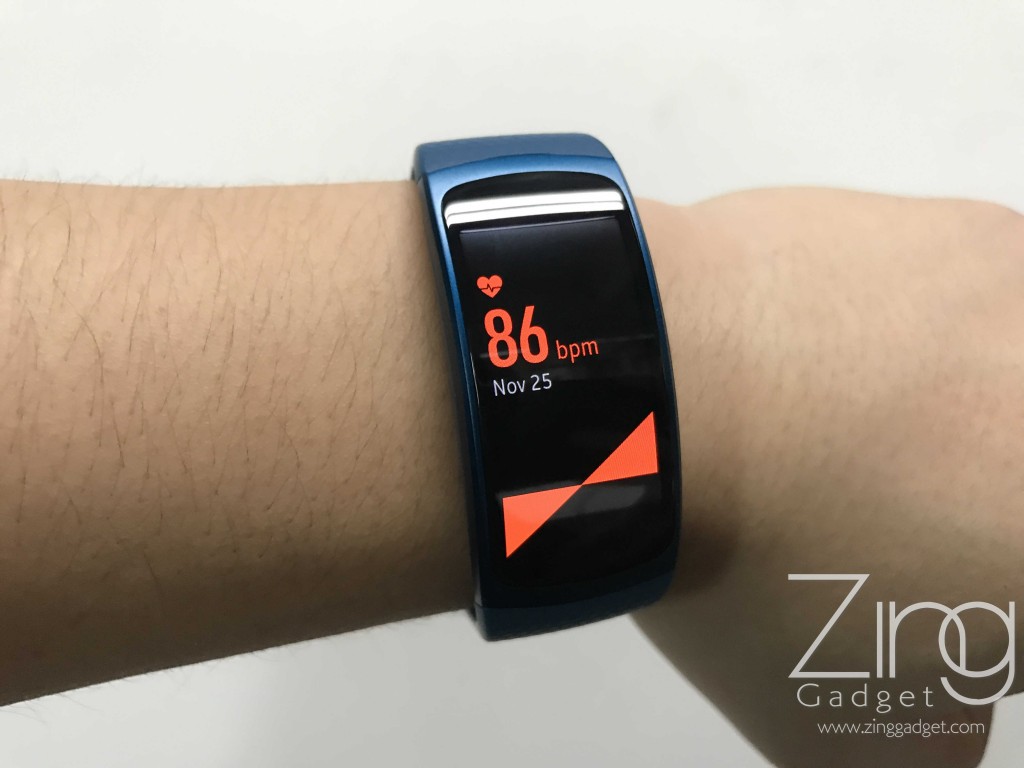 It also support instantaneous display of the heartbeat so you can monitor right on the display.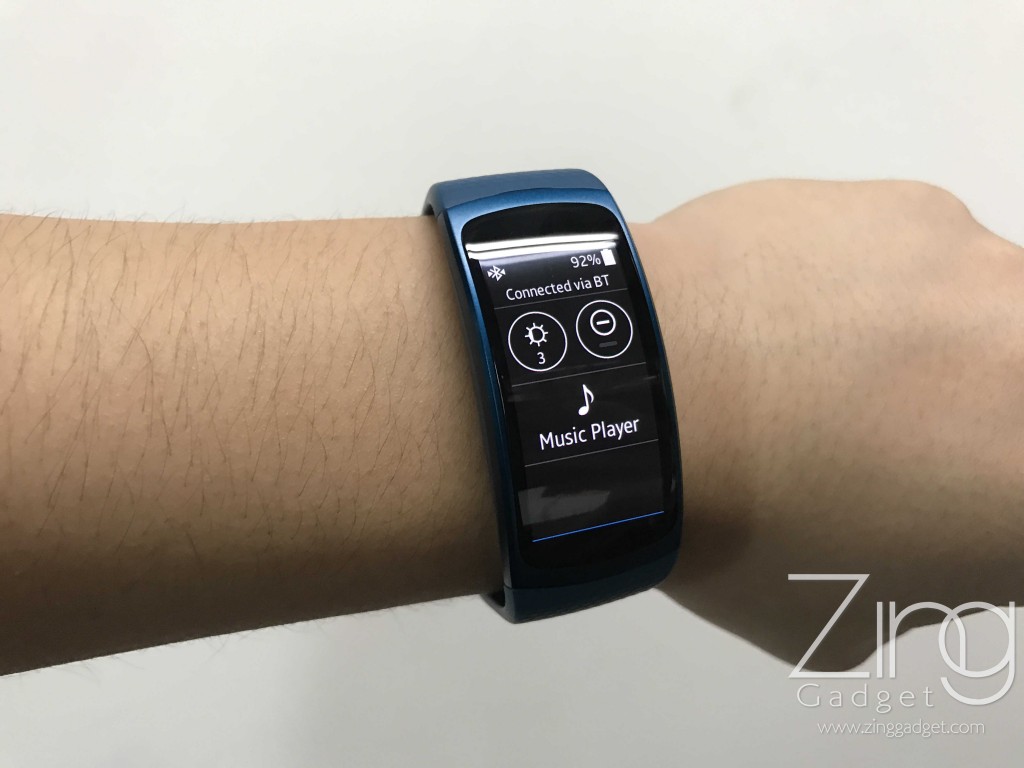 There are also several features that are not available in other fitness tracker such as brightness adjustment and disturb-free mode. The Gear Fit 2 now comes with GPS module assisted by GLONASS and its 4GB ROM that can store more than 500 music can play through Bluetooth earphones or speakers.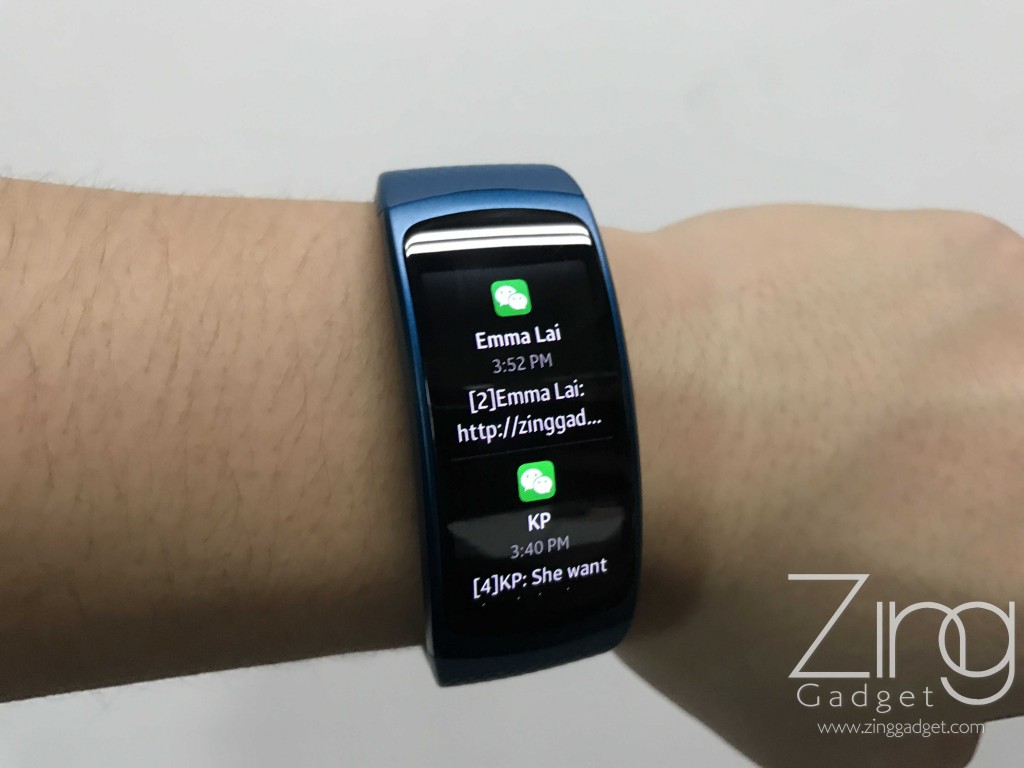 The Gear Fit 2 also display information from the smartphones which can be check and reply through the fitness tracker itself. While the display is not likely to fit in a QWERTY keyboard, there are preloaded text replies which can be managed through the Samsung Gear App.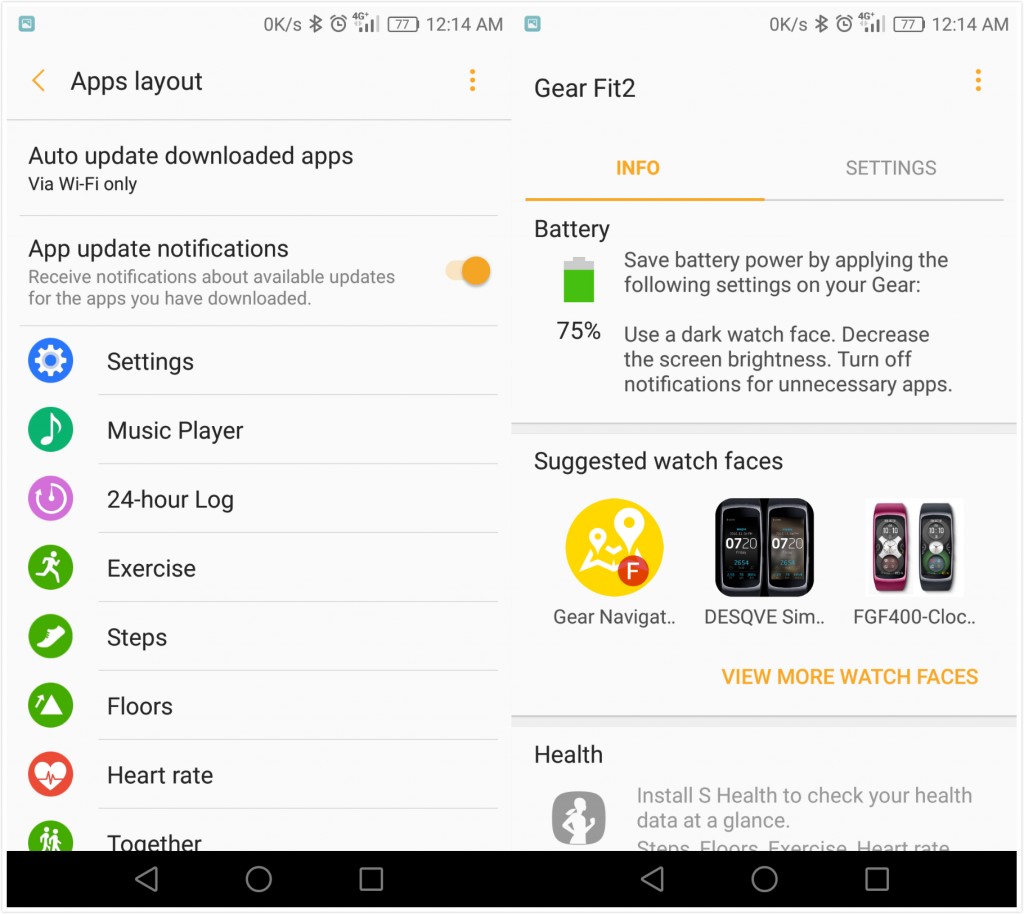 There are two applications that are required to install on the smartphone before we begin the pairing process. These two apps are the Samsung Gear and Gear Fit 2 Plugin. With these 2 apps installed, you can instantly monitor Gear Fit 2 battery level through the smartphone and change display interface in the Gear App settings. It is also possible to send music to Gear Fit 2 directly which can be broadcast right into earphones or speaker.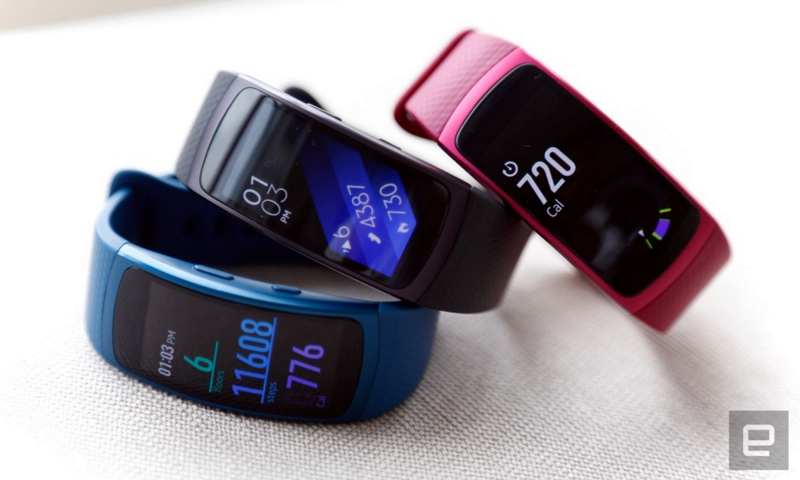 The Gear Fit 2 now comes with a design that people would like to fit on their wrist and wearing it on the public, instead of the bulky fitness tracker and smartwatch that does little job. If blue isn't your cup of tea,  there are several band colour such as grey and red up for selection. Lastly, the Gear Fit 2 is priced at RM699 for the features and design it delivers.
Samsung Gear IconX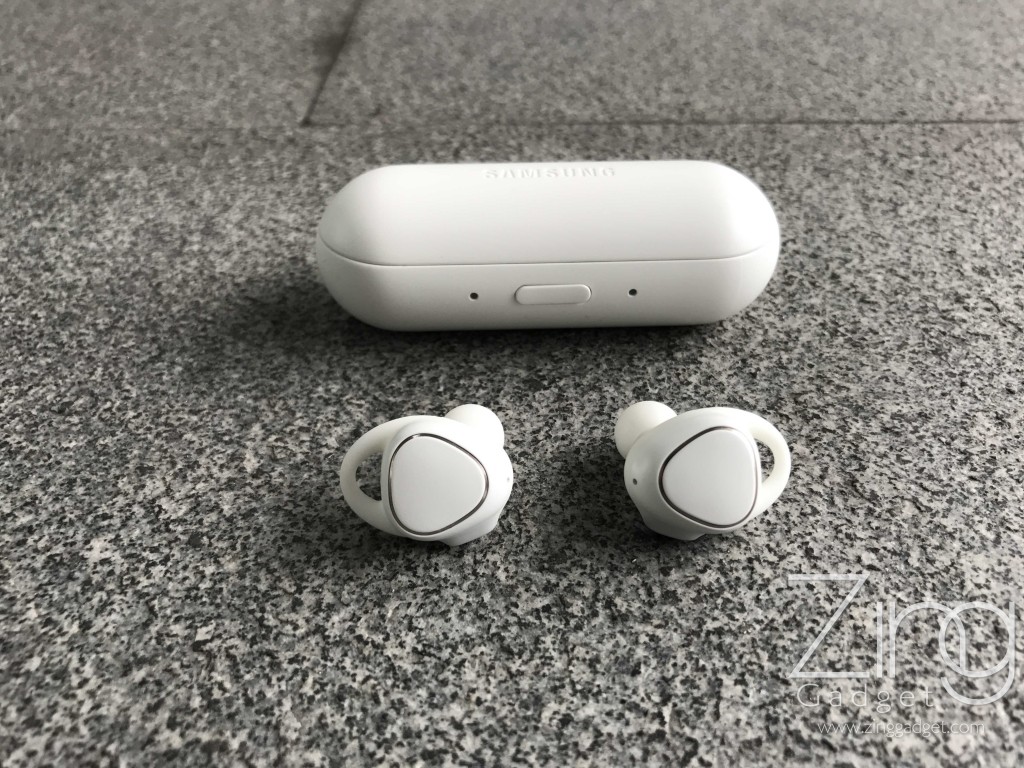 With Apple launching their own wireless AirPods earphone, Samsung also launched their wireless earphone named Gear IconX for those who enjoy listening to music while exercising.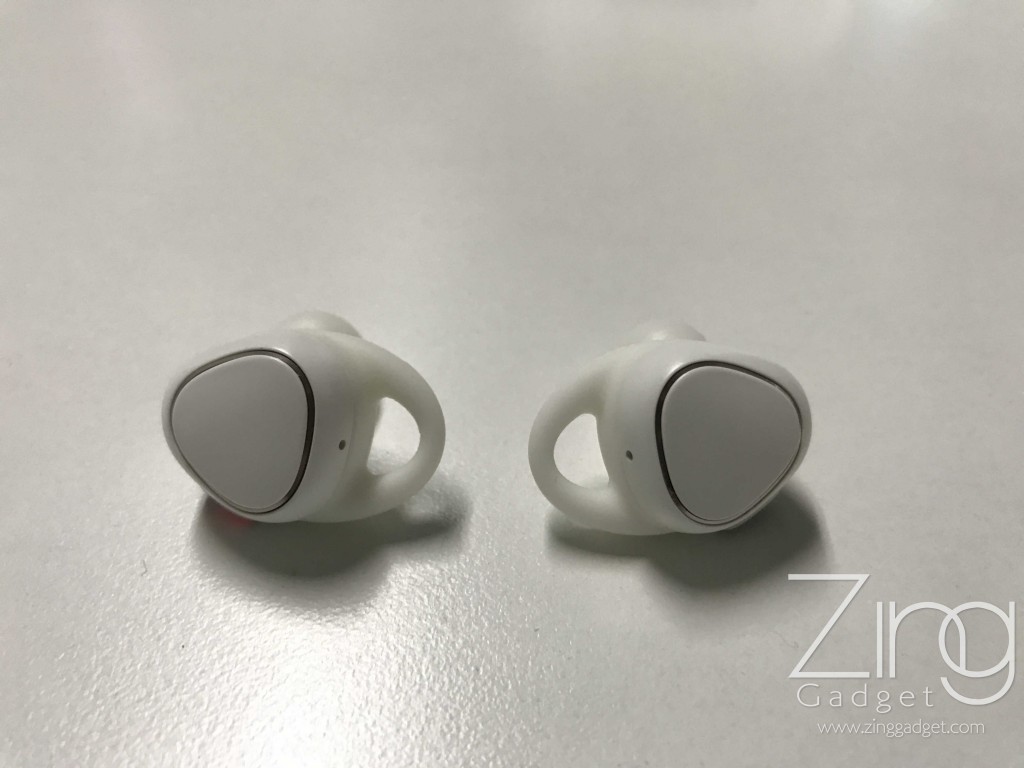 The wireless earphone offers "tangle-free" music experience where you are not getting bothered by the earphone wire that get in contact with your cheek. It is small and light weighted at 6.3g but it comes with all essential modules and features such as microphone and 4GB ROM, a microprocessor and a speaker.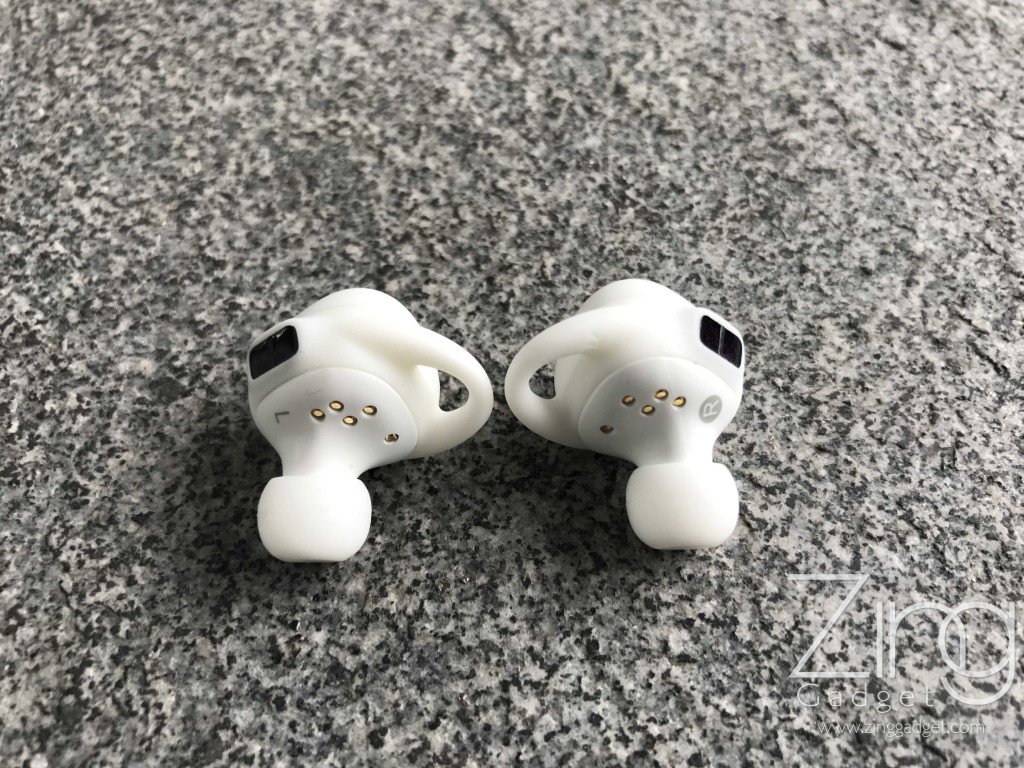 Designed for sport enthusiasts, the Gear IconX comes with heartbeat monitoring features through the sensor hidden under the black coloured module.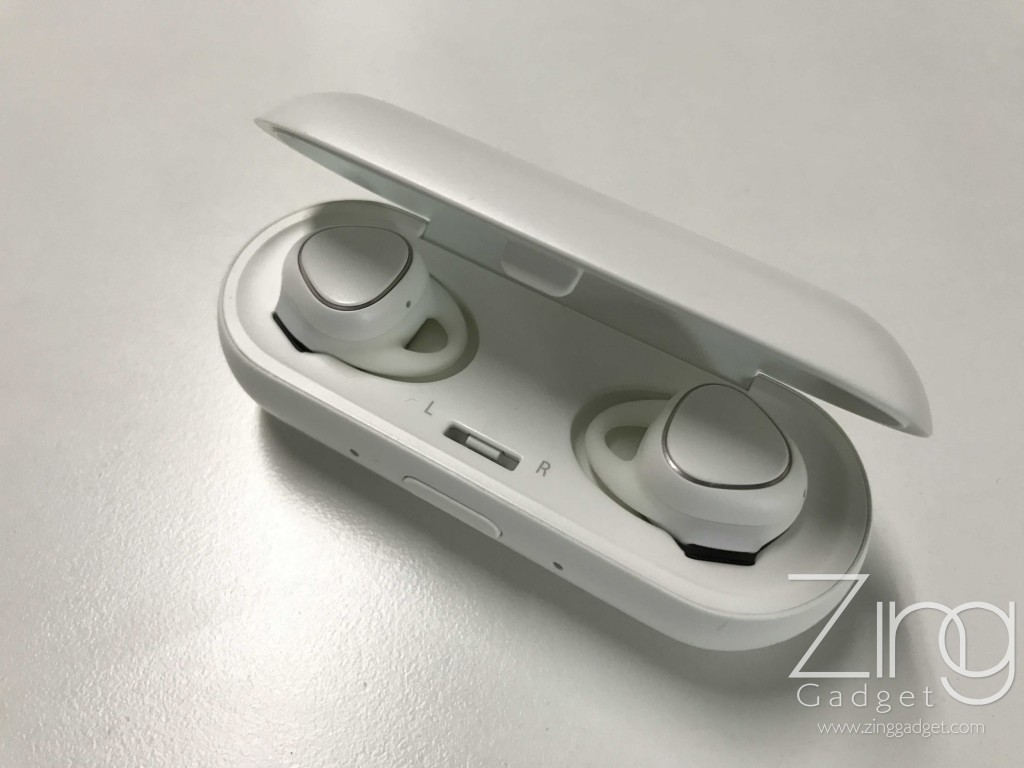 The 4GB ROM offers inboard storage that solves the Bluetooth synchronization issues faced on common wireless earphones.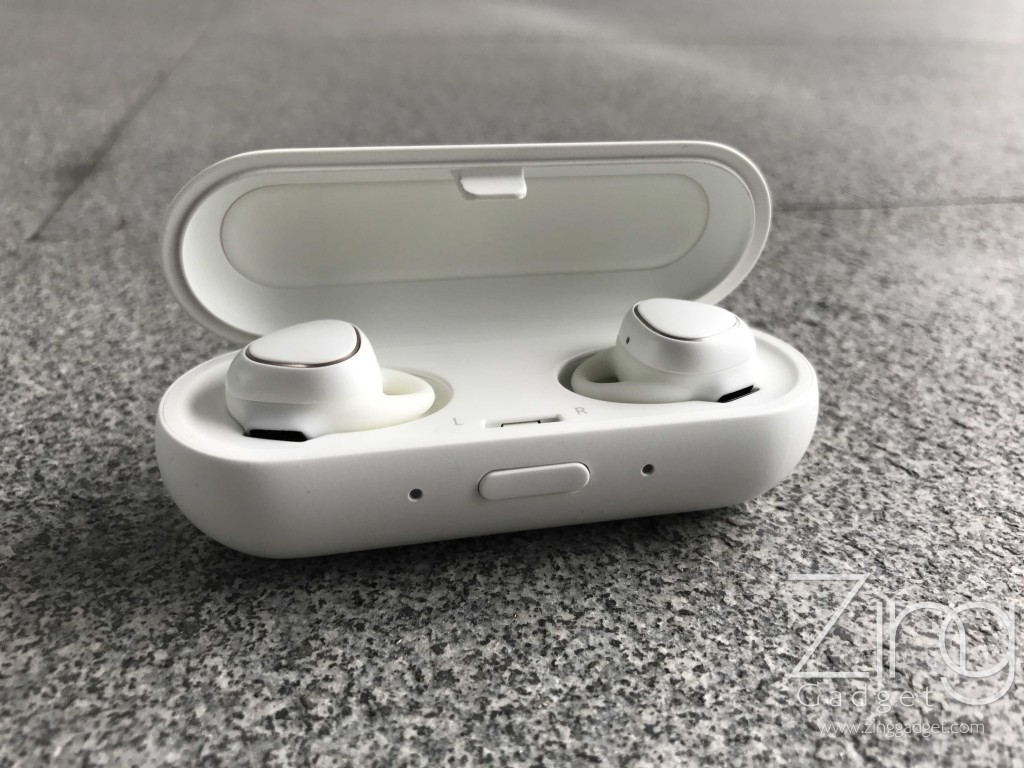 Samsung also offers a small storage box for the Gear IconX that also act as a recharge station. The box comes with a 315mAh battery while the earphone comes with 47mAh. Thus, the Gear IconX can be completely recharged when placed inside its container.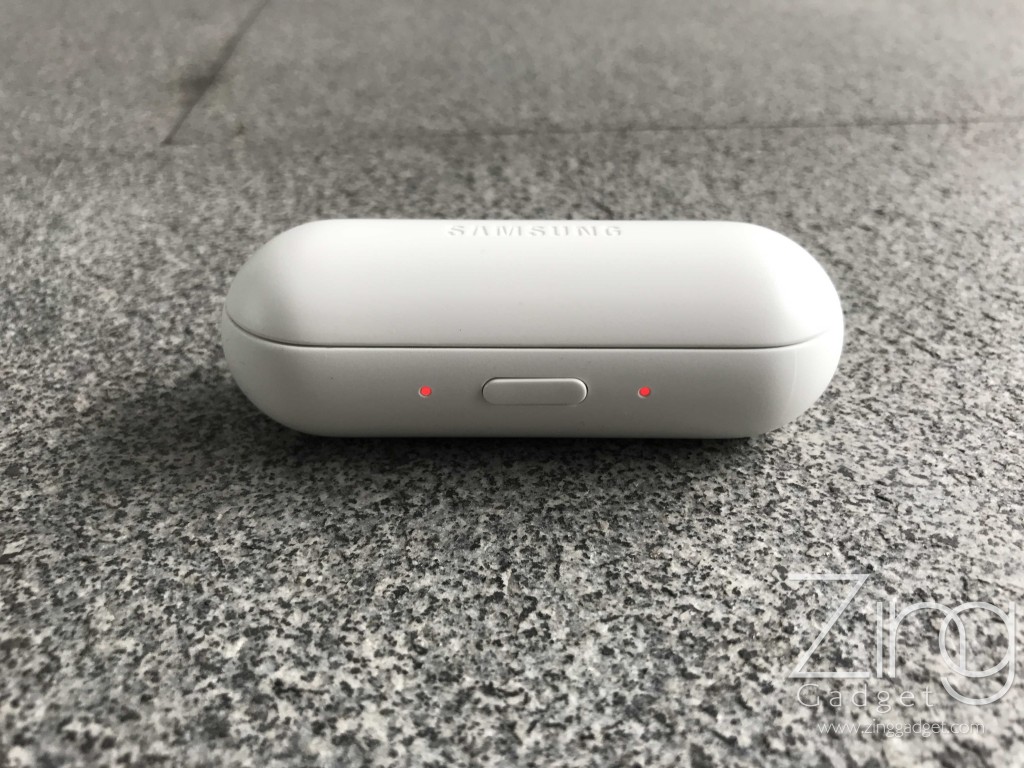 When the earphone is placed inside with lid closed, it will be recharged automatically with two red dots appear outside the box. Green light will display when the charging has been completed.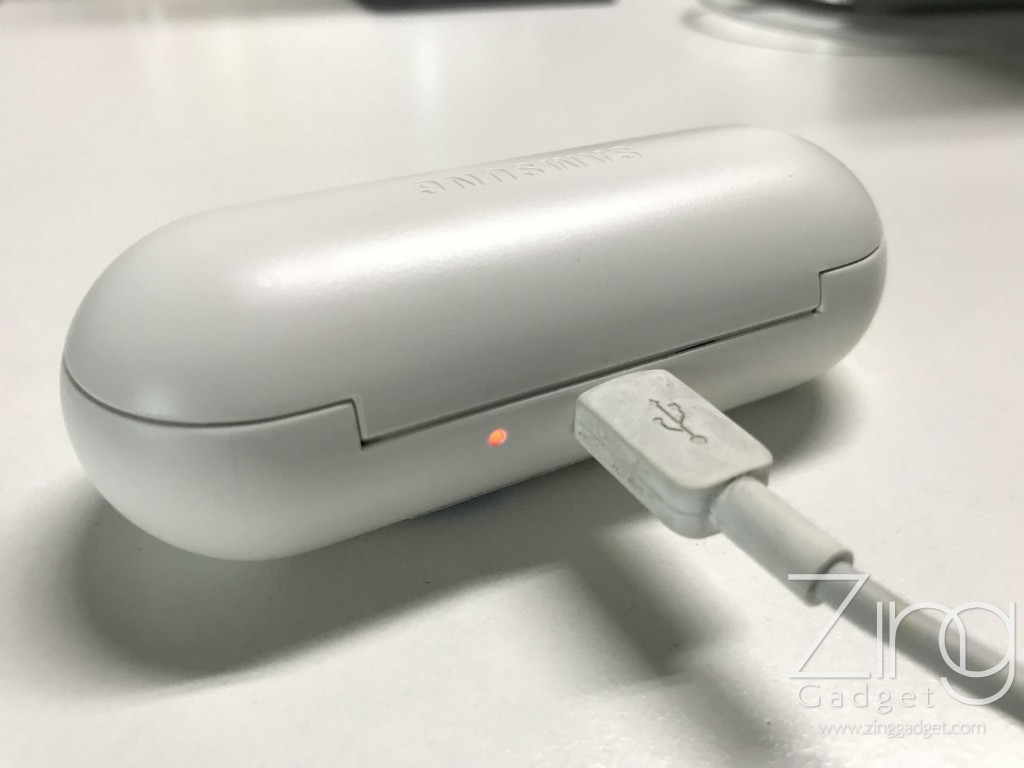 The microUSB dock for charging cable is located at the rear.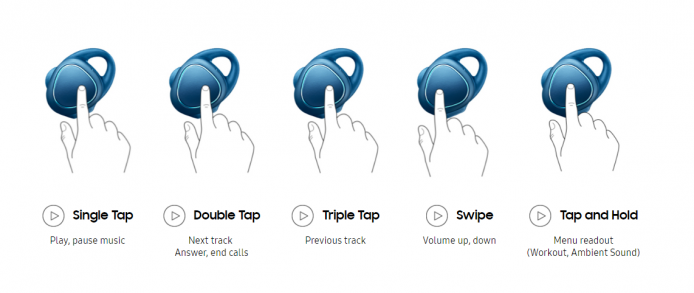 The music playback on the earphone can be achieved by tapping through multiple gesture as shown above. Volume can also be adjusted by swipping up or down through the touch sensor.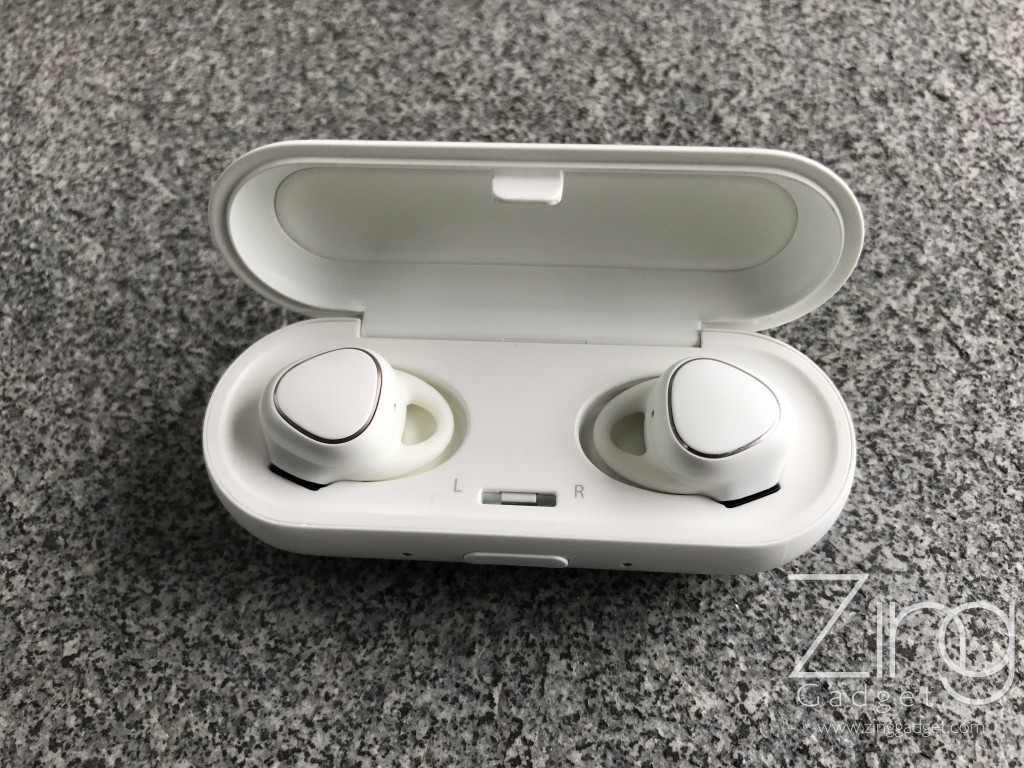 The surface of Gear IconX comes with P2i nano coating which means that it is splash resistant and resist sweat that could possibly damage the earphone interior.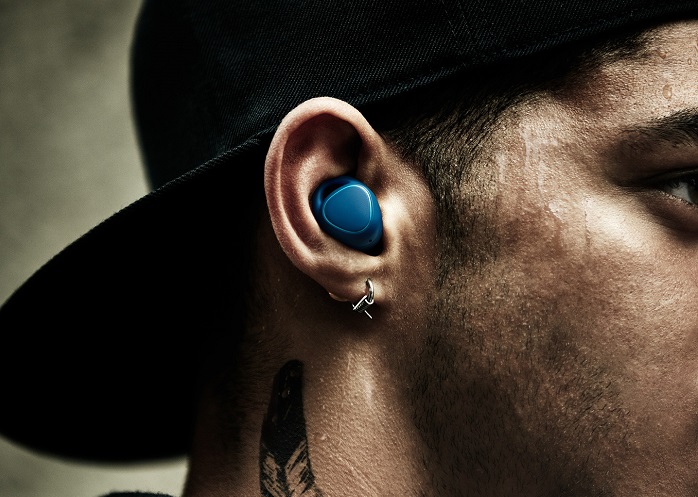 By storing music directly into the earphone, the Gear IconX can achieve maximum playback time around 3.5 hours while streaming directly through smartphone would last for 1.5 hours.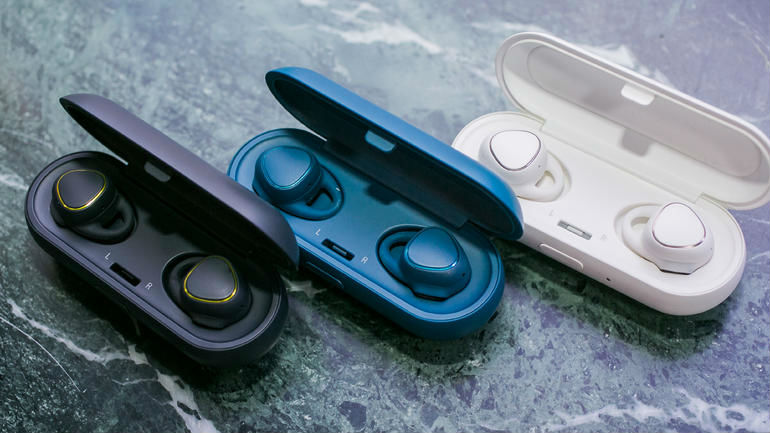 The Gear IconX comes with black, blue and white and priced similarly with Gear Fit 2 – at RM699.
Conclusion
In short, Samsung has added some innovative efforts on the design of the Gear Fit 2 that makes people want to wear fitness tracking gadget in public. The display at the Gear Fit 2 is very useful in displaying smartphone notifications, replies and live fitness statistic monitoring.
Meanwhile, the Gear IconX is a portable and tiny earphones that allows music playback without delay. As a wireless earphone, the Gear IconX did its job well and its performance and battery life is decent, given that the earphone is small and light.