The current norm of smartphon evolution is defined by increasing (or repetitive) smartphone display size along with the addition of new hardware each and every new year. However, consumers are bored with current norm of the smartphone evolution, as the design and screen remains pretty much the same over the years. During the Mobile World Congress 2017, LG has unveiled something special – the LG G6 with a large display and a new aspect ratio at 18:9 which is uncommon for smartphones. LG isn't the only company that brings new aspect ratio display into their smartphone as Samsung did it with their S8 and S8 Plus. The introduction of smartphone with large aspect ratio could potentially revolutionize the entire mobile display as developers are catching up to make app that fits the new flagship display.
Apart from the new display, LG also impress the audience with some newly added features which we will touch down more of it below.
18:9 aspect ratio is the new king?
It is a brave act that LG has decided to use a new display with an aspect ratio of 18:9 while other comes at aspect ratio of 4:3 or 16:9. The new aspect ratio offers much longer (or wider) display which gives a new panaromic view enhanced with wide viewing angle. There isn't much noticeable difference between 18:9 and 16:9 but the difference can be distinguished when you grabbed one of it.
Despite having a 5.7 inches display, the smartphone has a size roughly of a 5.5 inches display smartphone that fits great on your big palm. One last point to emphasize the advantage of 18:9 aspect ratio than conventional display is that it offers more content to be display in single window or multitasking mode, thus requires less scrolling effort and better viewing experience.
Dolby Vision HDR
Here's the newly added feature that we'd mentioned on introduction. As the representative of LG latest flagship, the G6 comes with HDR-10 with Dolby Vision that greatly enhances each frame to create stunning visual effect as on 4K TVs.
And its camera
The new aspect ratio also creates another advantage when capturing images. With the wider display, LG has added a image preview panel besides the camera app that shows photos and videos taken recently.
Besides, the extra blank spaces can be utilized to take on different shooting style, such as square mode for an easier upload and share through social media network such as Instagram.
How about gaming?
As one of the pioneer for an uncommon technology, in this case – the 18:9 aspect ratio display on G6 has not fully utilized by developers and UX designer. While most gaming app (in landscape mode) supports 16:9 aspect ratio, LG G6 offers app scaling resize app display to fit edge to edge and thus provide an immersive mobile gaming experience.
The difference between pre-adjustment and after adjustment is significant.
Professional mode on its camera
Smartphones today are constantly evolving and thriving to provide an excellent photography experience by offering professional shooting mode for manual ISO/ exposure adjustment, LG G6 has surpass their limit by introducing new professional modes such as Focus Peaking, manual White Balance adjustment and even save unprocessed images in RAW format.
It is also possible to add watermarks into images through the "Add Signature" function.
Besides camera shots, video recording also comes with PRO MODE functionality for adjusmtent of ISO, shutter speed, focus etc and the audio recording can be adjusted as well!
The G6 also offers cinematic video recording with FHD 21:9 aspect ratio settings, thanks to its revolutionary 18:9 display.
Dual camera
Both rear camera captures 13 megapixels resolution with f/1.8 and f/2.4 aperture. One of it comes with PDAF autofocus along with OIS for image stabilization and the other comes with Fixed Focus and a 125 degree wide angle lens.
Here are some of the sample shots taken from the LG G6 in Malaysia
Knock knock, who's there?
First available in LG G3, the knock code is the iconic LG screen locking security measure where user can customize different knock sequence and position on the display.
Enhanced audio with Quad DAC
This time, LG also added the Quad ESS 9218 DAC from the V20 into the G6. The new DAC enhances the audio playback and offers High Fidelity music experience.
Conclusion (TL:DR)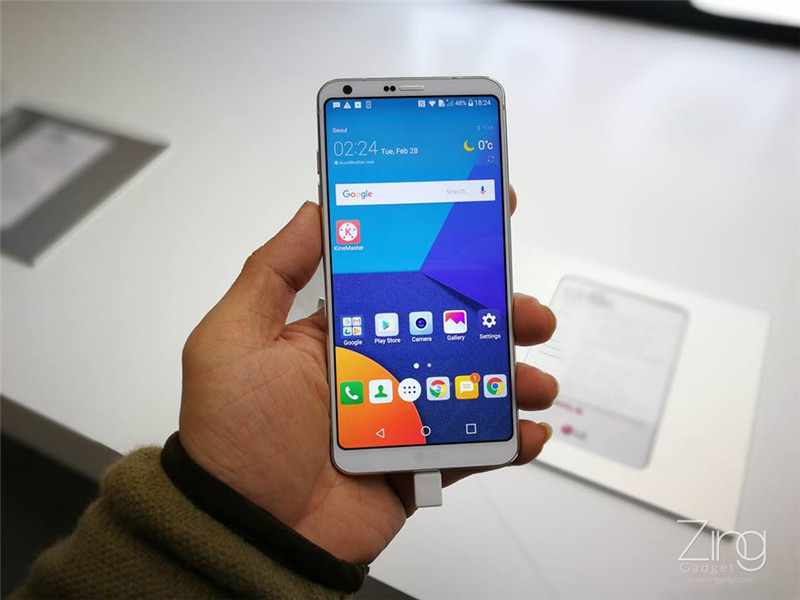 As LG and Samsung has both used a display with unconventional aspect ratio, both tech giants could possible revolutionize the mobile industry and drive more app developer to create compatible application for these devices in the future. LG has put in a lot of effort into this new flagship by adding tons of new features and quality hardware, including its new camera with better software.
We thanks Satu Gadget for providing this awesome review unit for us to share our experience of the LG G6 honorably, with you.