Our first impression on the Acer Switch Alpha 12 instantly reminds us on the Surface tablet from Microsoft. However, the Switch Alpha 12 has impressed us on its slim and lightweight design when we received the review unit. It is a 2 in 1 hybrid notebook with a detachable keyboard for it to be function as a tablet! At RM2499, does the Switch Alpha 12 worth its value?
Acer Switch Alpha 12 specifications: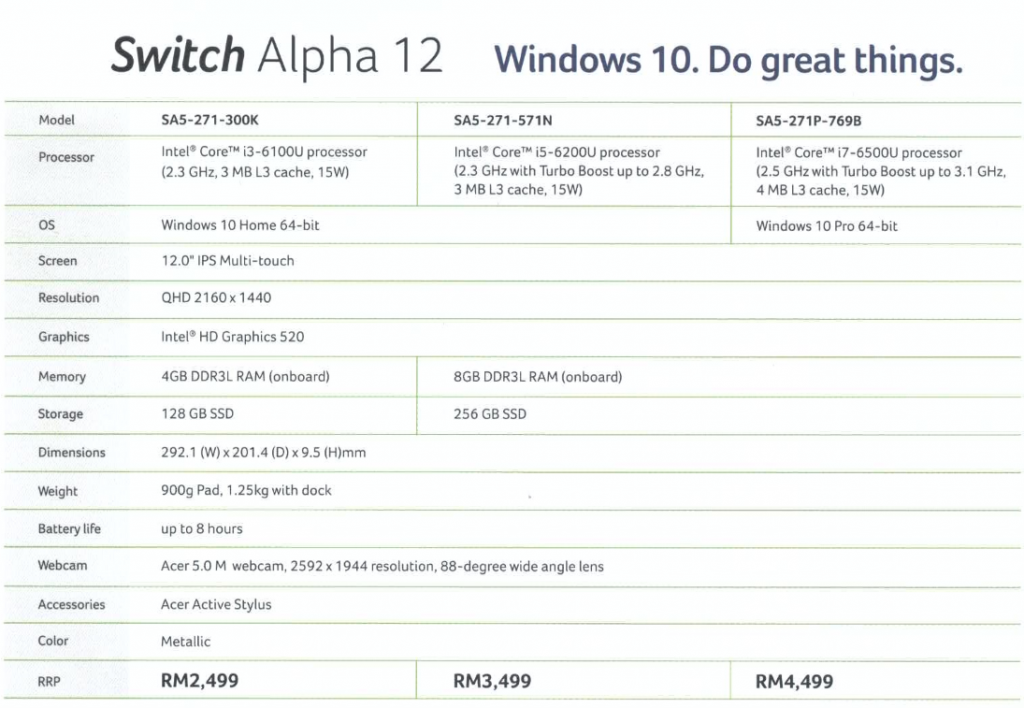 The Switch Alpha 12 comes in 3 variant that categorized on the processor and other hardware packed within this notebook. The standard model is powered by Intel Core i3 processor with 4GB DDR3L RAM and 128GB SSD. The other i5 and i7 variants comes with bigger upgrade on the RAM and a larger SSD capacity at 256GB. Our review model for the Switch Alpha 12 is the SAS-271-300K that fits with Core i3-6100U.
Design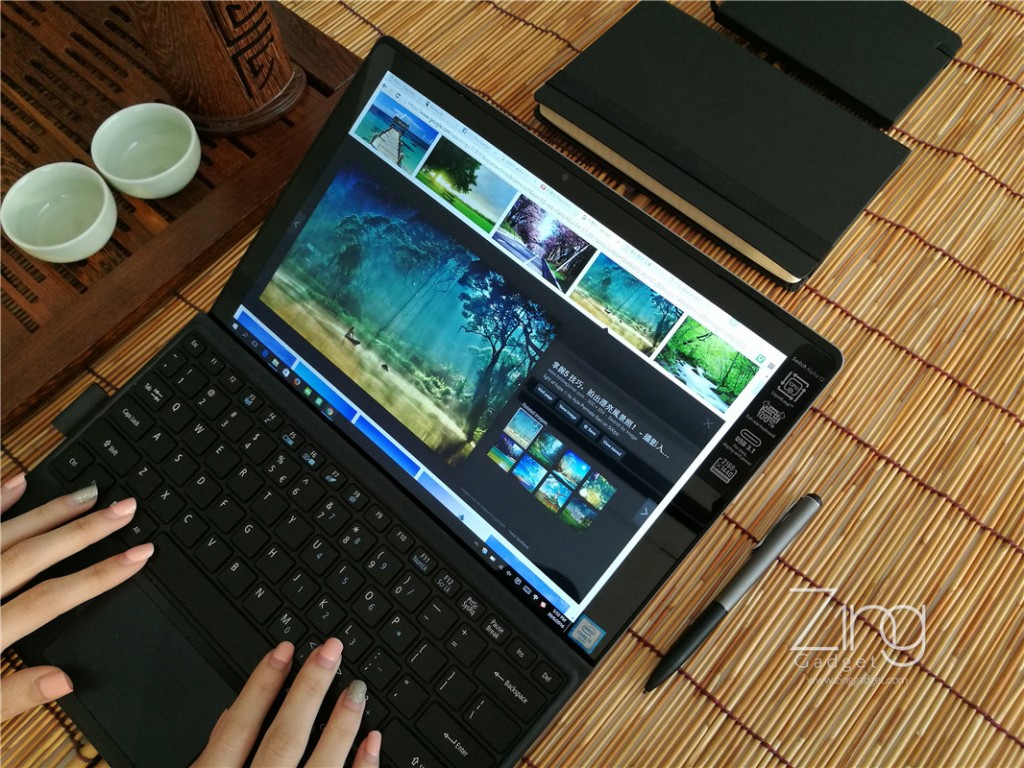 First of all, the Switch Alpha 12 is a portable hybrid (2-in-1) laptop that looks and feel similar with the Microsoft Surface. It even comes with a support stand on the rear and a compatible smart stylus for drawing and note taking. The Switch Alpha 12 is only sized at 292.1 x 201.4 x 9.5mm with a weight at 1.25kg including the keyboard itself. It is really a light and thin notebook design for portability.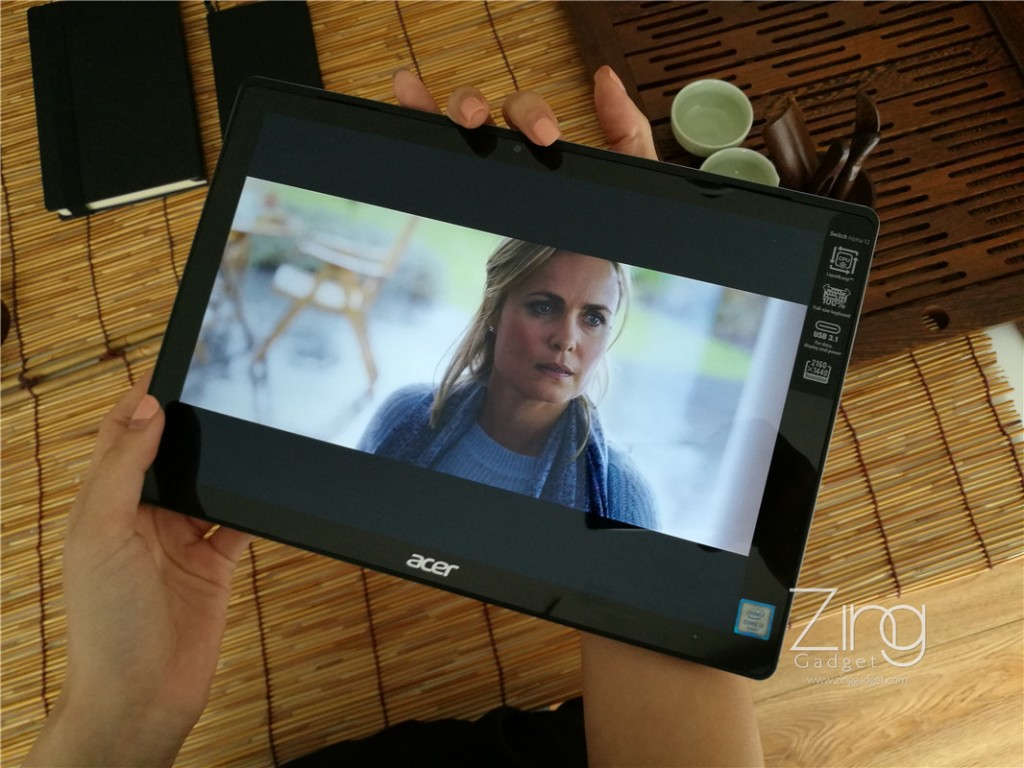 Switch Alpha 12 comes with 12 inches Quad HD IPS display. The colour display has a great tendency to favour towards natural colour and doesn't strain your eyes for long hours.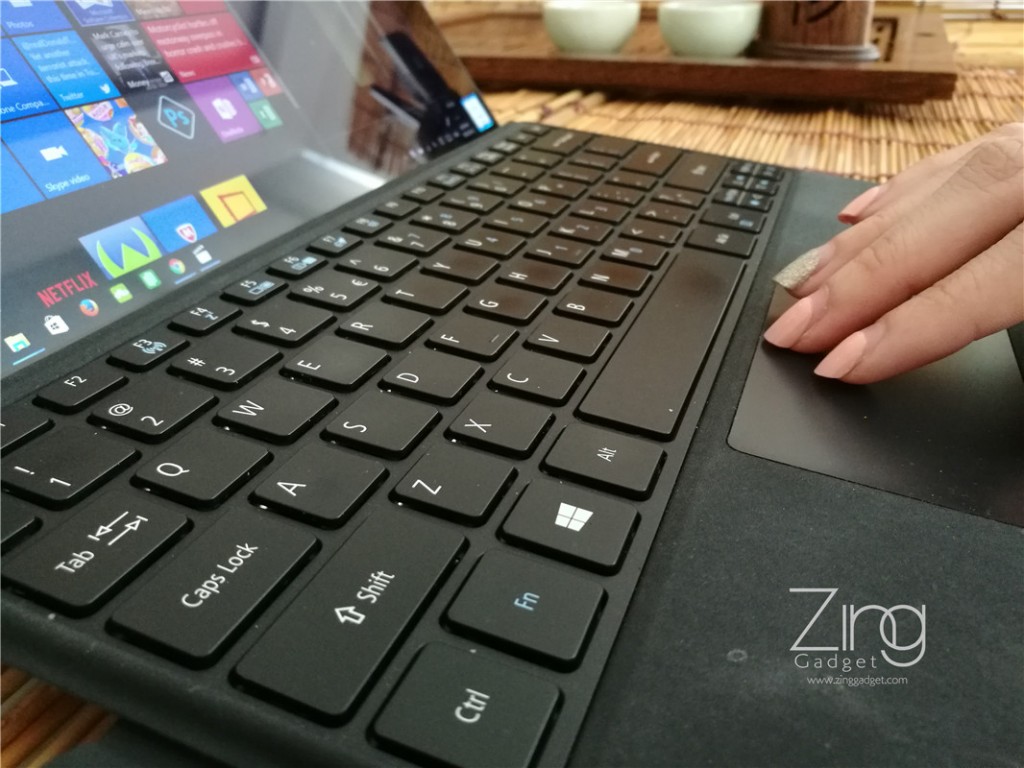 The portable keyboard comes with a standard sized QWERTY layout. We do feel that the keyboard doesn't provide satisfactory tactile feedback when buttons were pressed, however this is one of the sacrifice to be made when it comes into consideration of portability.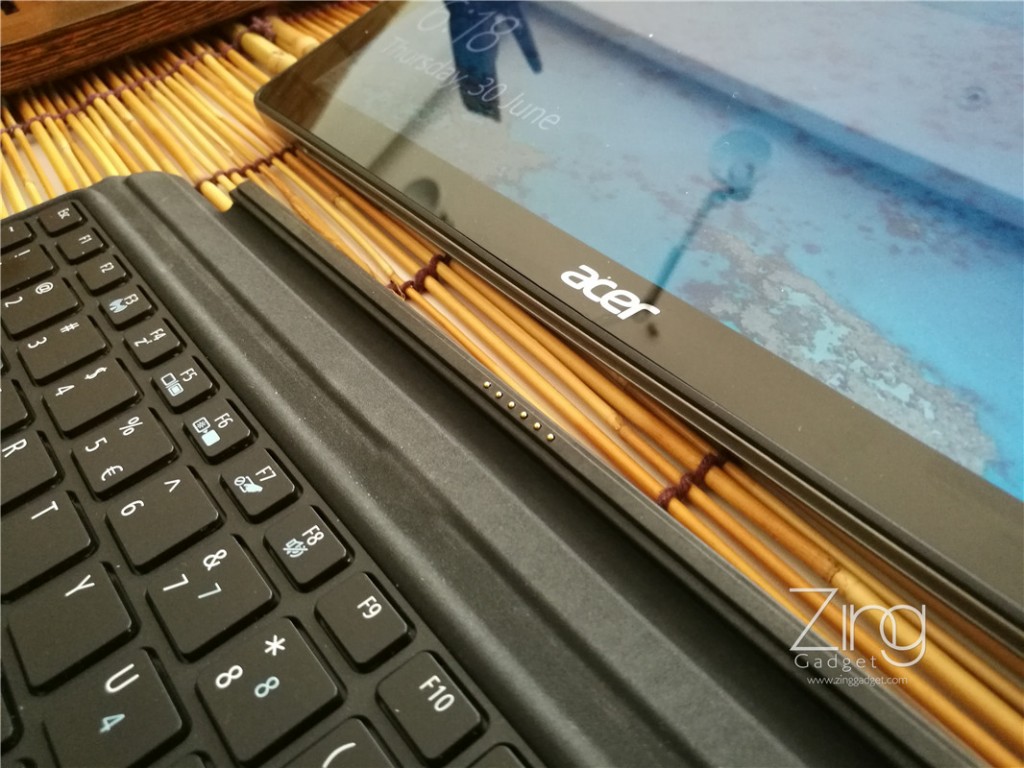 The tablet and the keyboard are connected through magnet and thus it will automatically attach to the right position when both came near. The slant angle of the keyboard is also adjustable for enhanced typing experience.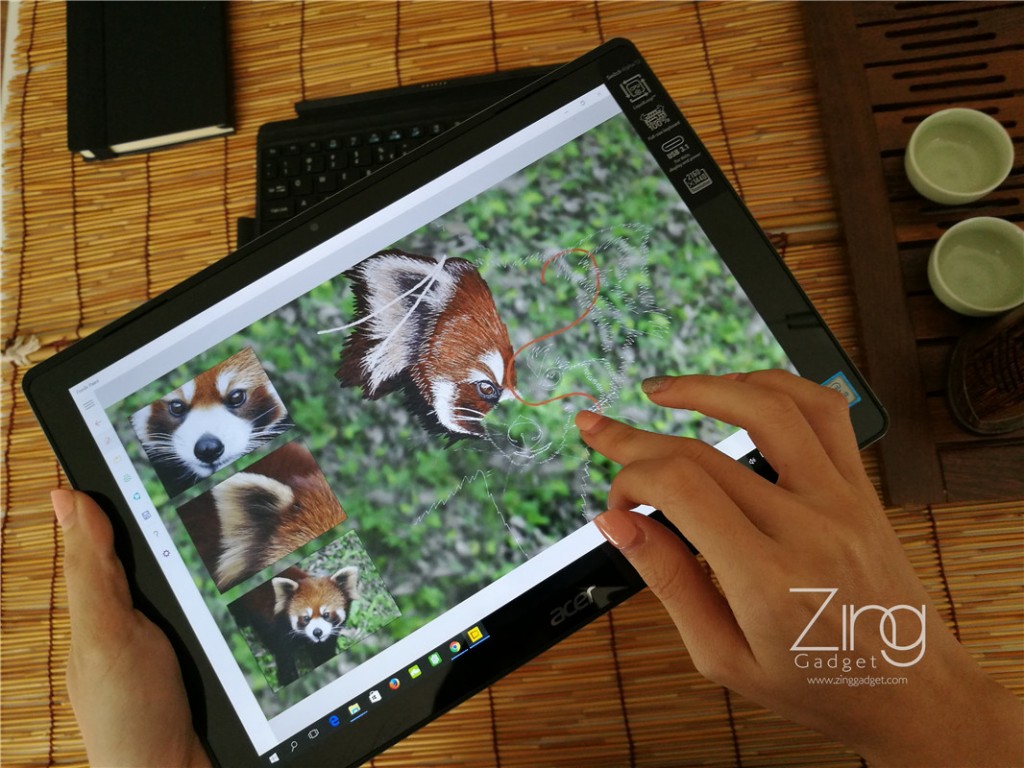 It is a tablet when the keyboard is detached. Nevertheless, the touch screen is still fully functional when the keyboard is attached or detached.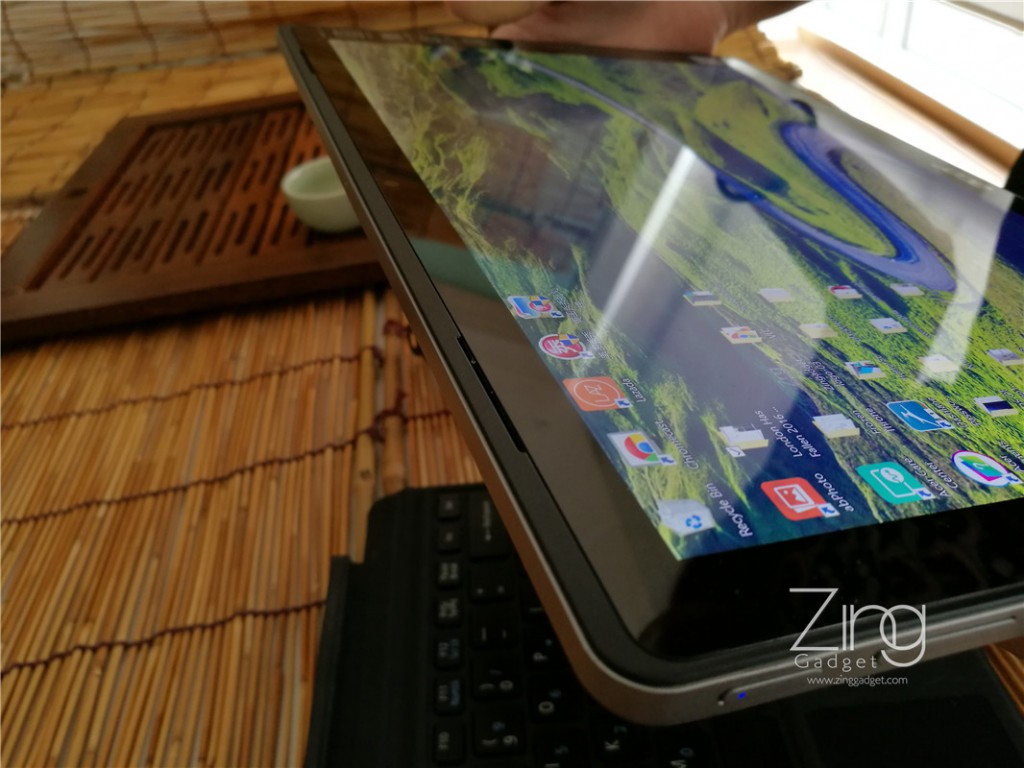 2 front stereo speakers made up of the whole stereo surround audio system. The audio quality are considered decent with great volume output.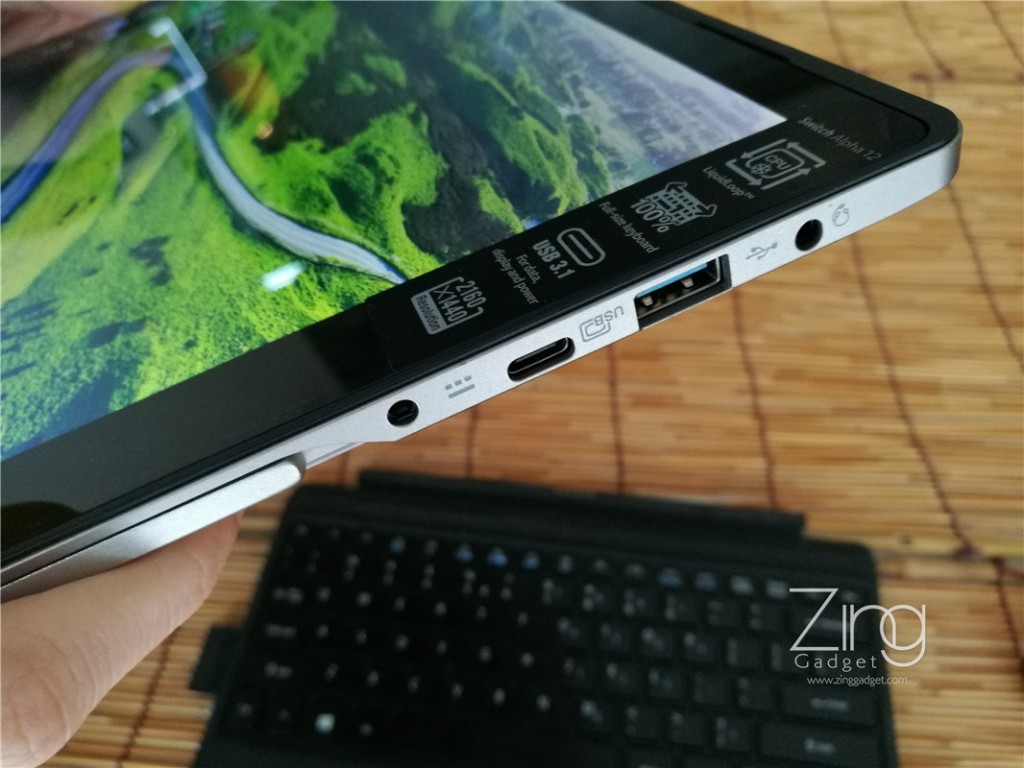 All I/Os are located on the left of the devices. These includes 3.5mm audio jack, USB port, USB Type C port and power inlet.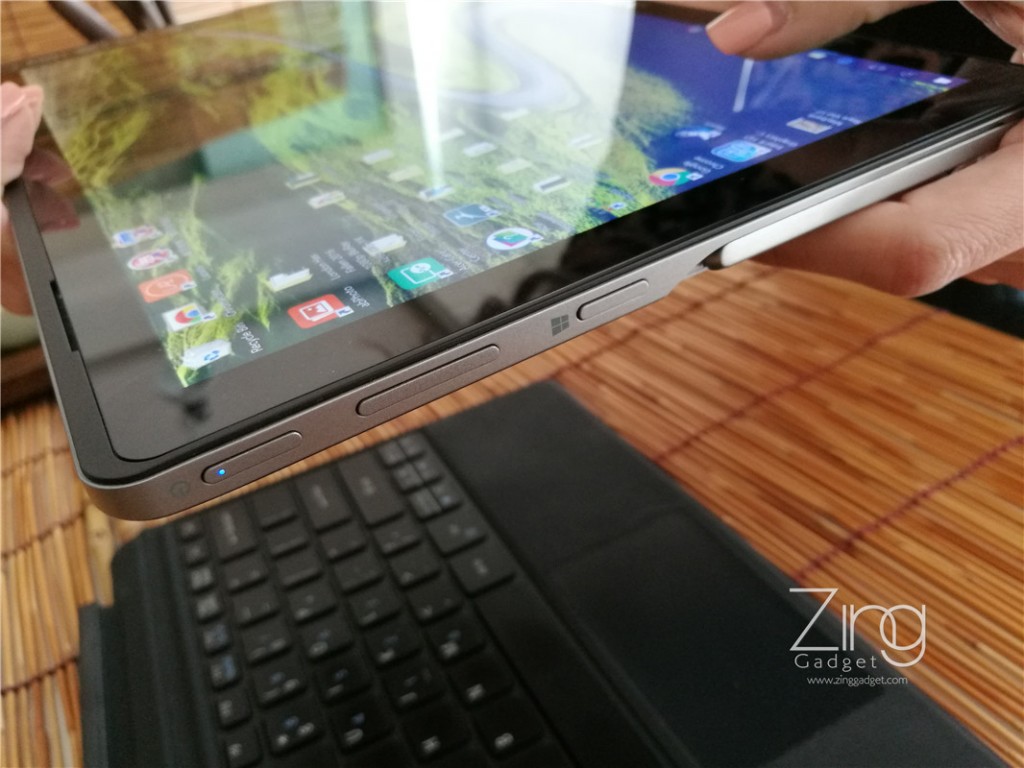 Here comes the volume rocker, power button and the Widows Home button.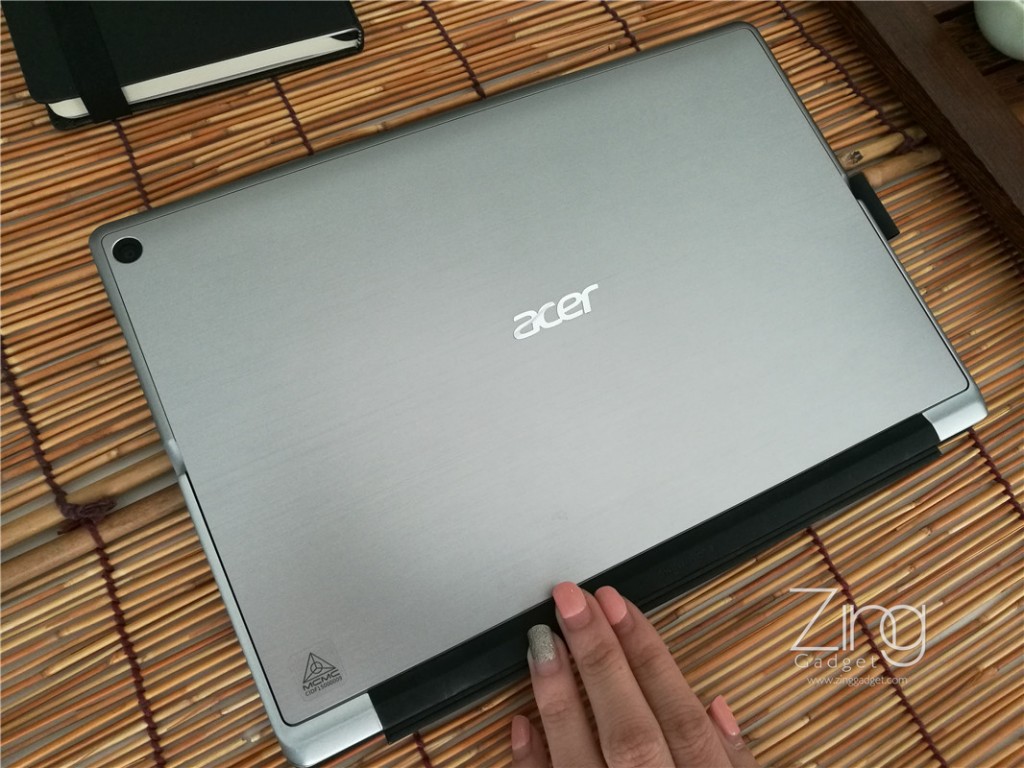 The metallic rear cover comes with stripes finish with a big reflective ACER logo shines in the middle. Camera is located around the corner.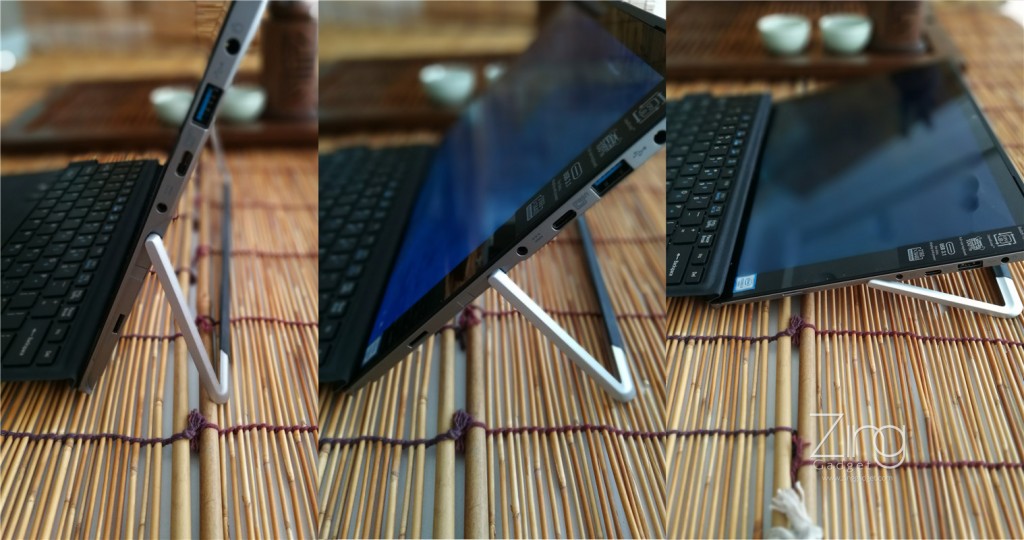 The built-in support stand comes with multiple adjustable angle with the bottom surface covered in rubber like material for better grip on the surface.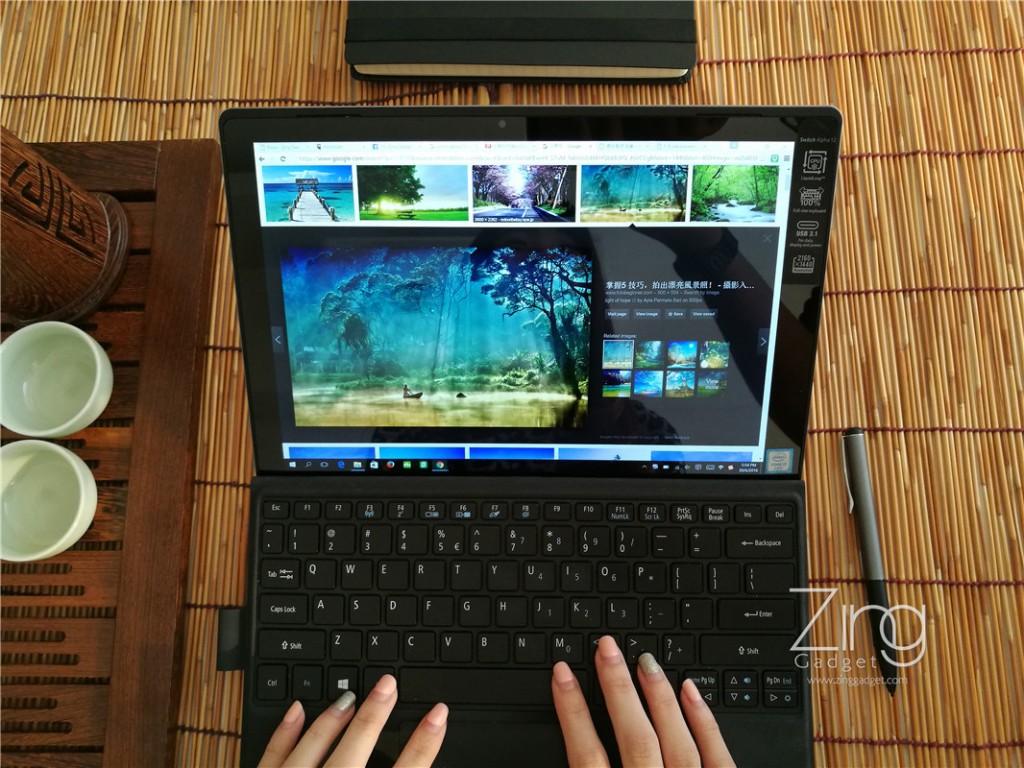 There is also a keyboard that came along with the Switch Alpha 2 that convert the whole devices into a notebook for better typing experience. Although the keyboard feedback isn't as great as the Macbook or the Lenovo IdeaPad, it is still fully functional and comes in a standard size.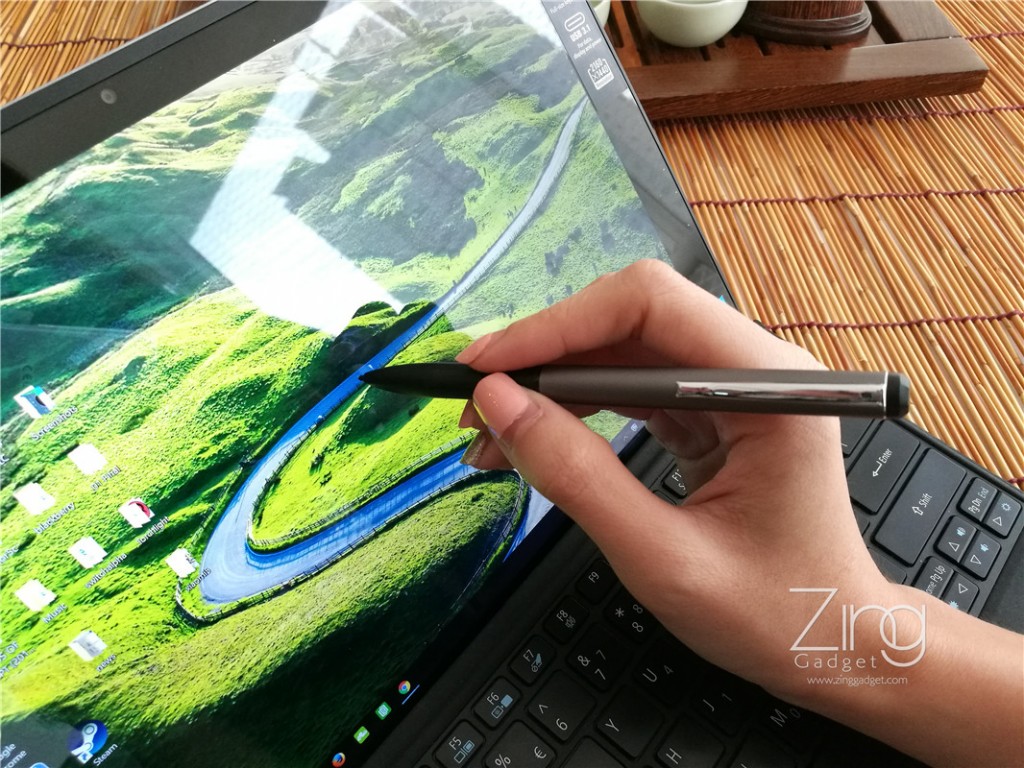 Besides, the exclusive Acer Active Stylus also comes along with each Switch Alpha 12 unit that doesn't require any additional purchase like the Microsoft Surface tablet.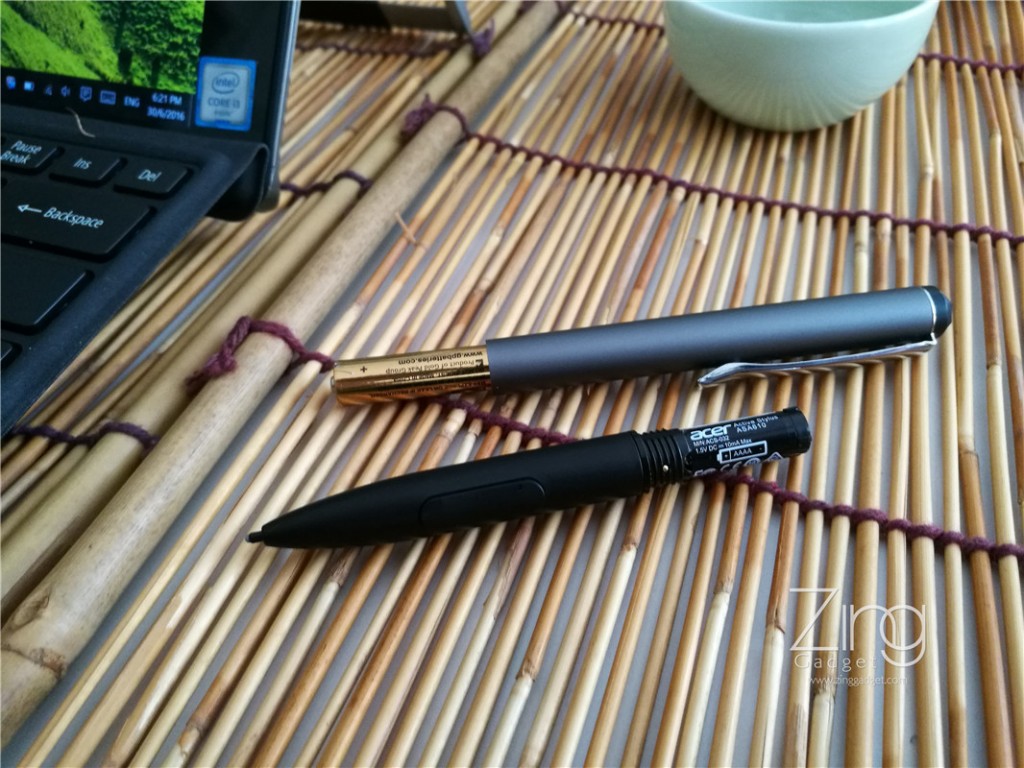 The Active Stylus comes in 2 button where the cap can be used as an eraser. It requires 1x AAAA sized battery to operate.
Display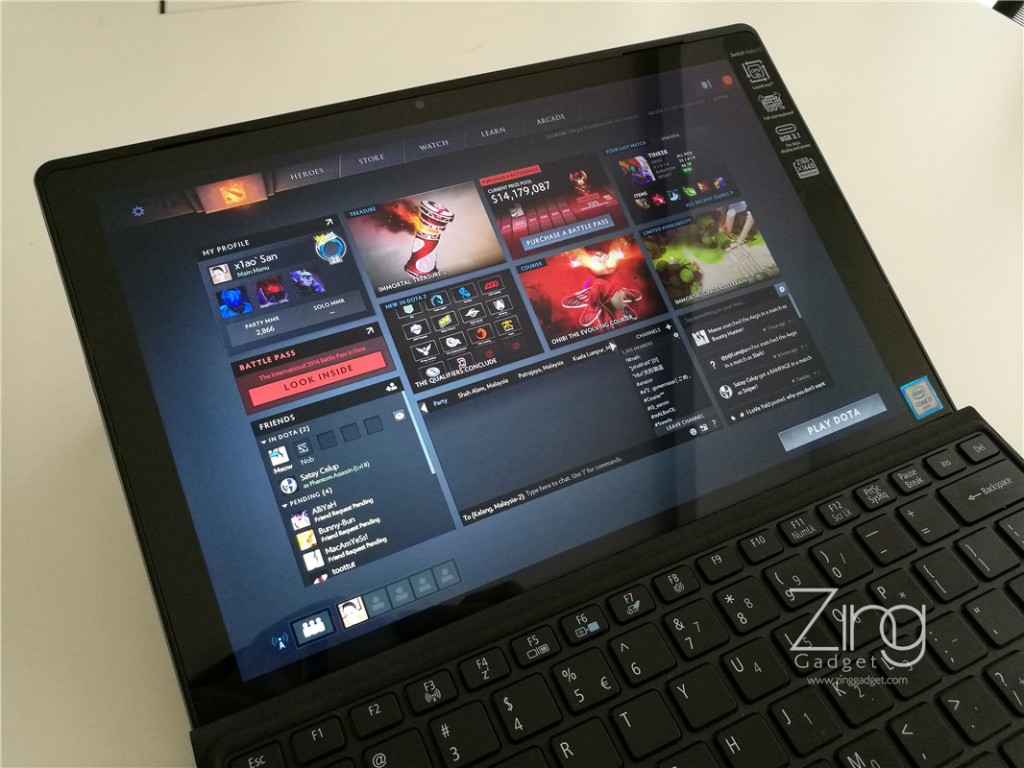 The 2K IPS display panel with 2160 x 1440p resolution provides a brilliant and crisp display. It support 10 point multi touch just like other tablet on the market today. However, the screen brightness is a little bit unsatisfactory but it can be adjusted with auto brightness feature.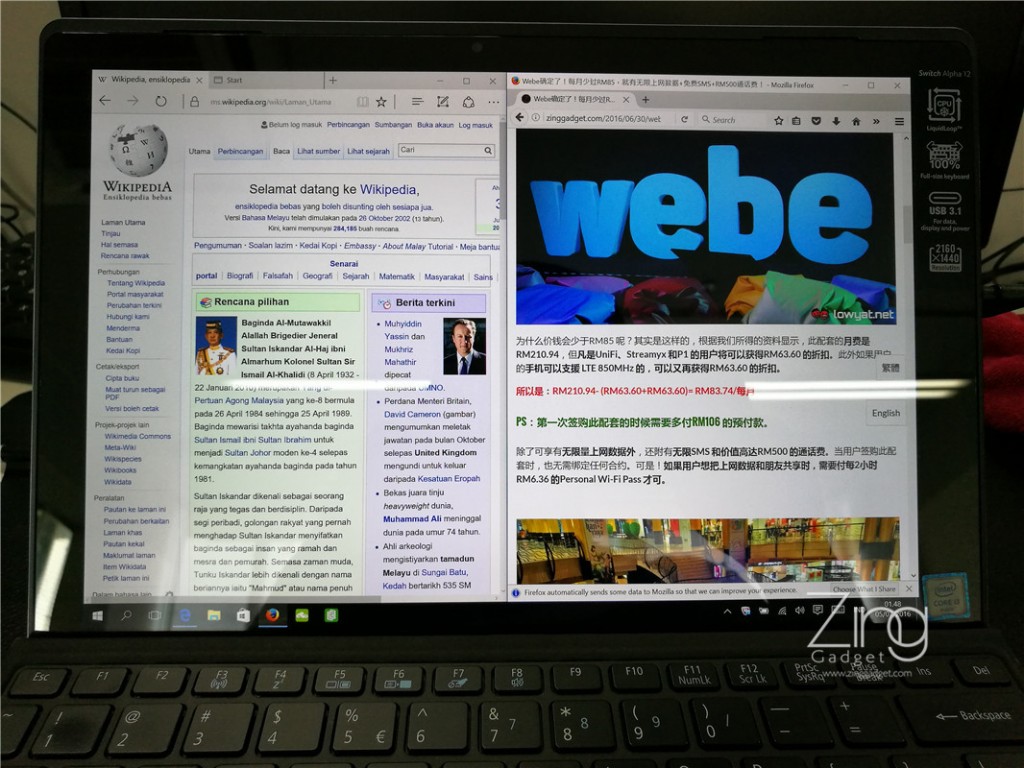 While 12 inches display could be big for a tablet, it is still very common for notebook display size. Display for casual games, documents and web browsing is simple and efficient but launching full screen game and spiting windows makes the font extremely small.
Performance
 
Powered by Intel Core i3 6th gen ULV processor and 4GB RAM with 128GB SSD, this hybrid notebook is ideal when working or some documents, creating arts, web browsing or just plain video streaming. The SSD makes everything fast but graphical intensive games are a big no for this hybrid tablet.
Battery life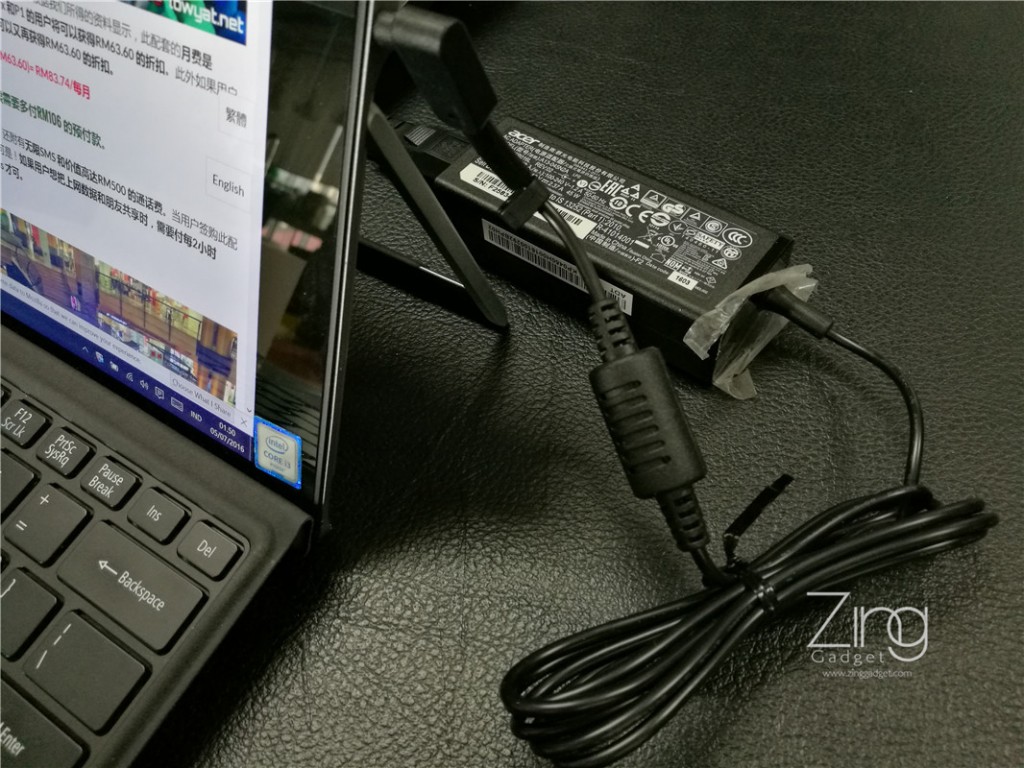 The Switch Alpha 12 on a full charge can last for around 7 to 8 hours with 20-25% battery left on casual use (office productivity, video streaming etc). This shows that the Switch Alpha 12 is barely needed unless it is used for CPU intensive programs along with bright display.
The Acer Switch Alpha is also the ultrabook that comes with Acer own liquid-cooling technology known as LiquidLoop. The liquid coolant that circulating within the tablet makes the device cool at all time during normal usage. However, heat is usually significant when you play your tablet during charging.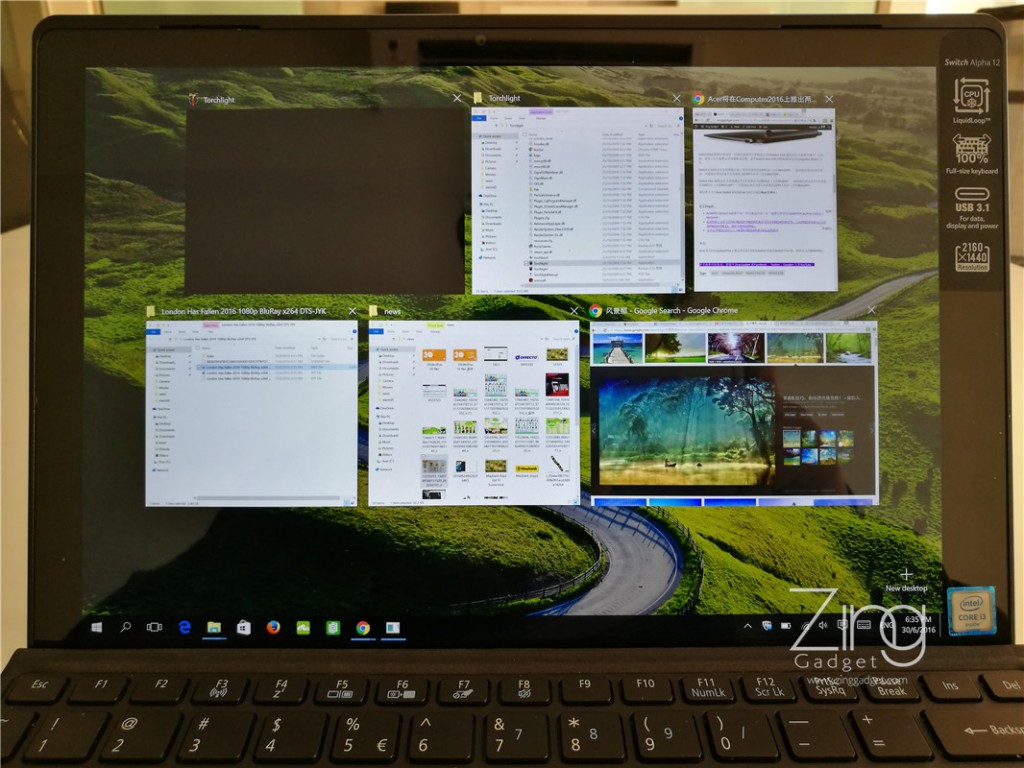 Multiple tabs and windows aren't hassle for this notebook.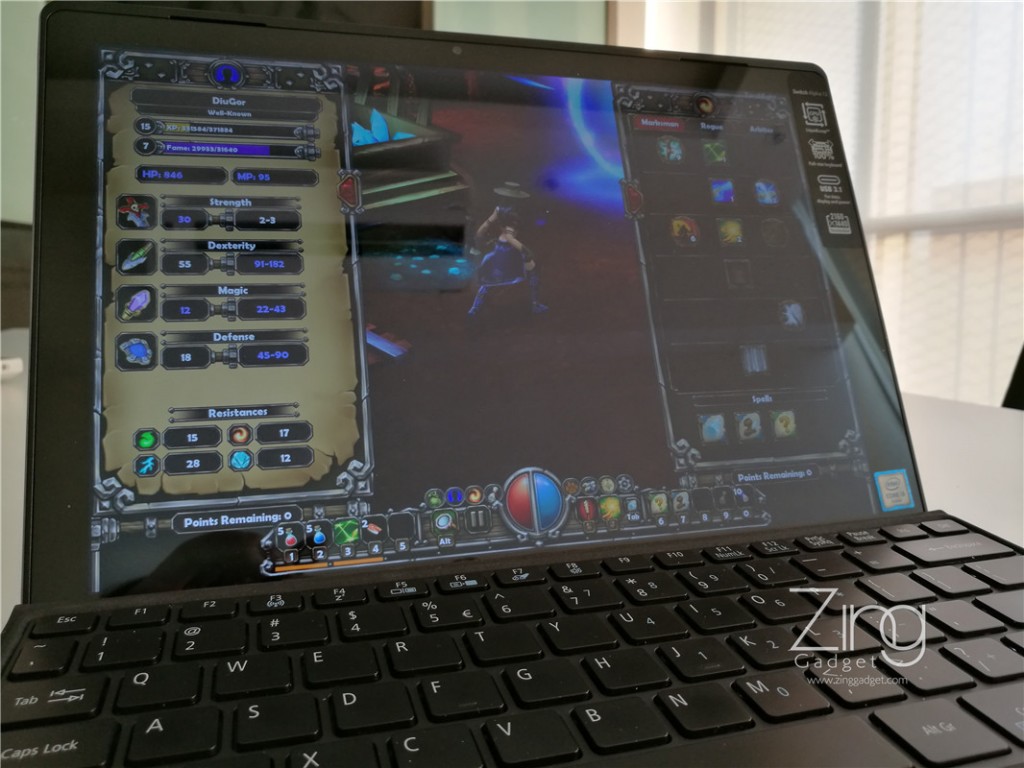 Although the integrated GPU doesn't able to cope with maximum/ ultra graphics quality on DotA 2, games like Torchlights, The Sim and Simcity works fine and smooth on the Switch Alpha 12.
Switch Alpha 12: Points of attraction?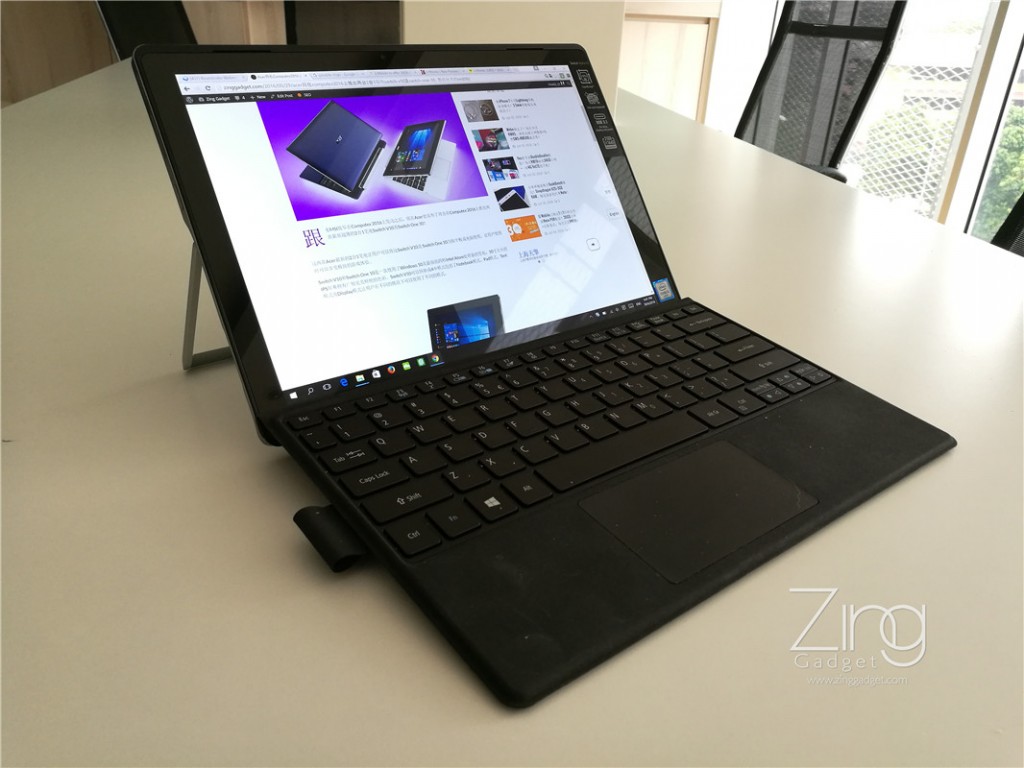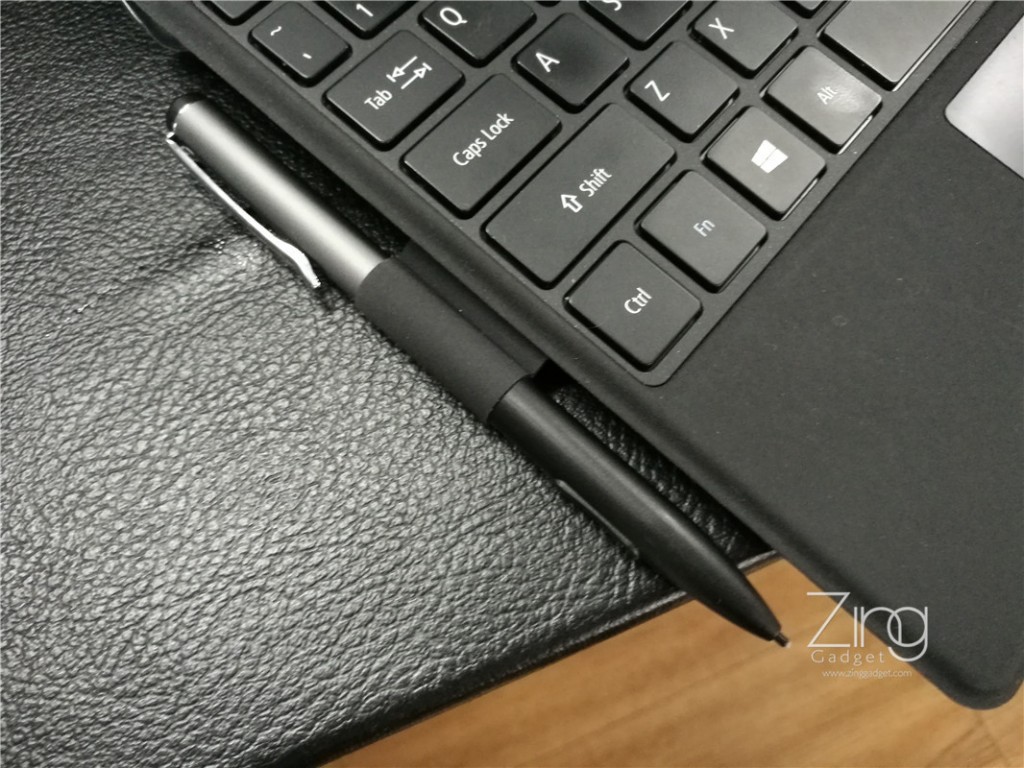 There is a pen slot just in case you have no idea where to put your Acer Active Stylus on your notebook.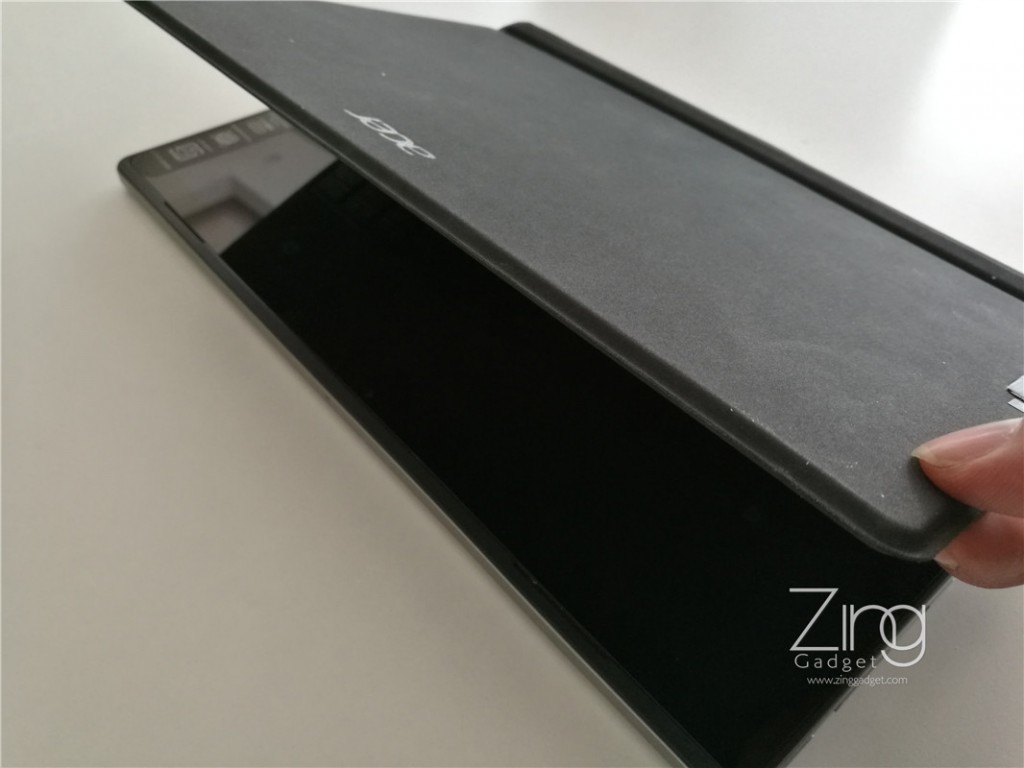 Keyboard is now the folio case for this notebook!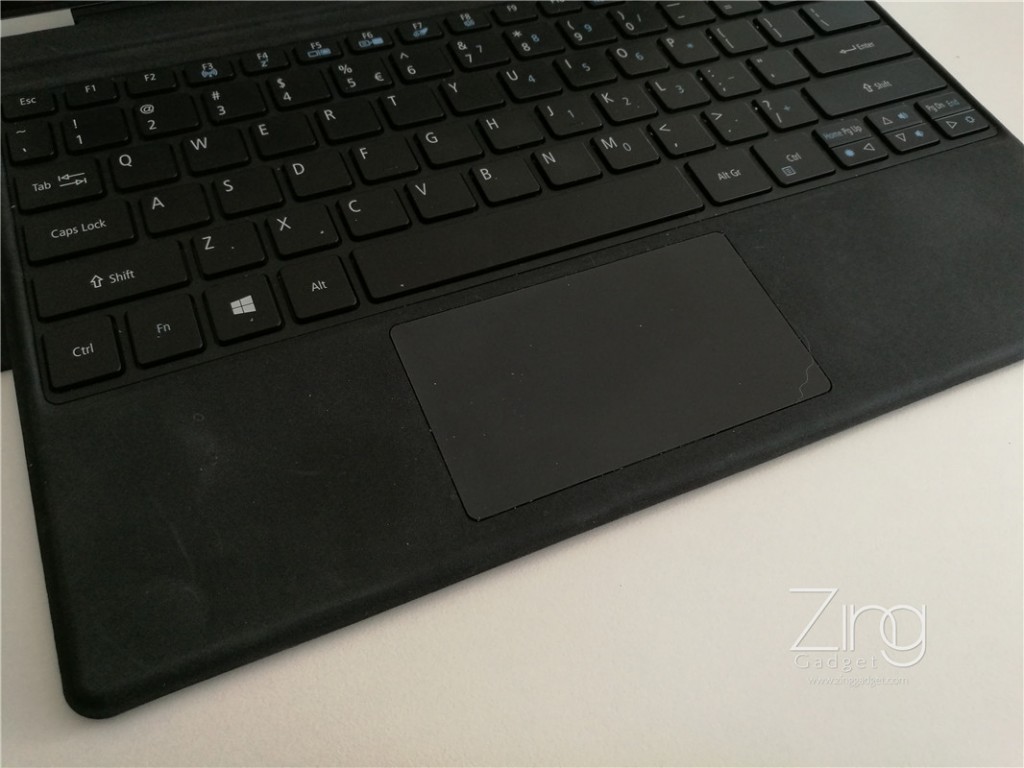 Nevertheless, the fabric like texture on the palm rest makes it easy to stick on fingerprints and dust when makes it unappealing and uncomfortbale.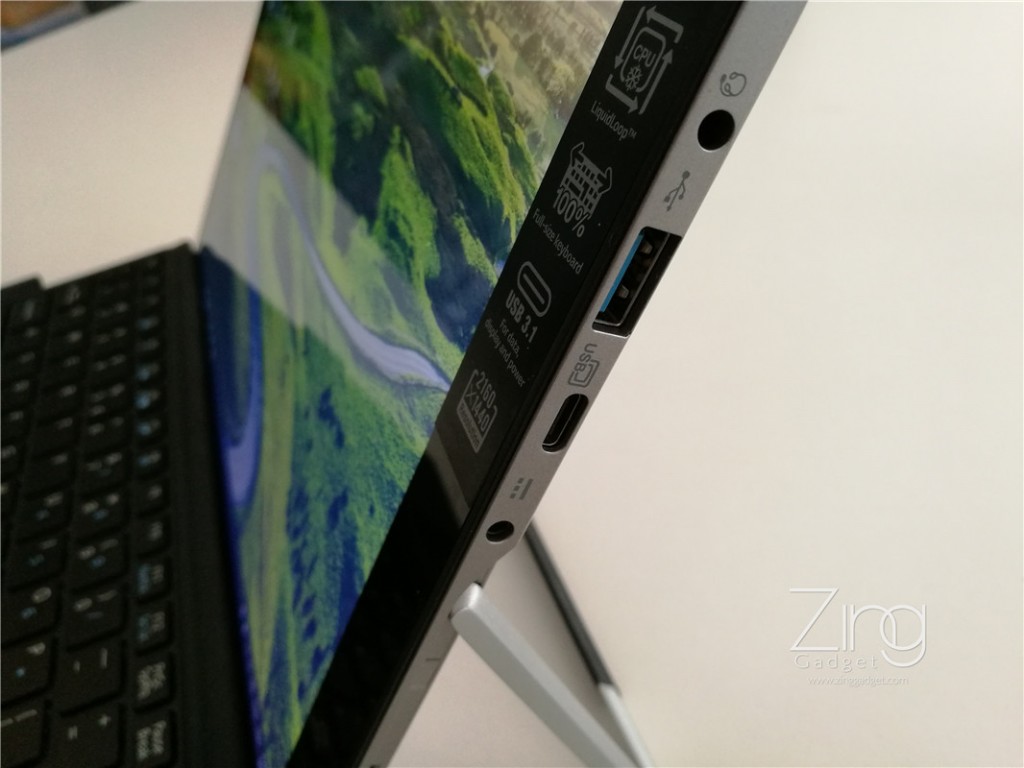 A single USB port makes it inconvenient to connect to a mouse and an external flash media (Pendrive) at a single time.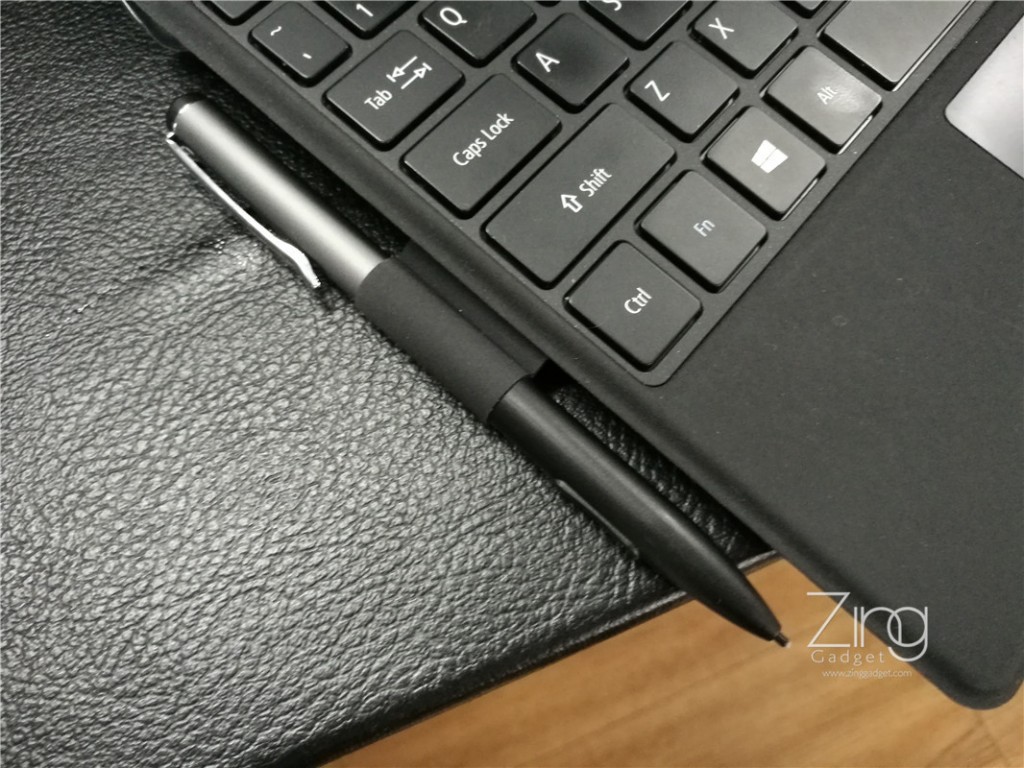 The stylus on the Switch Alpha doesn't attach automatically like the stylus from Microsoft Surface that comes with inbuilt magnet. User who are not cautious could easily ripped this tag off when inserting the pen. .
Conclusion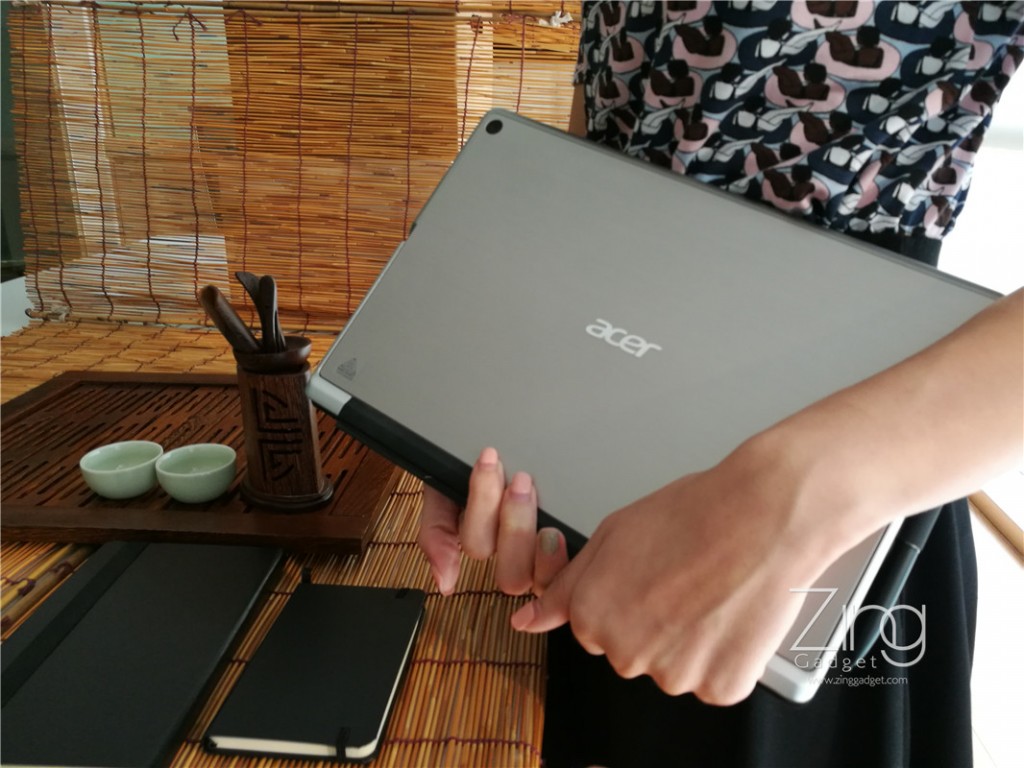 The Switch Alpha 12 is a decent hybrid tablet/notebook that is highly portable and well design. With the base model price tag at RM2499, it is cheaper than the Surface and Surface Pro tablet and comes with decent hardware for your office productivity and your entertainment needs. If you want to opt for a better performance notebook/tablet hybrid, you might want to put it more cash for the Core i5 and Core i7 variants.