The Google Nexus smartphone series is the spotlight of all Android smartphone as it is specifically design under the pure concept of Android. After the release of Nexus 5 and Nexus 6 from LG and Motorola, the next generation Google Nexus comes in 2 variant in which the Nexus 6P is manufactured under collaboration of Google and Huawei. As the first China Nexus smartphone manufacturer, the Huawei Nexus 6P claims to offer many features along with high end quality hardware. Without further ado, let's see our test result on the Google Nexus 6P from Huawei!
Google Nexus 6P Specifications:
7 inches 2K AMOLED display with a display resolution at 2560 x 1440
Aluminum alloy body
3GB RAM + 64GB total internal memory
Qualcomm Snapdragon 810 v2.1 processor
3450mAh battery
178g
Front Stereo speakers
Runs on Android 6.0 Marshmallow
Support quick charge and ultra-fast data transfer USB Type C port
Fingerprint recognition with Nexus Imprint technology
3MP rear camera with laser autofocus
8MP front camera
3 x 77.8 x 7.3mm
Recommended Retail Price: RM2698
 1. Design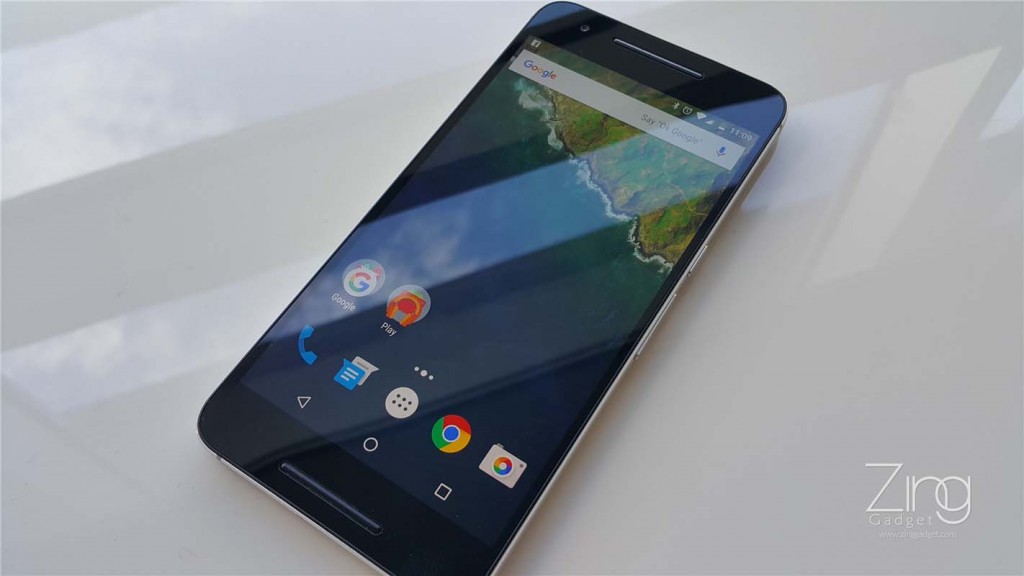 Consumers always has the highest expectation from each Google Nexus smartphone released each year and so do we. The new Nexus 6P design is a breakthrough from others, especially on the rear camera module which are protruded in a bar shaped design. Besides, the dual front stereo speaker adds a point to the Nexus 6P as we would expect it to offer immense audio experience during gaming.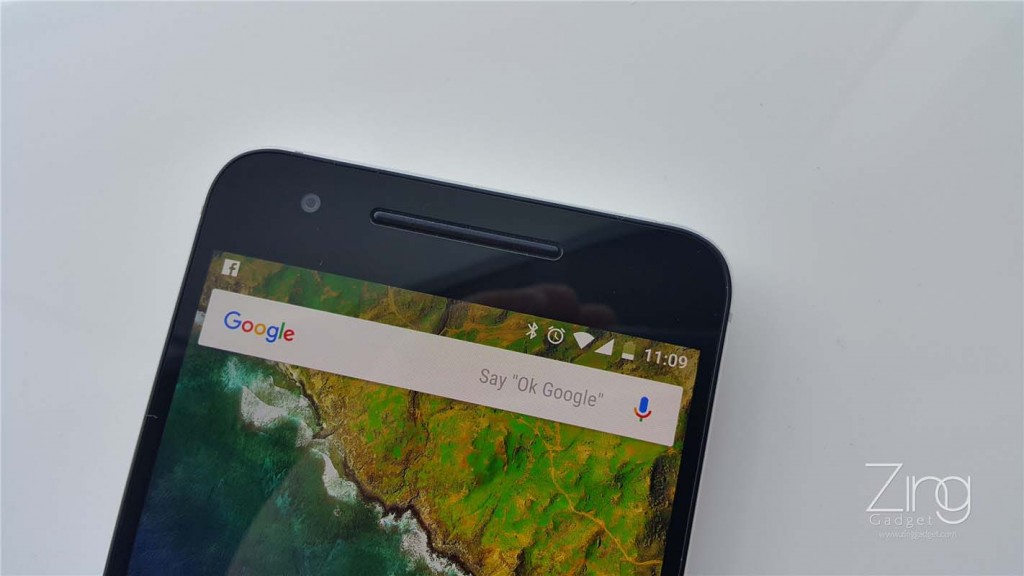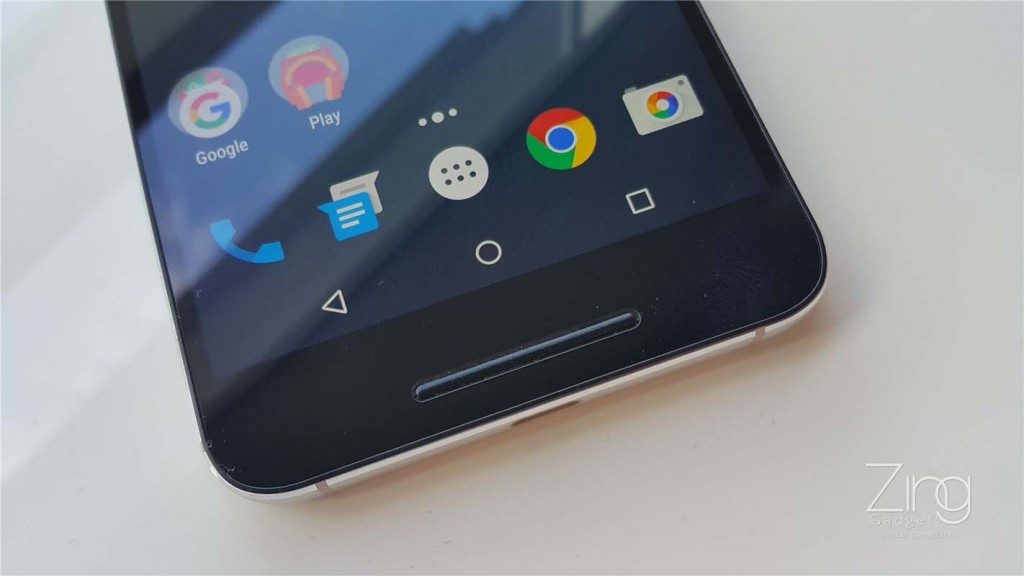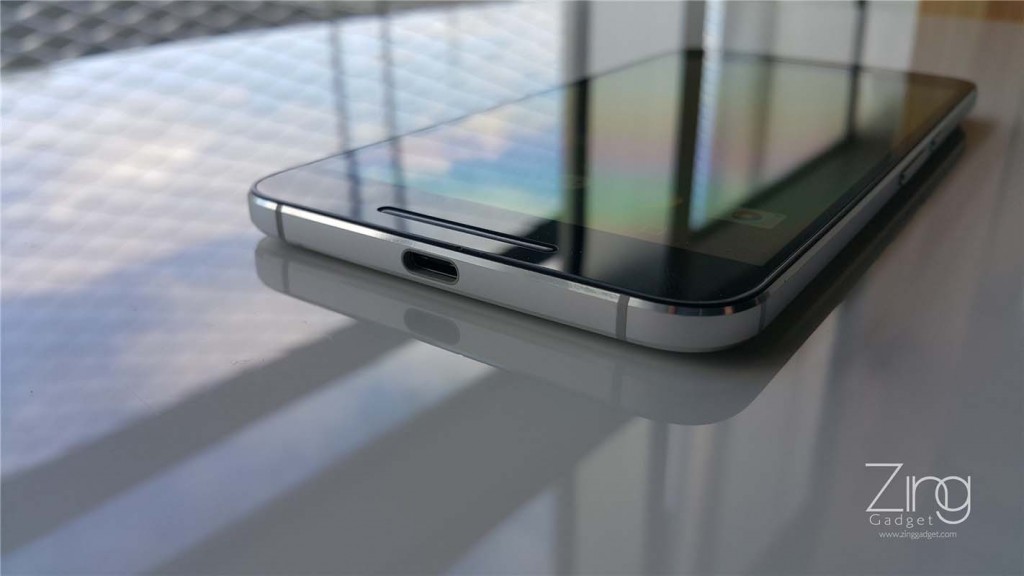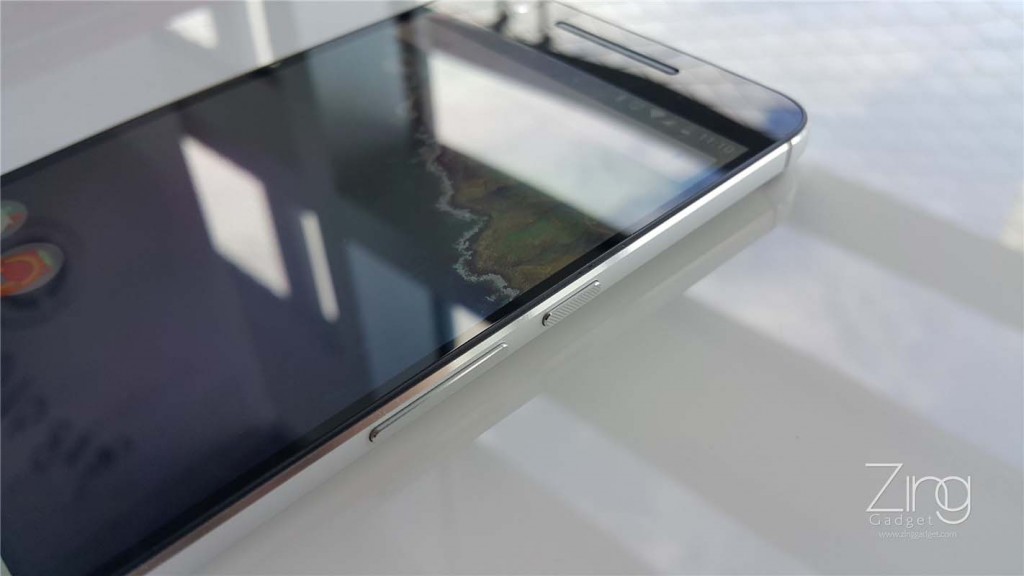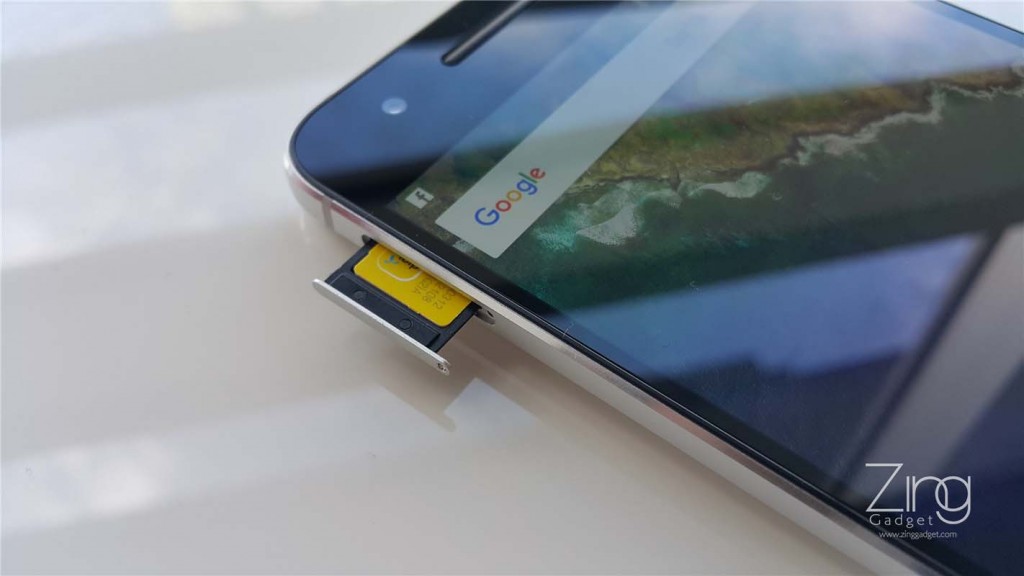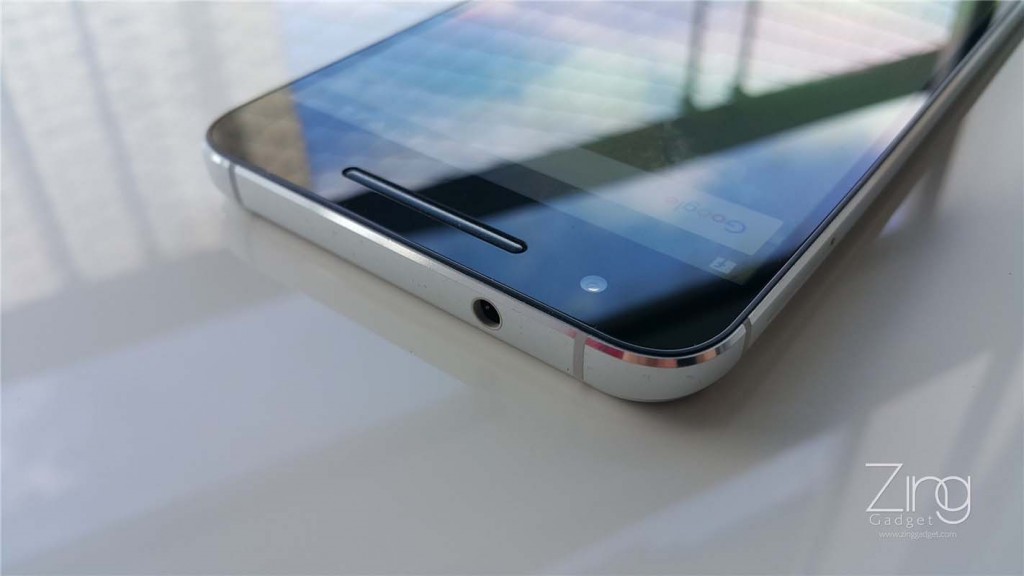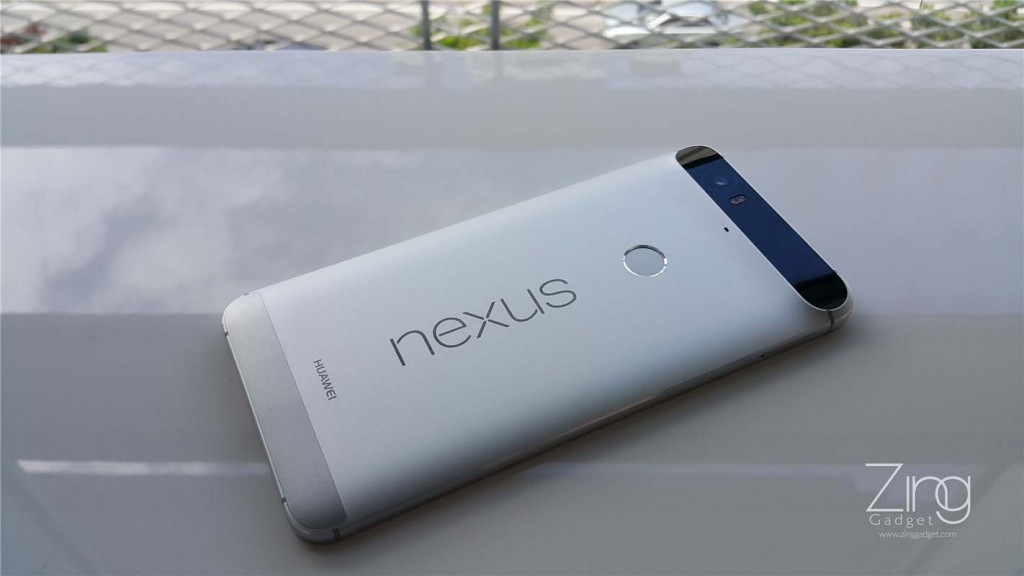 The iconic design of the Huawei Nexus 6P is the protruded black bar on the back that comes with the camera module and the flash. Instead of designing a protruding camera like the Apple iPhone 6 and 6s, the whole camera module is elevated which also poses a significant risk of scratching when placed on the table top.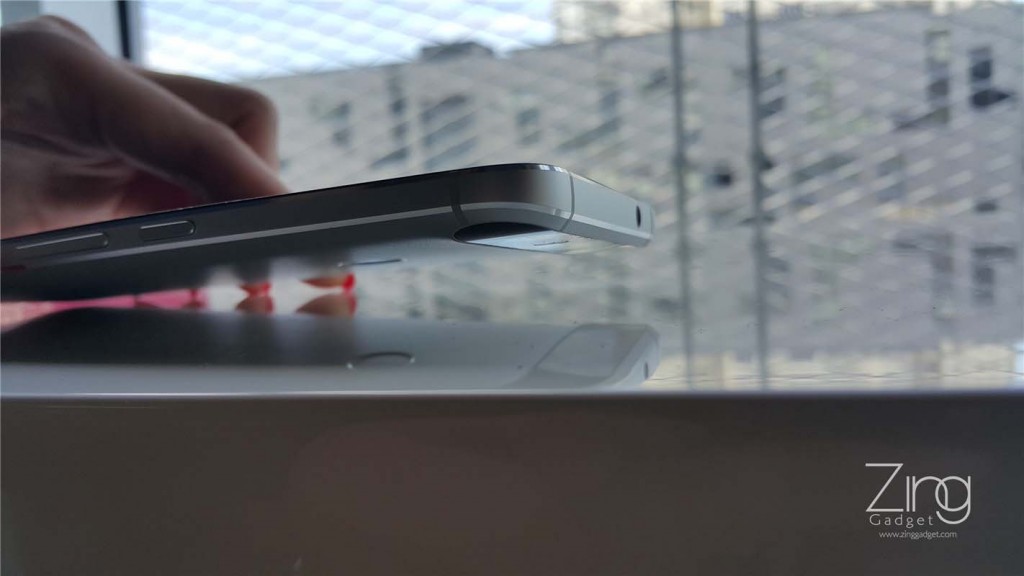 Although the black protruded camera 'bar' on the rear panel are covered with glass, there are still incidents of glass break and scratches when it is tossed onto the table or other hard surface material.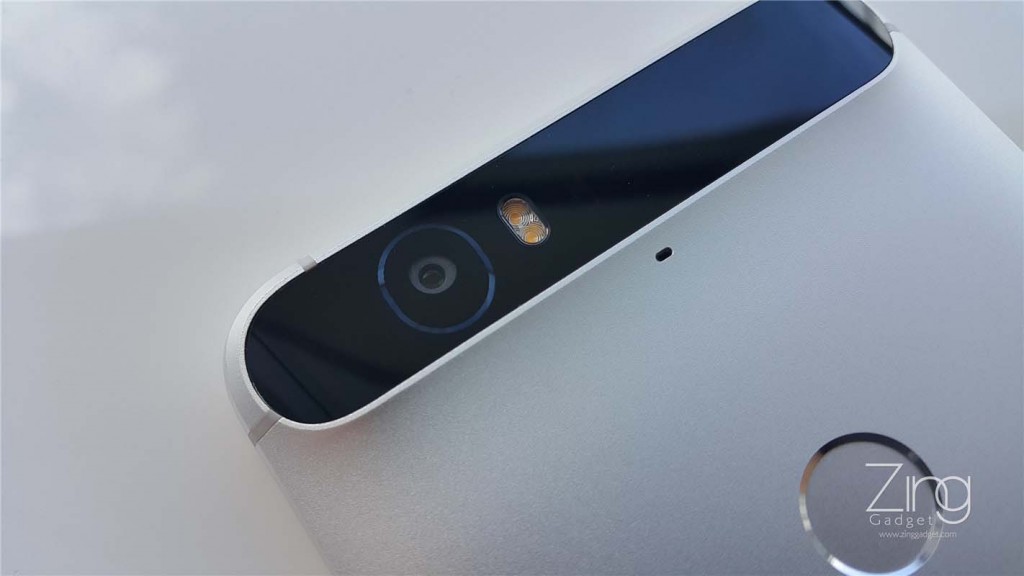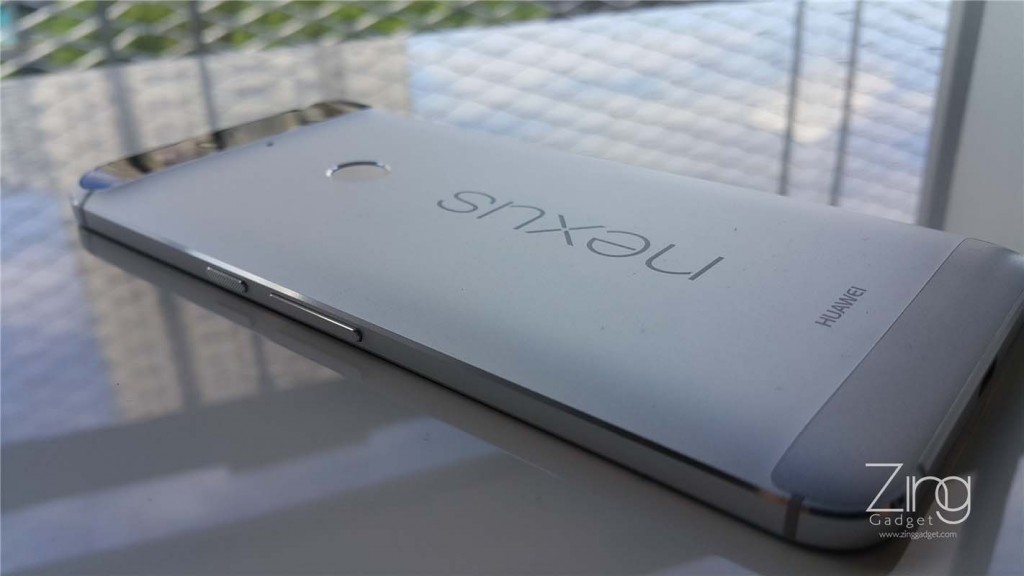 To be able to fit a 5.7 inches display, the Nexus 6P is not designed to be slim or lightweight. Although the edges has been furbished and polished so that it fits the human palm ergonomically, it is still inconvenience to those who has small hand and requires single handed operation oftenly.
 2. Display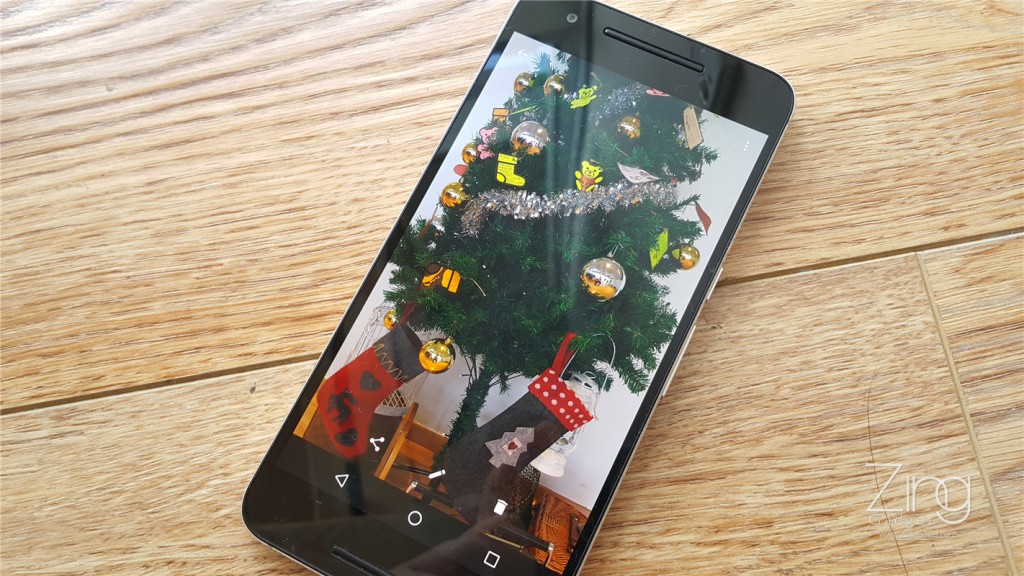 The Nexus 6P comes with a 2K display panel which has a higher display resolution than other common flagship smartphone from other manufacturer. The 2K AMOLED display distinguishes itself from standard IPS and Super AMOLED panel and offers great depth of detail. However, the display itself might appear slightly yellow but the internal colour adjustment technology will automatically fabricates the display according to different environment.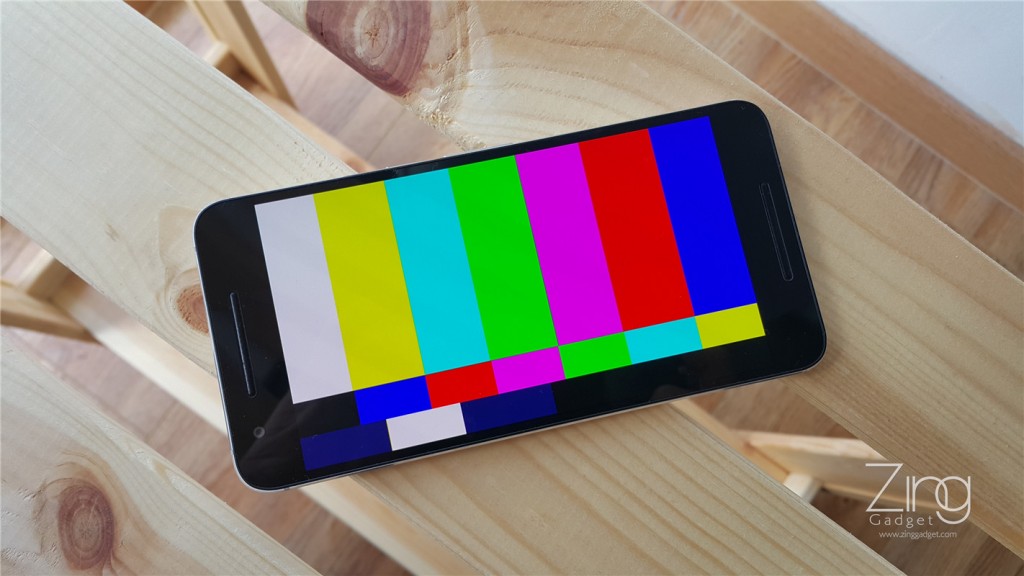 In our testing, the Nexus 6P offers an above average display. The green and reds are slightly saturated but it didn't affect the general viewing experience.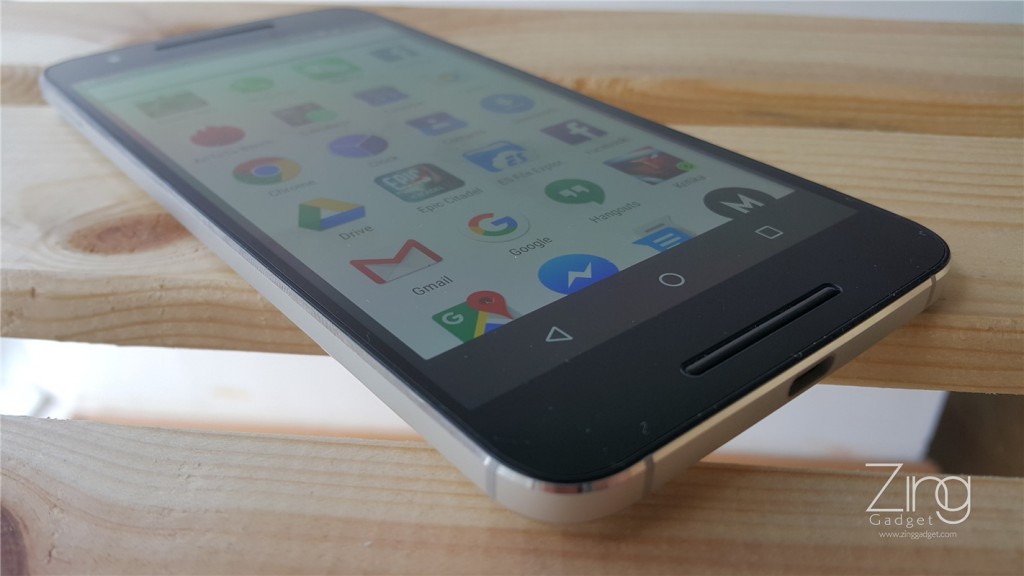 Nevertheless, the AMOLED panel in Nexus 6P also offer great viewing angle which is useful when sharing display with others when enjoying videos and photos together.
 3. Camera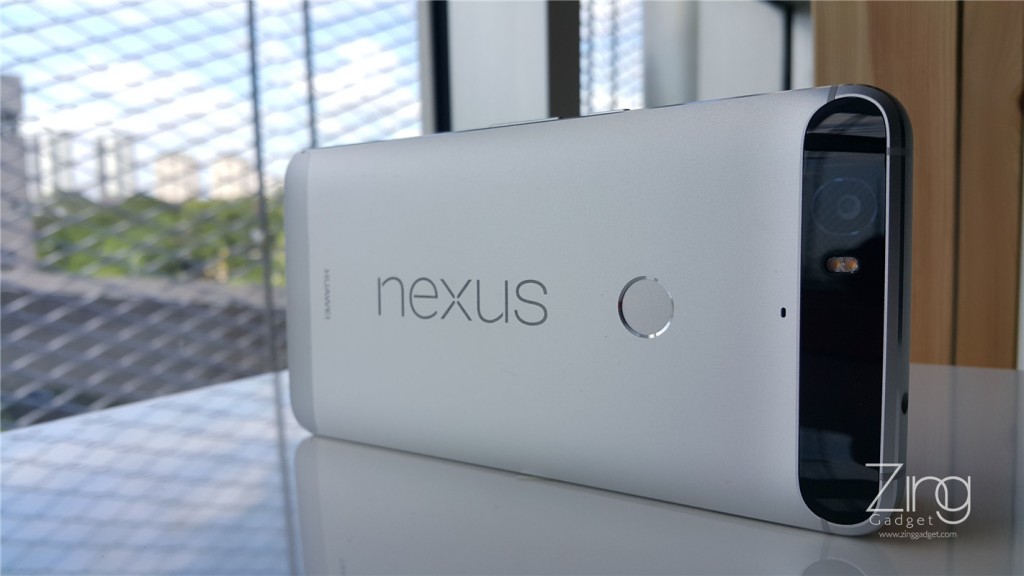 When Google first introduce the Nexus 6P, they are highly confident that the 12.3 mega pixel camera in the smartphone can take amazing pictures with great details. The pixel size of the camera are at 1.55 micrometer, which are statistically higher than the iPhone 6s camera at 1.22 micrometer. The higher pixel size offers greater clarity of the images when zoomed.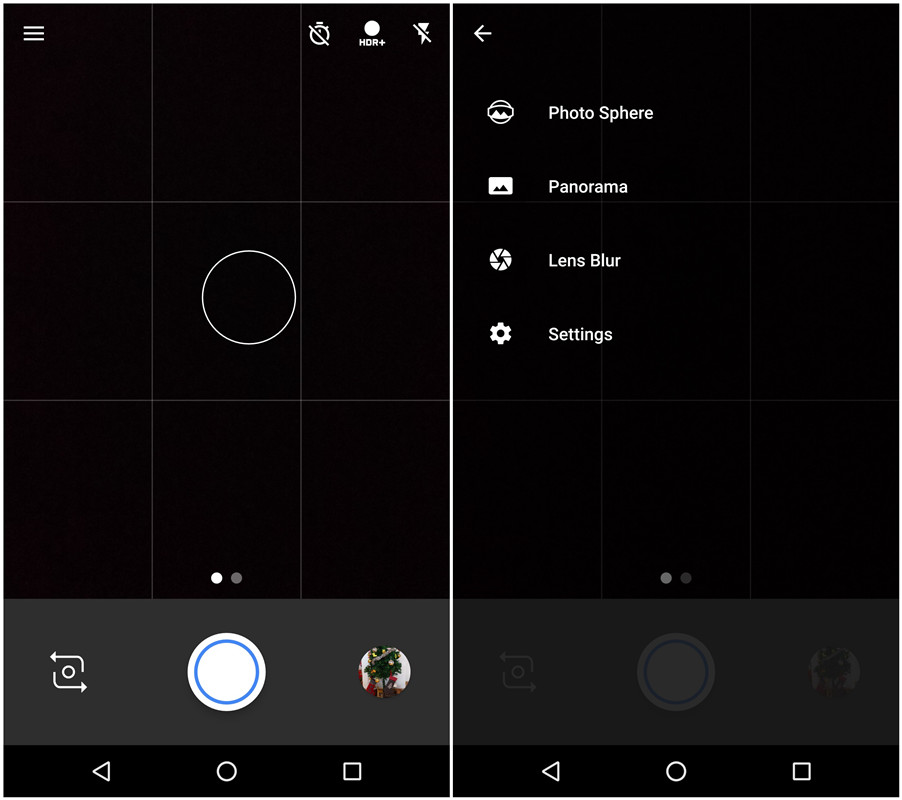 The laser autofocus speeds up the camera focus time when directed towards an object. The surrounding detail are mostly retained in the picture and the colour accuracy are accurate.
Since the Nexus 6P offers the original Android OS experience, there is not much additional functionality offered into the camera application compared to other Huawei smartphones. However, the basic camera app do offers common photography functionality which includes taking picture in panaroma mode and Photo Sphere mode.
Outdoor Shooting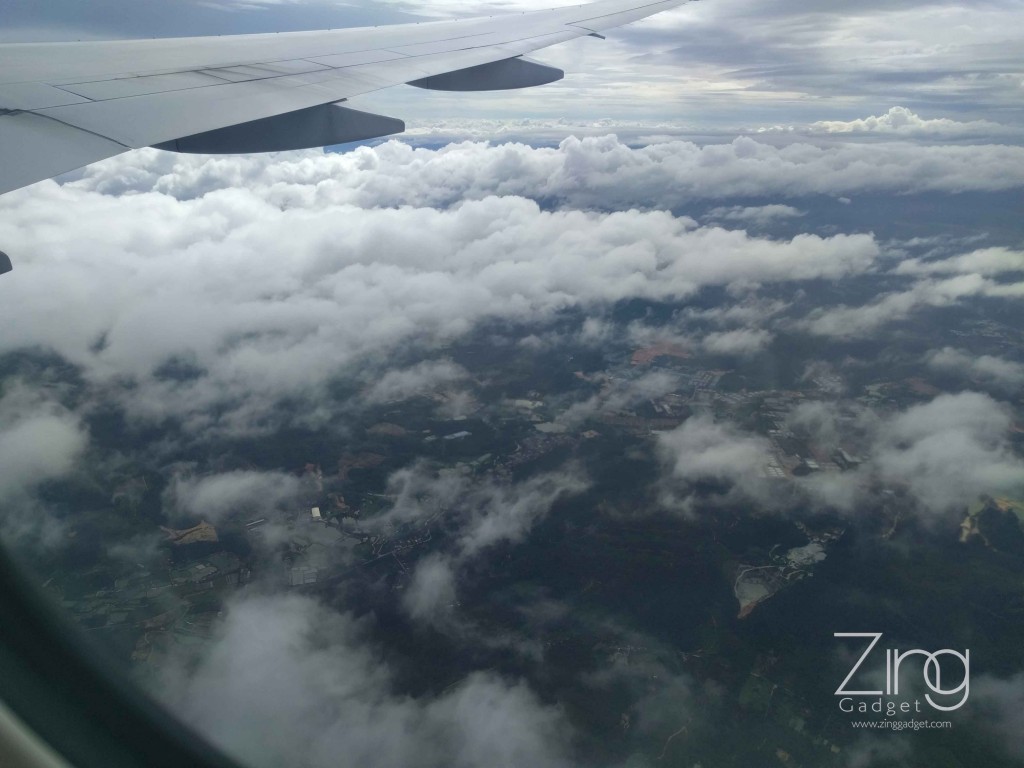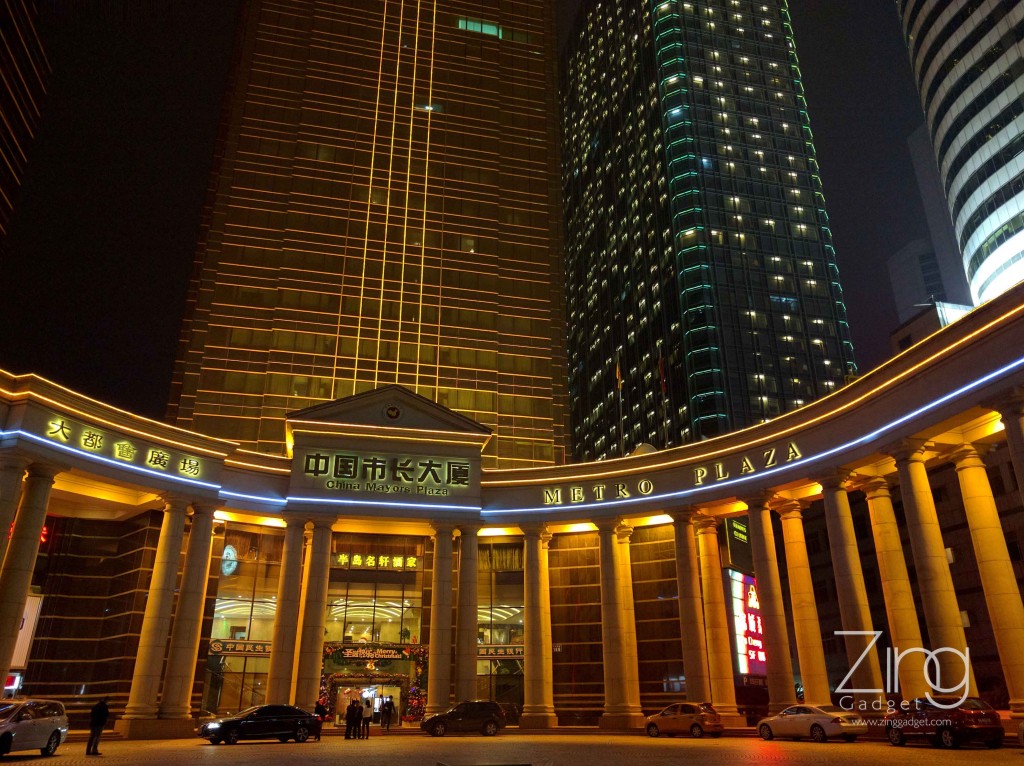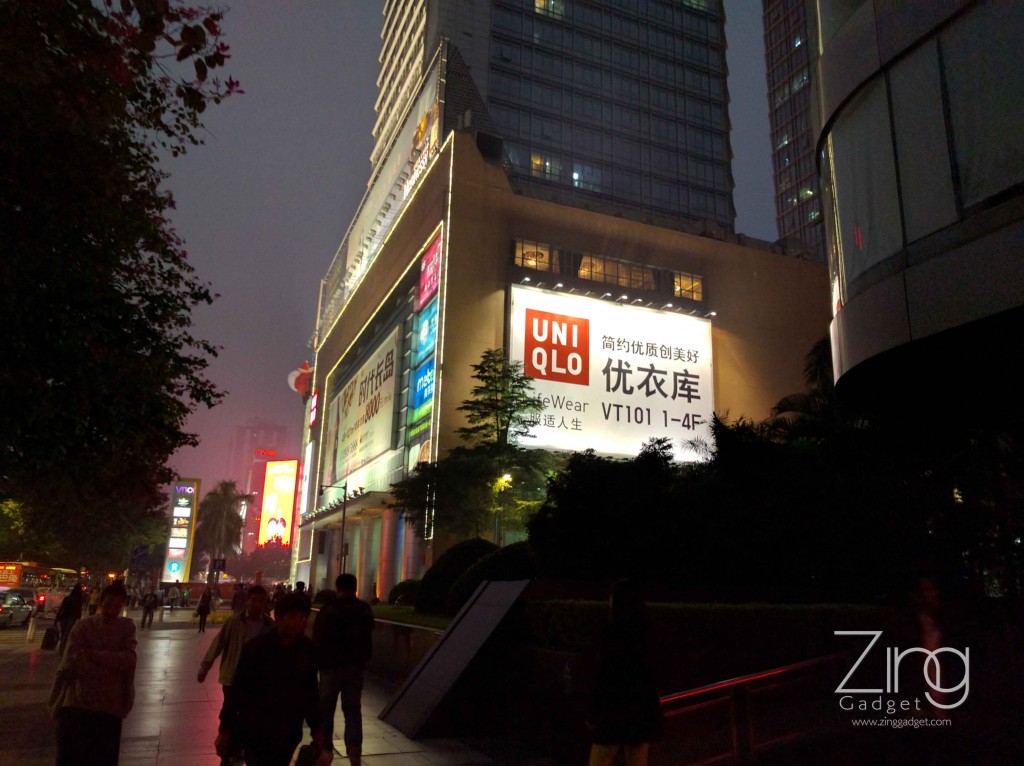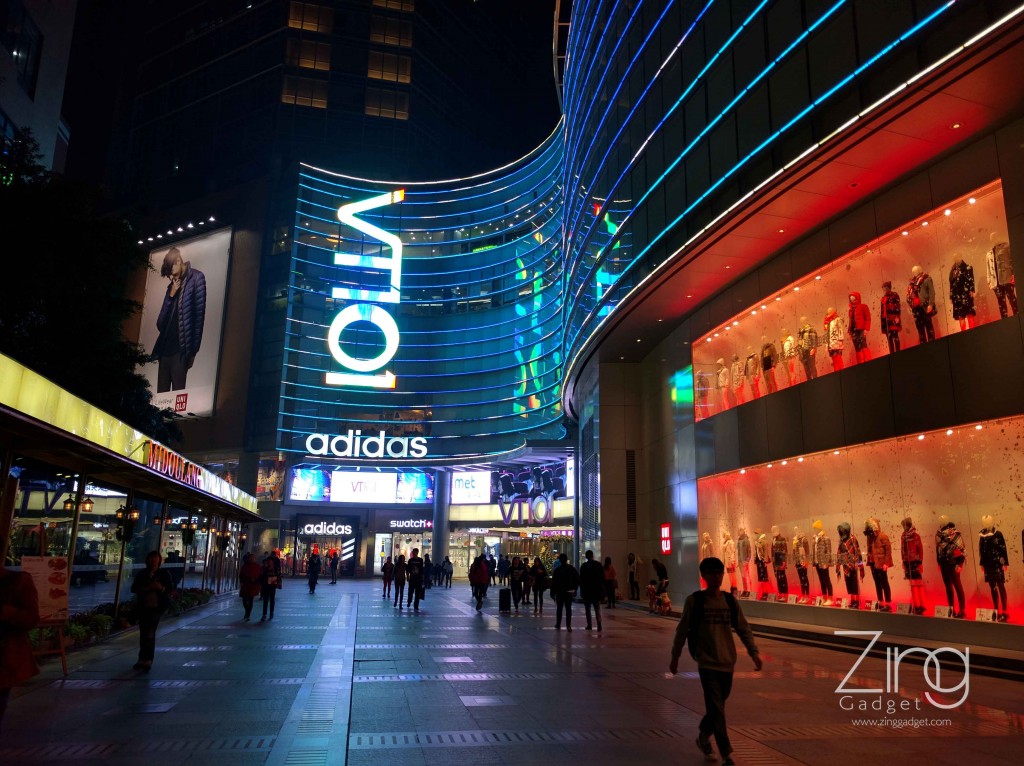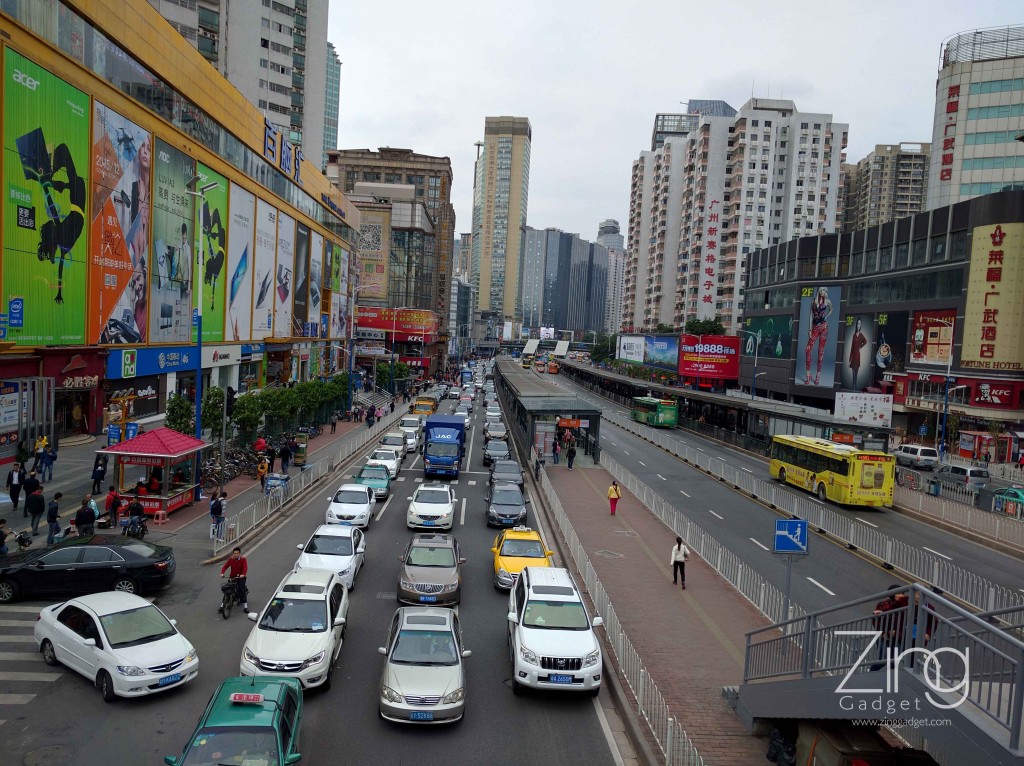 Under outdoor condition with bright lightning, the camera is able to retain great depth of details displayed in well saturated colours. However, some images suffers from slight saturation of green and red but this effect is not noticeable.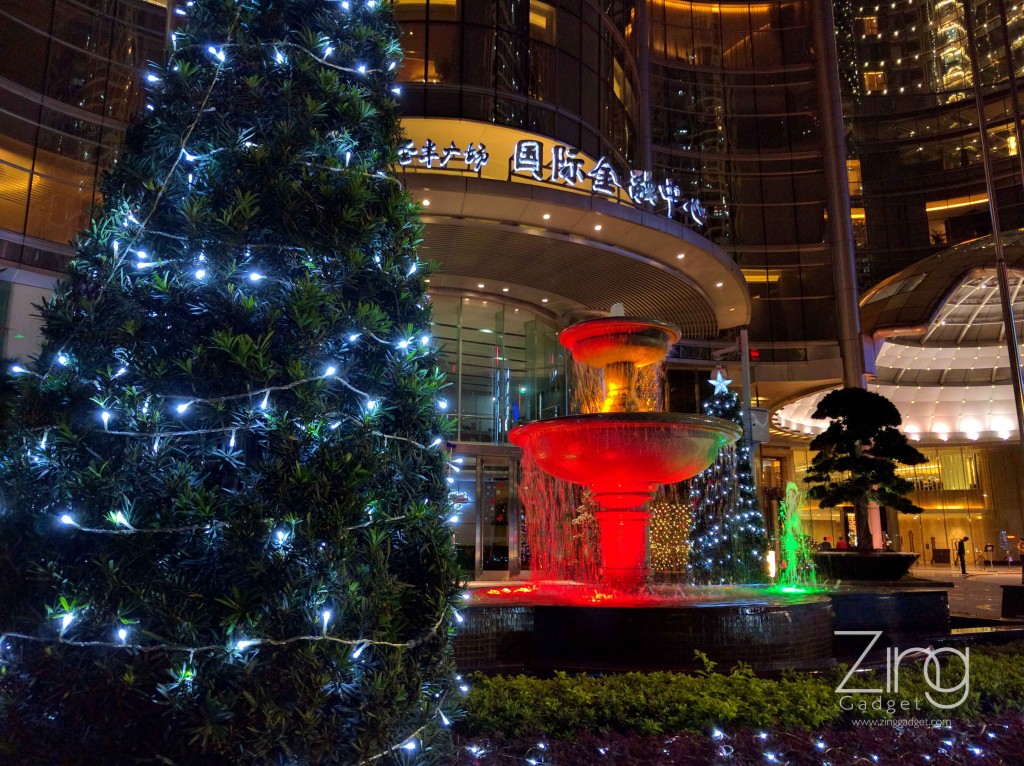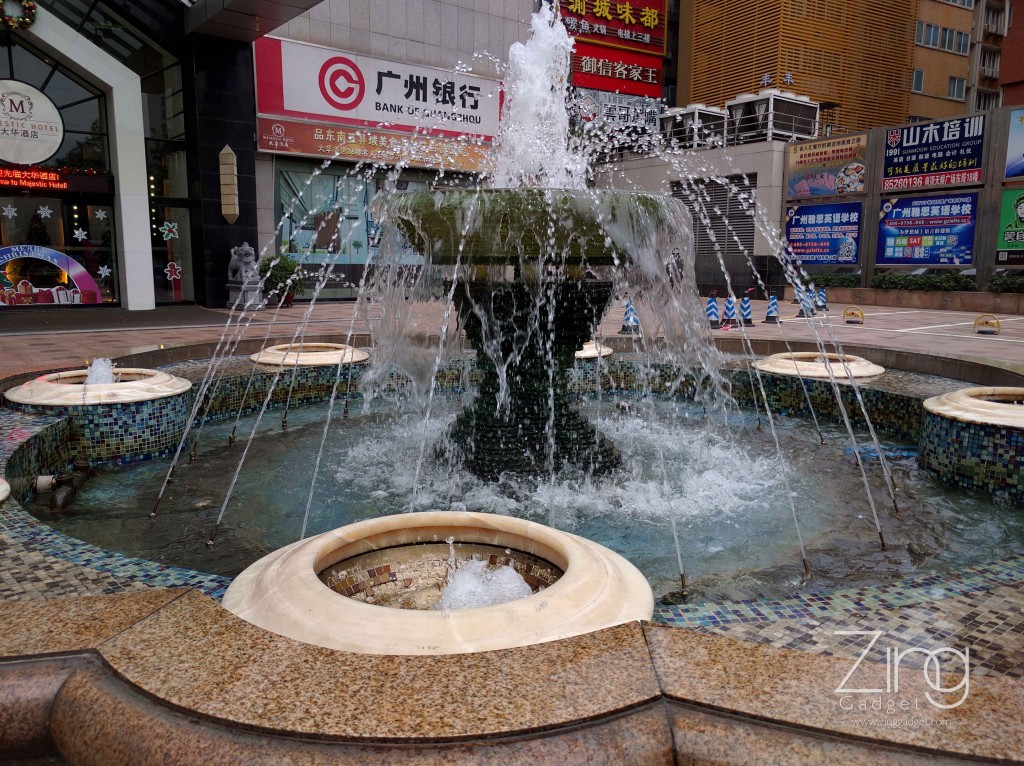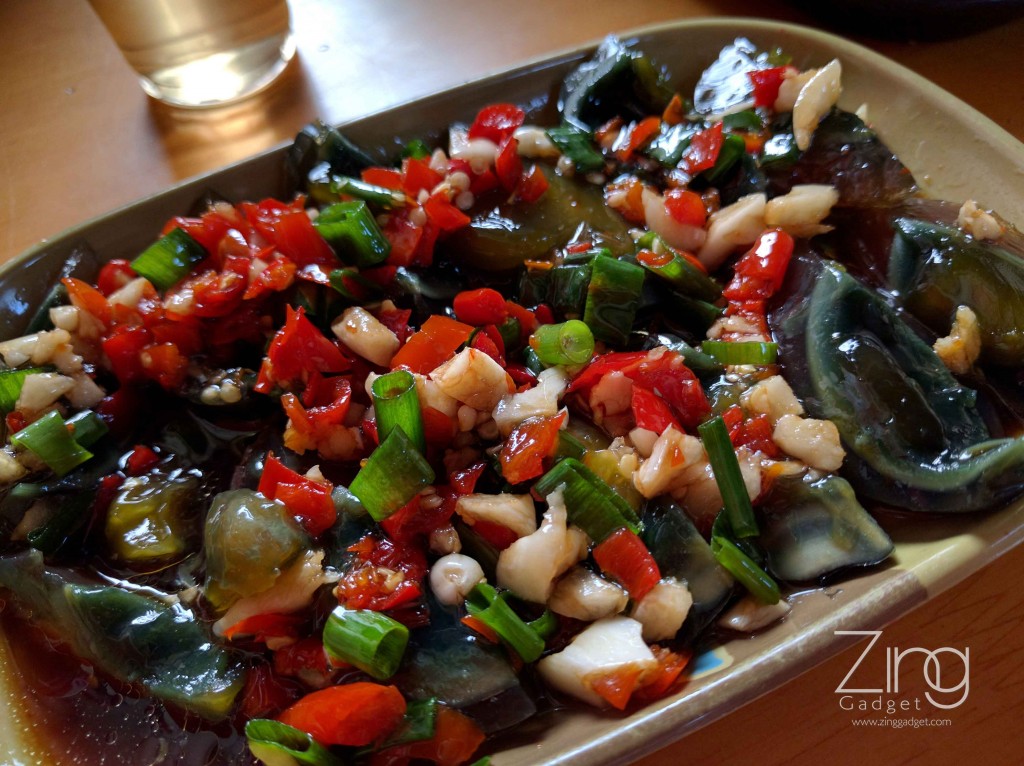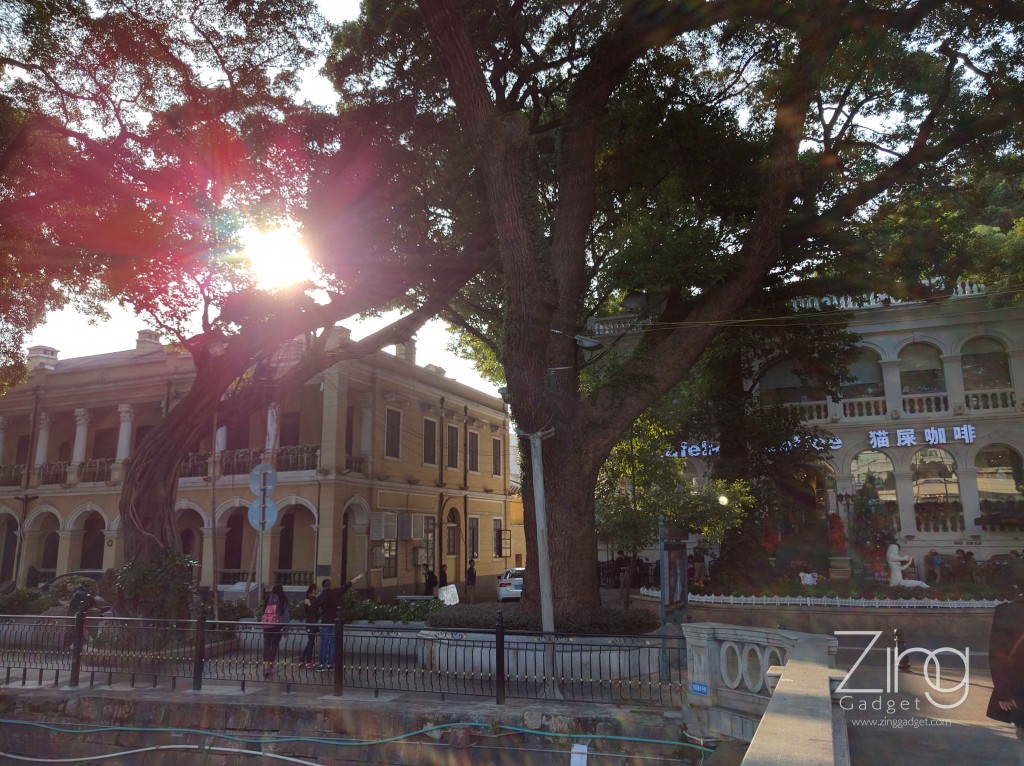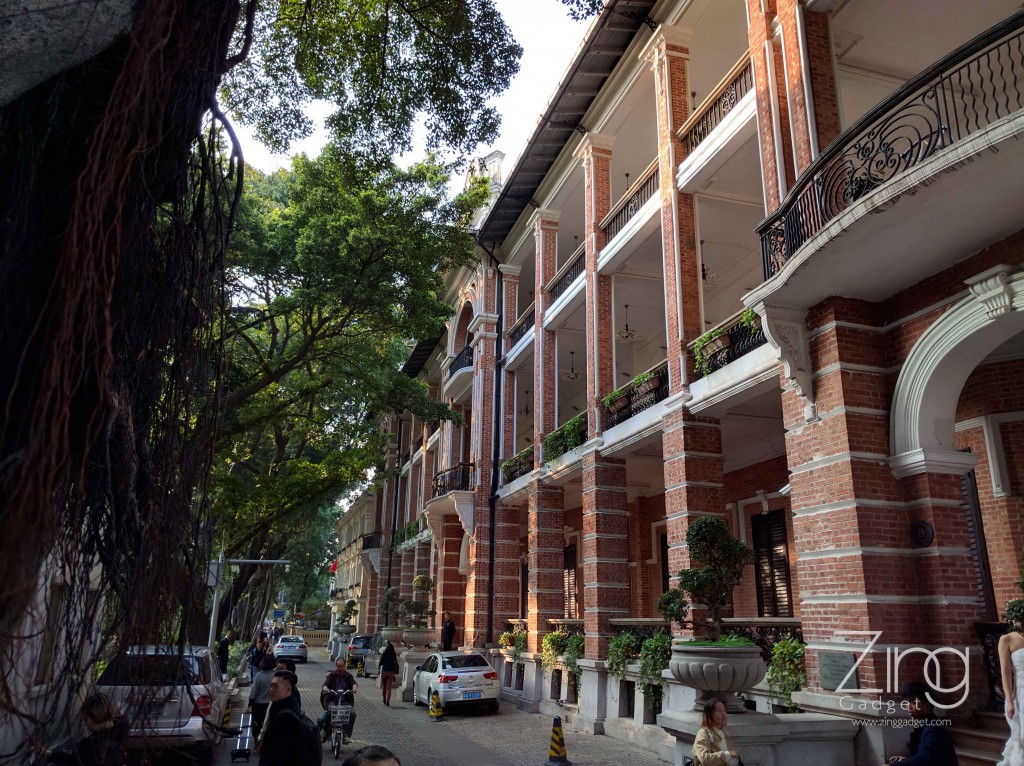 The Nexus 6P offers blazingly fast camera focus time and has good control in different light situation. In low light environment, the Nexus 6P is able to adjust the light exposure automatically so that the brightness exposure is non-significant. With the light adjustment controlled, the level of noise in the final image is greatly reduced. Besides, the rear camera with f/2.0 aperture offers an advantage is taking scenic and natural images with a good post processing technology that produce quality images.
Selfie cam test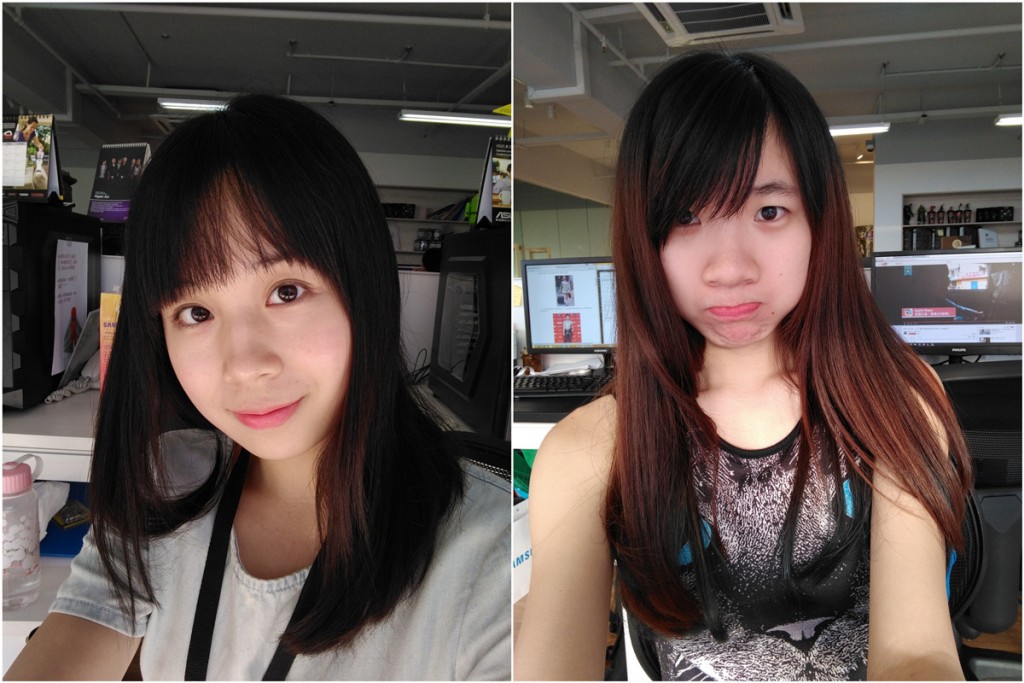 The front selfie camera is another breakthrough of all the Nexus camera. The 8 MegaPixels front camera offers HDR+ technology adds additional advantage in taking selfie in natural landscapes. Unfortunately, the camera application does not support different level face beautification but it is able to produce exceptional selfies.
 4. System
When it comes to Nexus smartphone, it always has the added advantage as the latest firmware launch and release are first available to common and latest Nexus smartphone. Thus, the Nexus 5X from LG and the Nexus 6P from Huawei runs on the original Android 6.0 Marshmallow experience. The new OS from Google has improved system stability and major optimization on battery usage control. This also prompts other Android users to experience the latest OS from the Nexus series smartphone.
Because it is Nexus, we are confident to say that this smartphone has zero bloatware! Most common pre-installed applications are from Google such as Google Plus, Photos, Play Store, News and other core Google applications. However, the Android 6.0 brings new functionality such as Now on Tap, Android Pay (Cardless payment technology through NFC) and App Permissions that allow users to fully control the permission grated to each applications.
System and UI quick look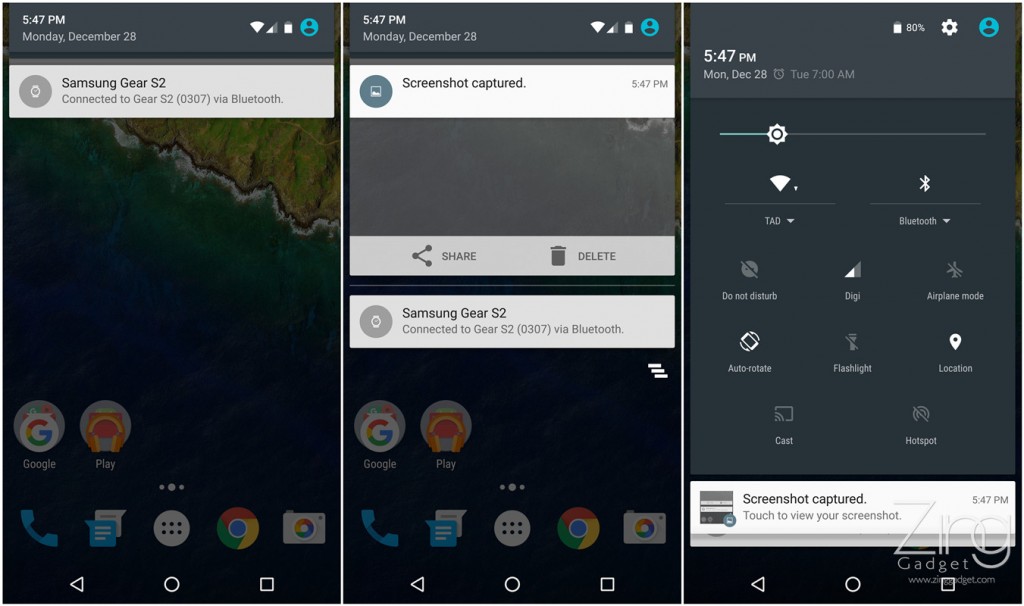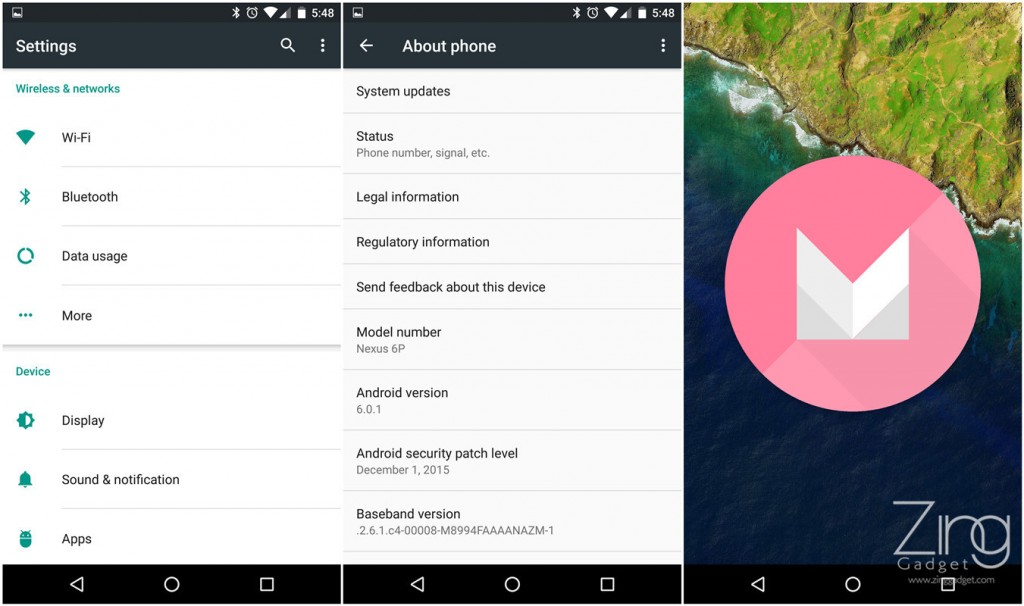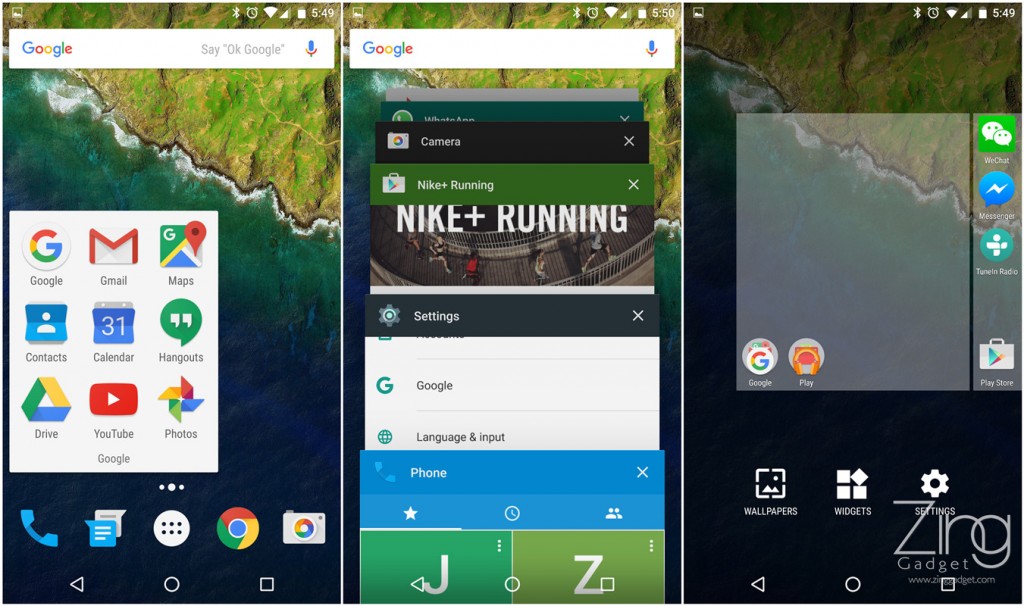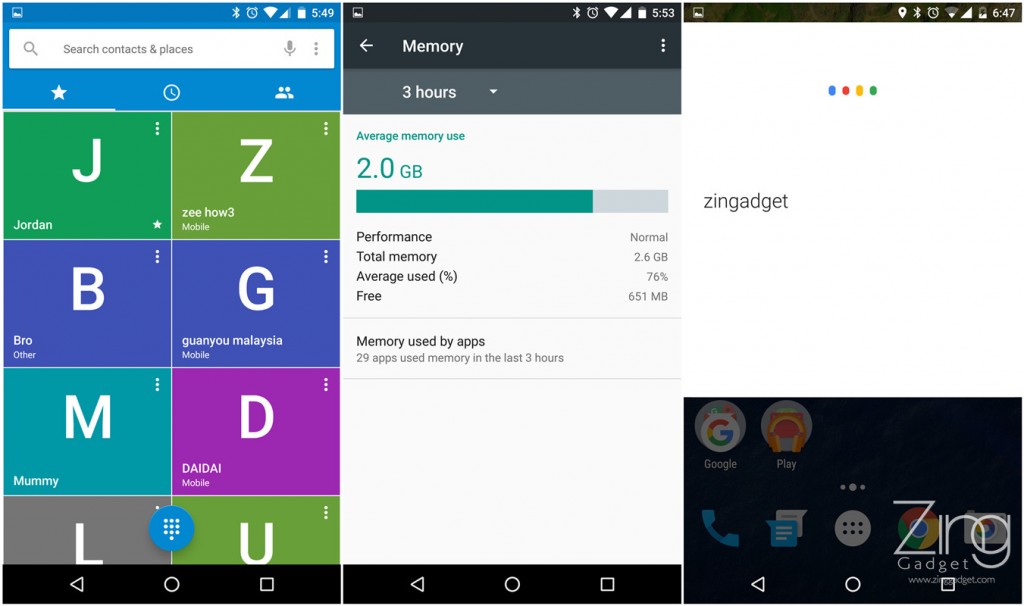 Now on Tap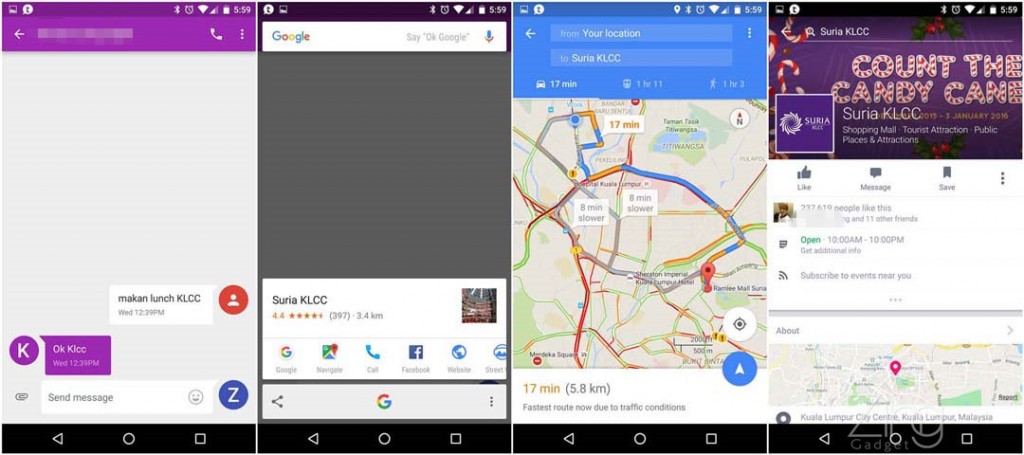 The 'Now on Tap' features allow instant launch of Google Now with a long press on Home button. Google will automatically search and locate information desired by the user with their special algorithm which is a great convenient for users.
Android Pay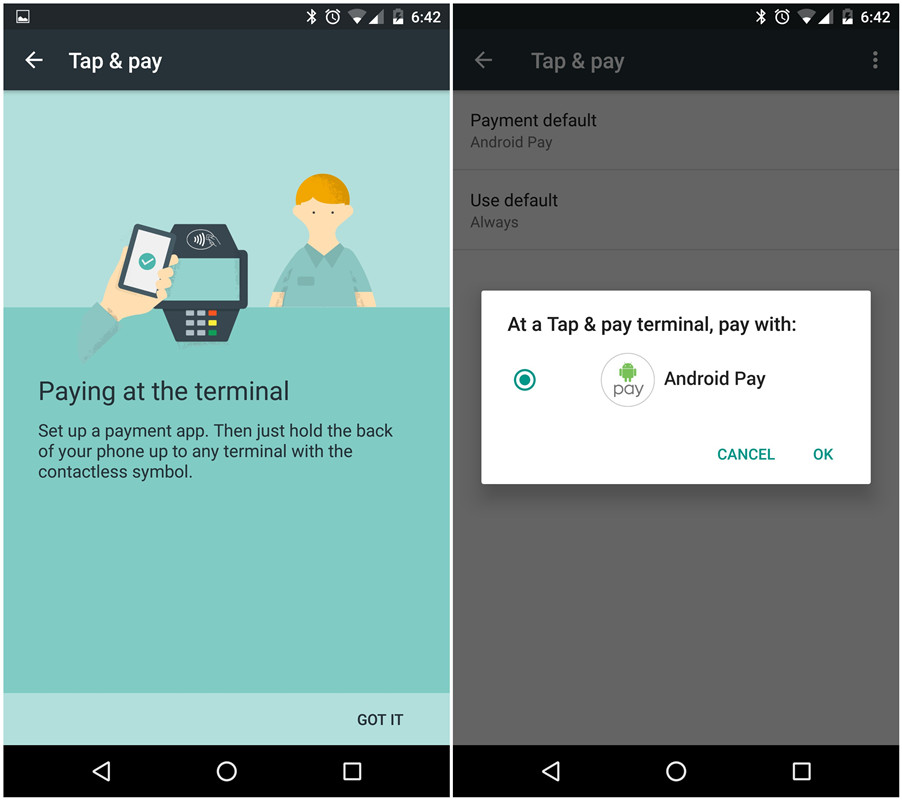 Although Android Pay process is not common in Malaysia and some other countries, we would expect that this cardless payment process will become the norm in every part of the world, including Malaysia. This extra functionality also granted a safe future for Nexus 6P when Android Pay has become a norm.
App Permission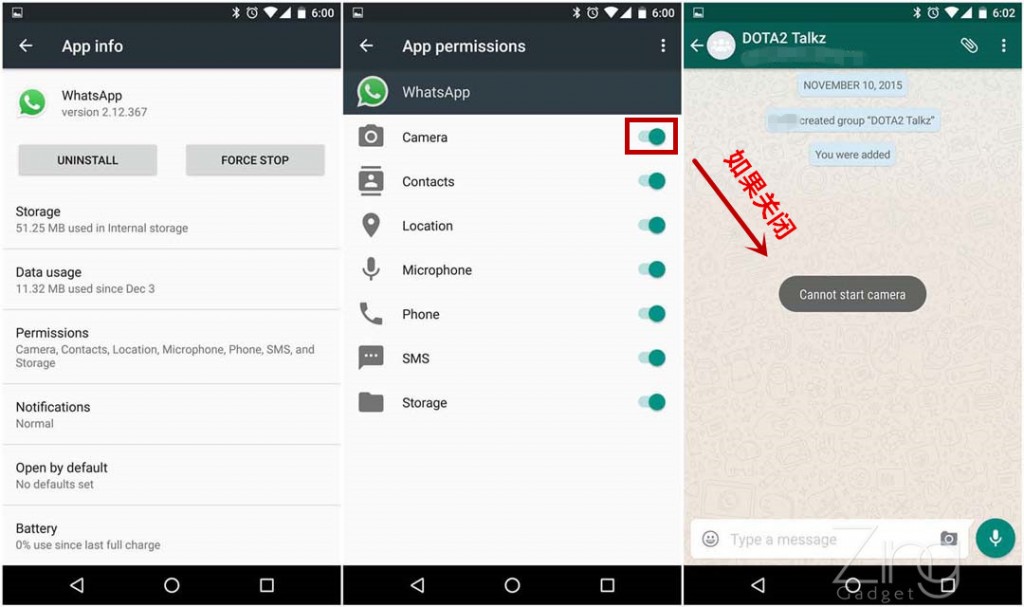 Did anyone reminds the Xprivacy from Xposed framework? Google has finally bring this functionality into reality and it is definitely a good news for those who seek for greater privacy with applications. The application permission can be controlled in the application settings where users can deny the application access to camera, microphone and other data sensitive functionality.
Nexus Imprint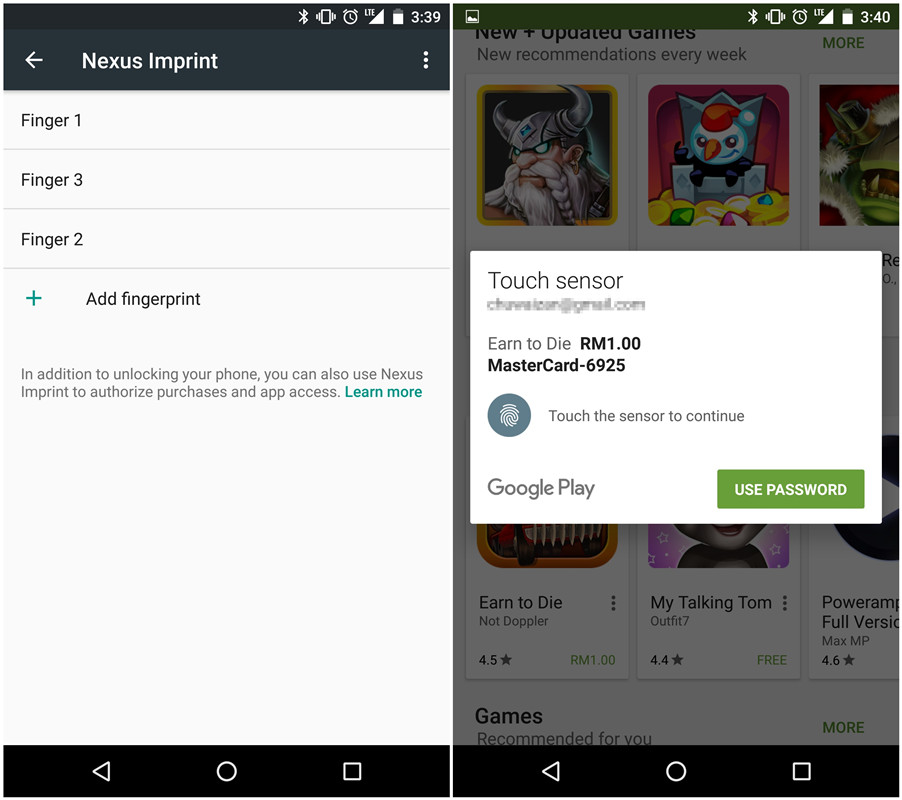 Apart from unlocking the display, the Nexus Imprint also integrate itself into payment process. This makes the payment process in Google Play Store requires an additional authentication through fingerprint, which greatly enhances the general security of the payment process. Besides, it also possibly eliminates unauthorized payment from children who trying to perform in-app purchases without parent consent.
 5. Battery
The USB Type C in the Nexus 6P not just offers fast charging through the original power adapter, but it also offers ultra-fast data transfer speed up to 10 Gigabits per second and power input up to 100W.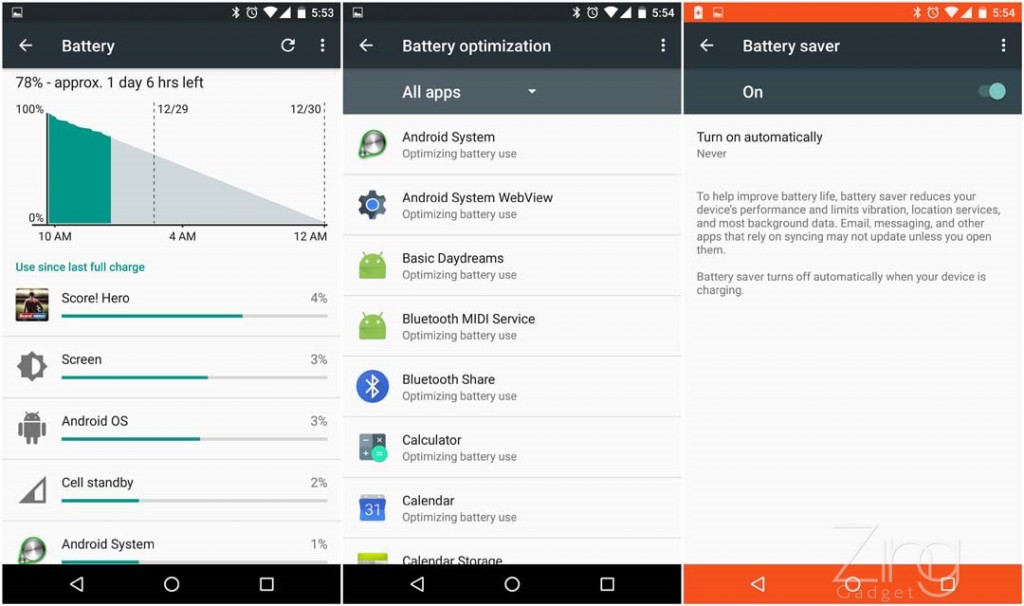 The Nexus 6P with Android 6.0 also offers functionality such as Doze mode. The Doze mode direct the smartphone into deep-sleep mode which granted higher battery and power savings. It is activated when gyroscope in the smartphone reports itself as stationary for a long period in a scenario where the smartphone lay on a table top when the user sleeps.
Battery Charging Test
Initial battery level: 20% (Airplane mode + background application and RAM cleared)
Final battery level after 30 minutes charging: 58%
From basic calculation, a single 30 minute charges can refill the battery up to 38% with the original 5V/3A charging adapter. This quick charge result are not just satisfactory but excellent. User also may not need to worry for constant charging this smartphone as the battery installed in this smartphone are sufficient on one to two day usage depending on general activity.
Battery Drain Test
½ hr waze & data:7%
½ hr FB + data:5%
½ hr FB + WiFi:5%
½ hr browser + wifi:4%
½ hr game + wifi:12%
½ hr youtube:8%
½ hr whatsapp+wechat+camera+wifi:6%
½ hr music:2%
1 hr video playback:8%(½ hr through earphones)9%(½ hr through stereo speakers)
Battery left: 34% (After 5 hours of testing time)
In general, the battery has did a surprisingly good job in conserving the battery. Even if you are a power user, your Nexus 6P could last for more than a day which removes the necessity of Powerbank. If you are a light power user, the Nexus 6P could last up to 3 days without a single recharge!
More Endurance test
When the smartphone was fully charged to 100%, we put the Nexus 6P into 5 hours of standby. During this period, the smartphone is connected to WiFi Access Point and receive numerous Whatsapp, WeChat and other message through Social IM.
Initial battery level: 98%
Final battery level (after 5 hours standby: 97%
This result has shown that the Android 6.0 in Nexus 6P has greatly optimized in conserving the smartphone battery, thanks to the Doze mode.
 6. Performance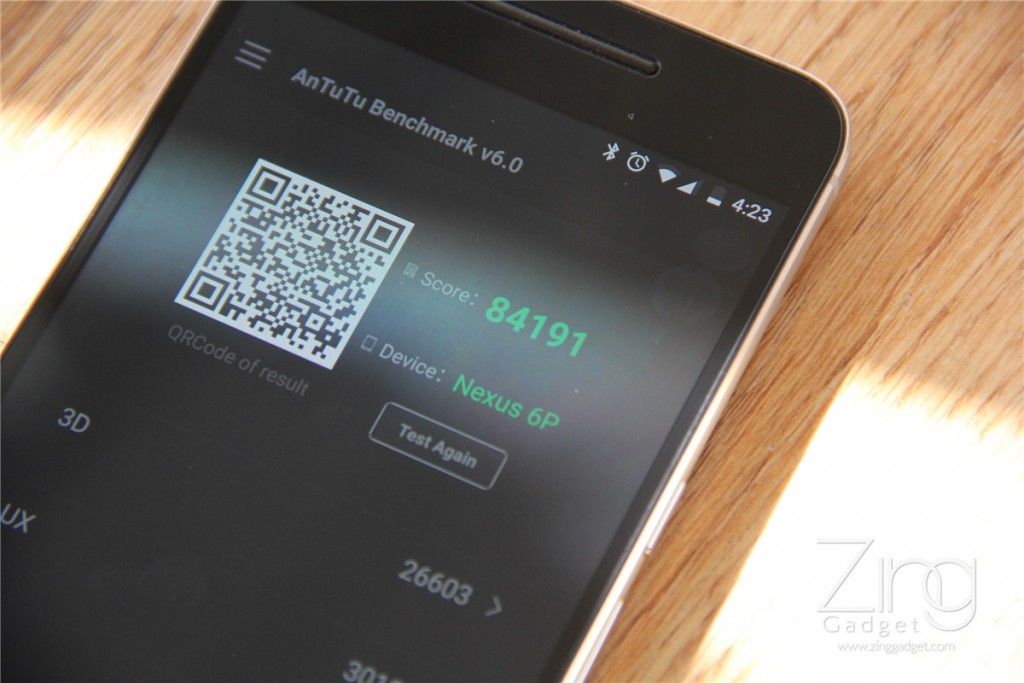 As one of the flagship of Android, the Nexus 6P sports one of the greatest processor from the mobile industry – Qualcomm Snapdragon 810 v2.1 processor. It also comes in 3GB of total RAM and 64 GB of total internal storage but it has no support of additional storage expansion through microSD. With the minimal pre-installed application present in the Nexus 6P, one could assume that 64GB storage is sufficient for power user.
Benchmark results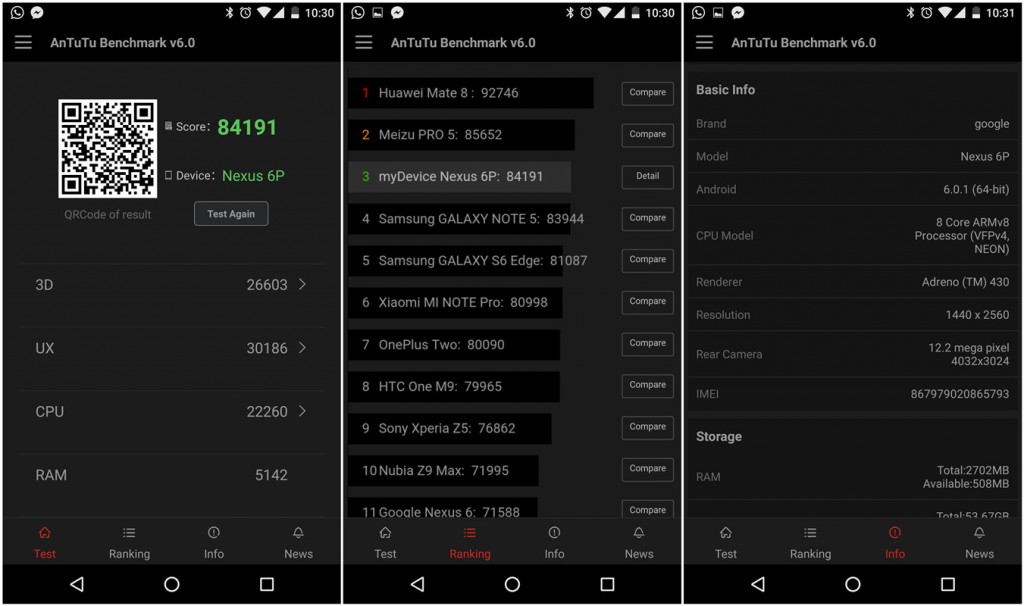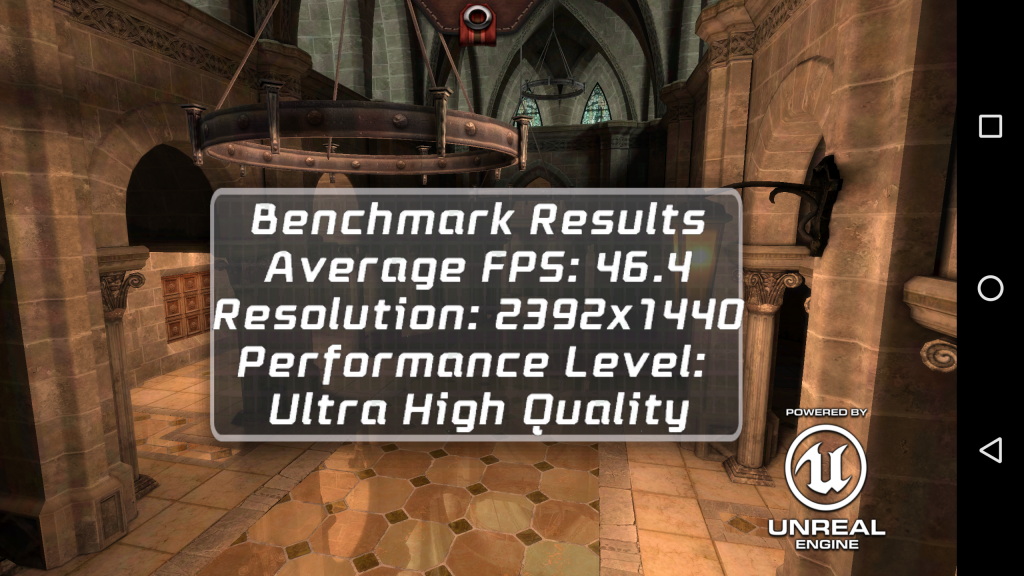 Gaming Results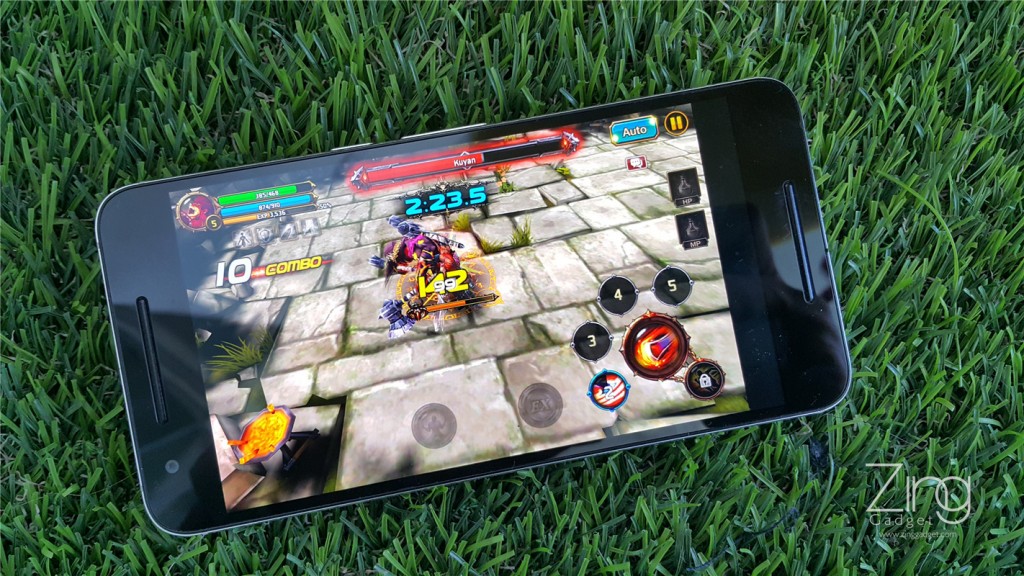 Sporting one of the best (and hottest) processer out there, the Nexus 6P has no issues in different level of gaming. There is no lag and frame drop in graphical and CPU intensive applications in general. However, when there are multiple background process running in the smartphone, the gameplay experience may be slightly affected.
Here comes our favorite question: Does this smartphone overheats?
Our answer: The heat emitted on this smartphone are within range and generally acceptable. With the aluminum metallic body that encapsulate the whole device, the smartphone can conduct heat easily and dissipates heat easily. So one need not to worry for a burning smartphone in your pocket.
Media/ Music/ Video experience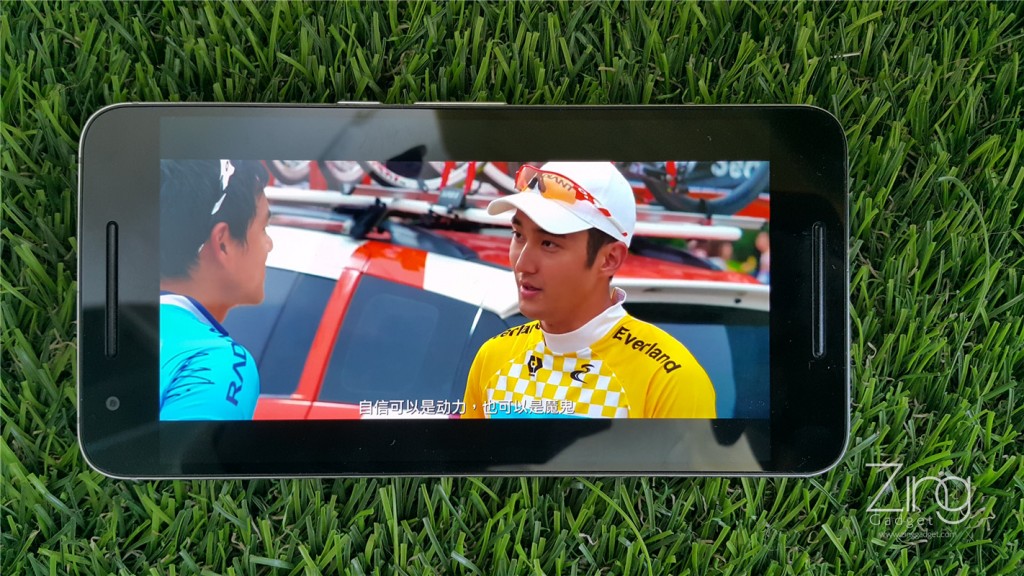 Thanks to its front dual stereo speaker, the video and music playback experience on this smartphone are amazing. The processor is also an added advantage when playing 4K videos with zero effort and the 2K display greatly enhances visual experience.
Web Browsing Experience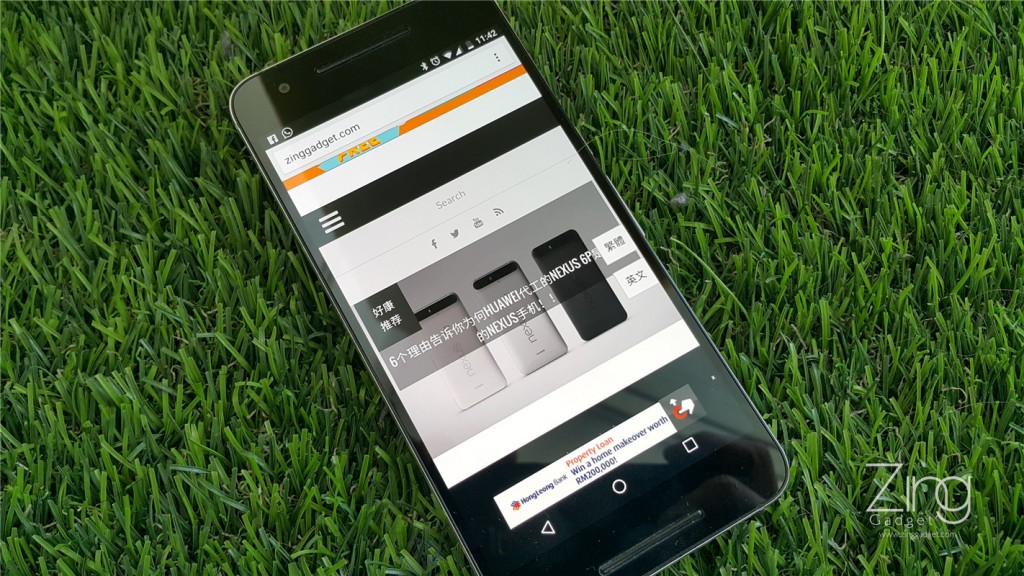 The stock/ original browser available in the Nexus 6P is the Google Chrome itself. As it is highly optimized for mobile browsing, there is no issue occurred when visiting script-intensive website.
Conclusion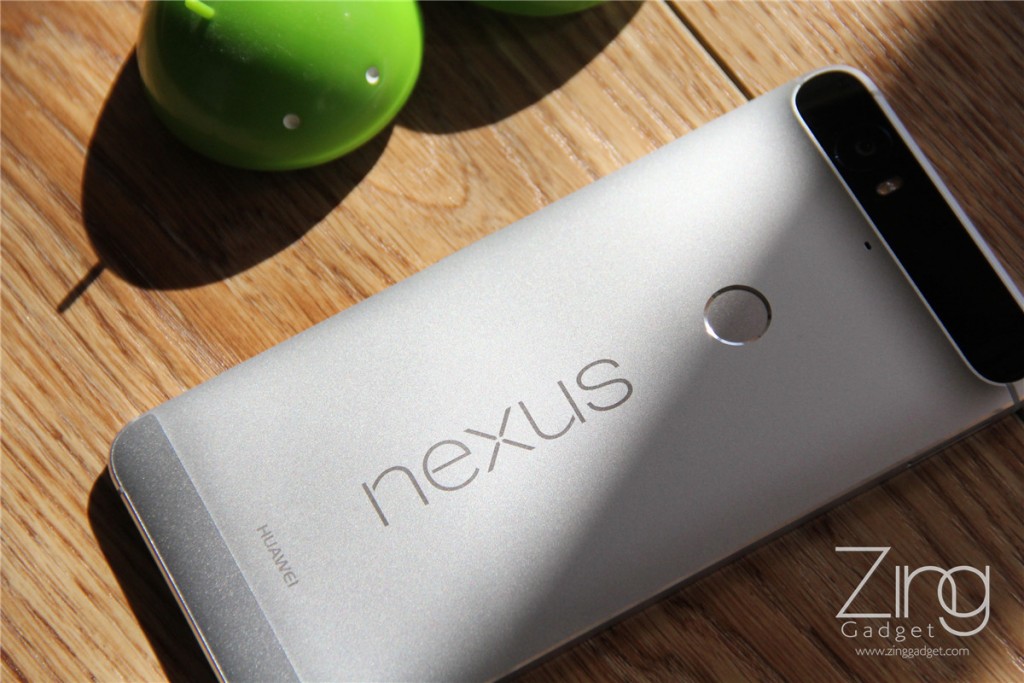 Is it reasonable for the Huawei Nexus 6P come with a price tag at RM2698? In our opinion, this smartphone offers the greatest hardware with one the most advanced camera and high quality display panel. Besides, the Nexus 6P also comes with the pure Android experience with minimal to zero bloatware and it offers seamlessly fast and highly enjoyable user experience. Big thanks to Android 6.0 and Doze mode, the battery is now highly optimized in which the smartphone can be used for 2 to 3 consecutive days depends on the activity and applications. The USB Type C port also offers quick charging time and fast transfer speed up to 10 GBps. In short, if you have much budget and looking for a high end smartphone that offer the latest Android experience, this smartphone is what you are looking for.