As the industry leader in gaming laptop, hardware and peripherals manufacturing, it is no surprise for MSI to launch new and newer generation of gaming laptops each year with the most advanced hardware. As MSI has just recently launched their VR-Ready gaming laptop along with the latest Nvidia GTX10 series graphics card, we get to test one out before this laptop is made available in Malaysia. Let's have a quick look on its specifications first!

MSI GT62VR 6RE Dominator Pro:
Intel Core i7 6700HQ
Nvidia GTX1070
Windows 10 Home
15.6″ Full HD
16GB RAM
256GB PCI-E Gen3 SSD
1TB 7200rpm HDD
Killer Shield & Killer DoubleShot
2x 3W speaker and 1x 3.5W Woofer
390 x 266 x 39.8mm
2.94kg
2 years MSI Malaysia warranty
RRP:RM9999
Hardware info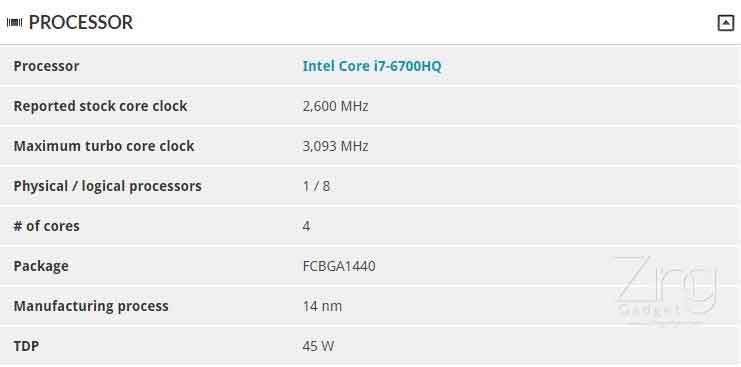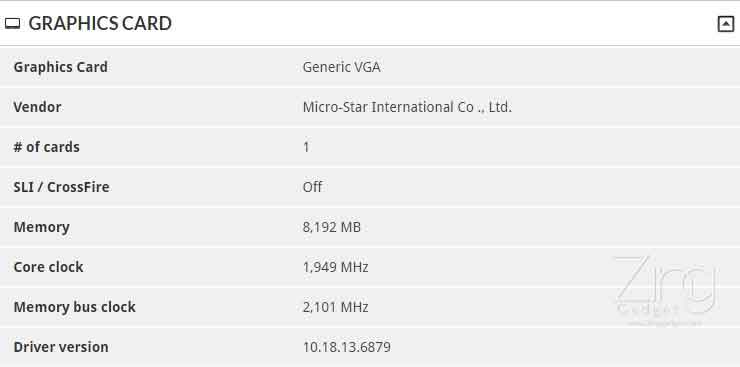 Design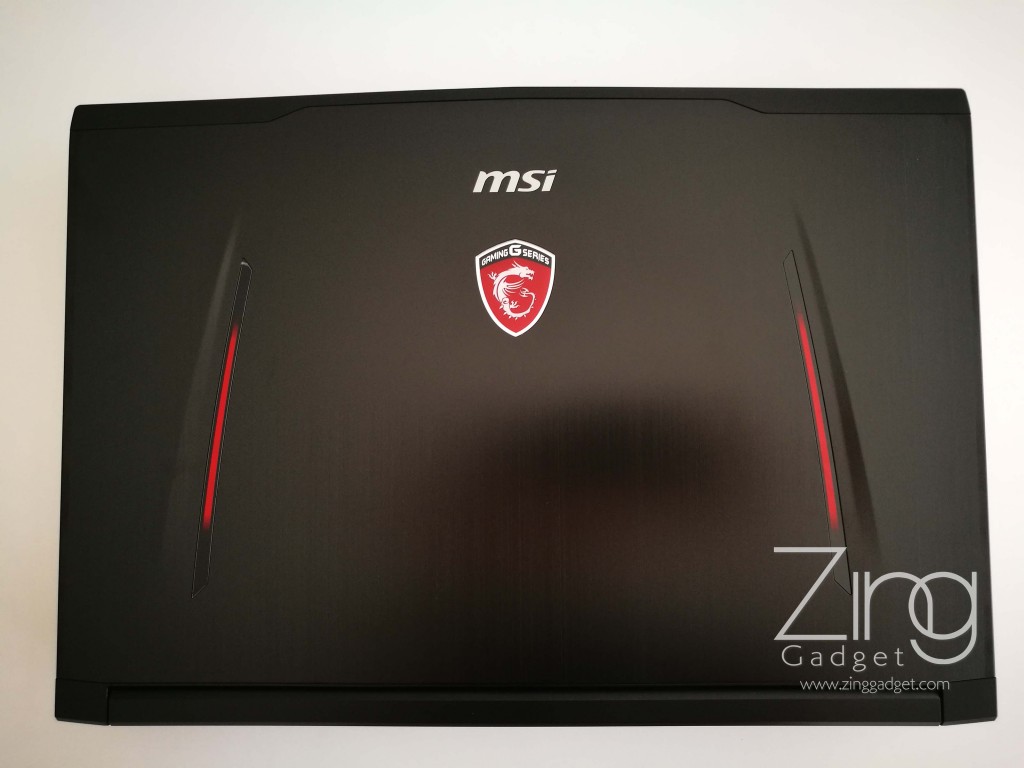 The newly launched MSI GT62VR comes with the iconic design of MSI GT series gaming laptop where 2 red lines are surrounded by the MSI logo located at the center. These red LED bar emits light during the light which gives an aggressive look onto the laptop.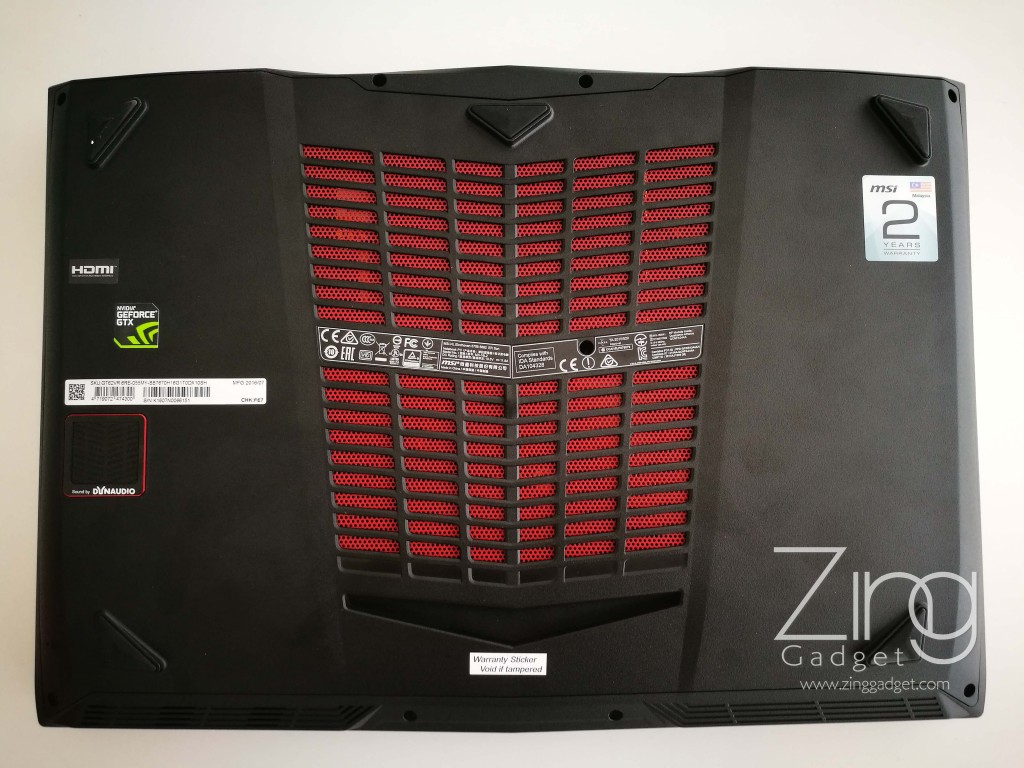 A big vent is located at the bottom along with Dynaudio subwoofer on its right corner.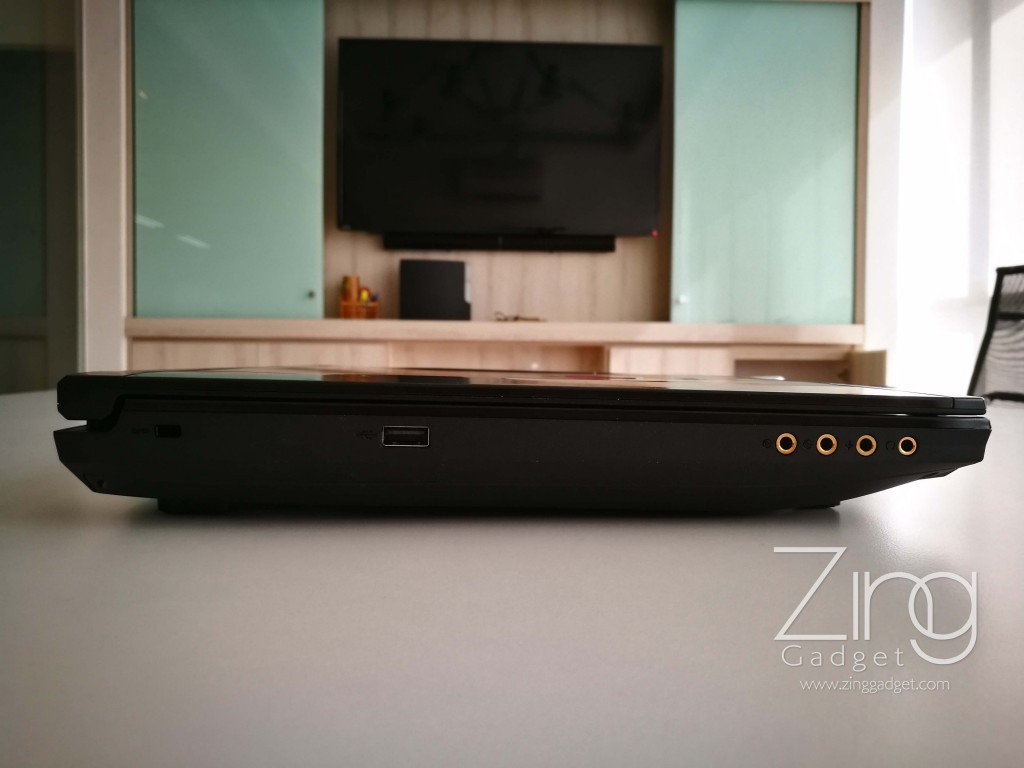 There is a keningston lock, 1 USB 2.0 port and a series of audio output jack on the left I/O.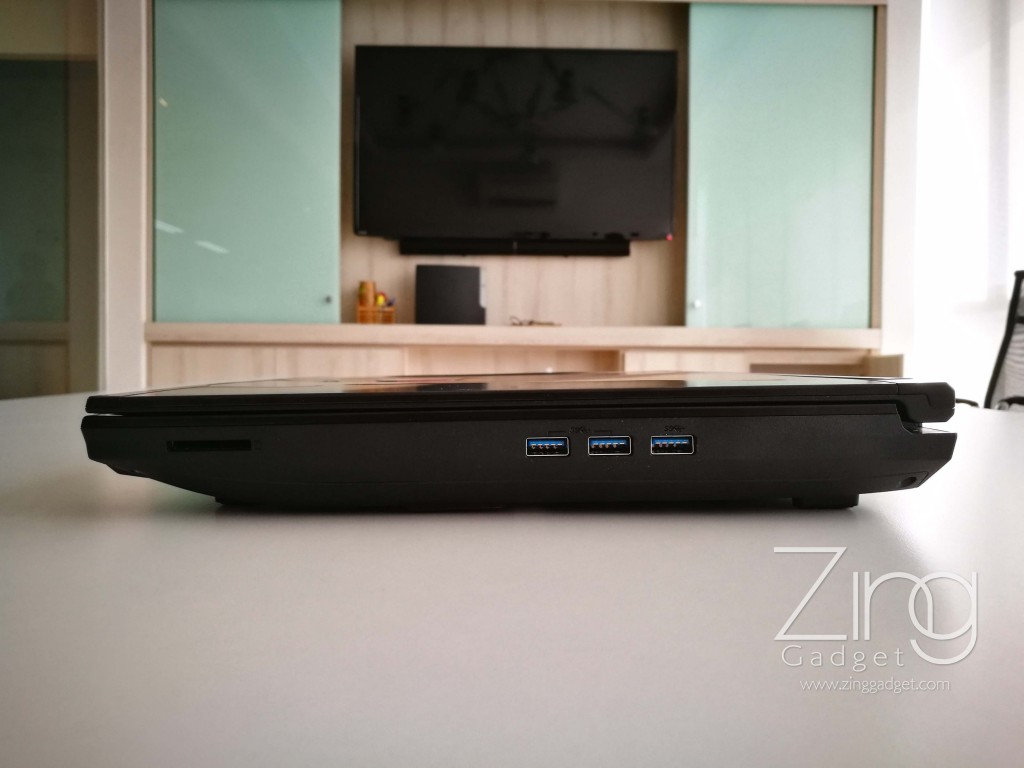 3x USB 3.0 port are located at the right. It is also surprising to see the way the MSI arrange the I/O since most USB 2 port are located at the right for mouse attachment.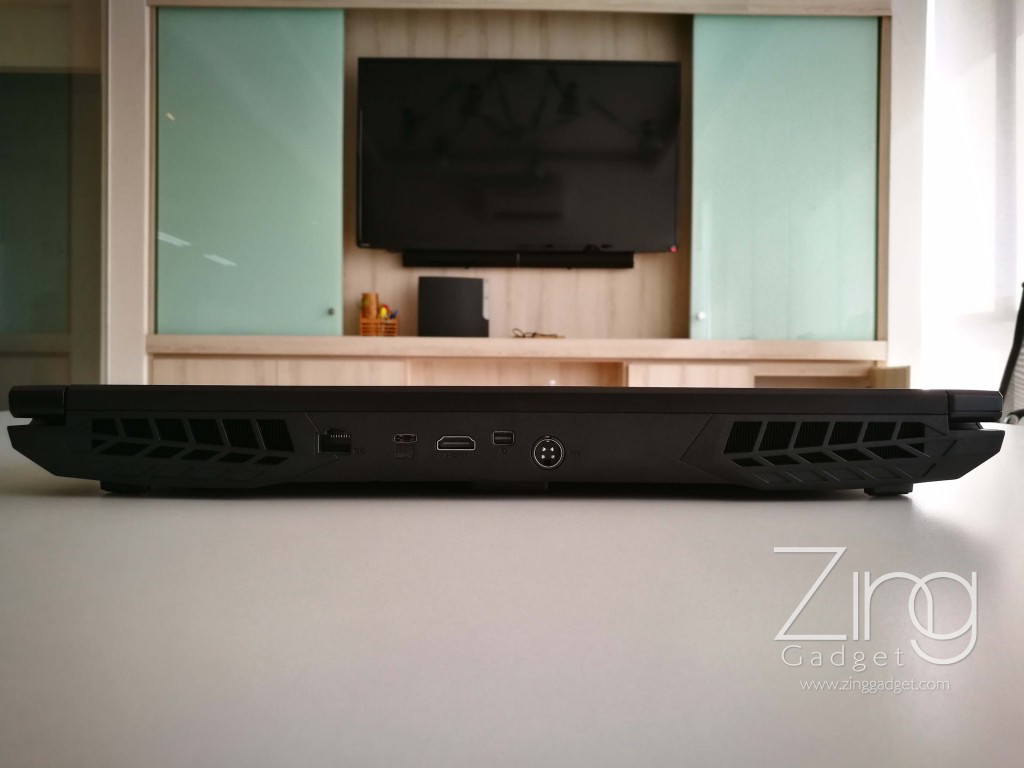 The other I/Os of the GT62VR is located on its back which comes with 1 mini DP port, 1 HDMI output, 1 USB 3.1 port and Killer GbLan port. The left and the right vents are managed by Cooler Boost 4.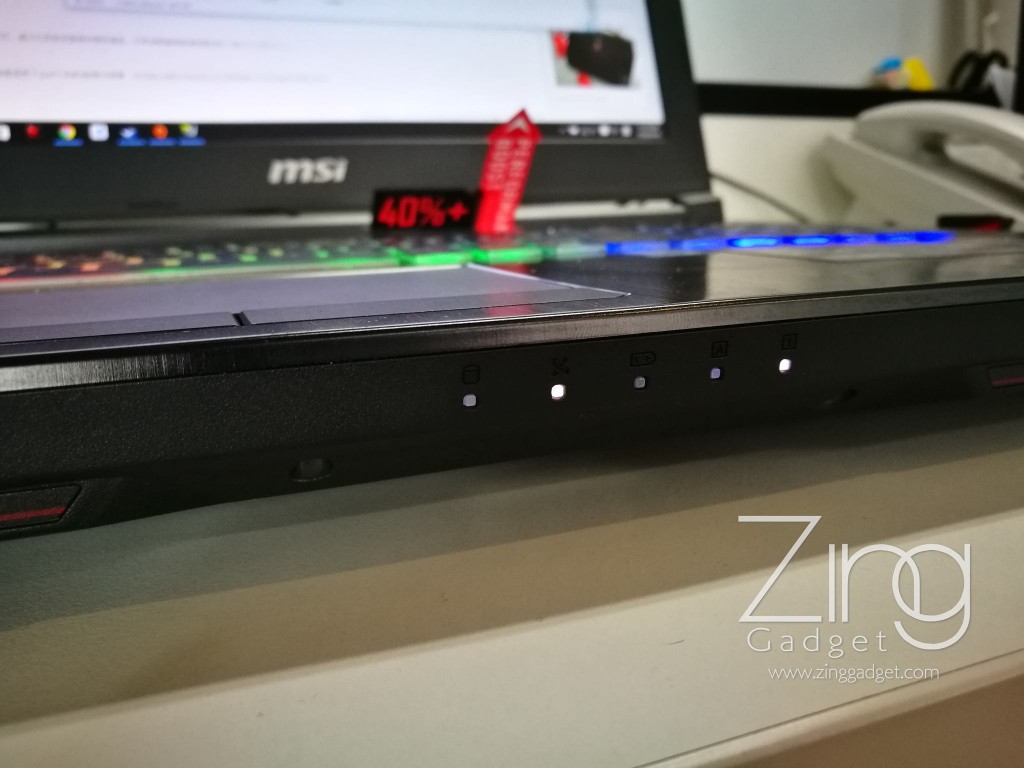 An array of LED status indicator are shown on the front.
The display of this laptop comes with a backlit 15.6 inches Full HD display with wide angle viewing up to 178 degree.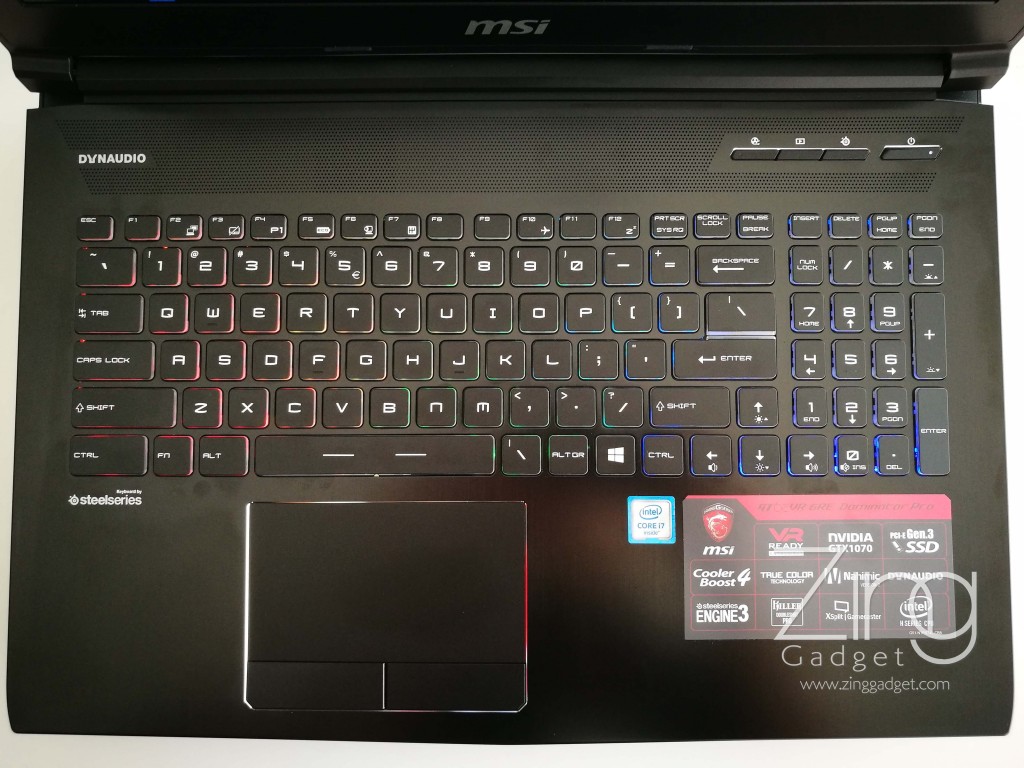 There are 3 predefined macro keys beside the power button which are the Cooler Boost 4 activation button, XSplit Gamecaster button and Steelseries keyboard light switcher.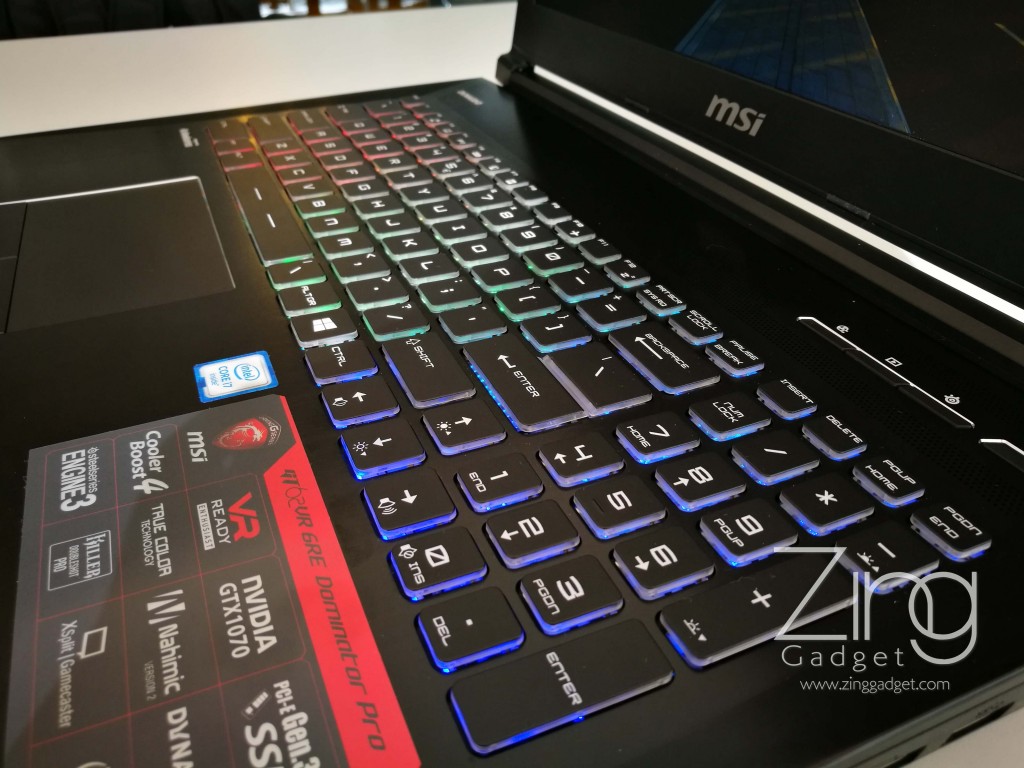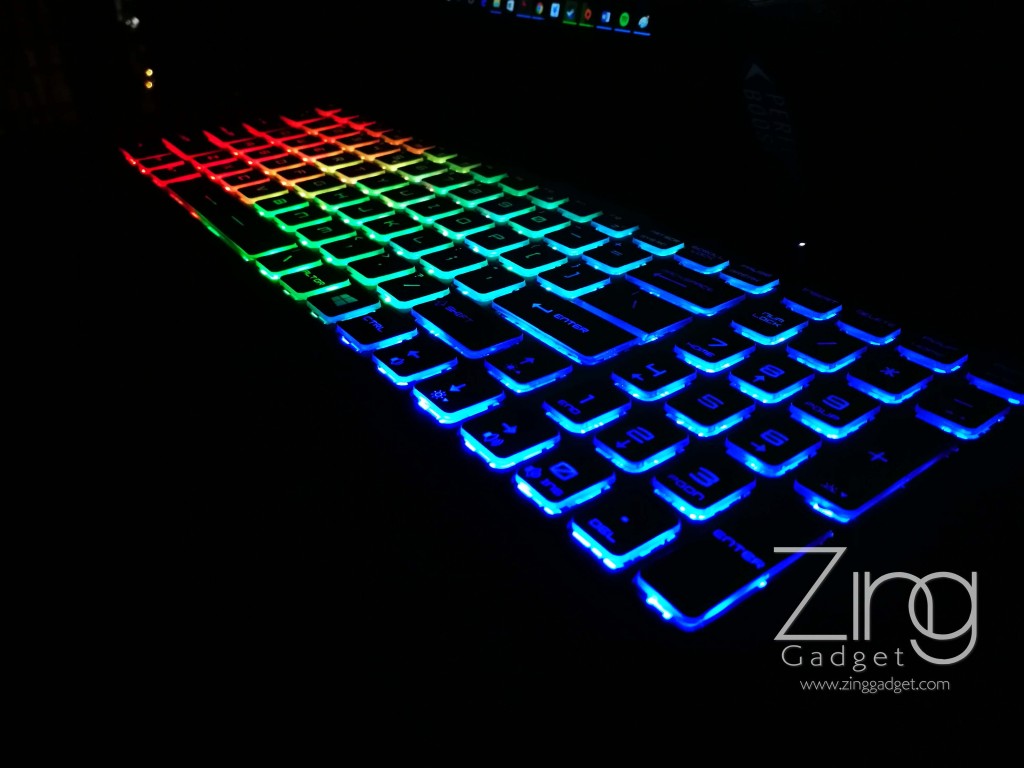 This GT62 laptop does features the latest keyboard by Steelseries that offers multiple colour adjustment through the GameSense software. More details of this feature to follow.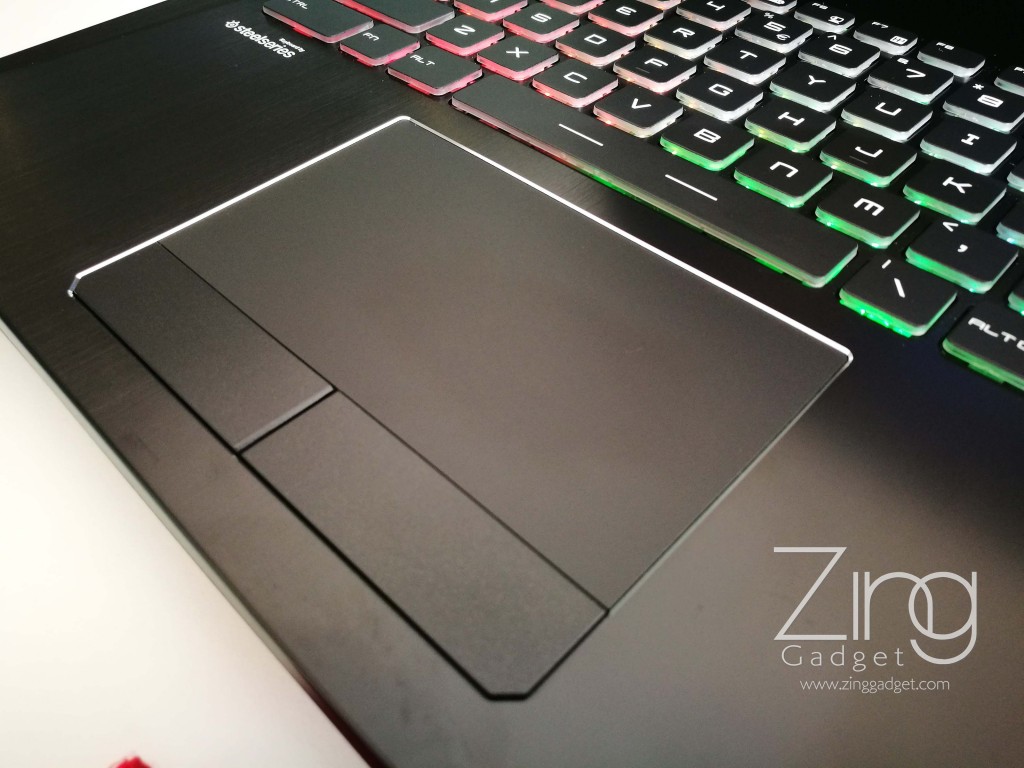 A solid, distinct keypad button offers better clicking experience although gamers seldom uses them.
Performance
We let benchmark result do the talk.
3D Mark Time Spy 1.0

Heaven Benchmark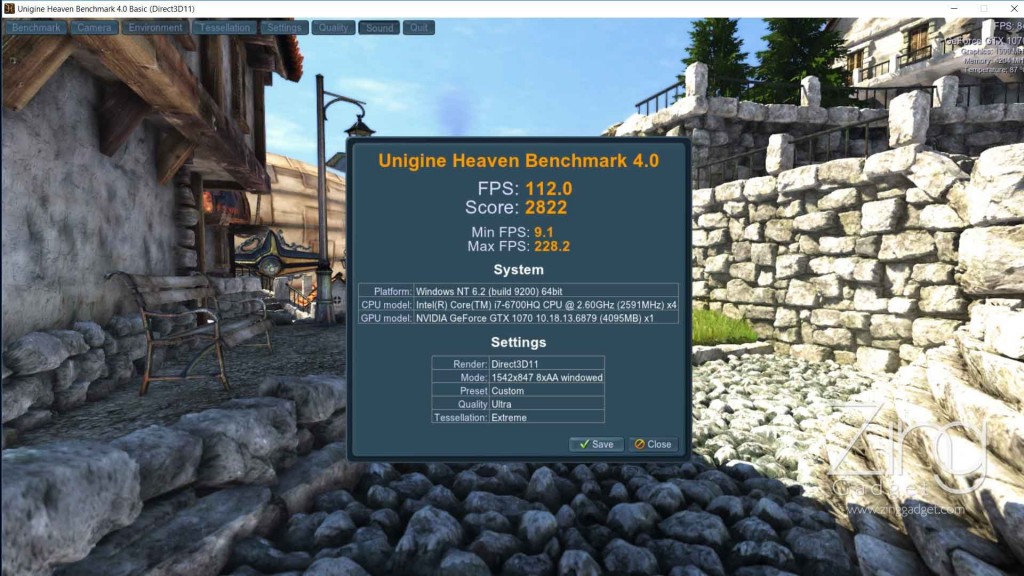 Cinebench R15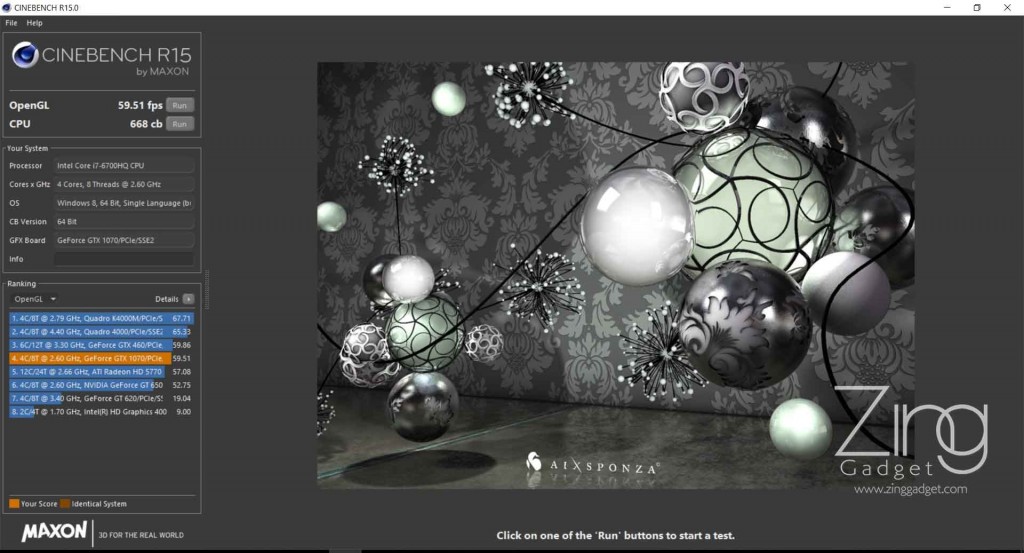 AS SSD Benchmark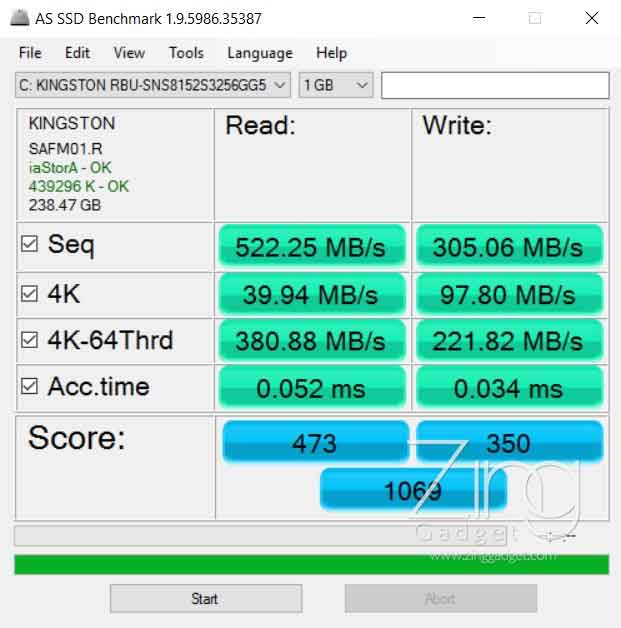 The MSI GT62VR comes with PCIe Gen 3 SSD with X Boost that offers blazing fast read write speed for shorter loading time.
Gaming test
Rise of Tomb Raider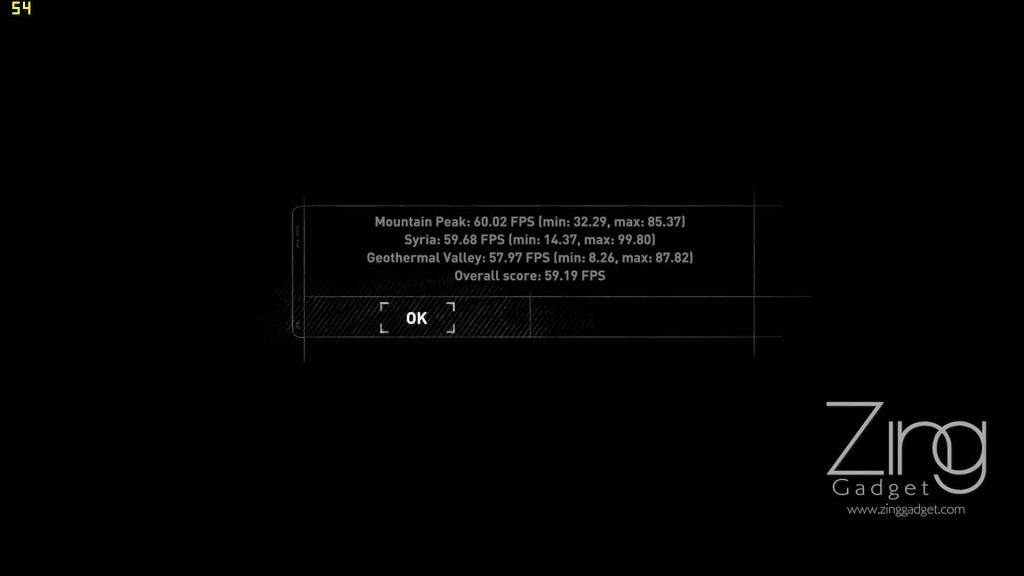 Plants VS Zombie Garden Warfare 2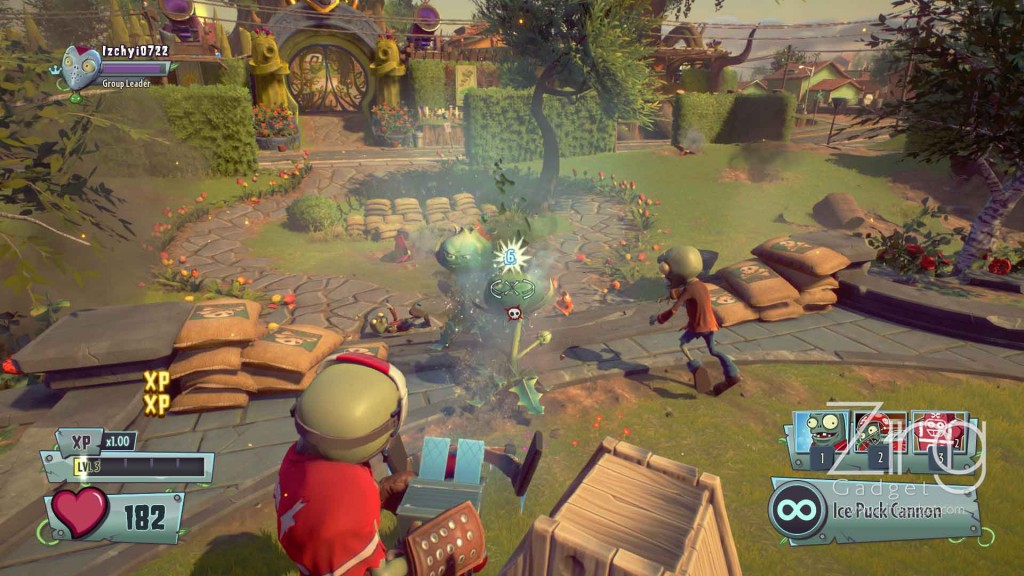 TitanFall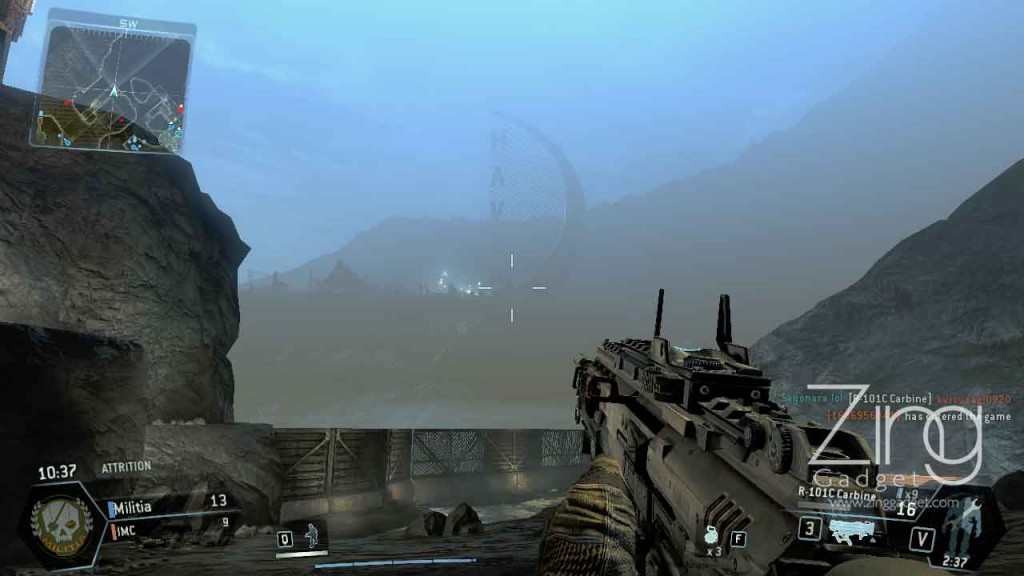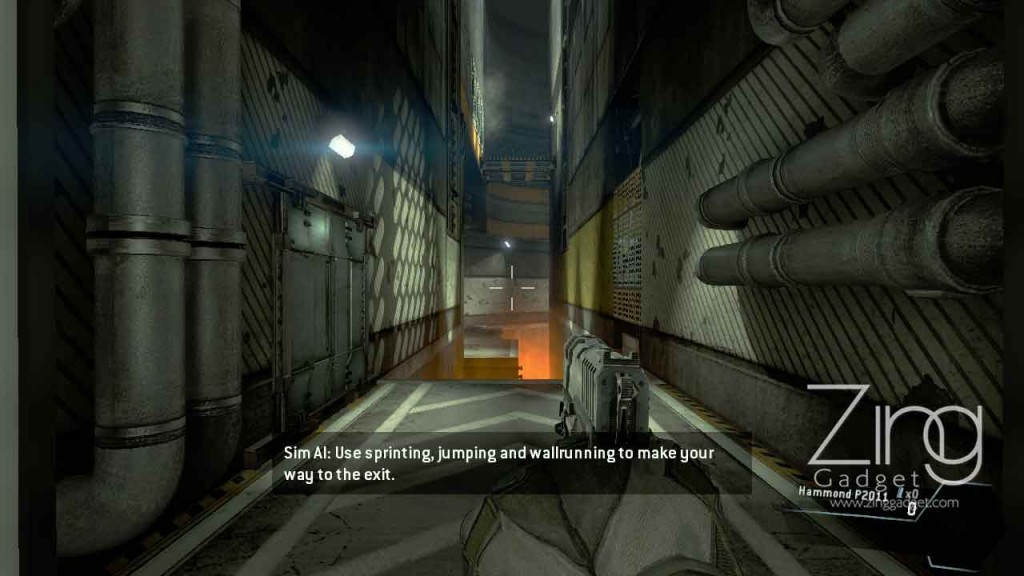 Call of Duty Ghost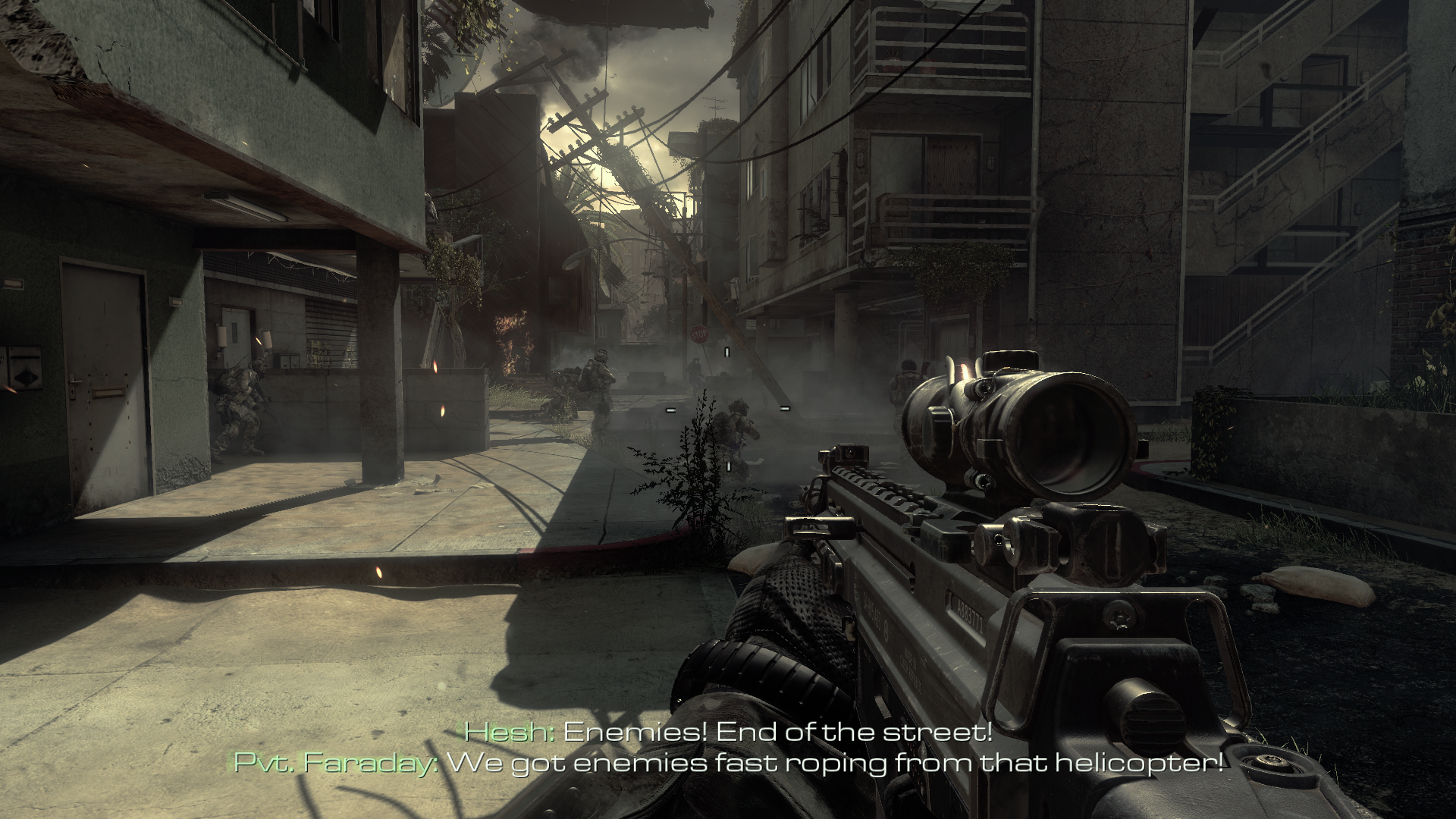 All these recent AAA tittles with strong demand of GPU power is not even an issue for the MSI GT62VR. Apart from Call of Duty Ghosts, all other games above has an average of 60fps and above with the highest resolution and maximum details.
Thermal Management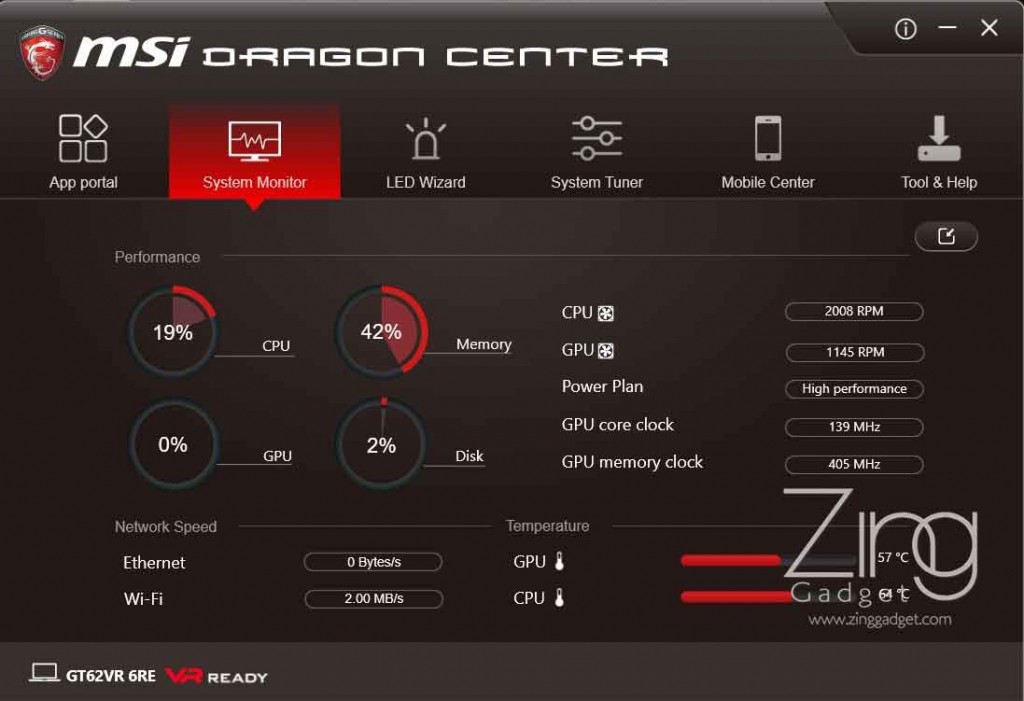 Casual use without cooler boost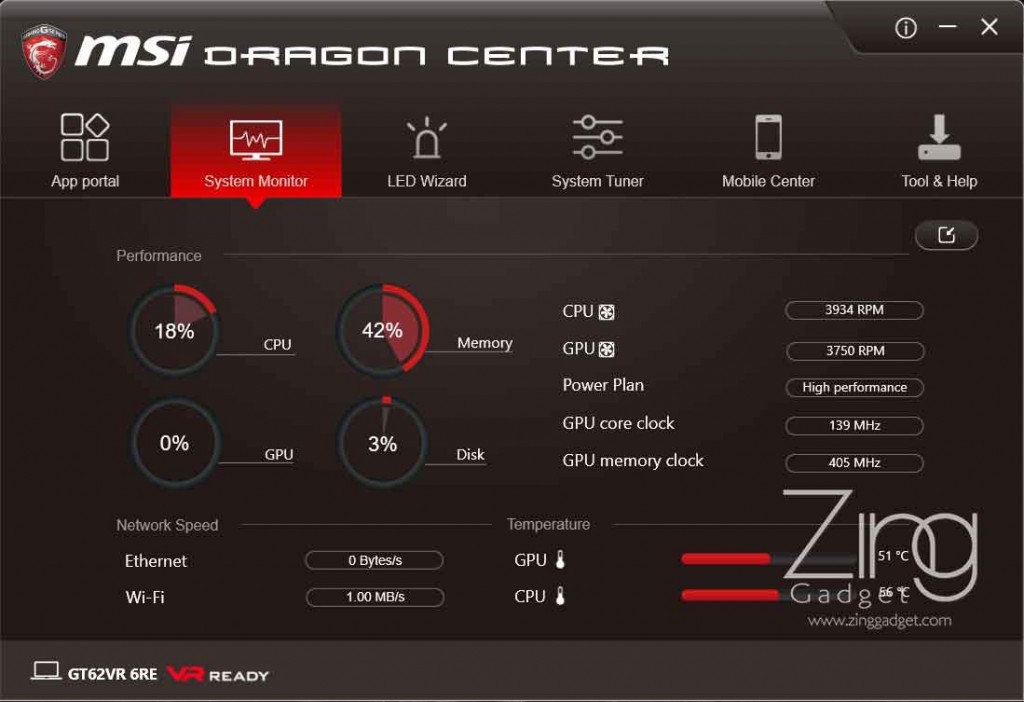 Casual use with cooler boost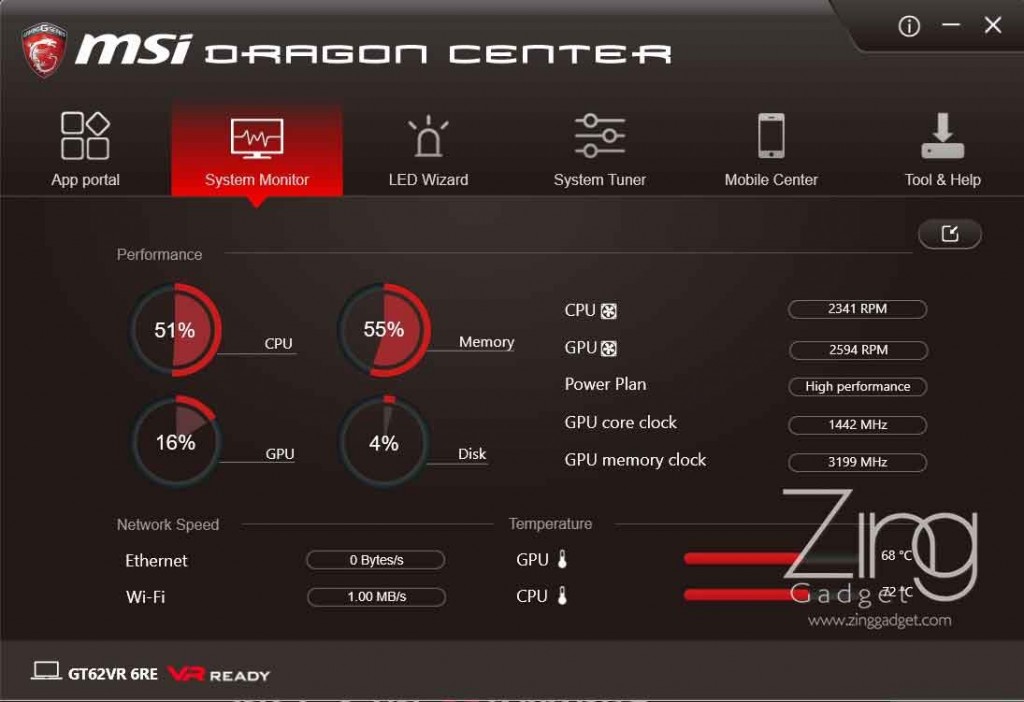 Gaming without cooler boost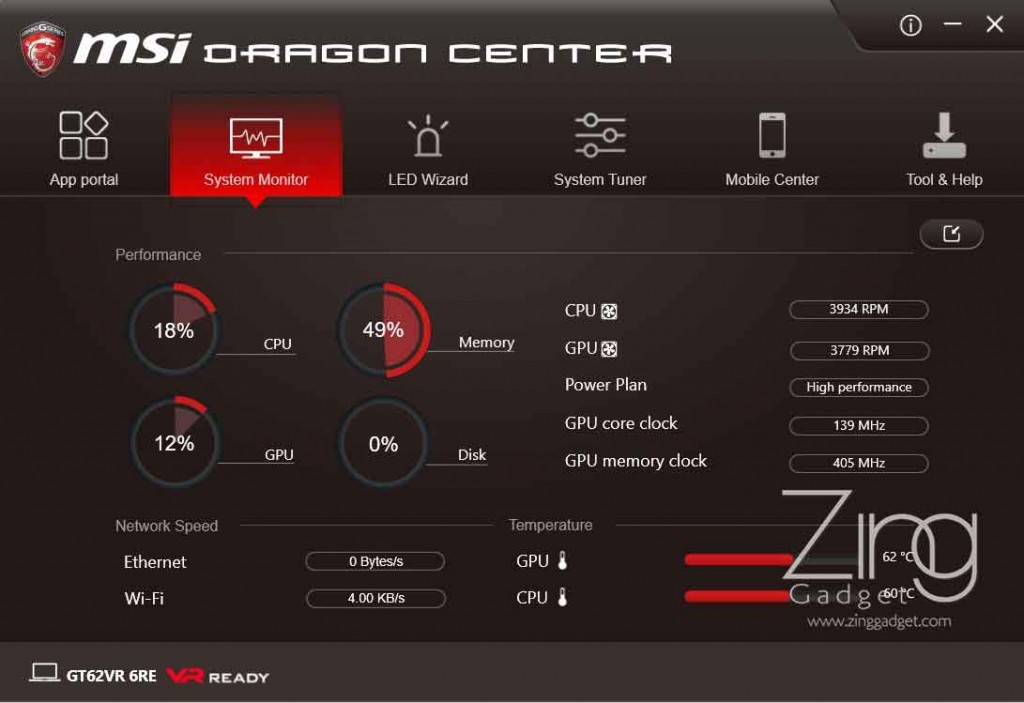 Gaming with cooler boost
The new Cooler Boost offers much better heat reduction than its previous version. This is especially significant when it comes to game as the cooler boost is able to reduce the temperature of the CPU and GPU to an extended degree which is even lower than casual use.
Battery endurance & charging test
With 1 hour and 16 minutes of usage, the battery on the MSI GT62VR is completely drained. It does takes 2 hours and 20 minutes to fully recharge this laptop. Hence, gaming while charging is a must.
Accessories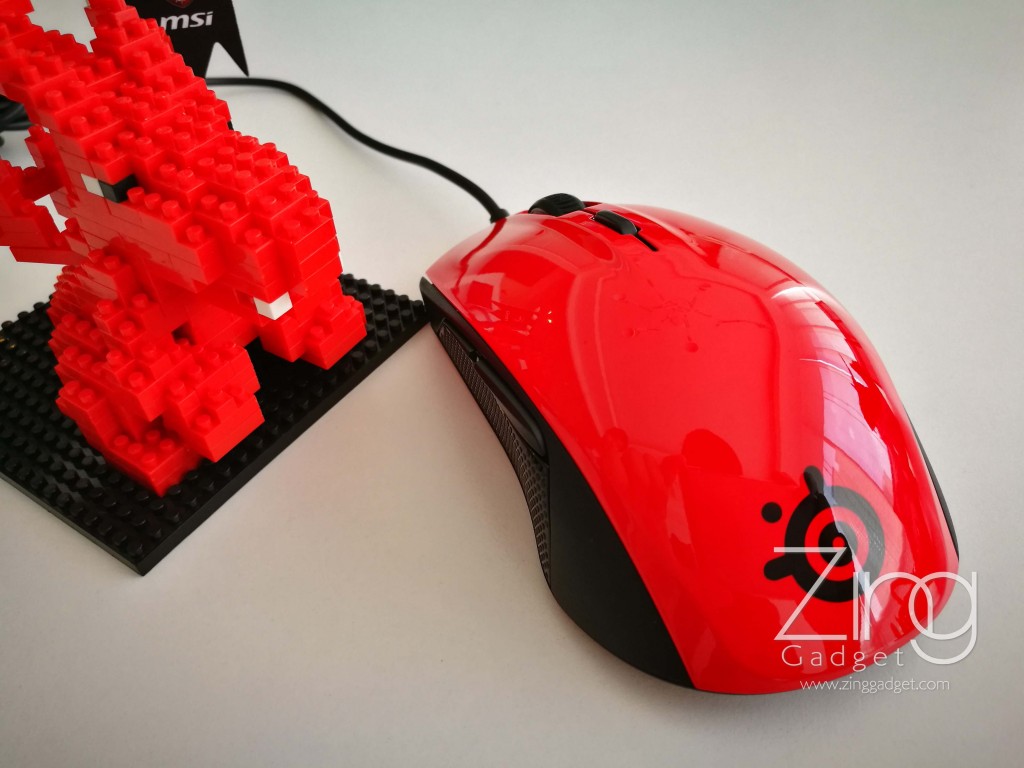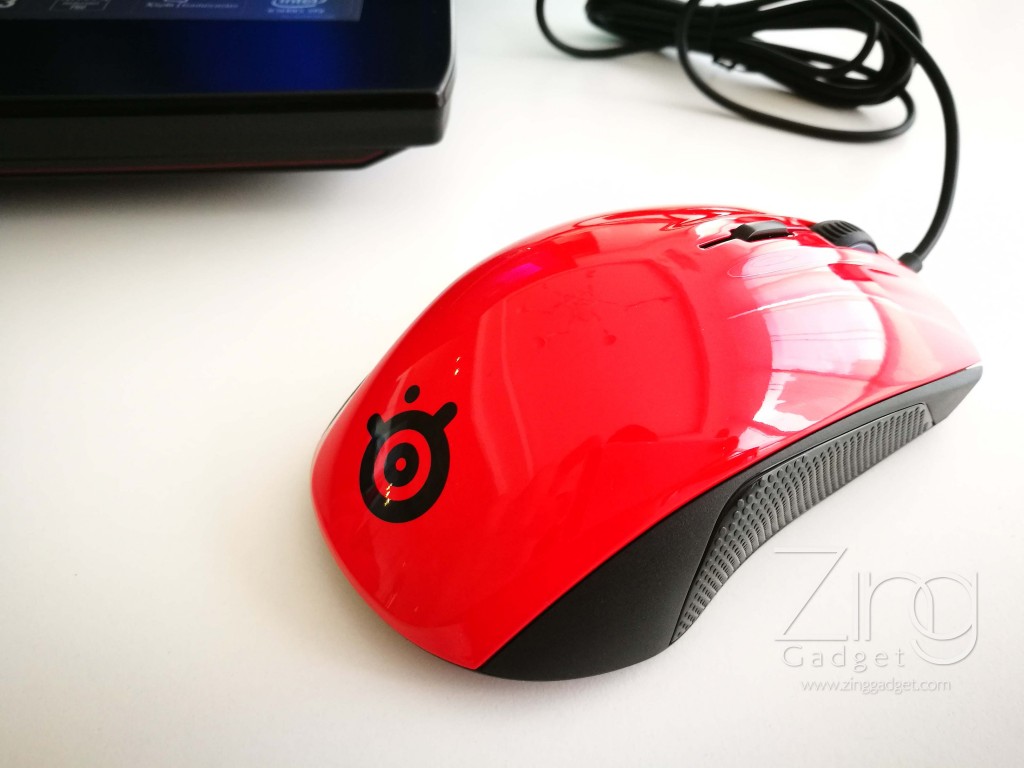 Each purchase of MSI GT62VR also comes with Steelseries gaming mouse customized by MSI. The quality of each Steelseries product are great so does this gaming mouse.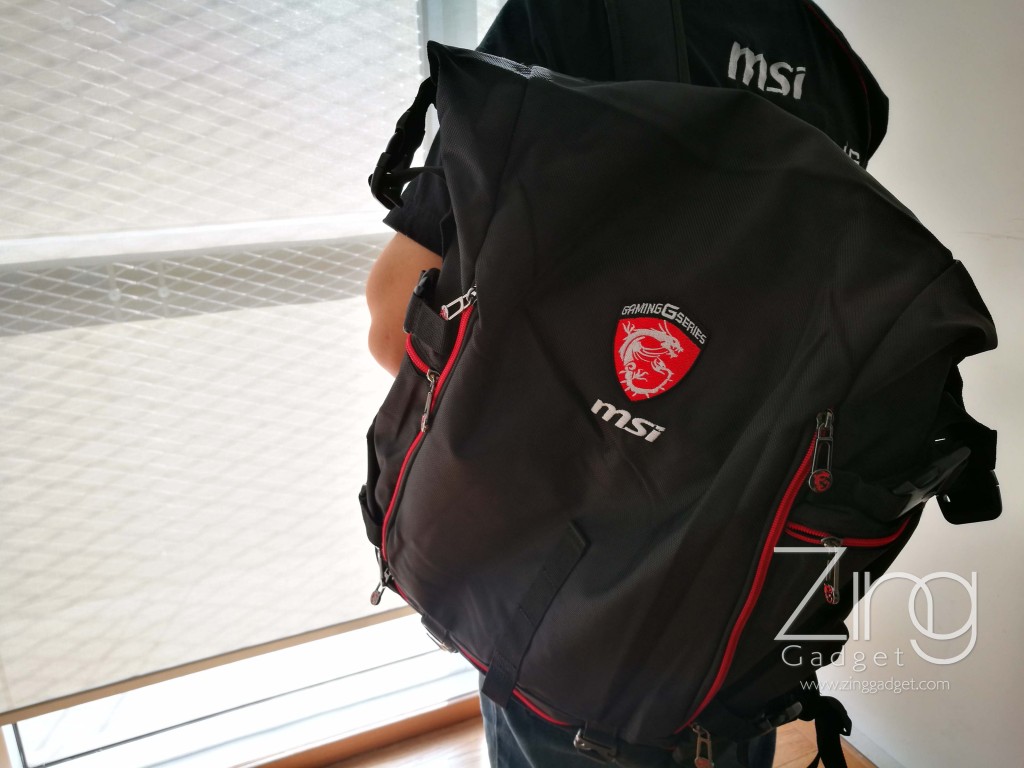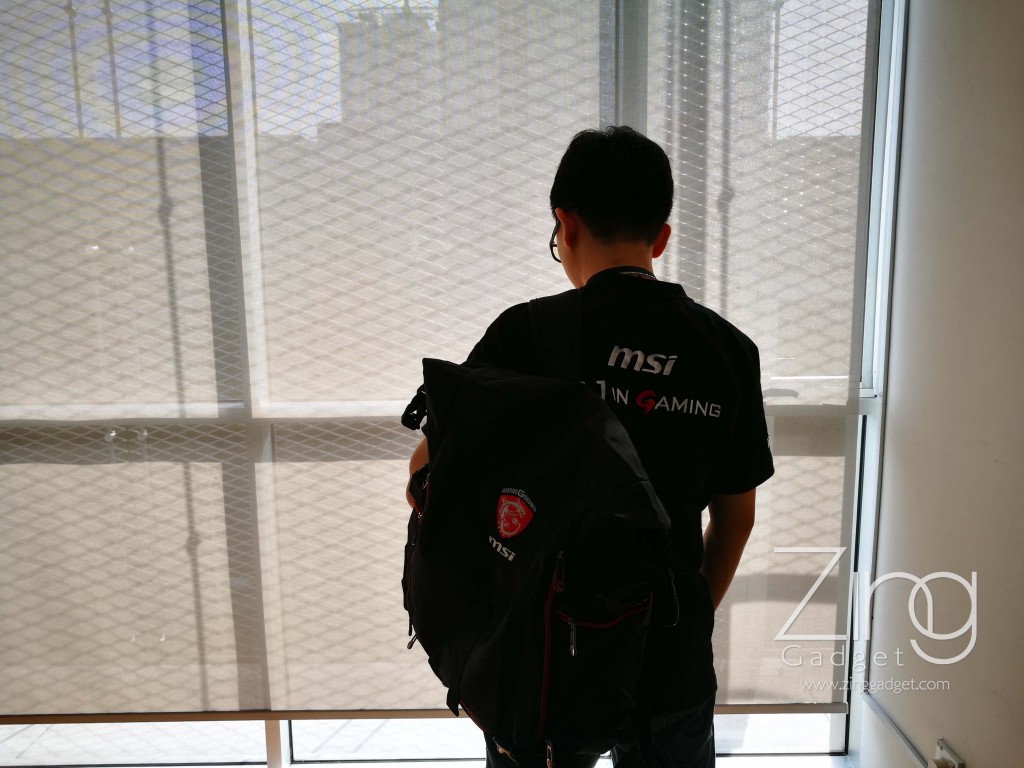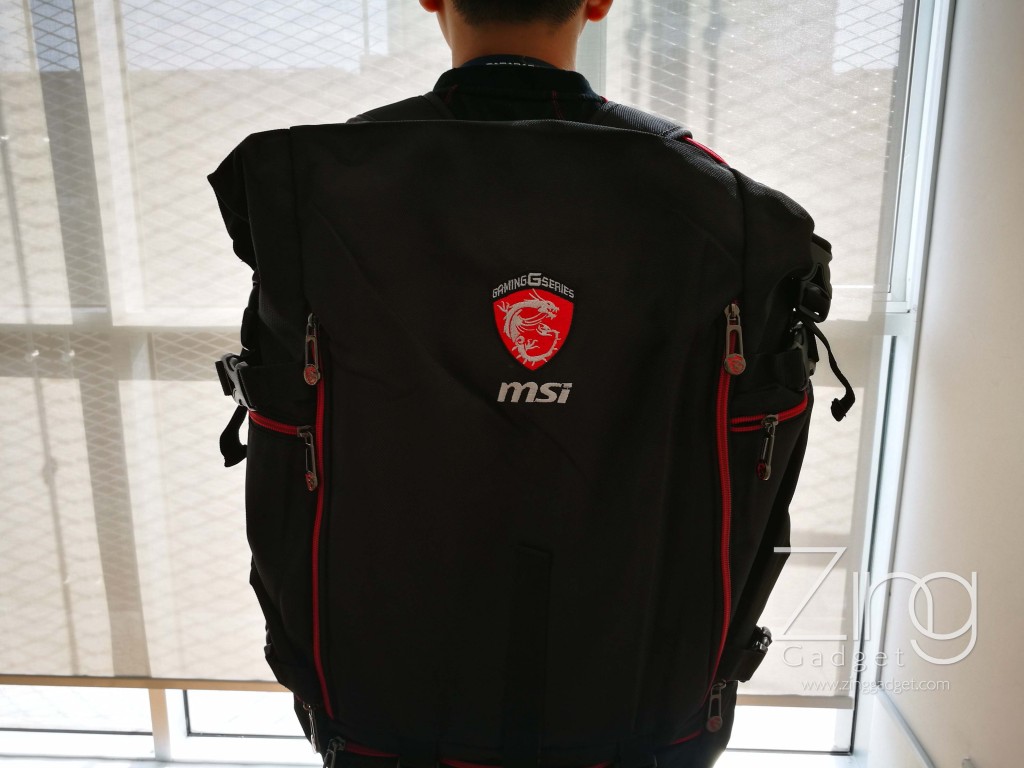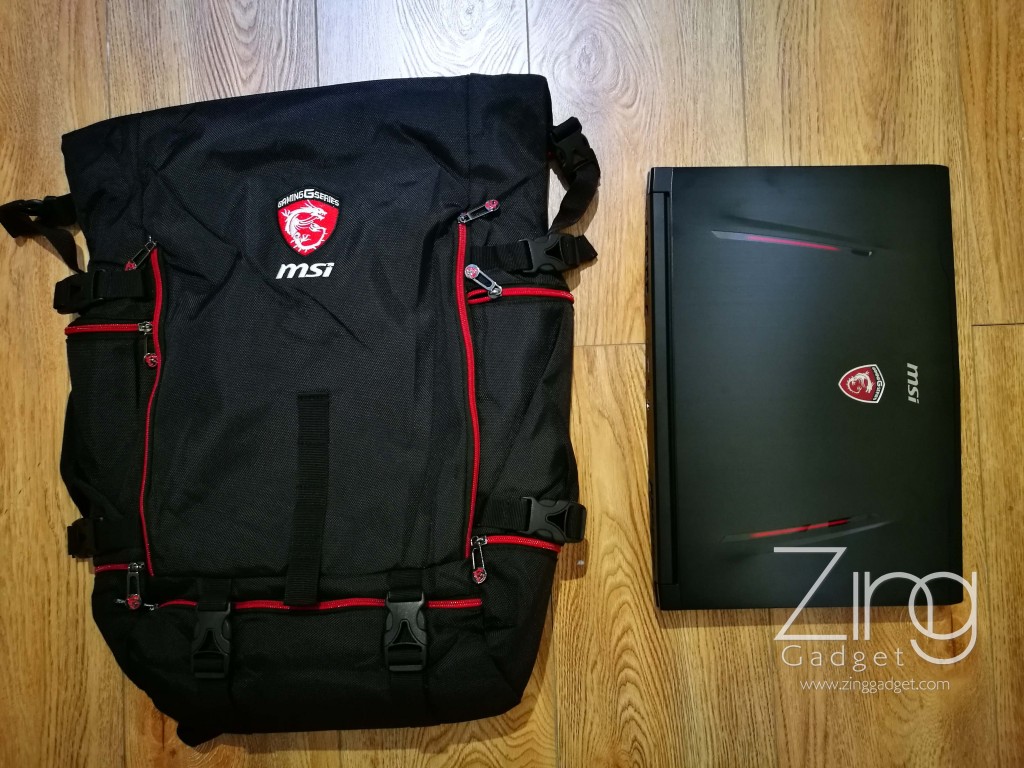 Besides, MSI is also giving out their new MSI backpack which looks cool and trendy.
 Features
Steelseries GameSense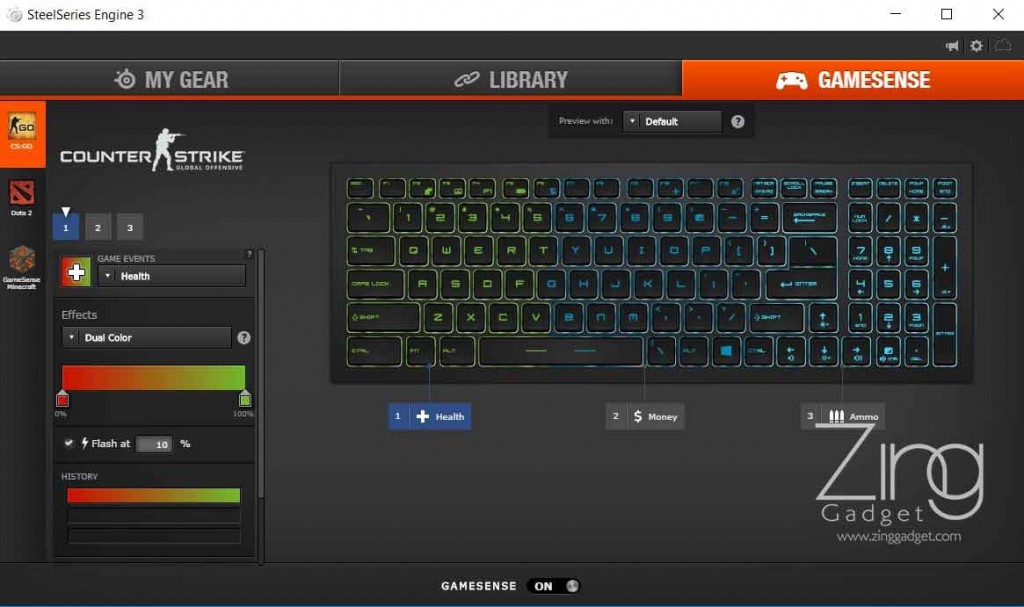 The Steelseries GameSense is a software developed by Steelseries itself for the adjustment and tweaking of LED lights on the keyboard. The SteelSeries GameSense comes preloaded with CSGO, DOTA2 and Minecraft light effect which detect game status and change the way the keyboard shows the LED light.
Although playing in well-lit environment doesn't make keyboard LED light change significant enough but it is best viewed in the dull or dark environment.
Cooler Boost 4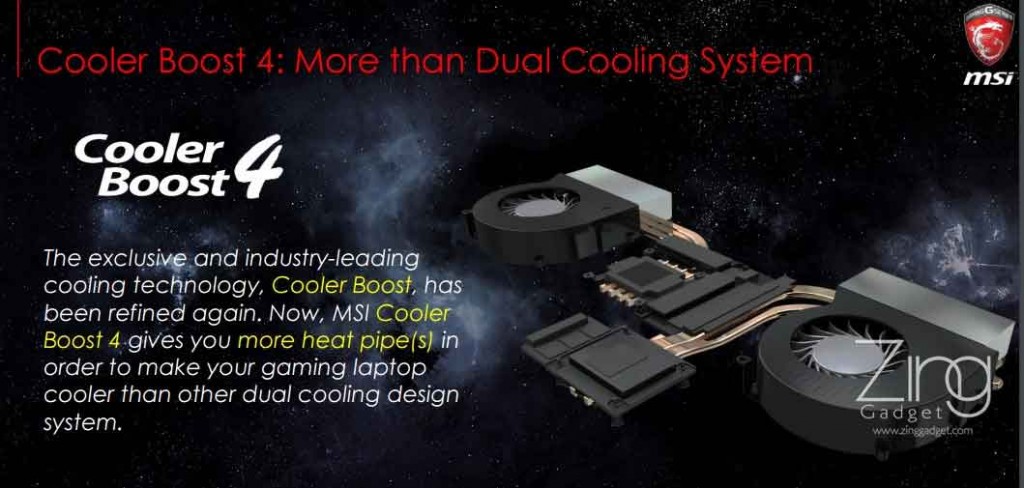 Almost all gaming laptop from MSI comes with a Cooler Boost software that gets upgraded over time. The latest Cooler Boost 4 offers a significant amount of heat reduction from the CPU and the GPU and eventually offers more room for performance to kick in. The new Cooler Boost also has much lower noise emitted from the fan to reach the maximum cooling efficiency on the hardware.
XBoost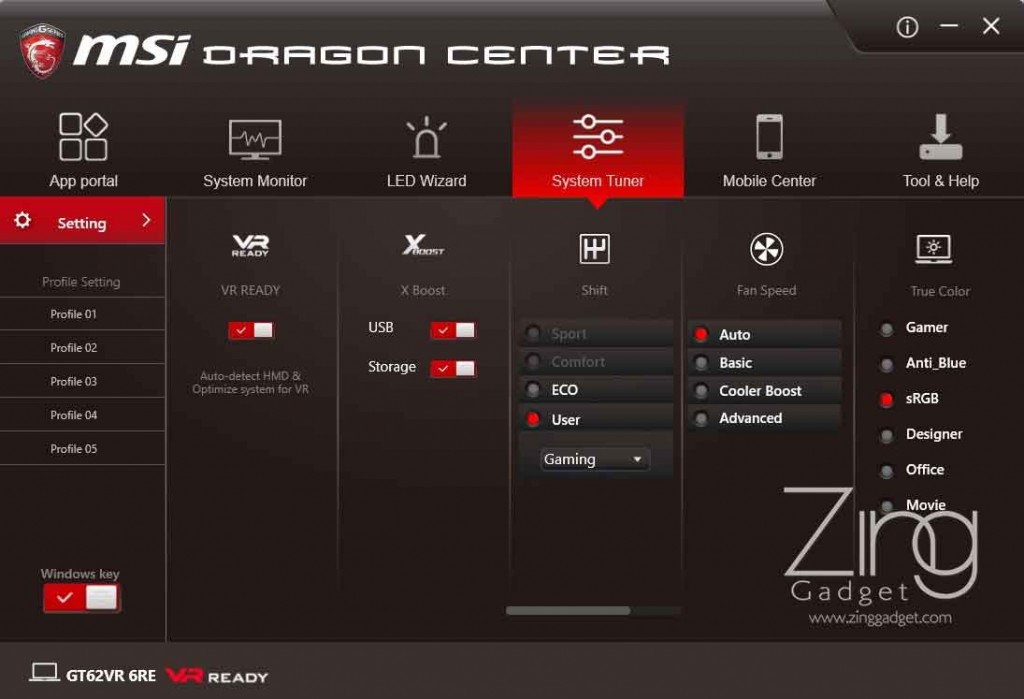 One of the preloaded feature on the MSI dragon center is the XBoost. This feature is primarily used for increasing the read write speed on the SSD storage in the MSI laptop. Our test shows that a 4GB file requires 35 seconds to open without XBoost while 10 seconds required to launch when XBoost is active.
Nahimic 2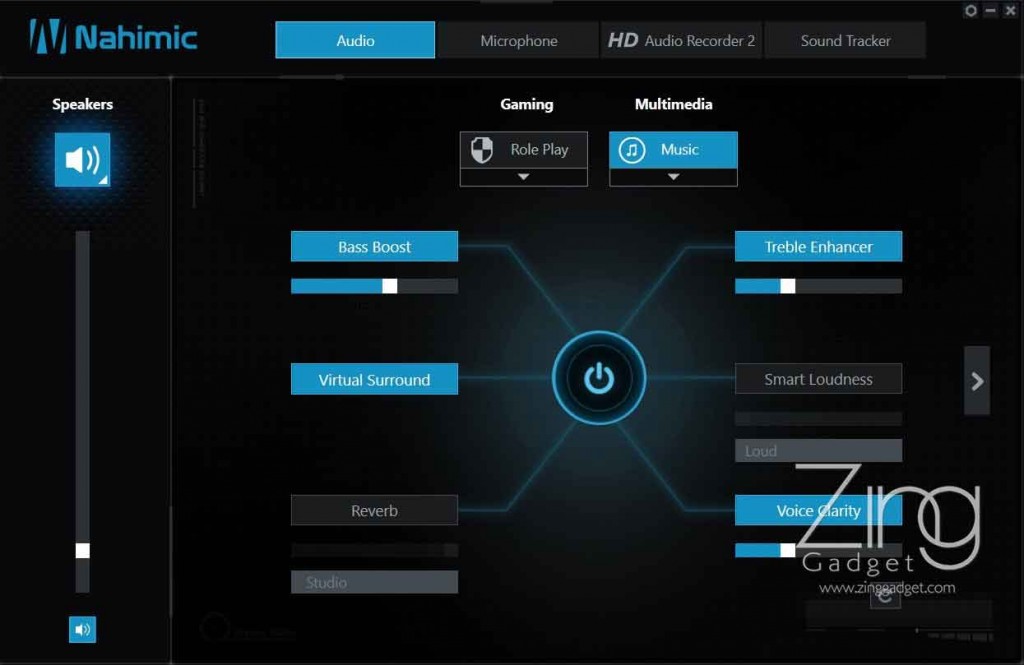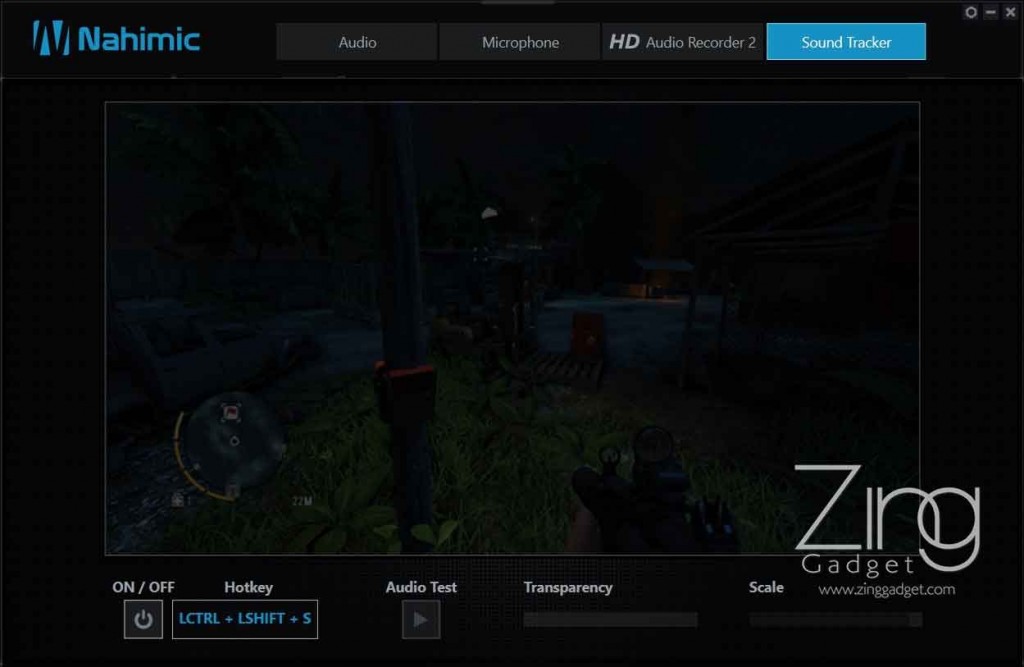 The second generation Nahimic 2 added more controls and tuning on the audio system for the MSI GT62VR laptop. It also has added more gaming modes that offer advantage when it comes to gaming. Besides, user can also choose to music mode to enhance audio experience from this laptop. The Sound Tracker feature is also handy for first person shooter game such as CSGO where gamers can easily locate the whereabout of the enemy just by listening to the sound.
Conclusion
The MSI GT series laptop is one of the most well-regarded gaming laptop launched in Malaysia for the year 2016. Apart from its capability to run VR games and integrate with VR headset such as HTC Vive, it is also the first gaming laptop to sport enthusiast level Nvidia GTX1070 graphics card based on Pascal architecture. If you want a new gaming laptop that offers the state of the art hardware with reasonable weight and size, this gaming laptop might just be right for you.