Last year, Webe has launched the webemobile and webebroadband for Malaysian consumers by offering unlimited calls, SMS and data for all. Today, Webe has launched 2 new plans targeting small and medium business enterprise with unlimited calls and mobile data as low as RM65 per month!
The webemobile biz comes with a monthly charge at RM65/month for 3 lines and above. If you are only signing up for 1 or 2 lines, the monthly fee is at RM79 per month. Nonetheless, it comes with no contract and you can share your data up to 1GB per month.
As for webebroadband biz, it offers 30GB monthly quota and extra free 20GB quota (within promotional period) for RM99/month. The webebroadband has no contract and you can pretty much cancel off anytime you want.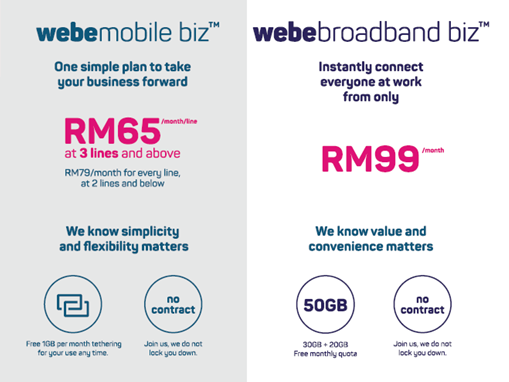 Visit Webe official site or official Facebook page for more information about this deal.