The long awaited Xiaomi Mi 5 is now available in Malaysia on 25th June onwards, despite lots of delay from its original launch date. This time, Xiaomi didn't put the Mi 5 online for sale, instead it is distributed under "Thorus". This makes consumers wonder where to get the original Xiaomi Mi 5 that comes with valid 1 year warranty from Xiaomi. Here are the list that you have been looking for.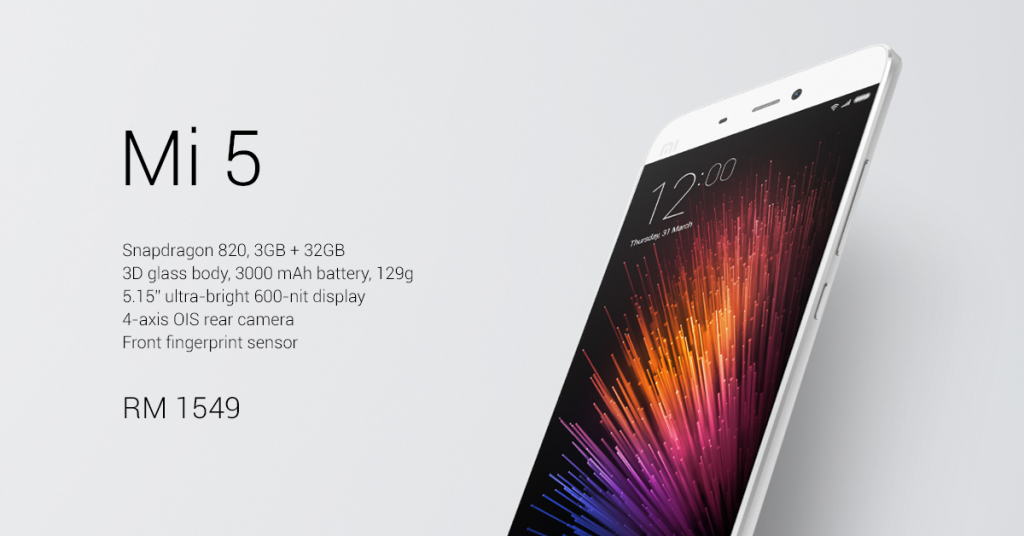 All original Xiaomi Mi 5 packaging will comes with Thorus distributor sticker.
WILAYAH PERSEKUTUAN
LOT F47, CMC CENTRE AMAN, CONNAUGHT 56000 CHERAS
7-G, JLN PERDANA 4/3, PANDAN PERDANA, 55300 KUALA LUMPUR
G-11, GRD FLOOR, PARANGON POINT, TAMAN PUTRA, 68000 AMPANG. SELANGOR
LOT 23, GROUND FLOOR, PANDAN KAPITAL, PERSIARAN MPSJ, 55100 CHERAS
CHERAS SELATAN SHOPPING CENTER, LOT F28, 1ST FLR, AEON JUSCO, CHERAS SELATAN, 43200 BALAKONG, SELANGOR
T205, 3RD FLR, THE GARDENS, MIDVALLEY CITY, 59200 KUALA LUMPUR
LOT TC-1-31 & 32 , 1ST FLOOR LOW YAT , OFF JLN BUKIT BINTANG , 55100 KUALA LUMPUR
NO.2779, JALAN PERMATA 6, TAMAN PERMATA, 53000 KUALA LUMPUR
SUITE 1002 , PRESIDENT HOUSE(PARK ROYAL K.L) JLN SULTAN ISMAIL , 50250 KUALA LUMPUR
UNIT 8.01 LEVEL 8 , AMODA , NO.22 JALAN IMBI, 55100 KUALA LUMPUR.
LOT T-074, THIRD FLOOR MID VALLEY, MID VALLEY MEGAMALL, MID VALLEY CITY, LINGKARAN SYED PUTRA, 59200
L3-08, LEVEL 3 # DIGITAL CENTRE BREM MALL, JLN KEPONG 52000 KL
NO. 3, JALAN CEMPAKA 1, TAMAN CEMPAKA. 48200 SERENDAH SELANGOR
LOT 1-57, 1ST FLOOR, PLAZA LOW YAT, NO 7, JALAN 1/77, 55100 KUALA LUMPUR
L3-K6 & K7, LEVEL 3 DIGITAL CENTRE BREM MALL, JALAN JAMBU MAWAR, 52200 KUALA LUMPUR
LOT UB-12, UPPER GRD FLOOR, PUDU PLAXE, JALAN LANDAK OFF, JALAN PUDU, 55100 KUALA LUMPUR
LOT 1-85, GROUND FLOOR, WISMA CENTRA, JALAN AMPANG, 50450 KUALA LUMPUR
LOT G54 GF, SELAYANG MALL, JLN SU9, TAMAN SELAYANG UTAMA, 68100 BATU CAVES, SELANGOR
11-3A-1, MEDAN NIAGAN MUTIARA, CHERAS BUSINESS CENTRE, JLN 3/101C, 56100 CHERAS,
G86, GROUND FLOOR, PERTAMA COMPLEX, JALAN TUANKU RAHMAN, 50160 KUALA LUMPUR
1.86, 1ST FLOOR, PERTAMA COMPLEK, JLN TUANKU ABDUL RAHMAN, 50100 KL
AEON TAMAN MALUTI SHOPPING CENTRE, JALAN JEJAKA, TAMAN MALURIM, CHERAS 55100 KUALA LUMPUR
LOT 1-07-D, WANGSA ALK MALL, WANGSA AVENUE, NO. 9, JALAN WANGSA PERDANA 1, BDR WANGSA MAJU, 53300 KL
LOT NO. L2-20, LEVEL AEON BIG KEPONG, 52200 KUALA LUMPUR.
LOT G16, SELAYAN MALL, JALAN SU9, TAMAN SELAYANG UTAMA, 68100 BATU CAVES, SELANGOR
SELANGOR
G17, PARAGON POINT SHOPPING COMPLEX, JLN BUNGA TANJUNG 8, 68000 AMPANG, SELANGOR
BUKIT TINGGI SHOPPING CENTER, LOTS45, 2ND FLR, AEON JUSCO, BUKIT TINGGI SHOPPING CENTER, 41200 KLANG, SELANGOR
NO. 8, LOT 1, JLN TUN ABDUL AZIZ, KAJANG SELANGOR
43, JALAN RAJA HARUM, KAJANG SELANGOR
47-1, JALAN PJU 1/37, DATARAN PRIMA, 47301 PETALING JAYA, SELANGOR
LOT NO. 24, LEVEL 1, NO. 33 JALAN SS6/12, 473001 PETALING JAYA
LOT 3, 1ST FLOOR, GIANT HYPERMARKT KELANA JAYA, 47301 PETALING JAYA
NO 17, JALAN TELUK PULAI. KLANG
KF13, 1ST FLOOR, DIGITAL MALL. NO2 JALAN 14/20. SECTION 14. 46100. PJ. SELANGOR
K-G9, G10, G14 SECTION 14. DIGITAL MALL.46100. PETALING JAYA.
NO 20, JALAN SS15/4D. 47500. SUBANG JAYA.
LOT F1.42, LEVEL F ,SUNWAY PYRAMID MALL. NO3 JALAN PJS 11/15. 46150.BANDAR SUNWAY
NO 64, GROUND FLOOR JALAN SS15/4B. SUBANG JAYA.
NO 60, JALAN SS2/66. 47300. PETALING JAYA
NO 58,JALAN SS2/66. PETALING JAYA.
KF 03 FIRST FLOOE DIGITAL MALL, JALAN 14/20, SEKSYEN 14, 46100 P.JAYA
K-G-13, GROUND FLOOR DIGITAL MALL, NO 2 JALAN 14/20, SEKSYEN 14, 46100 P.JAYA
KF 23, 1ST FLOOR, DIGITAL MALL, NO 2, JALAN 14/20, SEKSYEN 14, 46100 P.JAYA
KIOSK K-08, GROUND FLR, DIGITAL MALL, JALAN 14/20, 46100 PETALING JAYA SELANGOR
NO. 107, BLOK A, MENTARI PARK, JALAN PJS 8/5, BANDAR SUNWAY, 46150 PETALING JAYA
LOT G61, GROUND FLOOR, SUMMIT USJ, 47600 SUBANG JAYA, PETALING JAYA
6K7 – 6K10, GROUND FLOOR CENTREPOINT, 48600 BANDAR UTAMA, PETALING
UNIT 22A, DIGITAL CENTRE, F2-39B. NO. 3, JALAN PKS 11/15, SUNWAY PYRAMID, 46150
A-3-2, BLOCK A JAYA ONE, 72A, JALAN UNIVERSITY 46200, PETALING JAYA, SELANGOR
LOT G-09, GOUND FLOOR, AMCORP MALL SHOPPING CENTRE. NO. 18, JALAN PERSIARAN BARAT, 46050 PETALING JAYA
TROPICANA CITY MALL, LEVEL 2, (L2-K2-3) NO. 3 JALAN SS20/27, 47400 PETALING JAYA
NO. 45-1, JALAN PUTERI 5/20, BANDAR PUTERI PUCHONG, 47100 PUCHONG
B-01-06, BLOCK B, JALAN PRIMA 5/5, TAMAN PUCHONG PRIMA, PUCHONG, SELANGOR
G-06, GRD FLR , AEON JUSCO, TAMAN EQUINE SHOPPING CENTER 2, SERI KEMBANGAN, 43300 SELANGOR
L4-29, FOURTH FLOOR. MINES SHOPPING FAIR, SERI KEMBANGAN, SELANGOR
L1-38, SETIA MALL, SETIA ALAM, BANDAR SETIA ALAM, SEKSYEN U13, 40170 SHAH ALAM, SELANGOR
LG-15, LOWER GROUND, NO. 2, TENGKU AMPUAN ZABEDAH E9/E, SEKSYEN 9, PLAZA SHAH ALAM, 40100 SHAH ALAM
NO. 32 & 34, THE STORE SHOPPINH COMPLEX, BANDAR BARU SUNGAI BULOH, 47000 SELANGOR
F1 15A, 1ST FLOOR, NO. 3 JALAN PJS 11/15 BANDAR SUNWAY 46150 SUNWAY PYRAMID
NO.27, JALAN KENANGA 2,TAMAN DENGKIL JAYA, 43800 DENGKIL
13-G,3RD MILE SQUARE,151, BATU3 1/2, JALAN KELANG LAMA 58100 KUALA LUMPUR
L4-K16 THE MINES SHOPPING FAIR, JALAN DULANG 43300 SERI KEMBANGAN
L4-K19 MINES SHOPPING FAIR, JALAN DULANG THE MINES 43300, SERI KEMBANGAN
PERAK
28, GROUND FLOOR, JALAN PANGGUNG WAYANG, BIDOR
24, PERSIARAN BERCHAM SELATAN 2, TAMAN DESA KENCANA, IPOH
BLOK B-03-04, PERSIARAN GREENTOWN 1, PUSAT PERDAGANGAN GREENTOWN, 30450, IPOH
A5 @ PERAK IT MALL, JALAN TAWAS IDAMAN 2, TAMAN TAWAS IDAMAN, 30010 , IPOH
BOX 049, LOT S05, SECOND FLOOR, IPOH PARADE, NO. 105 JALAN SULTAN ABDUL JALIL, GREETOWN, 30450, IPOH
A07, GROUND FLOOR GREENTOWN MALL, JALAN HOSPITAL 30450, IPOH
3, KLEDANG PERMAI 1, TAMAN KLEDANG PERMAI, 31450, IPOH
C10, GROUND FLOOR, GREENTOWN MALL, JALAN HOSPITAL 03450, IPOH
139, JALAN IDRIS, KAMPAR
20, JALAN RAJA OMAR, TAMAN SETIA, 32000, SITIAWAN
COUNTER M, 1ST FLOOR, TAIPING SENTRAL, JALAN ISTANA LARUT, 34000, TAIPING
8, JALAN CHONG AH PENG, TANJUNG MALIM
TERENGGANU
1E, JALAN SYED HUSSEIN, 20100 KUALA TERENGGANU, TERENGGANU
NO. 86-C, JALAN MASJID ABIDIN 20100 KUALA TERENGGANU
SARAWAK
LOT FF1.20,FIRST FLOOR,BOULEVARD SHOPPING COMPLEX,MIRI, KUCHING
LOT 3.16, 3RD FLOOR, SABERKAS SHOPPING CENTRE, JALAN TUN ABANG HAJI OPENG, KUCHING
119A, LEVEL 1 , JALAN GREEN, WISMA SABERKAS, 93150 KUCHING, SARAWAK
NO.11,JLN BEDAHARA,P.O.BOX 651,98007 MIRI,SARAWAK
LOT 1.01/3.23,WISMA SABERKAS,JLN GREEN,93150 KUCHING,SARAWAK
NO. 70, JALAN KAPITAN, 95000 SRI AMAN, KUCHING
LOT 3.28, 3RD FLOOR, WISMA SABERKAS, 93300 KUCHING
223A, 201, 2ND FLOOR, JALAN TUN HAJI OPENG, MIRI
THE IMPERIAL MALL SHOPPING COMPLEX 1.25, GROUND FLOOR, JALAN MERPATI, 98000 MIRI
PARCEL NO. 405, STAR MEGA MALL, TUANKU ABDUL RAHMAN ROAD 96000, SIBU
2.03A, 2ND FLOOR, WISMA SABERKAS, JALAN TUN ABANG HAJI OPENGM 93100 PENANG , KUCHING
SABAH
LOT 3.17, 3RD FLOOR, JALAN TUARAN, KOMPLEKS KARAMUNSING, KOTA KINABALU
LG 19, LOWER GROUND FLOOR, KOMPLEKS KARAMUNSING , KOTA KINABALU
LOT AG 43 & 44, GROUND FLOOR,WISMA MERDEKA, KOTA KINABALU
LOT LG 27, LOWER GROUND, KOMPLEKS KARAMUNSING, KOTA KINABALU
LOT 3.48, 3.49, 3.59, 3RD FLOOR, KOMPLEKS KARAMUNSING, KOTA KINABALU
AG 42, TINGKAT BAWAH, JLN TIN RAZAK, WISMA MERDEKA, KOTA KINABALU
MDLD 3052, LOT 4, GROUND FLOOR, JLN SINGGAHMATA, LAHAD DATU
LOT 1B, BLOCK 15, GRD FLOOR, LEBUH BANDAR 2, SANDAKAN
LOT 9, BLOCK 20, GRD FLOOR, MILE 4, BANDAR INDAH JAYA, SANDAKAN
APT 88, GROUND FLOOR, BANDAR PASARAYA, SANDAKAN
PENANG
2F-110, QUEENSBAY MALL, NO, 110, PERSIARAN BAYAN LEPAS INDAH, 11900,BAYAN LEPAS
NO. 3A-01-18A, KOMPLEK BUKIT JAMBUL, JALAN RUMBIA, 11900,BAYAN LEPAS
7022, JALAN KAMPUNG BARU, TAMAN SEGEMAL, 13400 BUTERWORTH, PENANG
33-4-67 PRANGIN MALL, JALAN DR LIM CHWEE LEONG,GEORGETOWN
170-03-38/40 PLAZA GURNEY, PERSIARAN GURNEY 10250,GEORGETOWN
33-G-31, PRANGIN MALL, JALAN DR. LIM CHWEE LEONG, 10100,GEORGETOWN
UNI 170-03-15, GURNY PLAZA, PERSIARAN GURNEY, 10250,GEORGETOWN
LOT E1 B113-03 KOMTAR, 10000,GEORGETOWN
PAHANG
61A, GRD FLR, PERSIARAN CAMELIA 3, TANAH RATA, CAMERON HIGHLANDS
BATU 43, GREEN COW KEA FARM, CAMERON HIGHLANDS
F-66, TINGKAT 1, KUANTAN PARADE, JALAN HAJI ABDUL RAHMAN, 25000 KUANTAN, PAHANG
NO. 1792, JALAN HAJI AHMAD, 25300 KUANTAN PAHANG
NO. 17, JALAN BAHAGIAN 7, TAMAN BAHAGIAN, 28000 TEMERLOH, PAHANG
NEGERI SEMBILAN
FK10, FIRST FLOOR, TERMINAL ONE SHOPPING CENTRE, JALAN LINTANG, 70200 SEREMBAN
LOT F-08, FIRST FLOOR, MYDIN MALL SEREMBAN 2, 70300 SEREMBAN 2
MELAKA
656-B, JALAN DELIMA, BUKIT BERUANG, 75450
GIANT HYPERMARKET CHENG, LOT G12 (DIGI SIGNBOARD), JALAN TTC 9, TAMAN TECHOLOGI CHENG, 75250 MELAKA
LOT NO. UB17, DATARAN PAHLAWAN MELAKA, MEGAMALL, JALAN MERDEKA
KELANTAN
NO. 463-467, BANDAR BACHOK, 16300 BACHOK.
NO. 34, JALAN BESAR, 18300 GUA MUSANG, KELANTAN GUA MUSANG
KOMPLEKS KOTA SRI MUTIARA, GROUND FLOOR, JLN SULTAN YAHYA PETRA KOTA BAHRU
LOT 1-04, 1-05, 1-06, TINGKAT 1, KOTA BAHRU TRADE CENTRE
LOT 147, JLN PINTU PONG, 15000 KOTA BAHRU, KELANTAN
LOT 1384J, KG KHATIB ALI, JALAN BAYAM, 15200 KOTA BHARU, KELANTAN
GROUND FLOOR G-06, BANGUNAN KOTA SRI MUTIARA, 15050 KOTA BAHRU KOTA BAHRU
LOT 1384J,KG KHATIB ALI, JLN BAYAM, 15200, KOTA BHARU, KELANTAN
2636-C, JALAN TEMENGGONG, 15000 KOTA BAHRU, KELANTAN
KEDAH
G-15 & G16,GROUND FLOOR,SENTOSA PLAZA,JALAN PUTRA,05100 ALOR SETAR ,KEDAH
LOT 219, AMAN CENTRAL. NO 1, LEBUHRAYA DARULAMAN, 05100, ALOR SETAR
G-11, JLN TUNKU IBRAHIM, CITY PLAZA, 05000 ALOR SETAR, KEDAH
1 FLOOR,CENTRAL SQUARE,08000 SUNGAI PETANI,KEDAH
LOT 3F-14, 3RD FLOOR, CENTRAL SQUARE, 08000 SUNGAI PETANI, KEDAH
JOHOR
16, JALAN BUDAYA, 83000, BATU PAHAT
LI-43A, DANGA CITY MALL, JALAN TUN ABDUL RAZAK, JOHOR BAHRU
G-5-K-01, GOUND FLOOR, DANGA CITY MALL, JOHOR BAHRU
LOT 3-16, 3RD FLOOR, WETER PARADE, JALAN ALI, MUAR
TINGKAT ATAS, PASAR AWAM BANDAR MAHRANI, JALAN SALLEH, MUAR
NO. 150, JALAN BESAR, 83100, RENGIT
62A, JALAN SUTERA TANJUNG 8/4, 81300, SKUDAI
01-27, SKUDAI PARADE, 81300, SKUDAI
Apart from the location above, Xiaomi Mi 5 also will be available through LAZADA in limited units. Visit here for more information on the Mi 5.