On the recent report from IDC MarketScape, although Android has a larger population of users in comparison to iOS users around the globe, but iOS has the profit share of 91% of the whole smartphone market in the year 2015! This difference in profit earned on two famous operating system is a wide gap that is almost unbelievable. Before each fanbase started their flame war, let's have a quick look on the statistics.
Average selling price for iOS devices for past 6 years: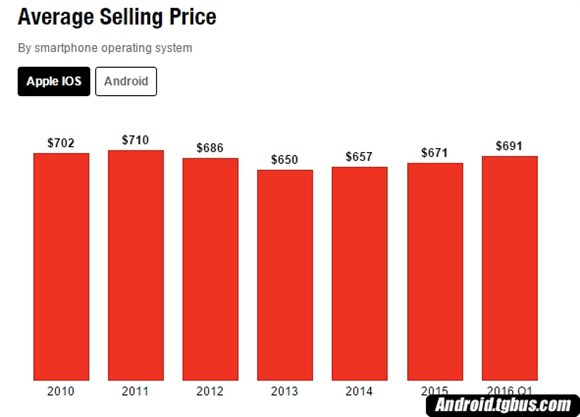 The iOS devices manufactured by Apple has a constant price profit range as it is market as a premium smartphone and thus comes with a premium price tag. The cost of manufacturing each iOS devices is not that great as some hardware is considerable cheap but good in quality. Since Apple has great control over the price for iOS device, it enjoy a good range of profit each year.
Average Selling Price for Android devices for past 6 years: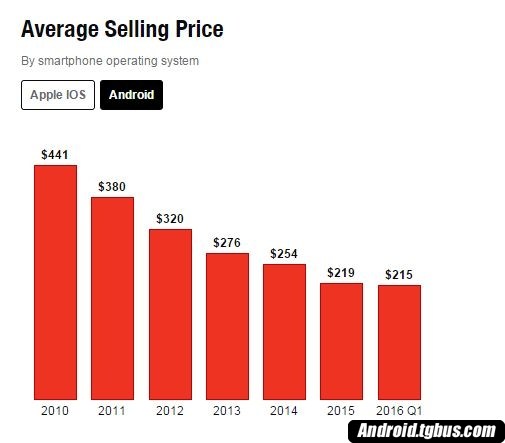 Meanwhile, Android smartphones are first known to be cheap apart from open source software. As there are wide variety of consumer on the market, each smartphone companies will roll out entry level, mid-range to its premium flagship smartphones each year to fit on different budget preferences. Since some Android users have a greater desire for a cheaper smartphone that brings decent performance, one may not buy a flagship smartphones with a premium price tag as the functionality may not fit in their needs. Hence, Android devices suffering for lower profit margin as there are alot of comptitors on the Android smartphone market while Apple controls the whole iOS market (since it is non Open Source based OS).
What do you think about this difference?
Source : android.tgbus.com