Apart from adding newer hardware, most conventional smartphone today doesn't fit the term – innovation as it doesn't bring an impact to the rest of the smartphone industry. However, smartphone manufacturers have been getting smartphone recently with the launch of smartphones with large screen to body ratio, fingerprint sensor beneath display while some offers display without bezels. Stepping out from the conventional zone is hard and neither much smartphone manufacturer has the capability to cash in for the R&D innovation.
With the recent launch of Xiaomi Mix and Samsung Galaxy S8, the smartphone consumer community has been in awe for what a smartphone is capable for. Just in today, Meizu has bring us a new smartphone that's beyond ordinary, a smartphone with rear display and powered by a new Helio X30 1o core SoC.
Meizu Pro 7 specifcations:
1080p 5.2 inch AMOLED display
1.9 inch rear display
Mediatek Helio X30 10 core SoC/P25 octacore SoC
4GB+64GB/128GB ROM (eMMC 5.1)
Front 16MP camera
Rear 12MP camera (Sony IMX386+IMX386)
Audio DAC
USB Type C
3000mAh battery
24W mCharge3.0 quickcharge
Flyme 6 (Android 7.0)
Available in gold, silver and black
RRP:
Helio P25 4GB + 64GB standard varaint – RMB2880 (~RM1826)
Helio X30 4GB + 128GB premium editon– RMB 3380(~RM2143)
Meizu Pro 7 Plus specifications:
2K 5.7 inch AMOLED display
1.9 inch rear display
Helio X30 10 core SoC
6GB RAM+64GB/128GB ROM (UFS2.1)
16MP front camera
12MP dual rear camera (Sony IMX386+IMX386)
Audio DAC
Type C
3500mAh battery
5V/5A mCharge4.0 quickcharge
Flyme 6 (Android 7.0)
Available in gold, silver and black
RRP:
6GB RAM + 64GB ROM standard – RMB3590 (~RM2270)
6GB RAM + 128GB ROM premium – RMB4080 (~RM2588)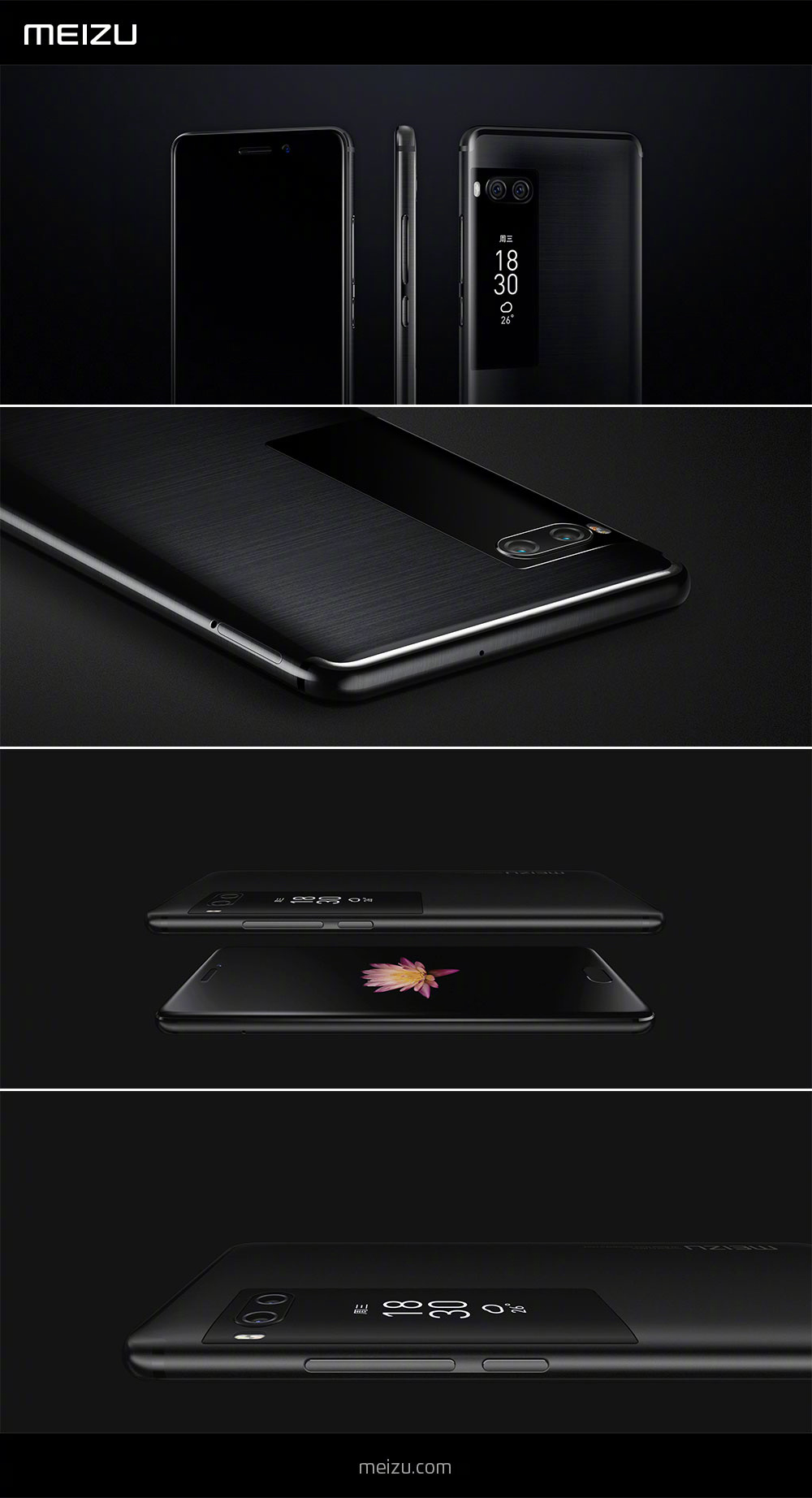 The Meizu Pro 7 offers a new unique colour – Shadow Black. It is made from multiple metallic brushing procedure which is highly difficult in technical terms and has low yield on high quality end product. The Pro 7 also available in moonlight silver, gold, dark black and also red, inspired by an Italian artist.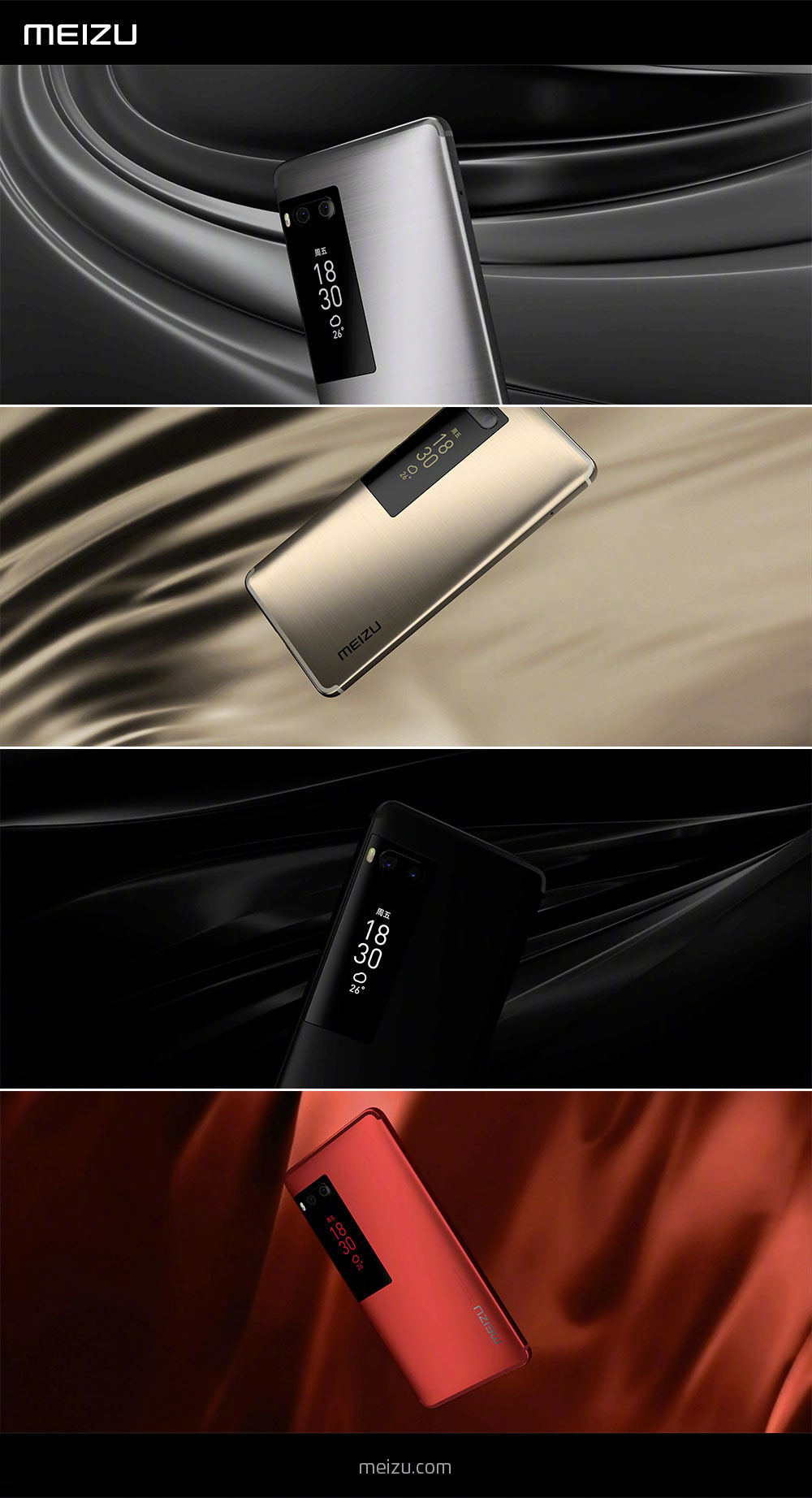 The 1.9 inch AMOLED display on the rear panel provides live and vivid display with pixel density at 307ppi. It is designed more towards personalization where you can have your own unique smartphone fitted with special wallpapers that display weather calls, messages and fitness tracking at the same time.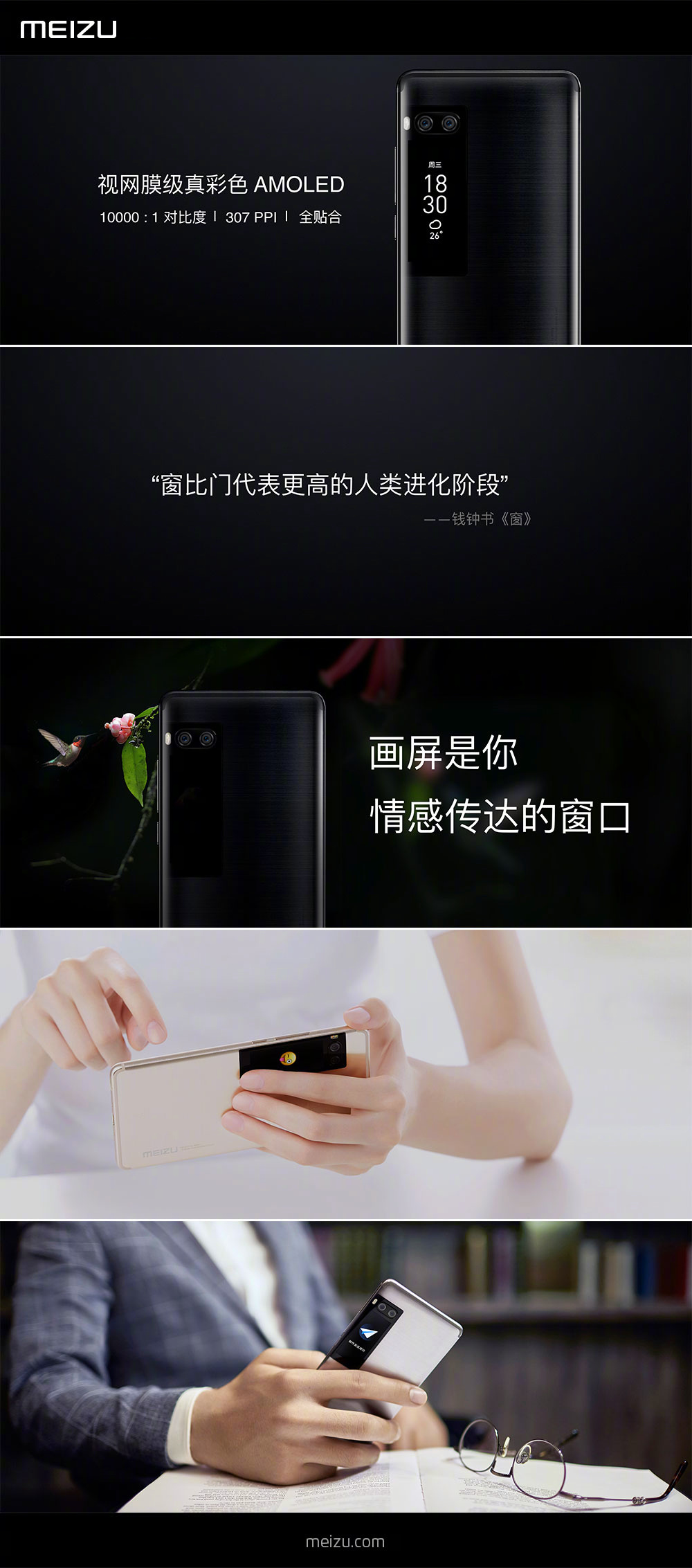 The Meizu Pro 7 also comes with 2 Sony IMX386 camera with the combination of colour and monochromatic lens. It supports noise cancelling technology with background blurring with 75 types of algorithm. It's monochromatic lens is able to shoot ultimate black/white potraits while the color lens enhances the vividness on the final touch.

The 16MP front camera has an enhanced detection on low light environment with greater offset for the brightness. The camera software even comes with their own selfie enhancement algorithm that takes greater self potrait.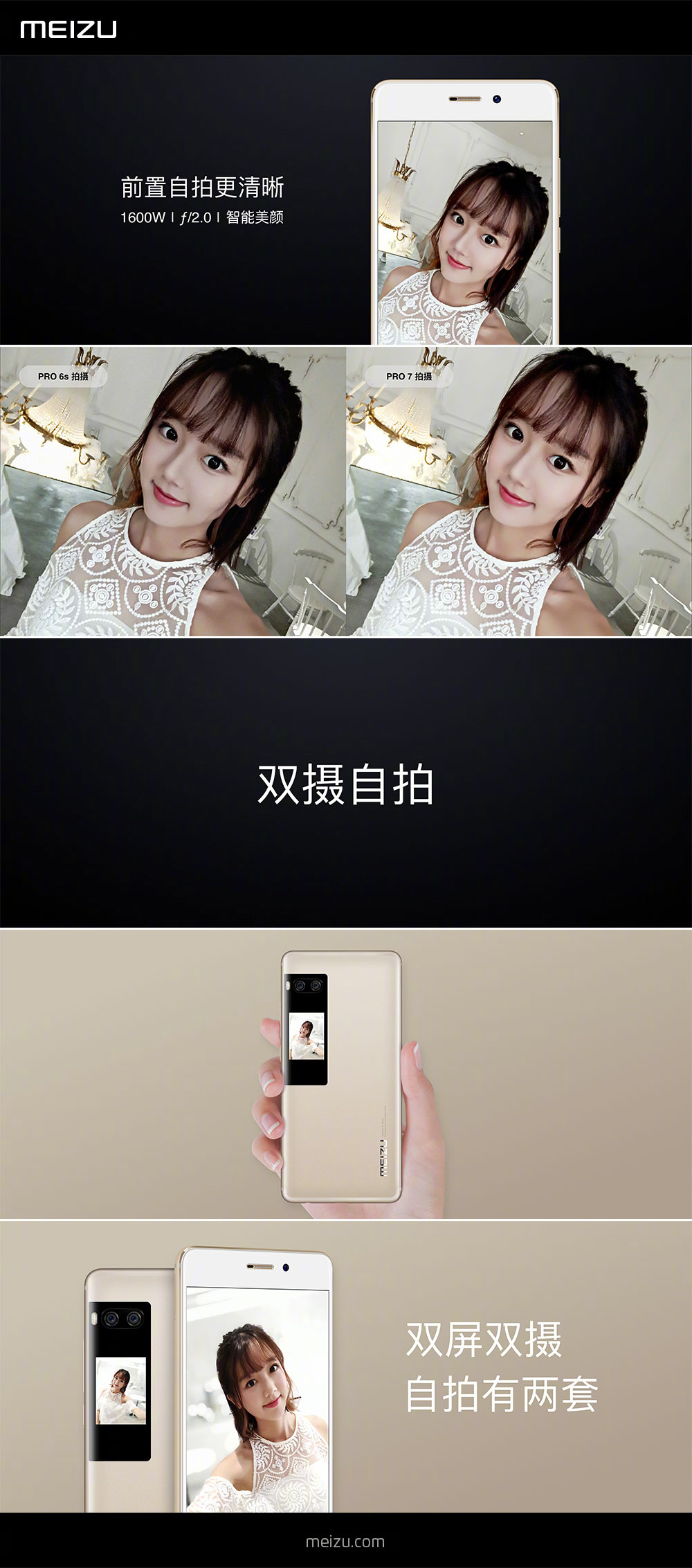 On the other hand, the Meizu Pro 7 is also the world first smartphone powered by the new MediaTek Helio X30 SoC. It is based entirely on 10nm architecture with Cortex A73 + A53 and A35 cores that gives the best efficiency on battery consumption while not compromising performance. The smartphone is also certified by King's Honor for high frame rate gaming experience. The standard model of Pro 7 comes with Helio P25 which gives a good balance between performance and battery.

Having a 5.2 inch Full HD AMOLED display, the Meizu Pro 7 comes with a 3000mAh battery with mCharge 3.0 quickcharge technology. Additionally, the Meizu Pro 7 Plus offers a 2K display with a battery capacity at 3500mAh, which can be recharged quickly with the new mCharge 4.0

Flyme 6 will be the main theme for your Meizu Pro 7 with enhanced focus on security such as multiple "workspace" when logged in with different fingerprints.

All Pro 7 user will get to enjoy 24 hours dedicated customer service channel and back-up device is available for free if something goes wrong.
On the other hand, Meizu also equipped with a dedicated audio DAC chipset for greater audio enjoyment.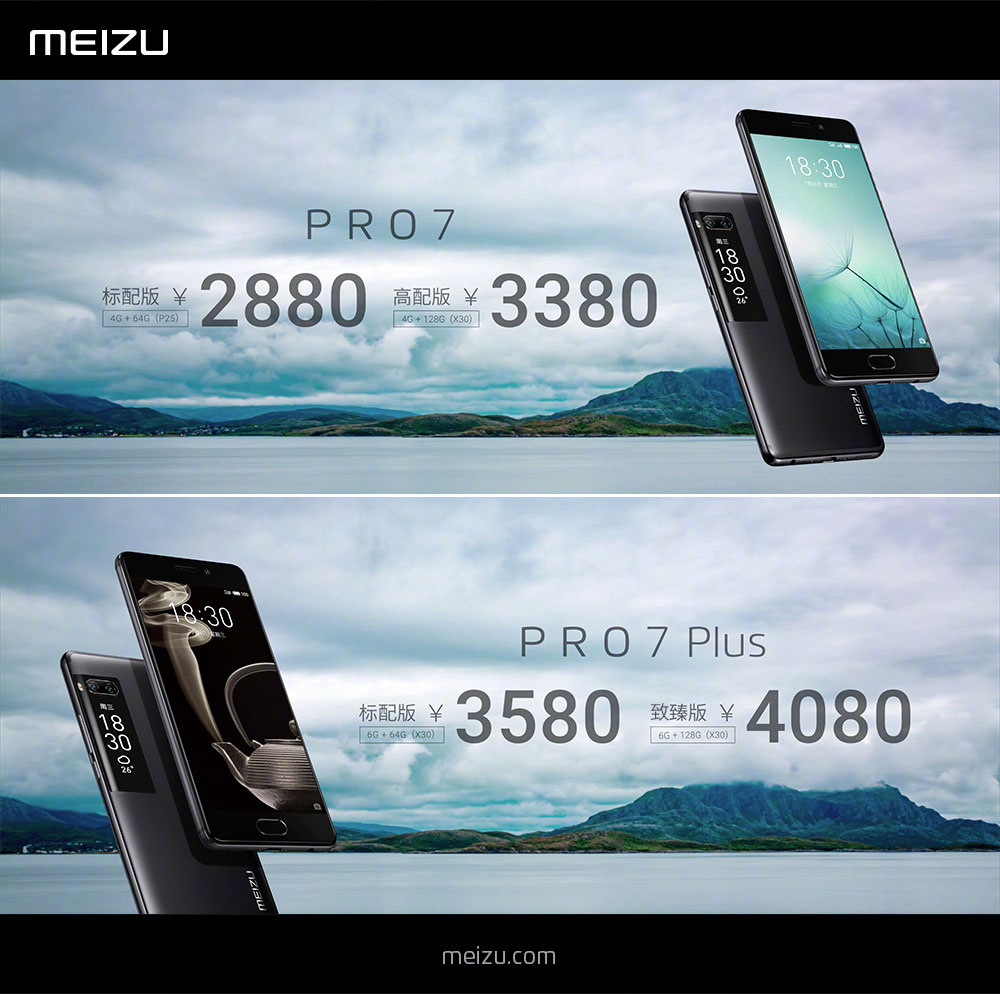 Last but not least, the Meizu Pro 7 is now available to purchase on China online marketplace such as JD.com, Suning, Tmall and others. The Meizu Pro 7 is available from RMB2880 while the Pro 7 Plus starts from RMB3580.