HP has been dominating the business notebook market alongside with Dell and their new Spectre notebook is one biggest hit on the industry. Today HP Malaysia has launched the Spectre Folio and Spectre 13/15 x360. The Spectre Folio catches the spotlight with a leather build notebook, something we don't see everyday.
【HP Spectre Folio】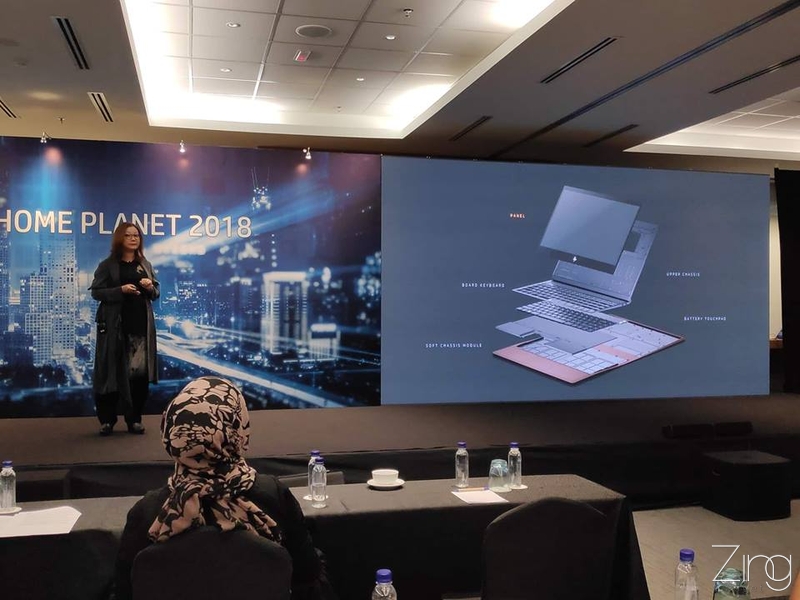 The Spectre Folio is build with leathers and metallic material and it feel much more a premium carrying bag instead of a notebook. There is also a pouch dedicated for the stylus on the side and the entire appearances adhere to the luxury and classical look.
It is available in 13″ and 15″ and utilizes 8th generation Intel Core i5/ i7 Y series processor with bladeless design to maintain its unibody and light weight style. Its motherboard is build collaboratively with Intel in a much more compact manner.
Meanwhile, its battery is capable to last up to 18 hours despite being so thin!
Apart from WiFi transmission support, the HP Spectre Folio also supports Nano SIM and dual eSIM so you can enjoy 4G LTE whenever you work.
【HP Spectre 13/15 x360】
Apart from the Spectre Folio, HP also launches Spectre 13/15 x360 that has a unique cut on the top corners. Cutting on some corners?   The cornes is added with USB Type C port and it is certainly unique. Apart from the variation in display size, others remains the same.
The Spectre 13/15 x360 supports 360 degree flip as the model name suggest and it can appears in Laptop, Tent, Reverse and Tablet mode. User can choose their favourite mode and adjust accordingly to their preference. There is even a camera hardware switch for users to hid their camera to prevent unauthorized access, a perfect laptop for privacy paranoid!
It is powered by 8th generation Intel Core processor with up to GTX1050Ti, 4K display and up to 22.5 hours battery life. It is possible to standby up to 8 to 10 days if you use approximately 2 hours per day!
The Spectre 13 x360 will be available locally by December this year while no availability update for the 15 inches variant and Spectre Folio.