With the Xiaomi Mi 5 has officially launched on the China smartphone market yesterday, Xiaomi also has been preparing their new firmware upgrade for some of the Xiaomi smartphones all around the world. This time, Xiaomi has finally published the MIUI 7.2 stable to some Xiaomi smartphones around the world!
The new MIUI 7.2 can be first experienced on 8 smartphones listed below:
Xiaomi Mi 5
Xiaomi 4S
Xiaomi Note Advance
Xiaomi 4c
Xiaomi 3 TD
Xiaomi Mi Pad 1
Redmi Note
Redmi 1S(GSM & WCDMA)
If you smartphone is not on the list, the firmware upgrade may be available to you on the next half of the month.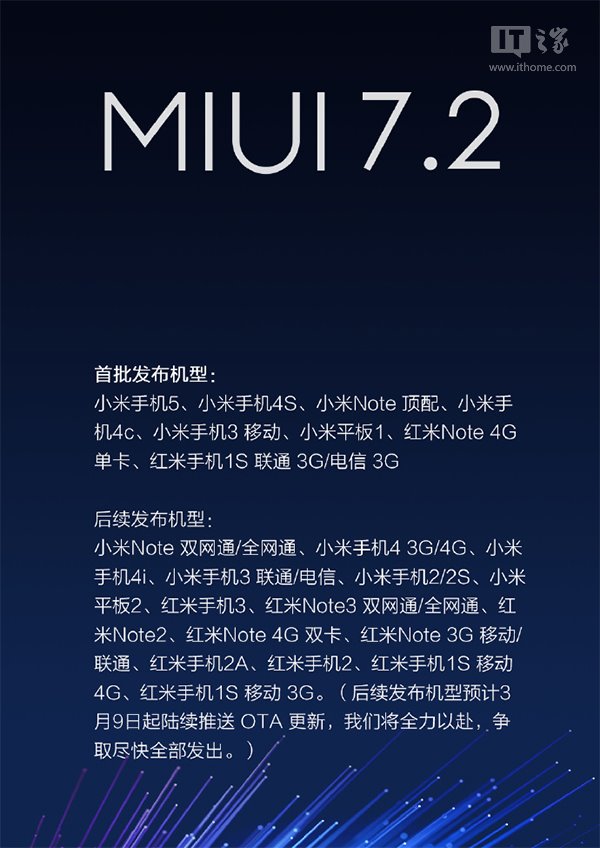 What are the new highlights of the MIUI 7.2?
Xiaomi video call
1 key smartphone replacement (data transfer and migration)
Smartphone lost prevention
Payment with fingerprint recognition technology
New lock screen wallpaper!
Have you tried the new update?
Source : mydrivers