From the launch of OPPO Find 7 on 2014, OPPO has been making slow progress in releasing new successor of the Find series flagship smartphone. In the year of 2015, OPPO shifted their focus onto other series by releasing smartphone such as OPPO F1, R9 and et cetera. However, the OPPO Find series smartphone will be back soon as an Antutu Benchmark leak of a new OPPO smartphone has revealed all the specifications of the new model.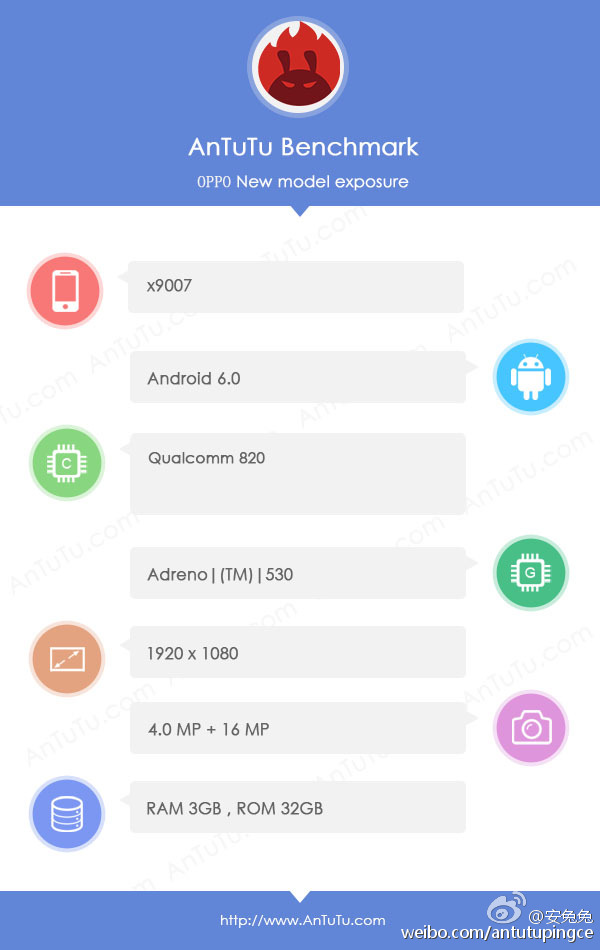 The Antutu Benchmark database has shown a new upgraded model of OPPO Find 7 that sports the latest Qualcomm Snapdragon 820 processor, 3GB RAM, 32GB ROM and Full HD display.
From its specifications, we speculated that this model could belong to the standard version or the toned down version of the OPPO Find 9. It is expected that there will be a higher spec model of the OPPO Find 9 when it was officially introduced somewhere later this year.
Besides, the OPPO Find 9 is also rumored to come with a new generation of charging technology – OPPO SuperVOOC. This quickcharge technology makes the OPPO Find 9 to be fully recharged in 15 minutes!
Meanwhile, the design of the OPPO Find 9 also leaked and spread around Weibo few days ago. The new alleged OPPO Find 9 features a design that has a rounded edge and near zero display bezels that follows the conventional OPPO Find 7 design. Nevertheless, there is also rumors suggest that the OPPO Find 9 might features a front home button fingerprint sensor but this piece of information is awaiting for confirmation.