One of the industry leaders in computer and notebook manufacturing – Acer has brought their Predator series into Malaysia earlier this year. Apart from gaming notebook, the Acer Predator series also comes with Android gaming tablet that bring gaming and entertainment at one go. Of course, Acer also has launched the Predator G6 gaming desktop that comes with state of the art hardware and the Predator Z35 Full HD gaming monitor that supports Nvidia G-Sync technology. Without further ado, let's see how does both perform in real world scenario!
Predator G6 specifications
Intel Core i7-6700K
Windows 10 Home 64-bit
Nvidia GTX970 4GB DDR5
16GB DDR4 RAM
128GB M.2 SSD + 2TB storage space
210mm x 462mm 553.3mm
RRP: RM8999
Predator Z35 specifications:
35 inches Ultrawide Full HD curved display @ 2000R
144-200刷新率
1x HDMI port、1x VGA port、4x USB 3.0 port
2x 9W DTS speaker
Nvidia G-SYNC Technology
Nvidia ULMB
RRP: RM3999
Design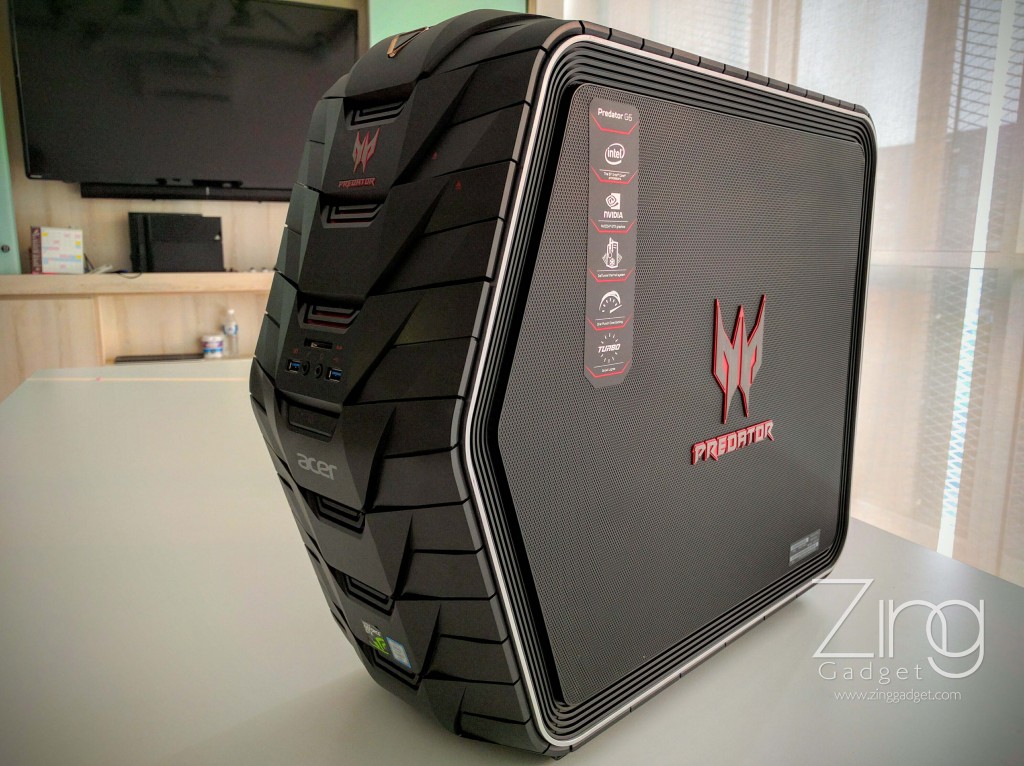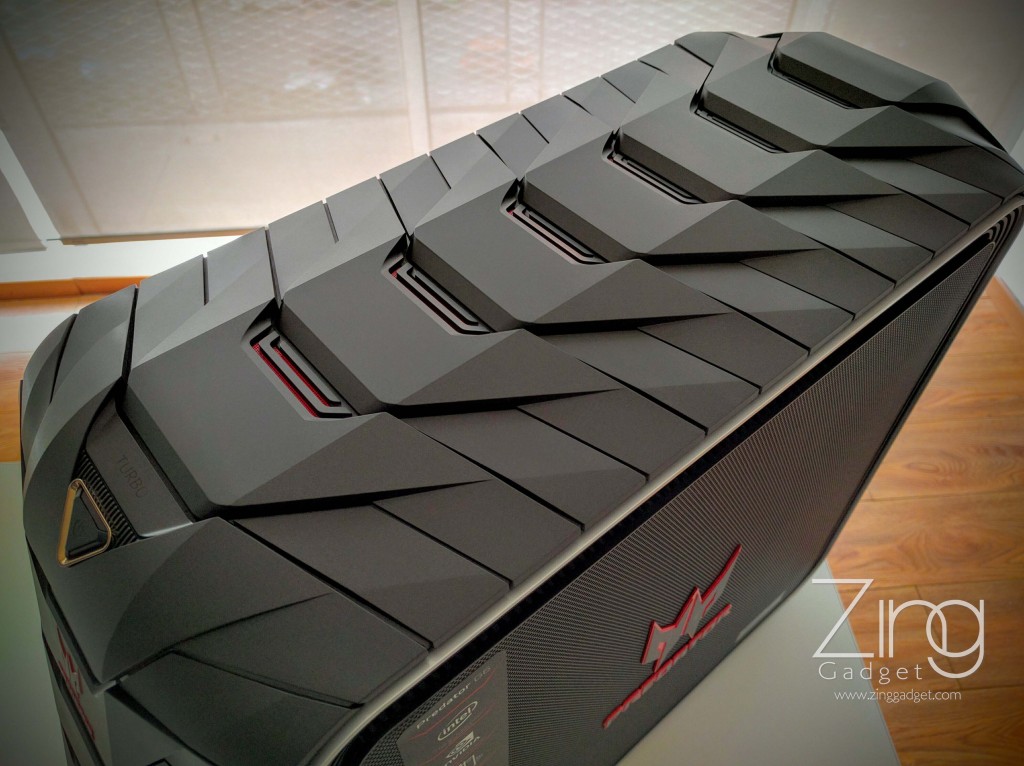 The Acer Predator G6 is a conventional rectangle shaped rig with a polycarbonate outer layer enhanced with matte finishes. The exterior of the case also comes with a unique wave like structure that gives its sci-fi look from the top. Its design is ultimately aimed towards a unique look instead of standard shaped high-end PC rig.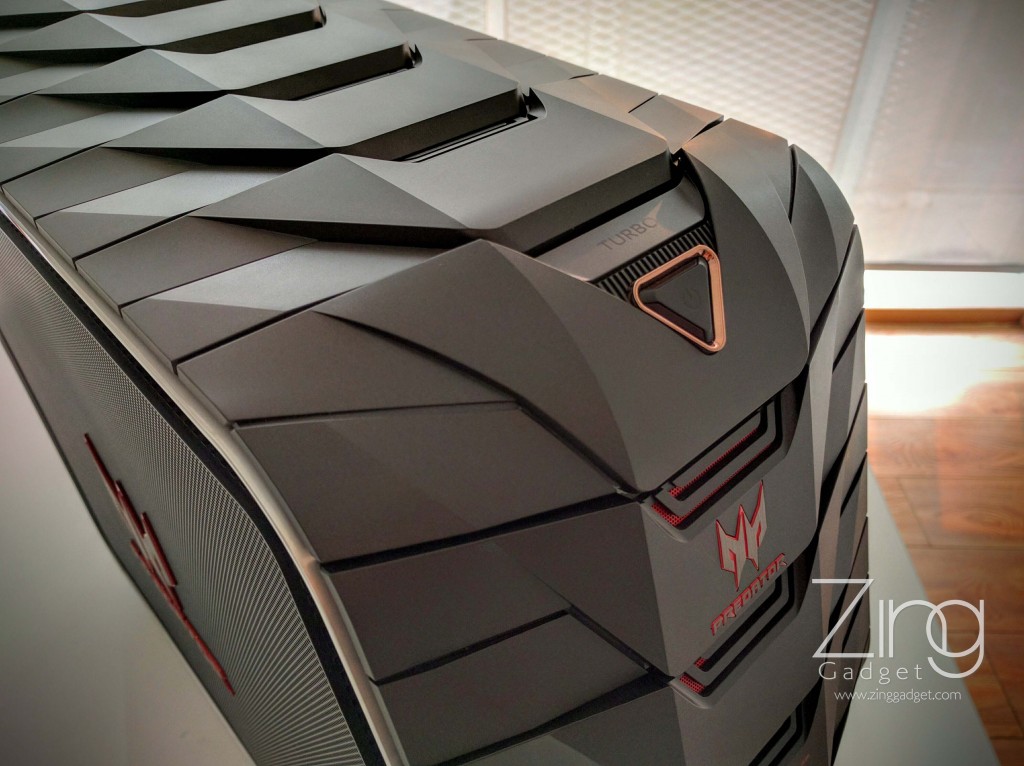 The power button comes with triangular shaped in the front part of the Predator G6 rig. There are red LEDs surrounding the power button which will illuminates when PC is running. Besides, a "Turbo" button was located on the top of the power button that serves more performance by increasing clock speed of the processor in a tolerable manner.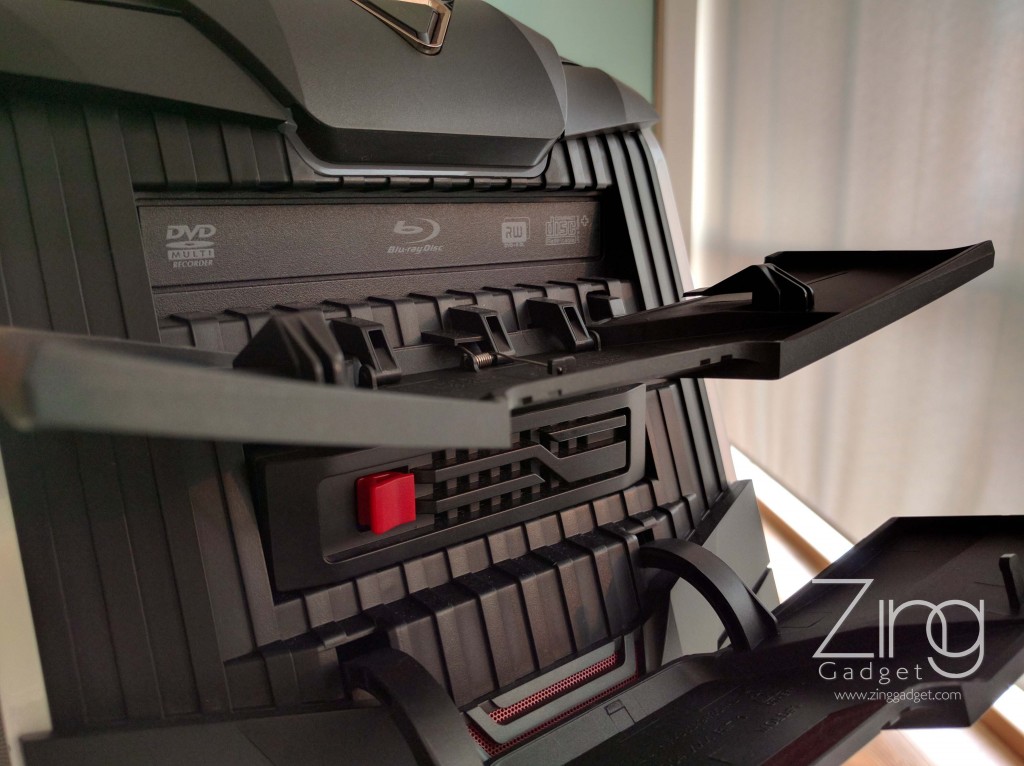 Beneath the Predator logo comes with the DVD-RW tray which is hidden inside the case. It also comes with a swappable hard drive slot that can be used to extend storage space with a hard drive or faster SSD.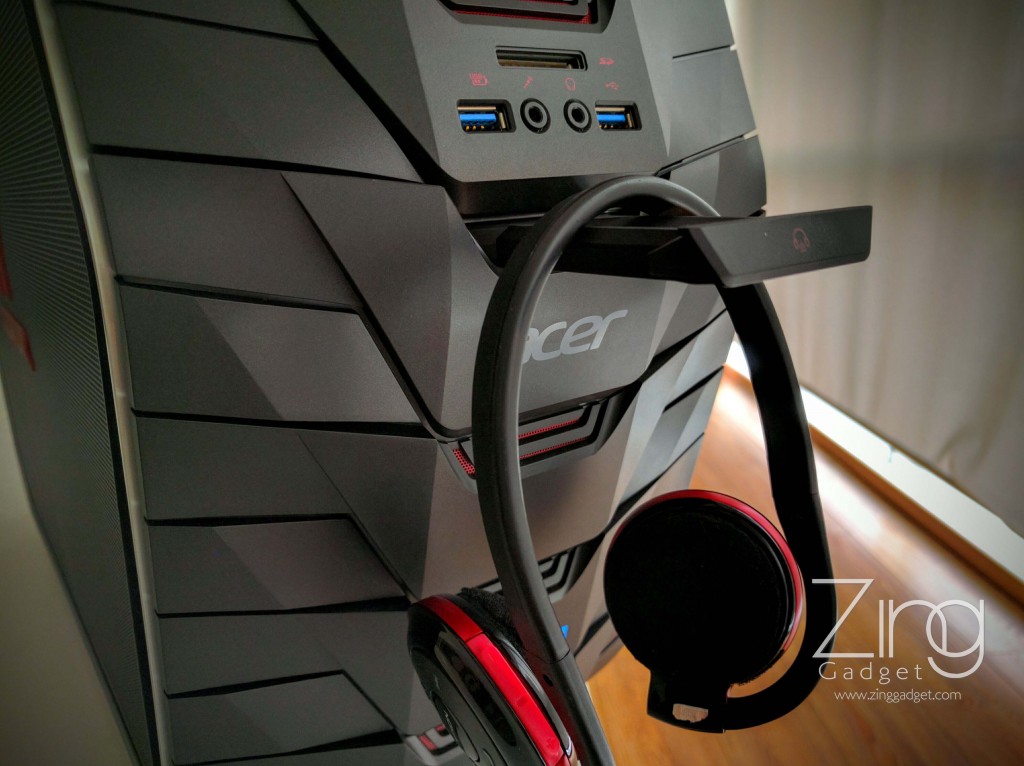 On the body of the rig, most I/O are located within here that includes SD slot, 2x USB 3.0 port, 1 microphone jack and 1 audio output (headphone) slot. Surprisingly, the Predator G6 also comes with an integrated headphone stand in the front of the rig.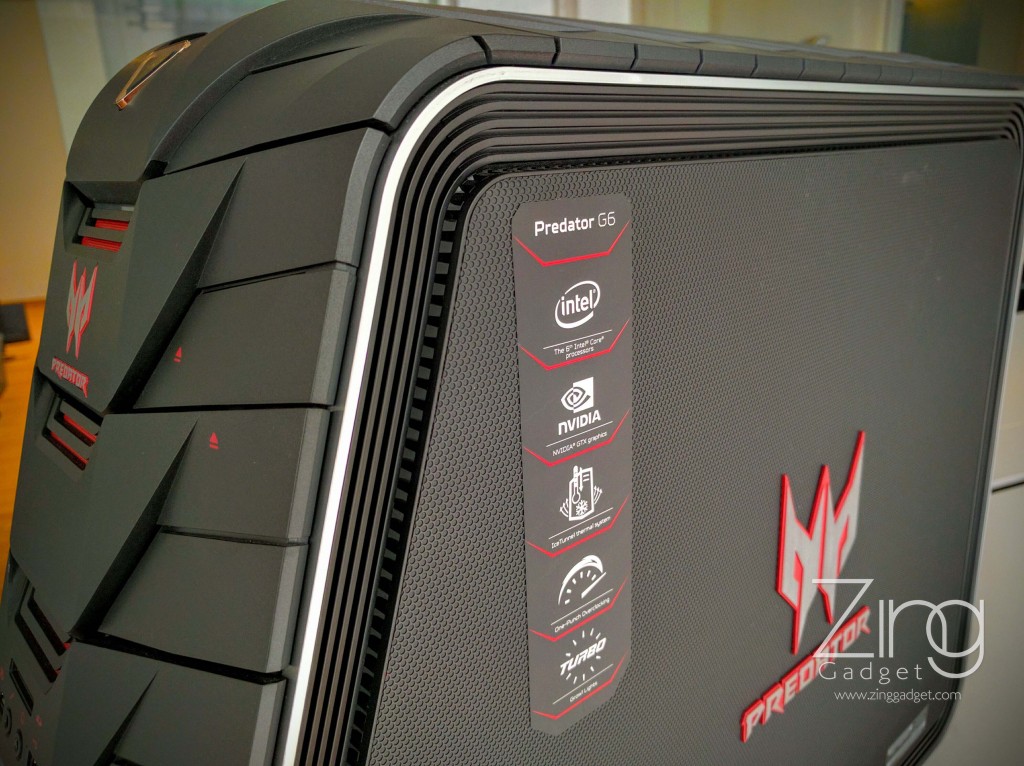 The left and right side of the rig is symmetrically design with a beehive structure with the Predator logo mounted in the center of the plate.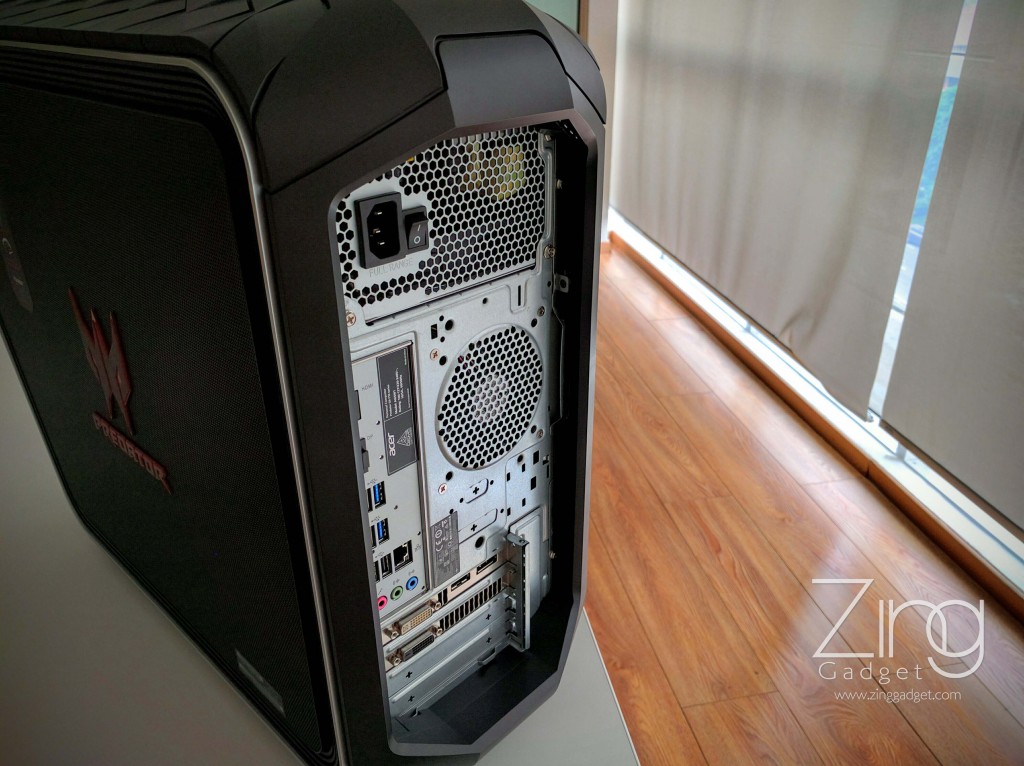 When we turn the Predator G6 around, the rear body does make us slightly disappointing. The rear body comes with the "iconic conventional" metal board that fits with all the I/Os located in one part. As a custom designed gaming desktop rig, the Predator G6 should make the rear panel appears more attractive by adding more colours or design into it. Nevertheless, the rear I/Os comes with 1x HDMI output, 1x DP output, 4x USB 3.0 port, 2x USB 2.0 port and one audio combo port with 1 RJ 45 ethernet LAN port. The GTX970 graphics card also comes with one HDMI and 2 DVI output port which supports 4 monitor output.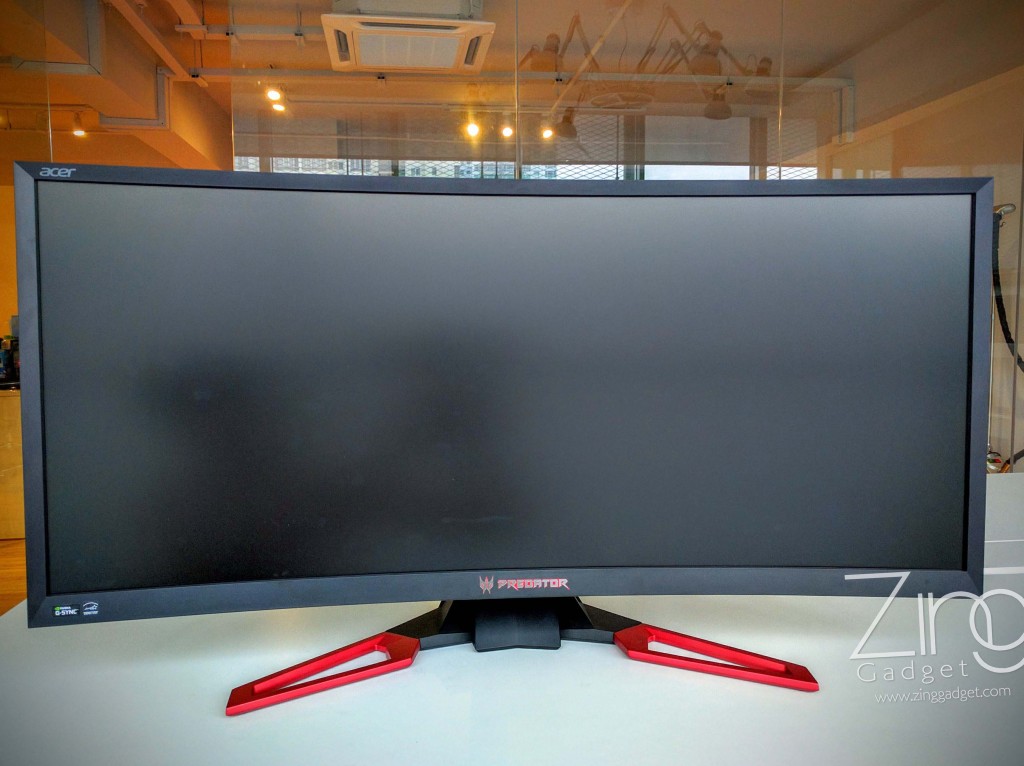 The Predator Z35 has a mesmerizing design along with the red base stand and curved 35 inches matte display.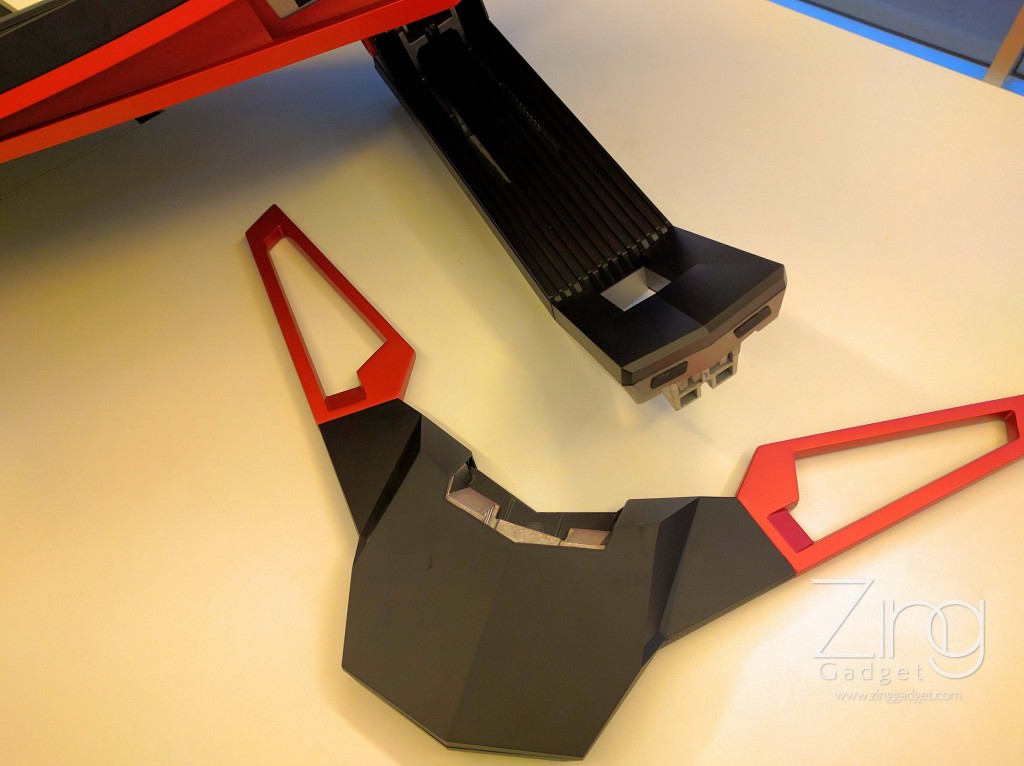 The Z35 and the G6 is a perfect match as both features red and black as their main theme colour. The legging stand is made out of plastic with a dull matte finish on the outer layer.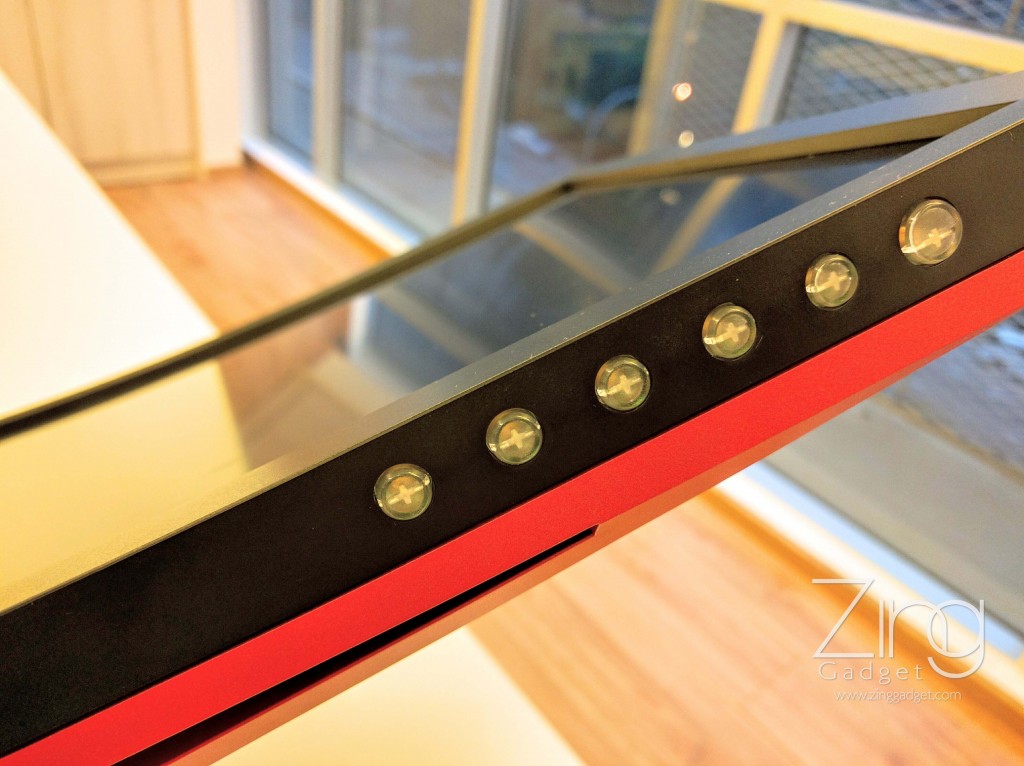 Predator Z35 lightning system
The Predator Z35 gaming monitor comes with an integrated lightning system that emits blue and yellow LED lights. These light can be custom tailored for different notifications and situation that affect the ambience of the surrounding.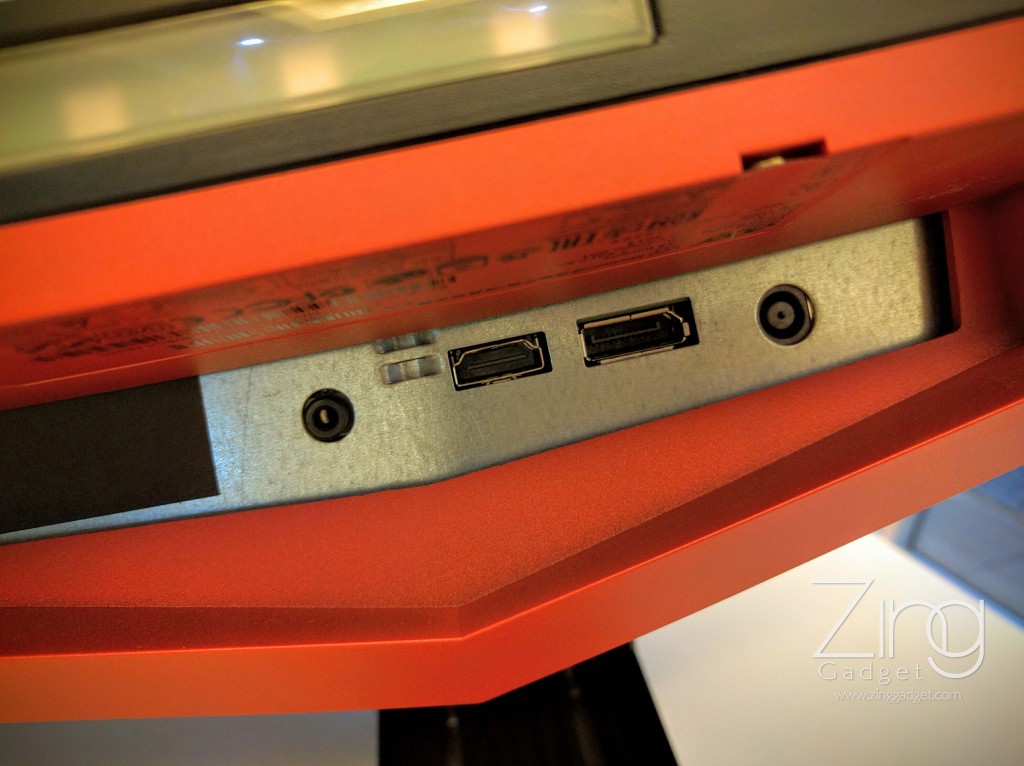 The I/Os and power input port are located at the bottom of the Z35 to avoid the clustering of cables in the front. On the side of the power input port, it comes with 1x HDMI input, 1 DVI input and 4x USB 3.0 port along with 1x USB 3.0 up-link connector which to be connected with the Predator G6 gaming desktop.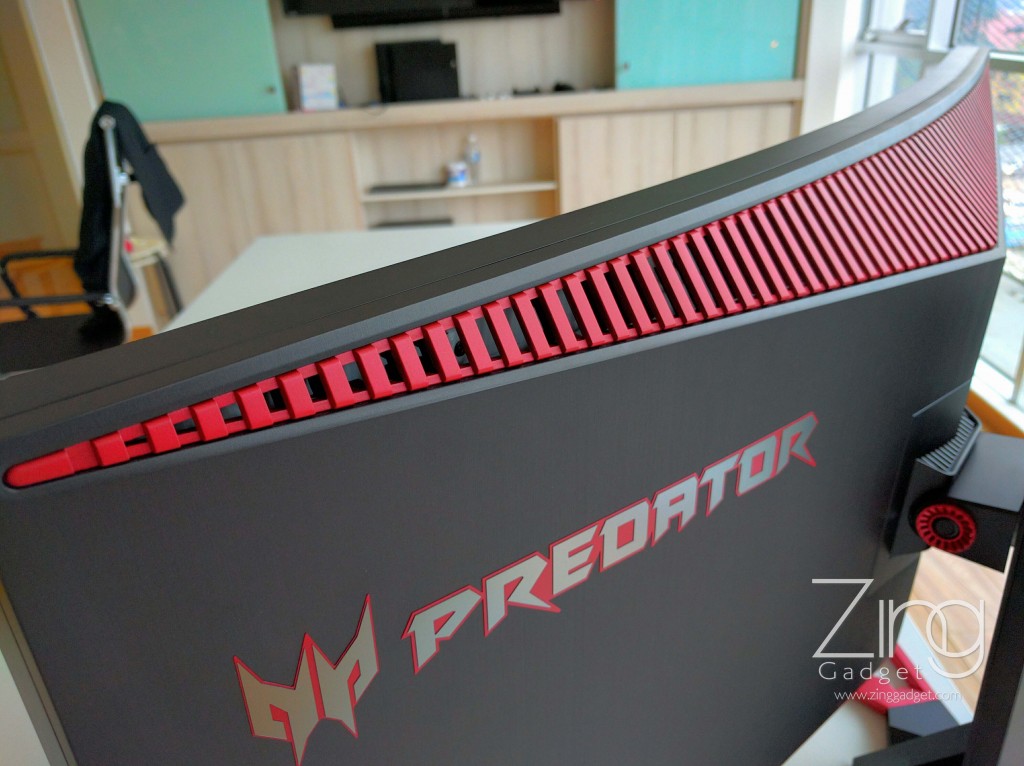 Predator Z35 also comes with 2x Stereo 9W DTS speaker that user no longer requires to find a new speaker for your gaming desktop.
Performance Benchmark
3D Mark 11 Performance 1.0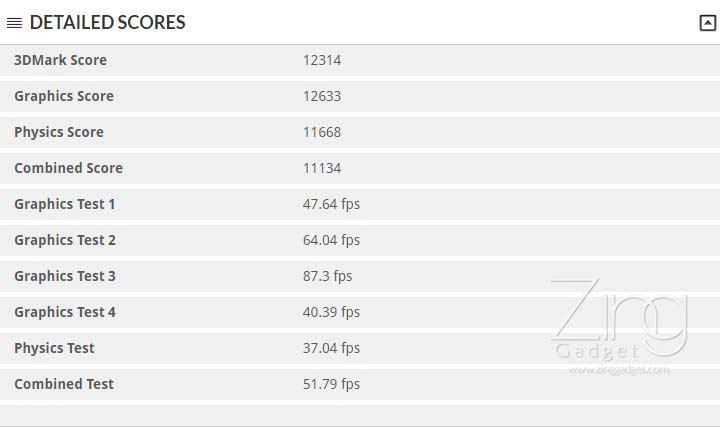 PC Mark Creative Conventional 3.0
Steam VR Performance Test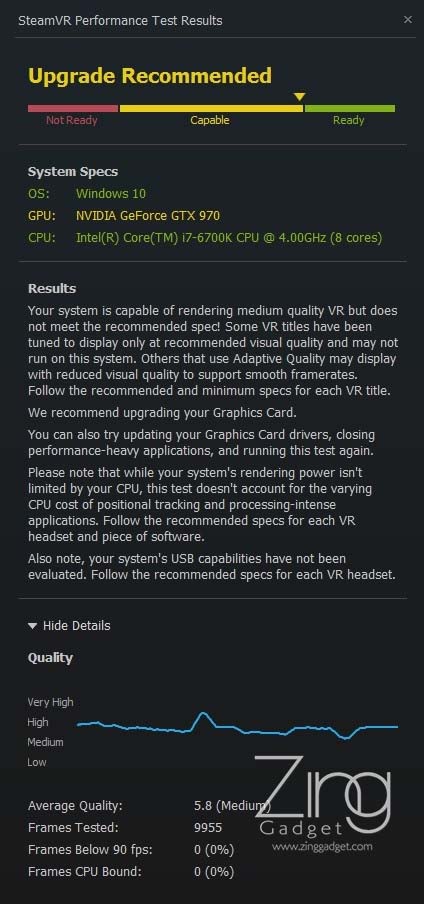 Cinebench
SD SSD Benchmark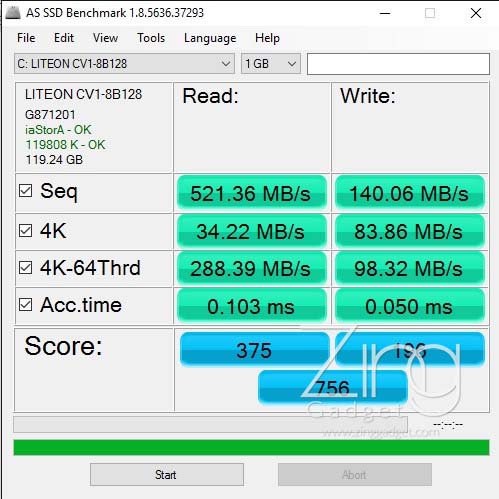 Based on the 3D Mark and PC Mark Creative Benchmark result above, the computer has surpassed the minimum PC requirements for HTC Vive VR experience. It is also able to render medium quality VR and an upgrade to a better graphics card is required for better VR experience.
Gaming Experience
As this computer is marketed towards ultimate gaming experience, we bring two AAA titles – Rise of The Tomb Raider and Plants VS Zombies Garden Warfare 2 into test.
Superb render quality with an average framerate at 52fps (Although we would be expecting 60fps..)
Plants VS Zombies Garden Warfare 2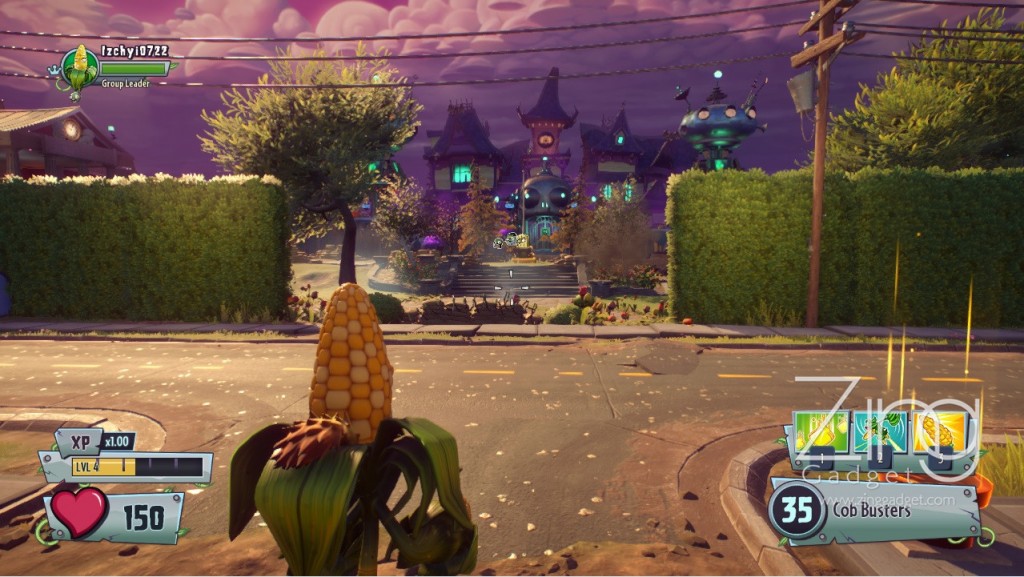 This tittle is able to run perfectly with an average framerate at 60fps (capped). On a side note, the visual experience in this game is further enhanced by Predator Z35 gaming desktop!
Accessories Included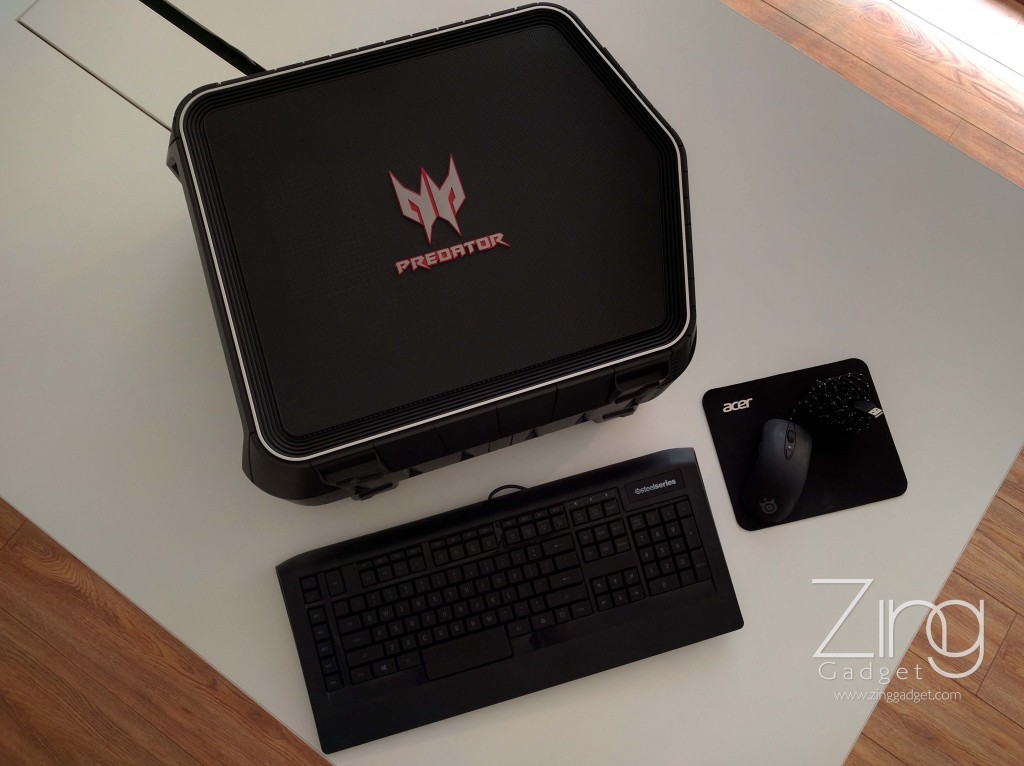 Along with the Predator G6 comes with a free Steelseries Apex 300 keyboard along with Steelseries Sensei Raw gaming mouse. You know it is good when your vendor has stated giving out gaming peripherals for free.
Conclusion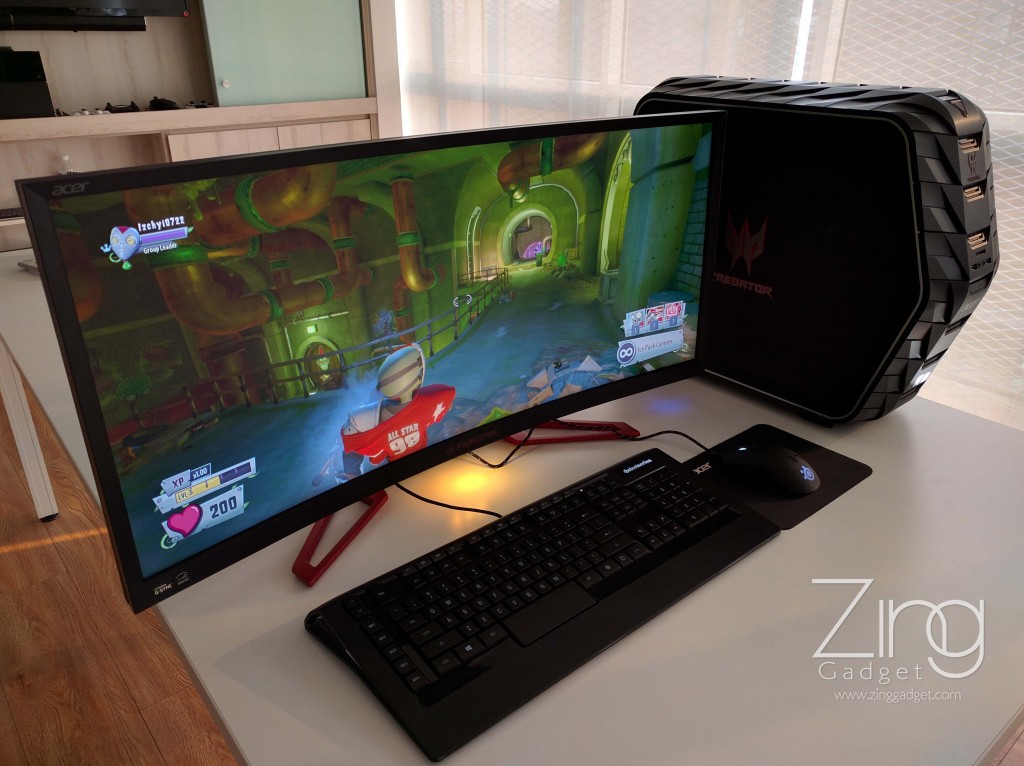 In short, the Predator G6 is a computer that is able to fit day to day demands in excellent gaming experience with its high end gaming graphics card along with high performance Intel Core i7 processor. To be able to enjoy such excellent visual, it is good when it comes to choice for an excellent gaming monitor. The Predator Z35 is a 35 inches curved gaming monitor that provides visual experience enhanced by G-Sync which accelerates your adrenaline in gaming. Along with the free gifts included, the G6 computer and the Z35 gaming monitor is the perfect combination for gaming in the end of the day.