With the recent introduction of 3D NAND technology SSD into hardware market, Western Digital Malaysia has officially launched the world first 64 layer 3D NAND technology powered solid state drive – WD Blue 3D NAND SSD & SanDisk Ultra 3D SSD from RM620!
The new 64 layer 3D NAND technology offers better performance and lower power consumption, longer life span thus gaining all the benefits from being a better storage solution from conventional 2D SSD technology. The WD Blue 3D NAND SSD is designed for computer enthusiast with an affordable price tag while the SanDisk Ultra 3D SSD is for those content creator and gaming enthusiast who seek performance and reliability for their hardware.

Both SSD offers fastest read speed at 560MB/s and write speed at 530MB/s. The WD Blue series also comes with M.2 and 2.5 inches form factor for notebooks and desktop tower while the SanDisk variant is available in 2.5″ model.  These offers storage capacity from 250GB ranged up to 2TB.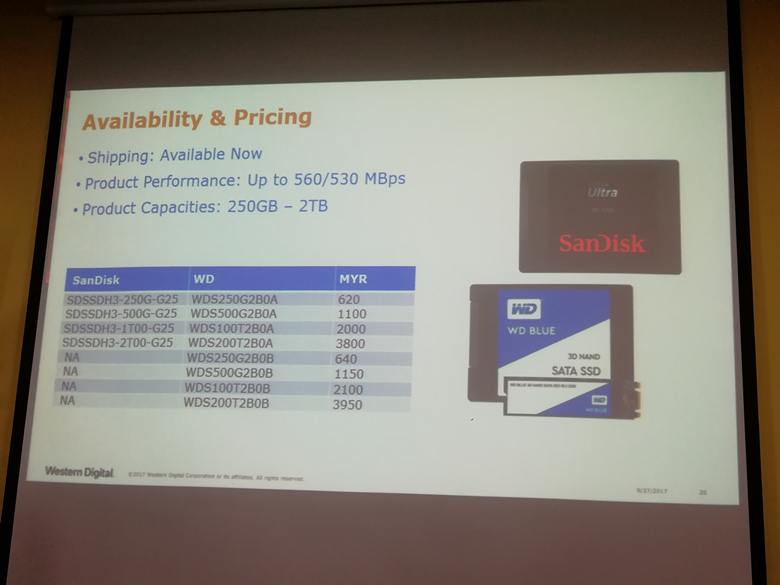 The pricing for the 3D NAND SSD are as follow. It comes with 3 years warranty for wear and tear.
250GB – RM620(SATA),RM640(M.2)
500GB – RM1,100(SATA),RM1,150(M.2)
1TB – RM2,000(SATA),RM2,100(M.2)
2TB – RM3,800(SATA),RM3,950(M.2)