In few weeks back, HUAWEI Malaysia has unveiled their newest flagship tablet – the HUAWEI MatePad Pro. The MatePad Pro is dubbed the best tablet experience that HUAWEI could offer as it further supports M-Pencil stylus which brings iPad Pro head to head. As we reported few days ago, there is also another lower tiered MatePad will be launching in China.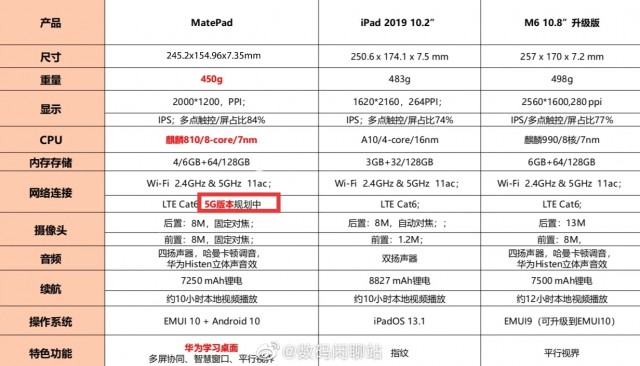 An image on Weibo has shown head to head comparison of the upcoming MatePad against the HUAWEI MediaPad M6 along with Apple iPad 7th gen 2019. From the tablet above, we can see that the MatePad will be offering with 5G along with its existing 4G capability. However, given that the MatePad in Malaysia market doesn't comes with 5G, we may exclude the possibility of the 5G model to enter local market.
The MatePad also shows significantly lower body weight compared to MediaPad M6 (upgraded version) and the new 7th gen Apple iPad. This could be done by the reduced battery capacity compared to the both tablet while HUAWEI claims that the battery can last up to 10 hours of offline video playback.
There will also be 64GB or 128GB storage along with 8MP front and back camera. We can expect the MatePad to be preloaded with EMUI 10.1 if it is to be launched in this year.