One of the world's leading Internet TV services that serves more than 1000 American drama series is now finally available in Malaysia, with a basic monthly subscription price only at RM33! Before the end of the Netflix CEO talk on the CES 2016, he proudly announced that the Netflix services that currently serves major population in USA, will be now available in 130 countries worldwide, including Malaysia.
With a user base more than 6.9 million, Netflix is the largest TV and drama series source based on monthly subscription services. Those famous American drama such as House of Cards, Unbreakable Kimmy Schmidt, Daredevil, Kassica Jones, Narcos, Bloodline and Elementary is now available through Netflix which can be watch in front of your TV!
The basic plan comes with drama and movies with standard quality which can be watched on one single devices with just a monthly price at RM33. With RM41, user can get to enjoy HD videos and 2 devices simultaneously streaming with the video. Meanwhile, RM51 Premium plan is great for those who seek for high video quality dramas and movies to be watched on multiple devices such as desktops and TVs.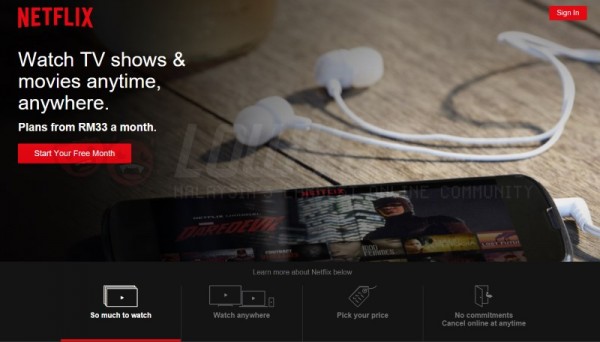 As Netflix has just introduced in Malaysia, Netflix also offers their user first month free and user is able to cancel anytime upon request. The payment option from Netflix available are through credit cards or Paypal and Netflix will only charges the user upon subscription.
While Netflix is offer such amazing deal with an affordable pricing compared to other media sources provider such as HyppTV and Astro, a good quality connection is strongly recommended. You wouldn't want your movies to buffer when watching, so do you family. If your family is a fan of Netflix and other drama series, the only solution is ultra high bandwidth provided by Maxis Fibre Internet.
Since Maxis 100Mbps Fiber network plan has launched last year, this blazing fast connection has yet to be available from other telcos and landline internet service provider. The bandwidth and the internet connection provided from Maxis is able to fulfill your desire to watch multiple dramas simultaneously from Netflix while your family member is enjoying their time on the internet.
The 100Mbps plan is currently offered at RM398 per month exclusively for MaxisOne user. The 30Mbps plan is also able to satisfy your needs in multitasking while watching Netflix in Ultra HD quality when you are working from home.
Visit Maxis.my for more information on the Maxis Fiber Internet plan.