As we have entered May, the next biggest thing will be the release of the next iPhone for this year. The iPhone 14 series will only be available in two models which are the standard iPhone 14 and iPhone 14 Max, featuring similar specifications while the latter having larger display.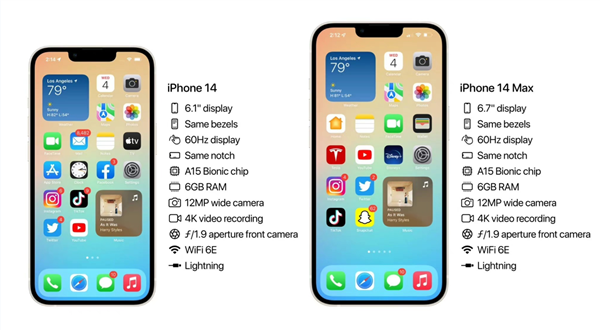 According to the leaked specs, it still retains the A15 processor and not going to feature new A16 as it seem. The notch display is still retained and no significant enhancement was seen on the iPhone 14 from the leaks.
Camera wise, it will be featuring 12MP dual camera supporting 4K video recording and Pro version comes with 48MP primary lens and both are specs with 6GB RAM just like the iPhone 13 Pro.
The iPhone 14 series is estimated to start at USD799 and goes up to 899 for the Max lineup. Would you still consider if the given specifications is accurate?