With the latest flagship from the Samsung S series will be soon unveiled, the design and the specification of the Galaxy S7 has leaked online from the notorious leaker – @evleaks today.
According to Evan Blass @evleaks at his twitter post, the new Samsung Galaxy S7 comes in 3 variant – the standard Galaxy S7, S7 Edge and S7 Edge Plus.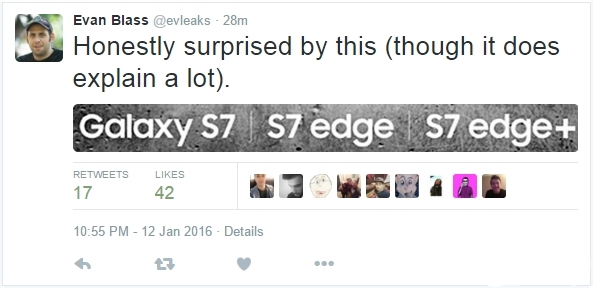 From the teaser picture above, we can see they were water droplets on the background of the image, which suggested that the Samsung Galaxy S7 will be featuring water resistant technology.
Meanwhile, the Galaxy S7 will comes in 2 different screen size option at 5.1 and 5.7 inches. It will be powered by Qualcomm Snapdragon 820 processor along 4GB RAM and 32GB ROM and finally supports microSD expansion. It alos comes with a 12MP rear camera and a 3000mAh battery.
As we not expected, Samsung has slightly lowered the retail price of the Samsung Galaxy S7 which is now priced at 4500RMB (~RM3000) while the Galaxy S7 Edge is priced at RMB5200 (~Rm3470)
Since the design of the new Galaxy S7 remains the similar as its last generation, what are the new features that the Galaxy S7 has to offer?
Source : mydrivers