Just after a few months, Xiaomi is back with their new powerful flagship smartphone launched by today. For those who are familiar with Xiaomi product development trend, it is known to launch variety of smartphones in a short period of time. The new powerful flagship after the Mi 5S is the Xiaomi Note 2 which has been officially unveiled few hours ago.
Xiaomi Note 2 specifications: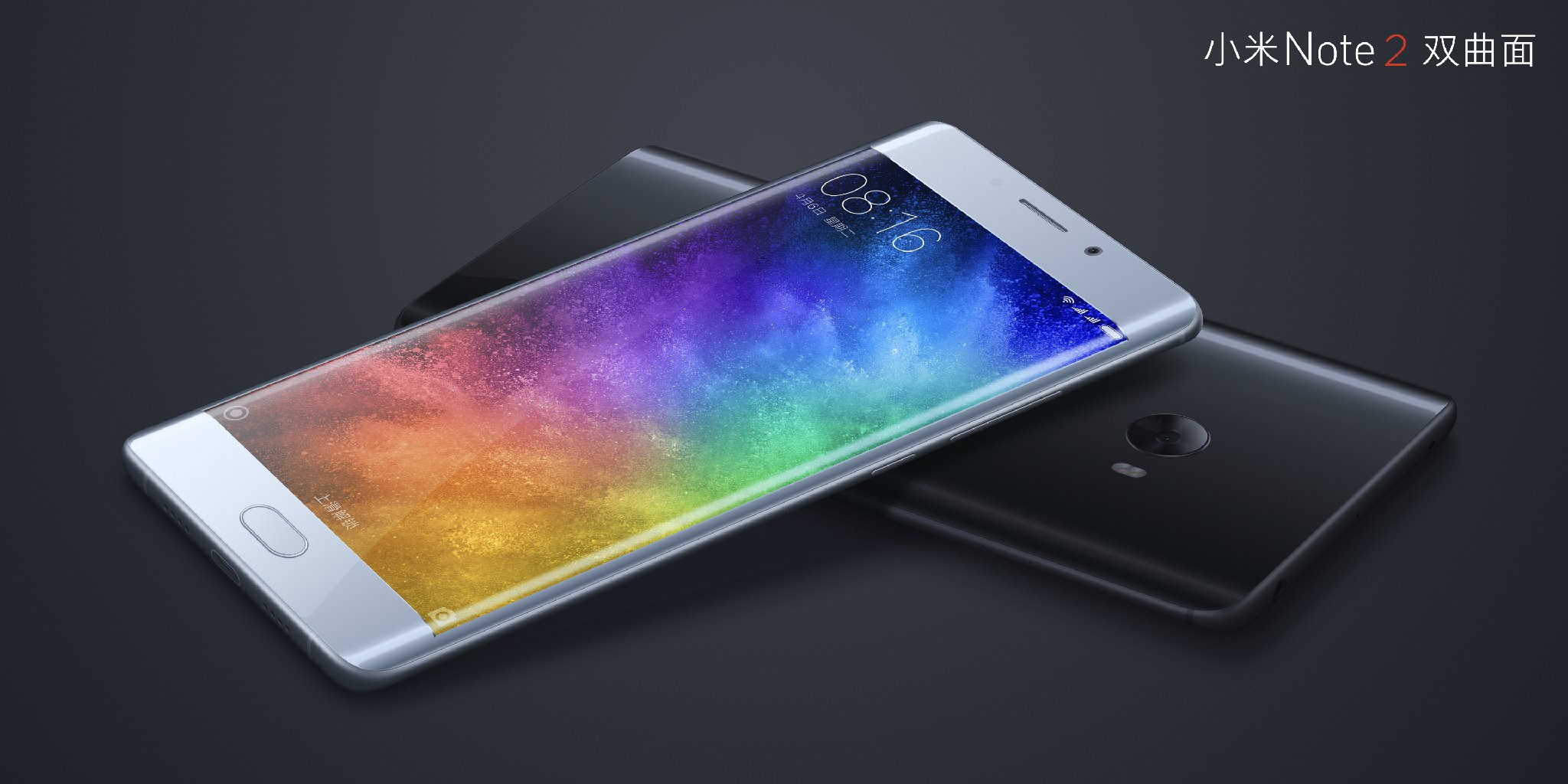 5.7″ 1080p OLED dual curved edge display
2.35GHz Snapdragon 821
4GB/ 6GB LPDDR4 RAM+ 64/128GB ROM(UFS2.0)
8MP front camera/Sony IMX268 sensor/ selfie beauty 3.0/ hybrid/ F2.0 aperture
22.56MP rear camera/Sony IMX318 sensor/ PDAF and contrast AF/ F2.0 aperture/ EIS stabilization for 4K video recording
4070mAh battery capacity
QC3.0
HD audio
High precision GPS(assisted by internal SAP)
NFC
6 mode 37 channels
4G+ band
Running on MIUI 8
Light black and icy silver
RRP:
4GB+64GB Standard — 2799CNY(~RM1722)
6GB+128GB Premium — 3299CNY(~RM2026)
6GB+128GB (multple channel and band support) — 3499CNY(~RM2149)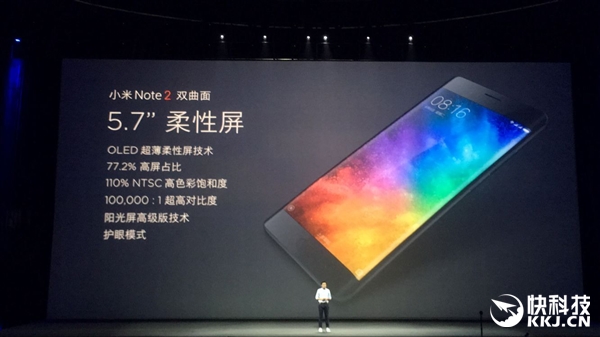 Xiaomi claimed that the display of the Note 2 takes a total of 9 months for its development. It is a 5.7 inches Full HD OLED dual curved display with 77.2% screen to body ratio. It's exterior is also covered with 3D glass with 110% NTSC colour and 10000:1 aspect ratio.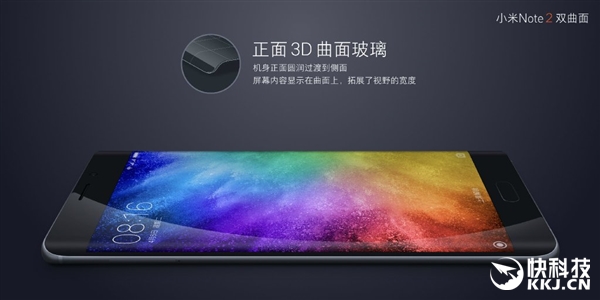 There is also a rear 3D glass panel that forms a symmetrical division on its front and rear of the smartphone. The aluminium alloy rest in between these 2 glass panel which are highly processed to create the best grip.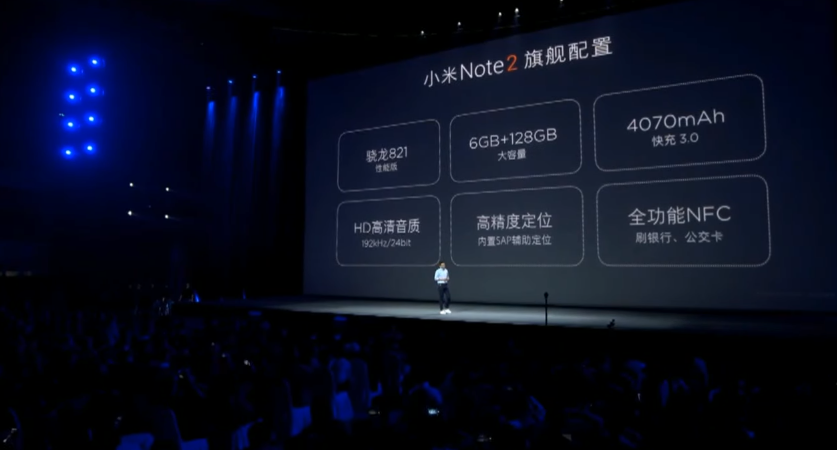 Hardware wise, the Note 2 comes with a Snapdragon 821 SoC clocked at 2.35Ghz and comes with 4GB/ 6GB LPDDR4 RAM and 64/128GB ROM. It also comes with a 4070mAh battery that supports QC 3.0.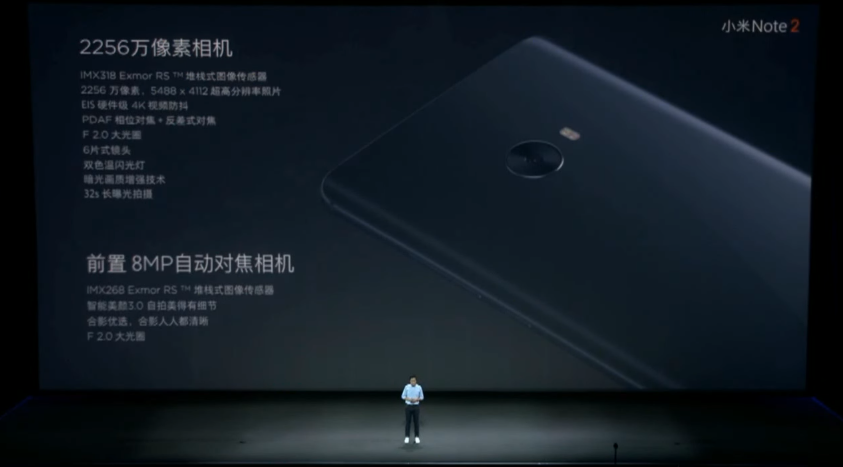 The 8MP front camera with Sony IMX 268 is the perfect match for the Note 2, making it great at taking selfies when combined with variety of shooting mode. It's rear camera is an 22.56MP Sony IMX318 camera with EIS video stabilization technology, PDAF and phase contrast AF and is able to record 4K video with video stabilization.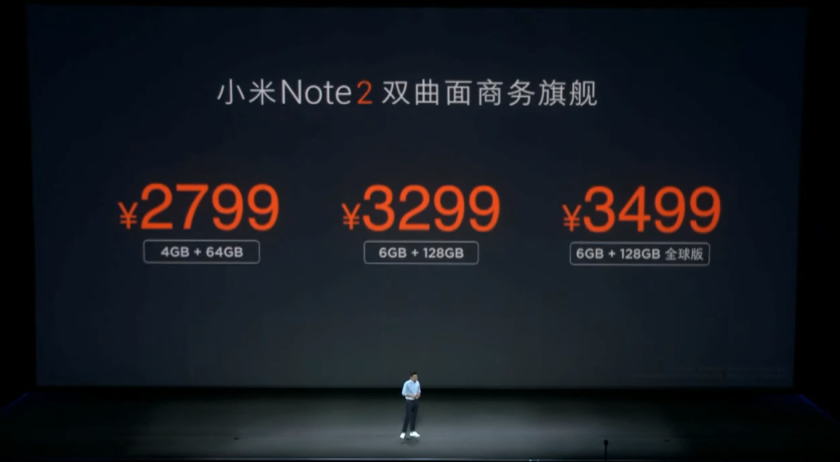 The pricing of the Note 2 starts from roughly RM1722 to RM2149 depending on models. It will be debuted on 1st Nov 2016 with light black as the only option while the silver coloured Note 2 will be available few weeks later.

Source : 驱动之家