While there are tons of mid-range and entry level smartphone available right now, most consumers after often stuck in the decision to choose which smartphone that fits their budget and offers decent amount of performance for its value. One of the popular dilemma that consumer face when choosing a mid-range smartphone is the decision to choose between the Samsung new mid-range, the Galaxy J5 (2016) or the Flash Plus 2 that has gain flattering remark on its hardware and price. Let's find out which is the best in terms of its value!
Hardware PK:
| | | |
| --- | --- | --- |
| | Samsung Galaxy J5 (2016) | Flash Plus 2 |
| OS | Android 6.0.1 (TouchWiz 6) | Android 6.0 |
| Display | 5.2″ 720p Super AMOLED | 5.5″ 1080p IPS LCD |
| Resolution | 282ppi | 401ppi |
| Processor | Qualcomm Snapdragon 410 | MediaTek Helio P10 |
| Clock speed | 1.2Ghz | 1.8Ghz |
| RAM | 2GB | 3GB |
| ROM | 16GB | 32GB |
| MicroSD | up to 256GB | up to 128GB |
| Rear camera | 13MP, f/1.9 | 13MP, f/2.0 |
| Front camera | 5MP, f/1.9 | 5MP f/2.4 |
| Bluetooth | v4.1 | v4.1 |
| 4G | Support | Support |
| Dual SIM standby | Dual MicroSIM | MicroSIM + NanoSIM |
| Fingerprint unlock | No | Yes |
| Battery capacity | 3100mAh | 3000mAh |
| Colour | Black, white, gold | Silver, gold |
| Dimension | 145.8 x 72.3 x 8.1mm | 152.6 x 76.4 x 8.2mm |
| Weight | 159g | 157g |
| Pricing | RM849 | RM729 |
In terms of its hardware, the Flash Plus offers a significant advantage compared the the Galaxy J5 launched in 2016. Apart from its display and processor, Flash Plus 2 also offers a fingerprint unlock activation mechanism that has been widely used in most recent mid-range and flagship smartphone. Unfortunately, the new Samsung mid-range doesn't features this technology of its smartphone and hence it has far lost behind.
Design PK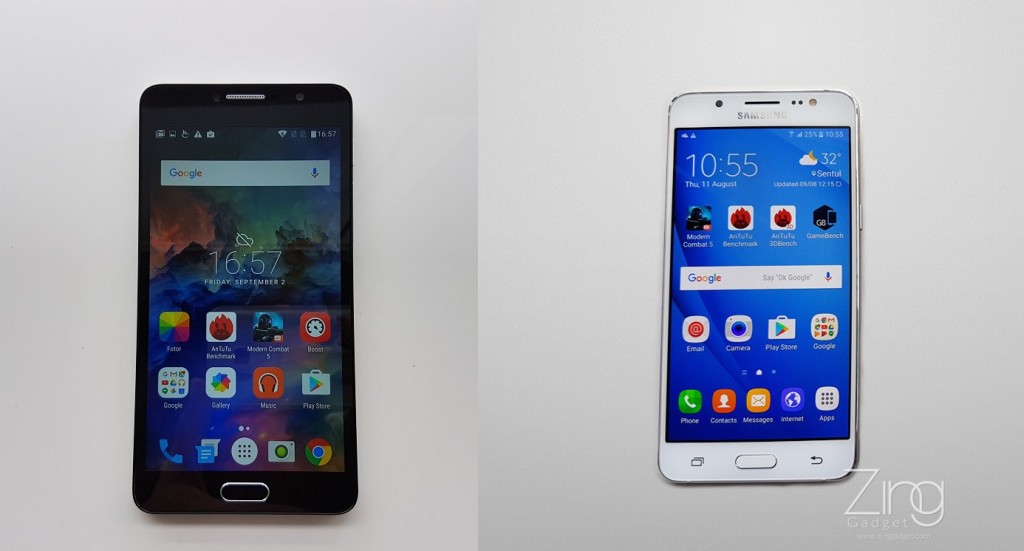 Hardware aside, a decent design is essential to capture the attention of the consumer. While the design concept is subjective to individual preference, both smartphone comes with a bar shaped design with rounded edge and a solid home button is located on the bottom of the smartphone.
The Flash Plus 2 offers a 5.5 inches Full HD display which has better resolution and comes in larger in size compared with the display offered in the Galaxy J5 (2016). Nevertheless, both smartphone does come with front LED flash for the capture of selfies in the dark.

The metallic highlighted home button on the Flash Plus 2 is also a fingerprint sensor which can be used for perform authentication and unlocking smartphone. This feature is lacked on the Galaxy J5 which has been commonly used in many of the mid-ranges today.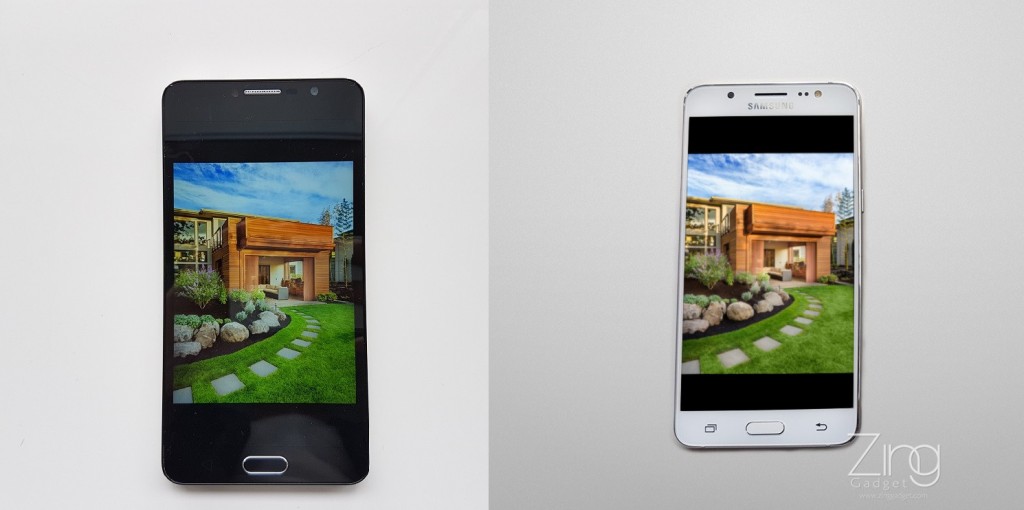 Although the Galaxy J5 (2016) only features a 720p display, it should be fairly sufficient for casual use.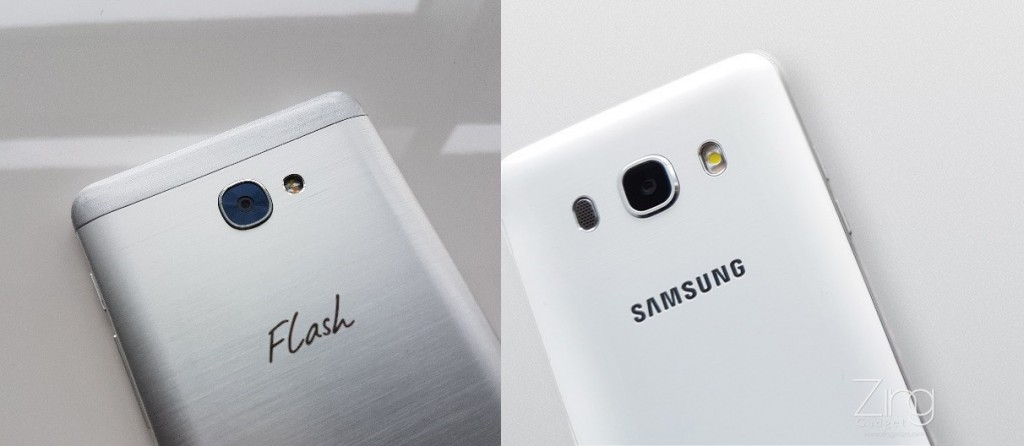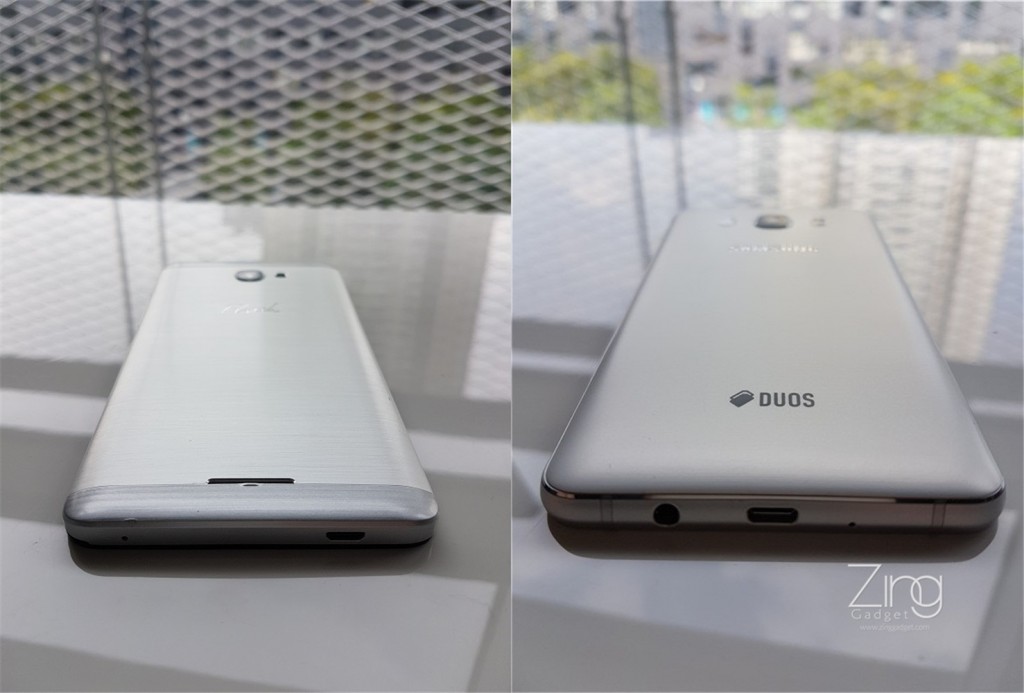 The Flash Plus 2 has a brushed finish on the rear metallic coverwhich offers distinct look and feel when compared to the polycarbonate cover on the Galaxy J5. While polycarbonate material is often used on smartphone to reduce manufacturing and production cost, a metallic cover would bring a distinguished premium look when showing to your friends.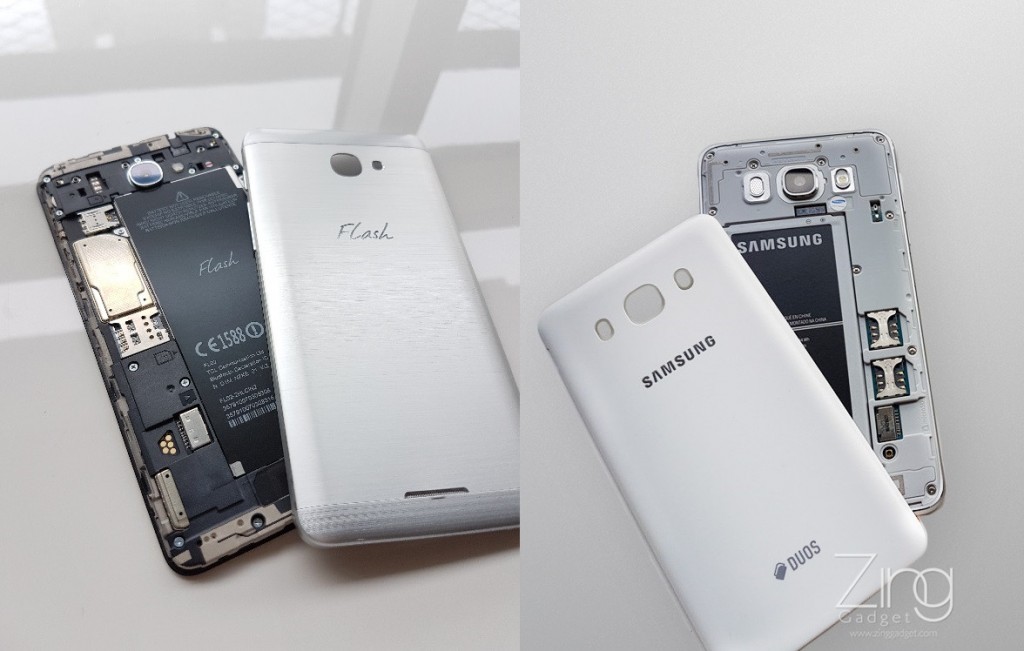 The Galaxy J5 (2016) and Flash Plus 2 both comes with removable cover but removing the battery for hot swap isn't possible for the Flash Plus 2.
Camera PK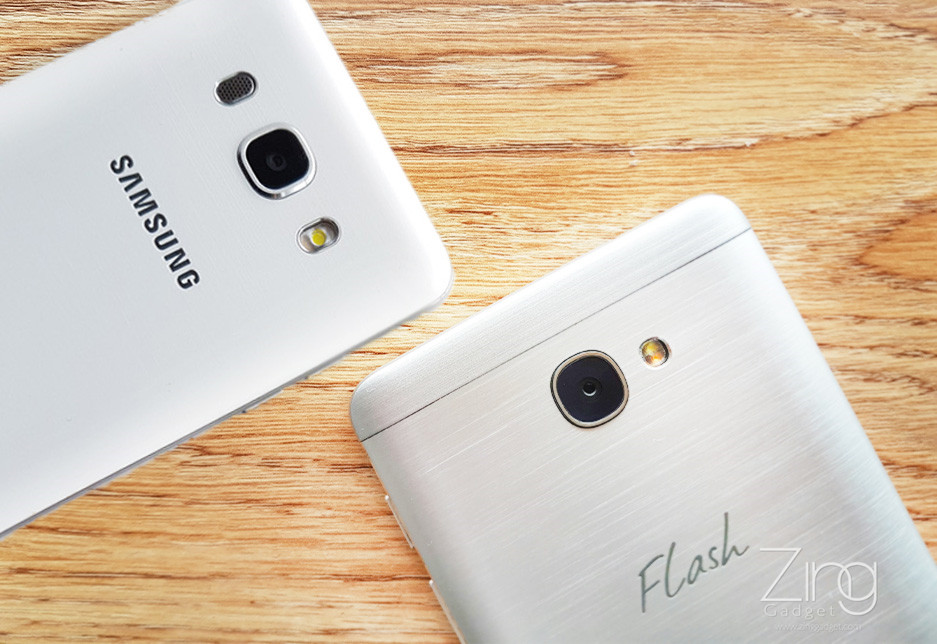 Samsung Galaxy J5 (2016) and Flash Plus 2 both offers a 13MP rear camera and 5MP front camera but the Galaxy J5 camera has a larger aperture at f/1.9 on its front and back. Larger aperture size offers decent advantage at bright environment as image will now appears brighter but noise can be an issue in the dark when it is not controlled properly. We found that both camera perform roughly the same in details reproduction and other photography aspect.
The 13MP Flash Plus 2 also offers Phase Detection Auto Focus (PDAF) that offers a faster autofocus time when shooting an object.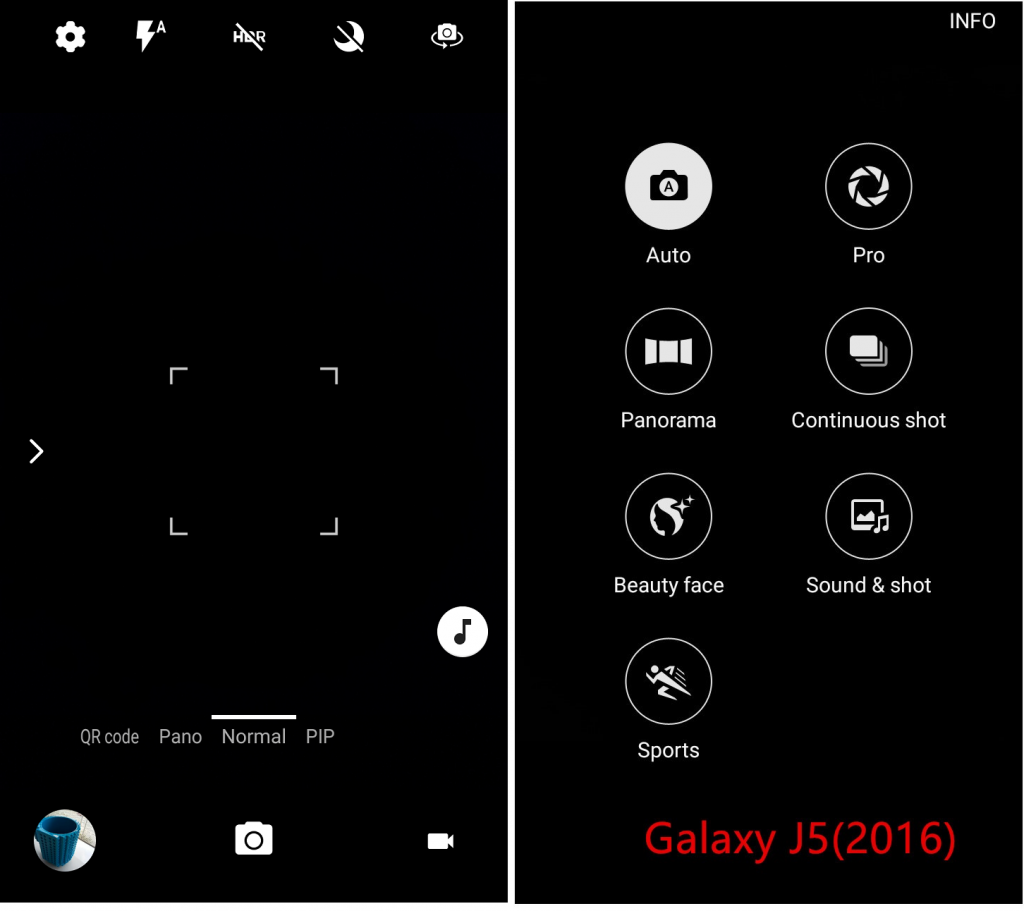 The camera app on the Flash Plus 2 are pretty much stock Android and no new surprising features to be found. Meanwhile, the Galaxy J5 does comes in several modes which include Professional shooting mode and other various feature that doesn't present on the Flash Plus 2.
Sample images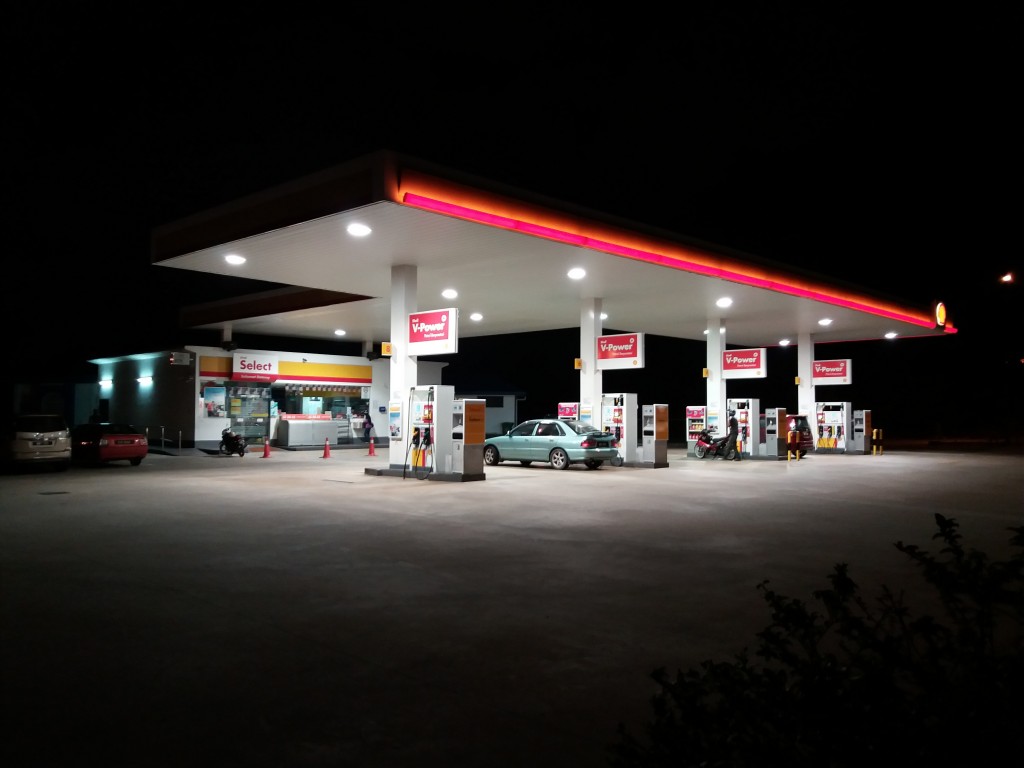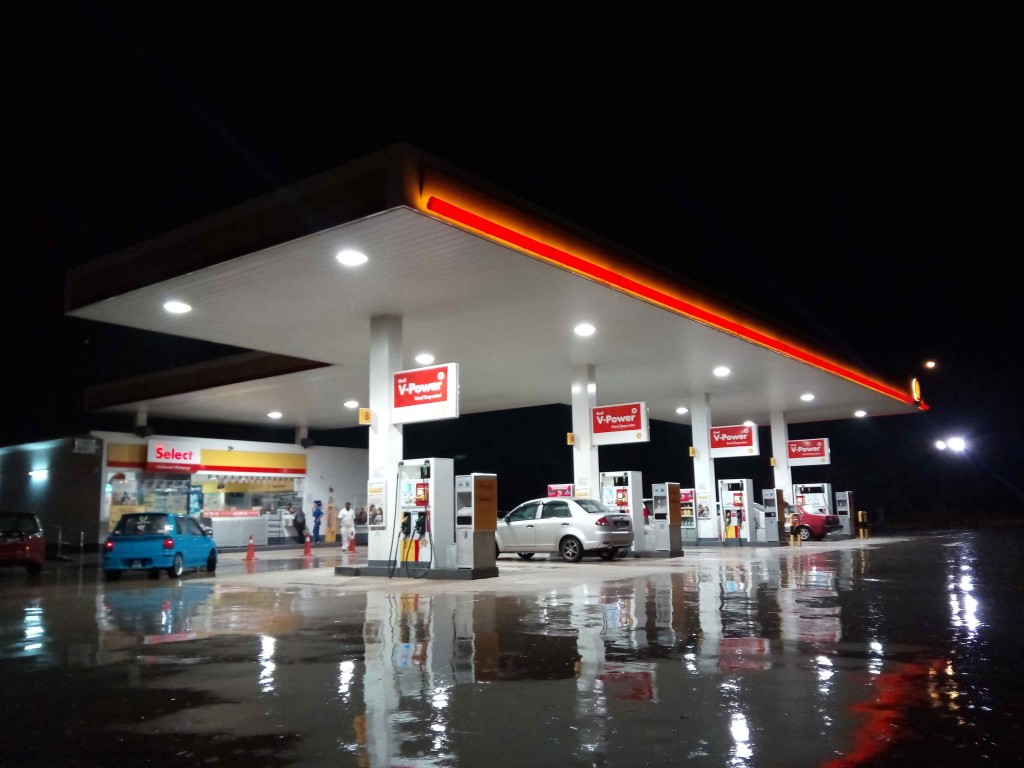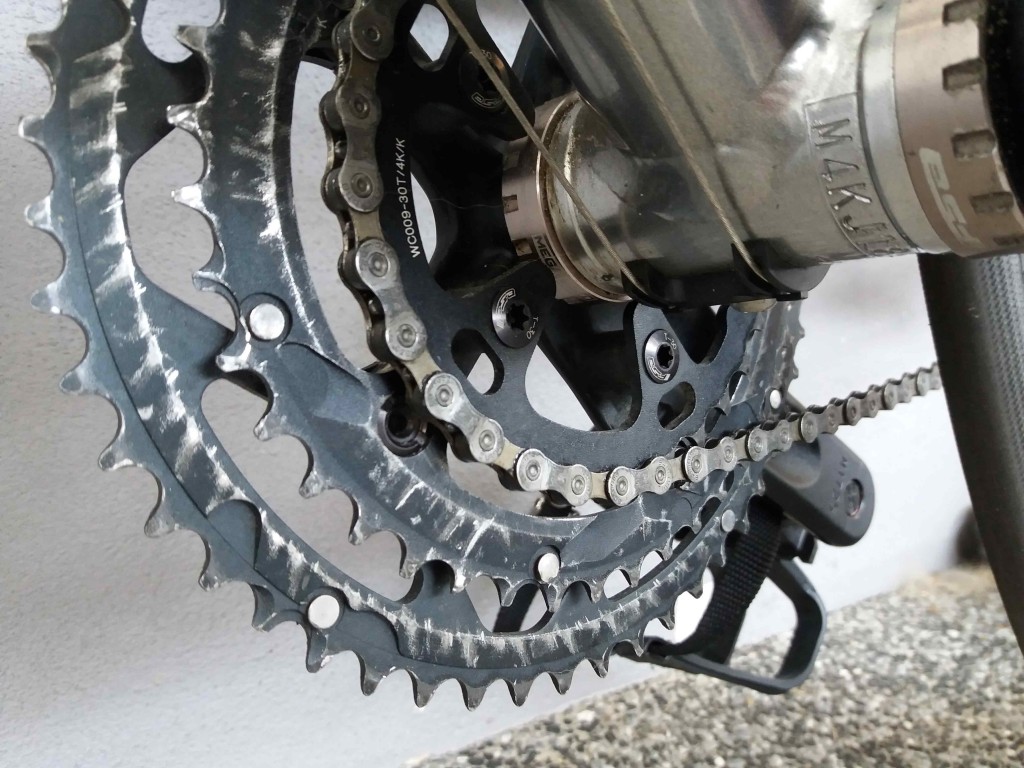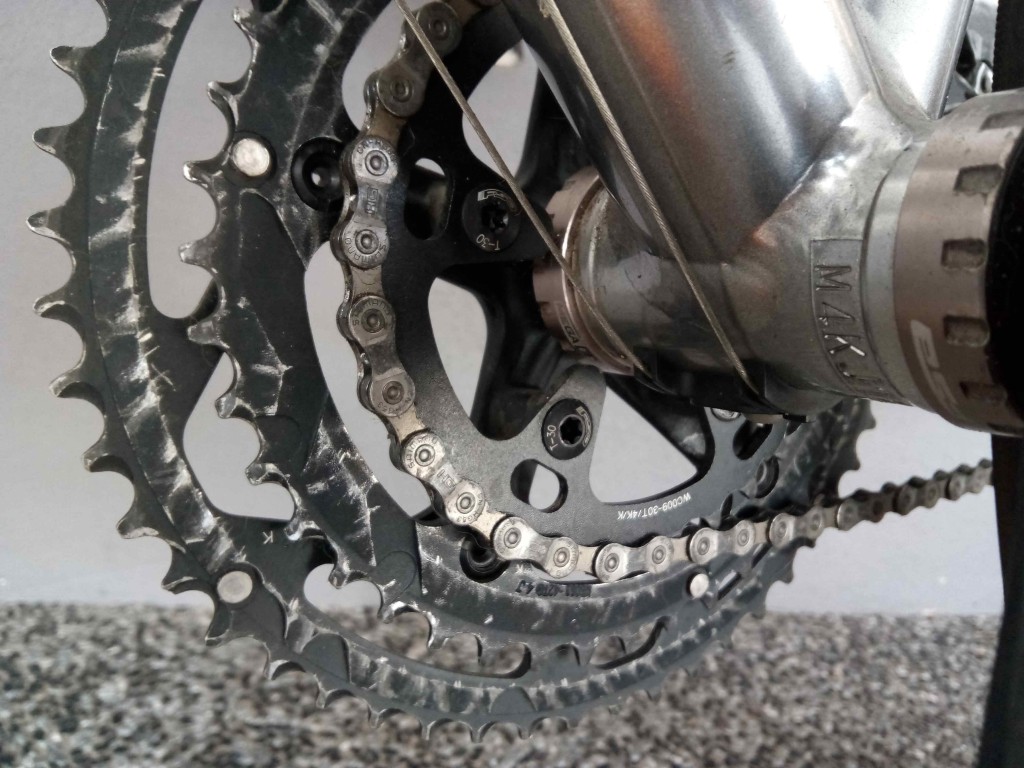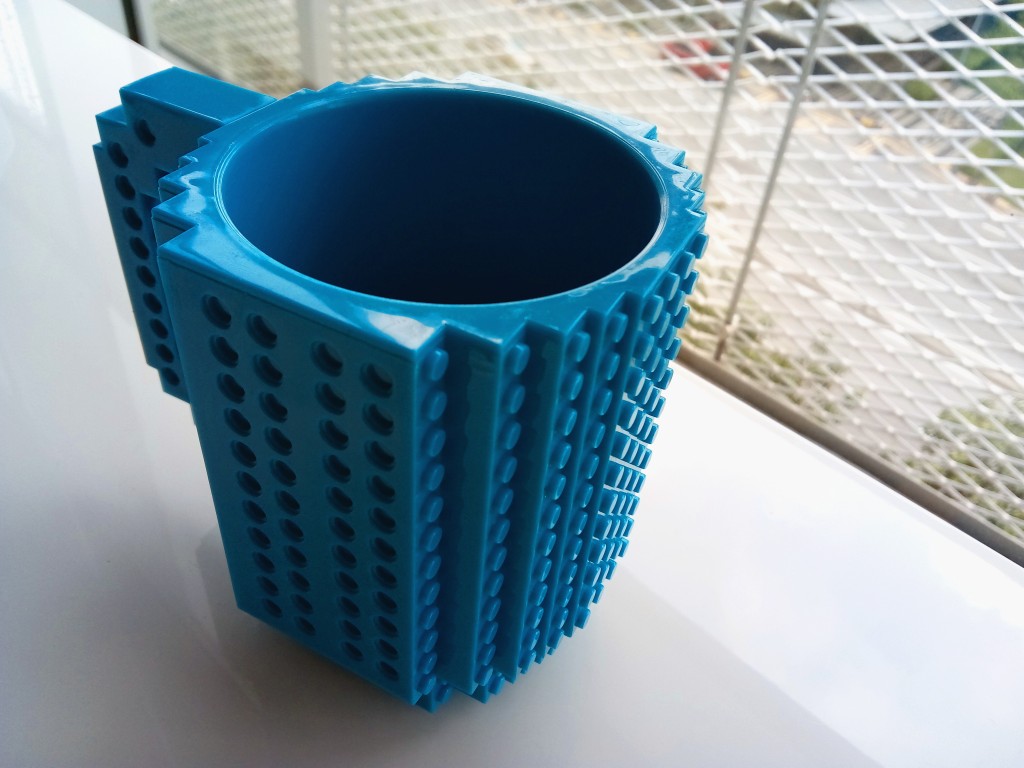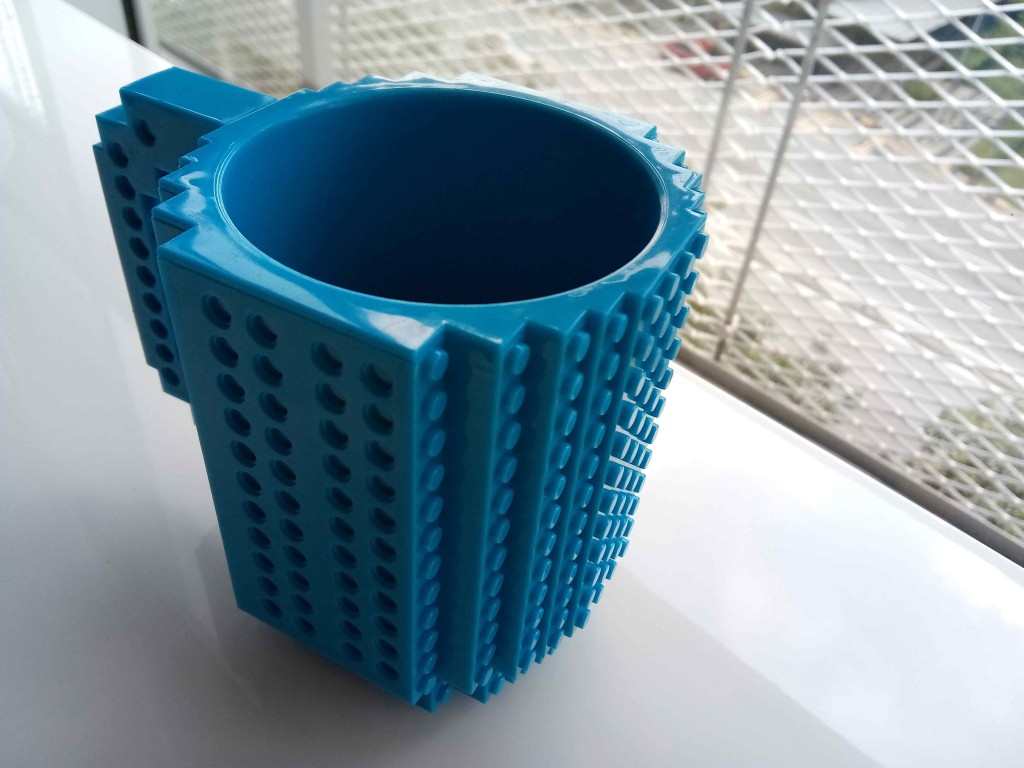 From the pictures above, it can be easily deducted that images taken on the Galaxy J5 (2016) appears brighter due to larger aperture while the Flash Plus 2 has a better accuracy in representing the original colour of an object.
Nevertheless, noise is still an issue prevalent in both smartphones. However, there isn't much to expect from mid-range smartphone categories.
Performance PK

The MediaTek Helio P10 undoubtedly offers a greater performance than Snapdragon 410 quadcore chipset. In terms of RAM and ROM combination, the Flash Plus 2 comes with a 3GB RAM option that offers an advantage when it comes to multitasking. While the Galaxy J5 (2016) only comes with 2GB RAM, we found no significant difference in day to day performance with both smartphones. However, when more applications were loaded and running on the background, the Flash Plus 2 now runs much more smoother than the J5 (2016).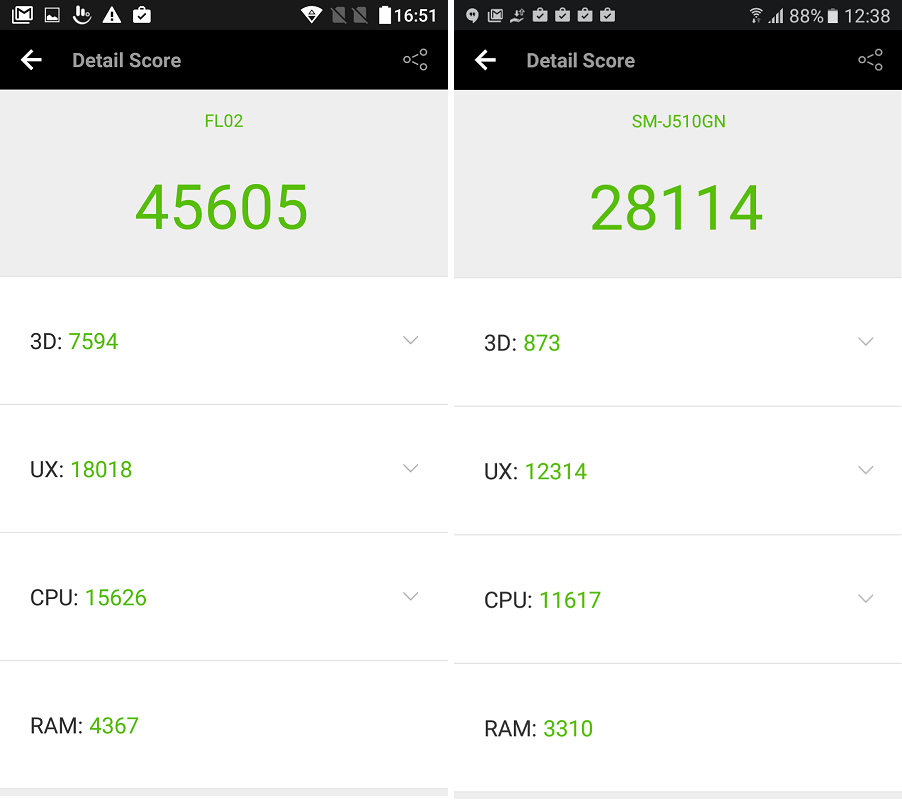 Antutu Benchmark shows the Flash Plus 2 has almost twice the benchmark scores as compared to the Galaxy J5 (2016) but these scores can't represent everything.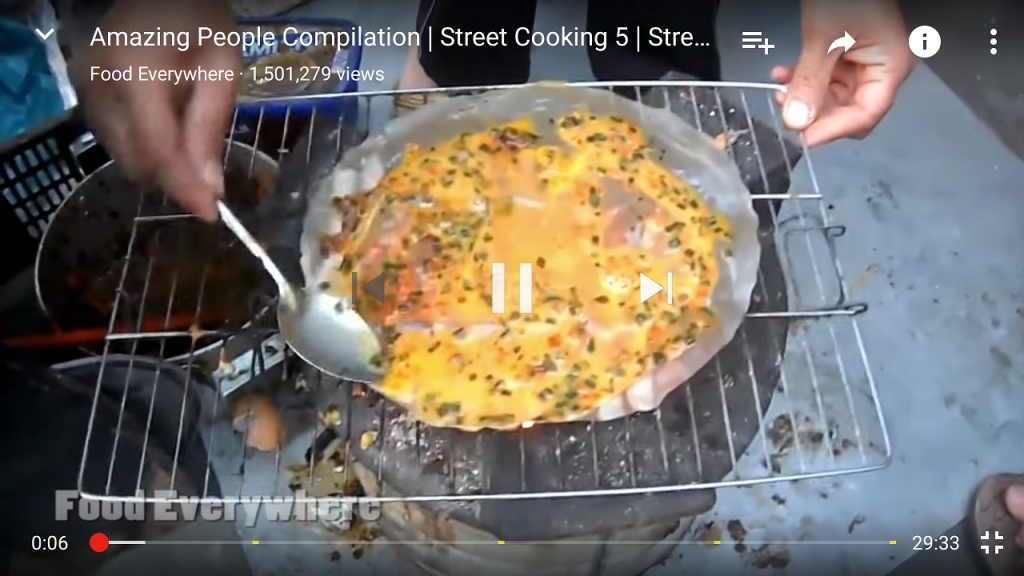 When it comes to multimedia and entertainment, watching videos with a Full HD display is an enjoyment in the Flash Plus 2.
Battery Life PK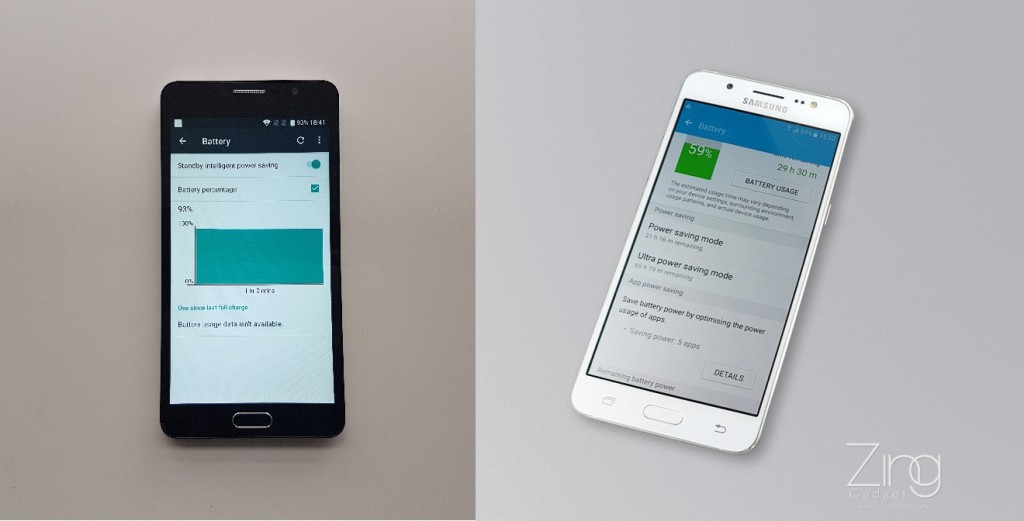 Coming to the hardware comparison table on the top, the 3100mAh battery on the Galaxy J5 offers 100mAh battery capacity advantage over the Flash Plus 2 at 3000mAh. While it make no big difference, there is one thing that lacked in one of these 2 smartphones – the quickcharge technology that everyone is talking right now.
In our 30 minutes charging test, the Galaxy J (2016) has recharged 23% while the Flash Plus 2 has recharged 50%! This shows that the quick charge technology makes a big differences in both devices.
While Flash Plus 2 only comes with a 3000mAh battery, it has lower battery consumption rate in applications such as Waze, Facebook, gaming, YouTube, video and music playback accounted to the energy efficient Helio P10. However, both smartphone shows stable and fluid operation with no sign of overheating.
Conclusion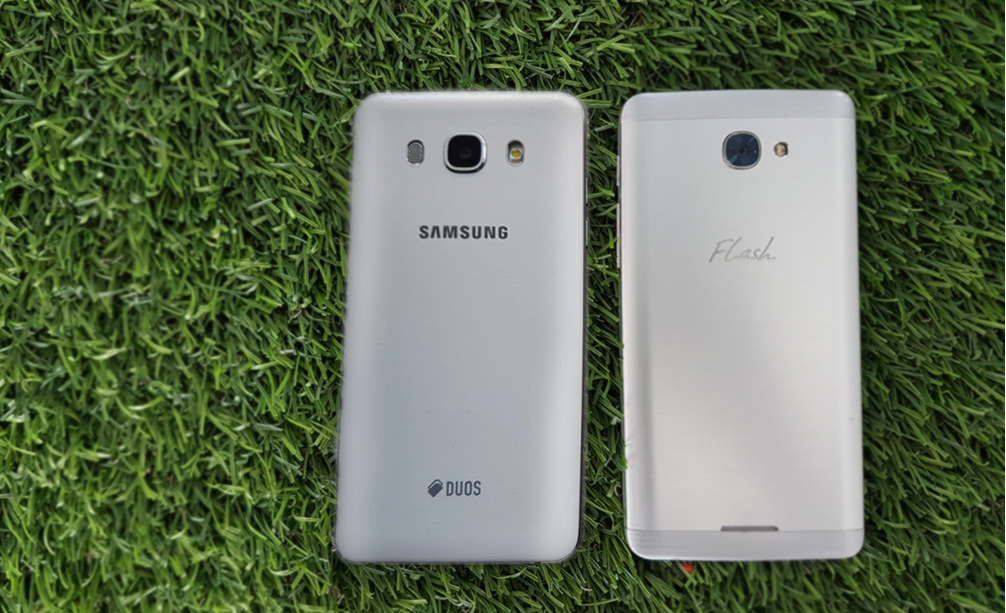 The Galaxy J5 (2016) and the Flash Plus 2 are both readily available in Malaysia. With all test and comparison shown above, it can be concluded that the Flash Plus 2 offers a better advantage in terms of its performance, hardware and battery life compared to the Galaxy J5 (2016). What-more, the Flash Plus 2 with 3GB RAM is only priced at RM729 while the J5 (2016) is at RM849!